32 Best Faith Over Fear Tattoo Ideas 
About Faith Over Fear Tattoos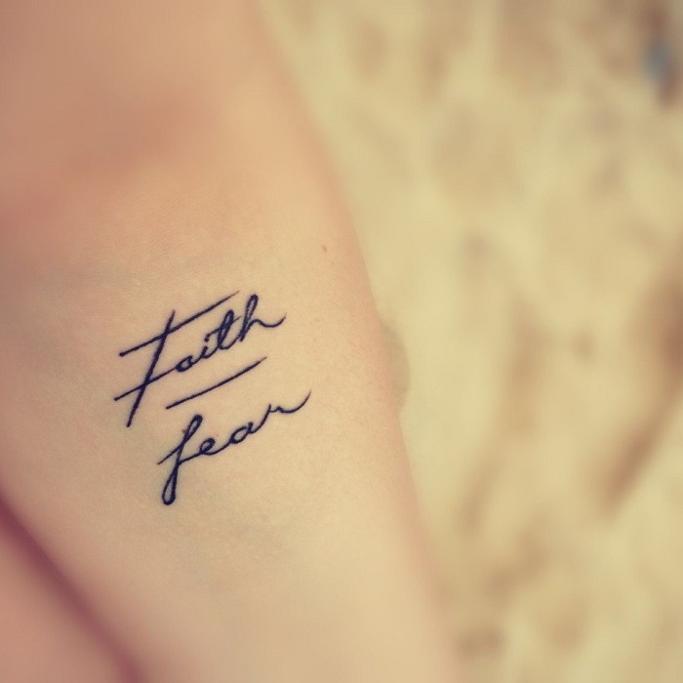 You've probably heard of the phrase 'trust the process' many times before—whether it's from your most trusted friend, someone close to you, or your favorite peppy podcast host.
A Faith Over Fear tattoo relays a similarly uplifting message. Having faith in the process—regardless of your religiosity—can help you accomplish your goals and overcome your fears to do so, even if a wrench gets thrown your way.
When life throws challenges your way, having some sense of bigger purpose can help motivate you to do what aligns with your core values.
By getting a Faith Over Fear tattoo, you can have a daily reminder to take bold steps into the unknown and have faith that what's meant to be for you will be. 
After reading this guide, you'll know the following:
The symbolism behind the Faith Over Fear tattoo
Origins of this tattoo
Where to get the tattoo
The cost of this kind of tattoo
Famous people who have the tattoo
Various Faith Over Fear ideas
What Do Faith Over Fear Tattoos Mean And Symbolize?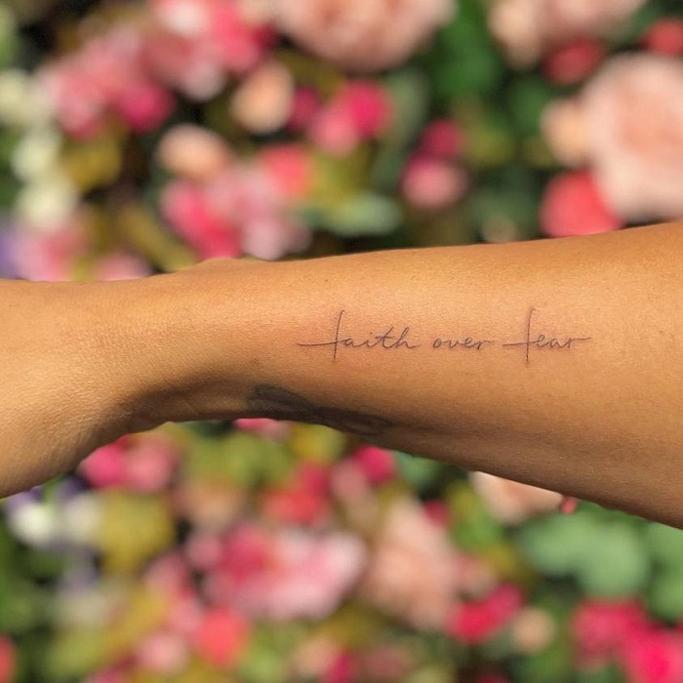 First and foremost, a Faith Over Fear tattoo can be worn by anyone regardless of their spirituality or religious sect.
Faith is a broad term that is defined according to the Merriam-Webster dictionary as, "Firm belief in something for which there is no proof." However, everyone has a different interpretation of what faith means to them, which makes this tattoo all-inclusive.
That being said, a Faith Over Fear tattoo can symbolize strength, hope, and courage. Despite the external circumstances you face, believing in something bigger than yourself can guide you through rough waters and keep you grounded. 
As I said before, anyone can get a Faith Over Fear tattoo. However, I believe those who are part of a religious community of some sort, secular or not, will be more apt to get these words tattooed on their body.
If you strongly believe in your faith, then this tattoo can serve as a reminder to let go of the things you cannot control and trust that you are safe and that everything will work out in the end.
It doesn't mean to surrender entirely, but rather it's designed to help relieve some pressure off your back to solve everything immediately. 
During times of small or large-scale crises, these words can be especially potent. And the best part is that you can decide the Faith Over Fear meaning for yourself and tailor this tattoo to your specific beliefs.
Where To Get A Faith Over Fear Tattoo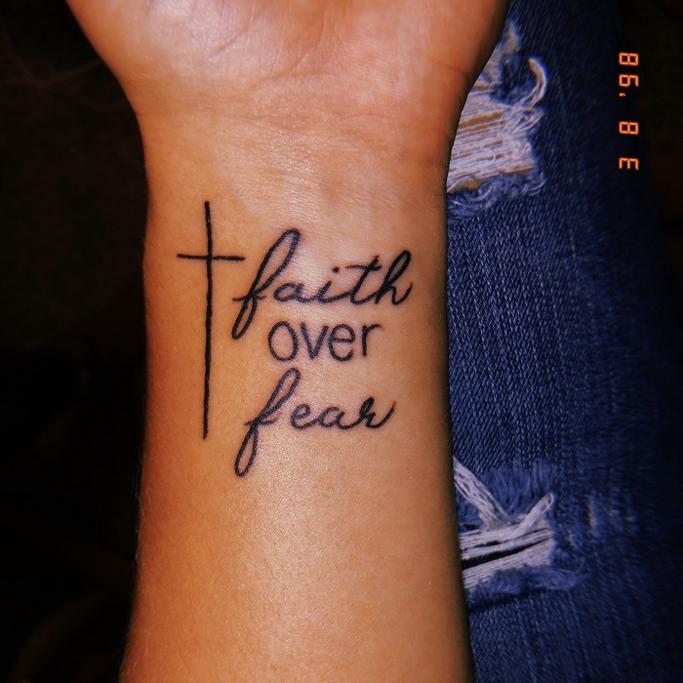 A Faith Over Fear tattoo can be a delicate message of surrender—which is why many people choose to get these words tattooed in places that are easy to see.
Lots of people get this tattoo printed across the inside of one of their forearms. Since many individuals work on their computers and use their arms to create (among many other things), this tattoo placement can be an easy way to stay inspired throughout the day.
Similarly, you can also get a small Faith Over Fear tattoo below your wrist. This is another area that allows you to be constantly reminded of the tattoo's words and the message behind them.
Here are other popular places to get this tattoo:
Foot
Upper back
Shoulder
Ribcage
Aside from the location of the tattoo, it's also important to consider the font. This tattoo is often printed in cursive or whimsical font rather than bold letters. Also, many people decide to get a small and quaint Faith Over Fear tattoo.
When it comes to the font, make sure that you choose letters that you can easily read. Sometimes, depending on the complexity of the font, the words can be distorted which defeats the purpose of preserving a meaningful message.
You can also choose to add additional symbols such as a cross to your tattoo if you're affiliated with religions like Christianity or Catholicism. In addition, a simple heart is another extra feature you can add to your design.
After you get your tattoo make sure you keep it moisturized using the ointment recommended by your tattoo artist. You should also avoid long sun exposure since the last thing you want after getting a new tattoo is a sunburn—ouch!
If this is your first tattoo, it's always a good idea to ask your tattoo artist for advice.
They can tell you what to do to make sure the healing process goes smoothly. After all, they are the experts and will have sage advice on how to care for your tattoo. 
How Much Do Faith Over Fear Tattoos Cost?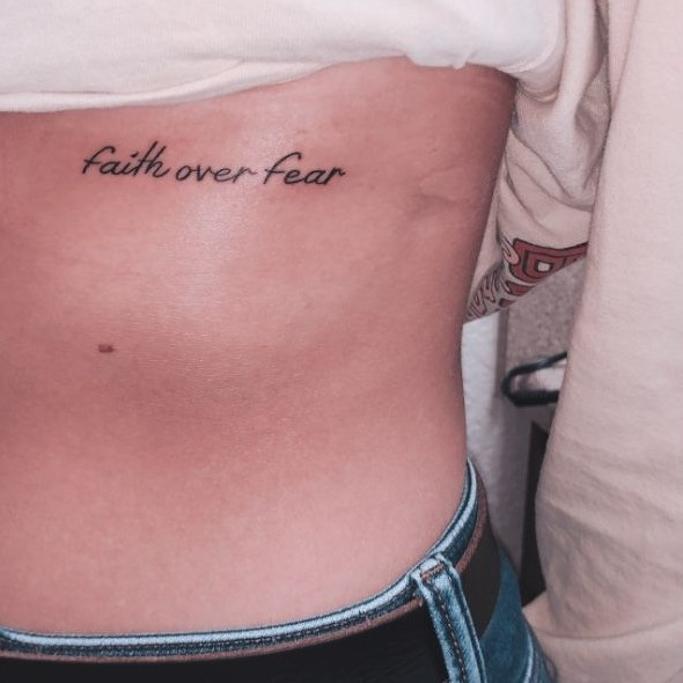 Tattoos are permanent markings on your body. So, it makes sense that you'll want to budget adequately before you head into the tattoo parlor.
The cost of your Faith Over Fear tattoo will vary according to a variety of factors. I'll highlight a few things you'll want to consider before determining the amount of money to set aside.
The size of your tattoo
The amount of detail your tattoo includes
The time it takes to complete your tattoo design
The geographical location you decide to get your tattoo (city vs. rural)
Your tattoo artist's level of experience
Unfortunately, it's hard to pinpoint exactly how much you'll be doling out for a new tattoo. Small, basic tattoos average at about $150. But, as you can see, there are many things to keep in mind that will alter this price.
You'll also want to factor in the tip you'll be giving your tattoo artist. Typically, tips range from 15 to 30 percent depending on the location of the parlor and the quality of the work.
In short, it's better to overestimate the amount you'll be paying than underestimate. Also, when it comes to a permanent marking on your body, I suggest seeking out reputable professionals who may charge a little more than usual (if it's within your budget to do so). 
32 Best Faith Over Fear Tattoo Designs
#1: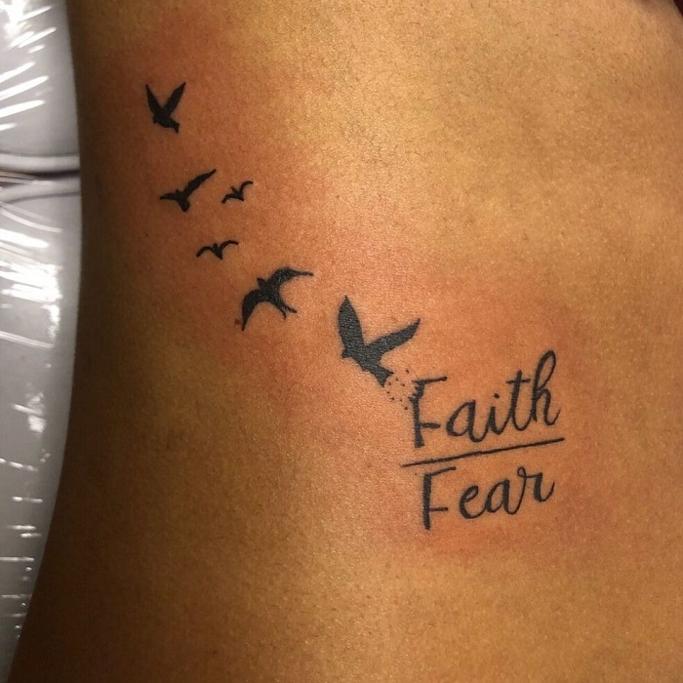 #2: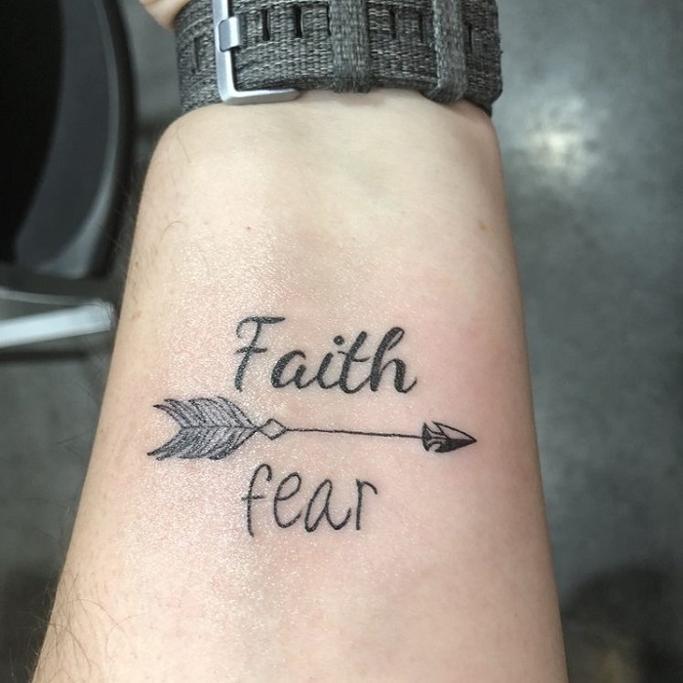 #3: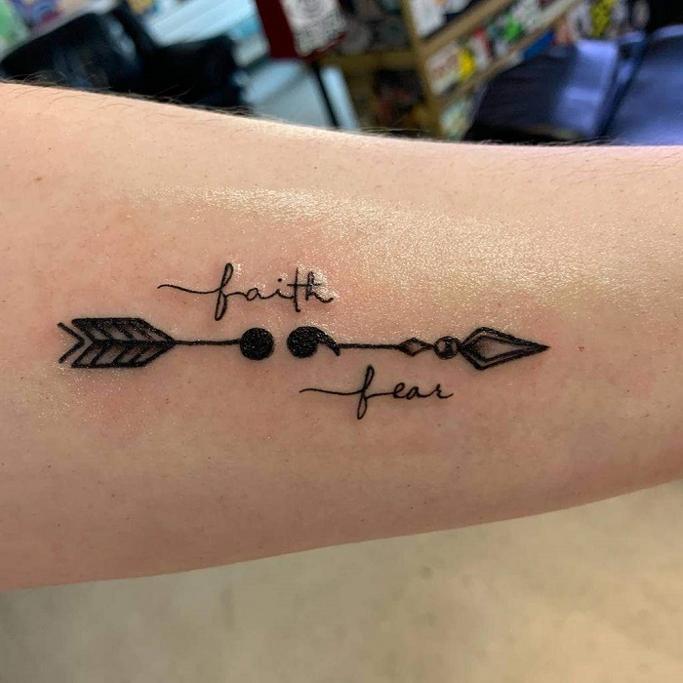 #4: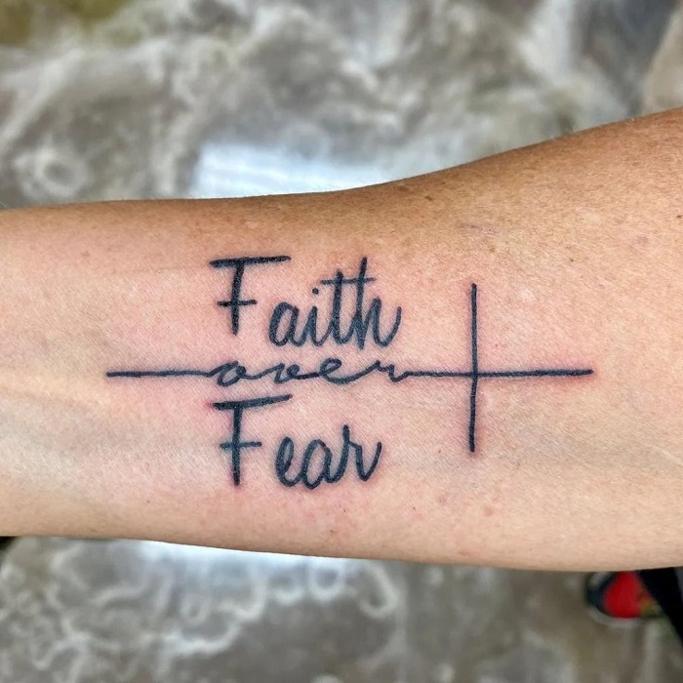 #5: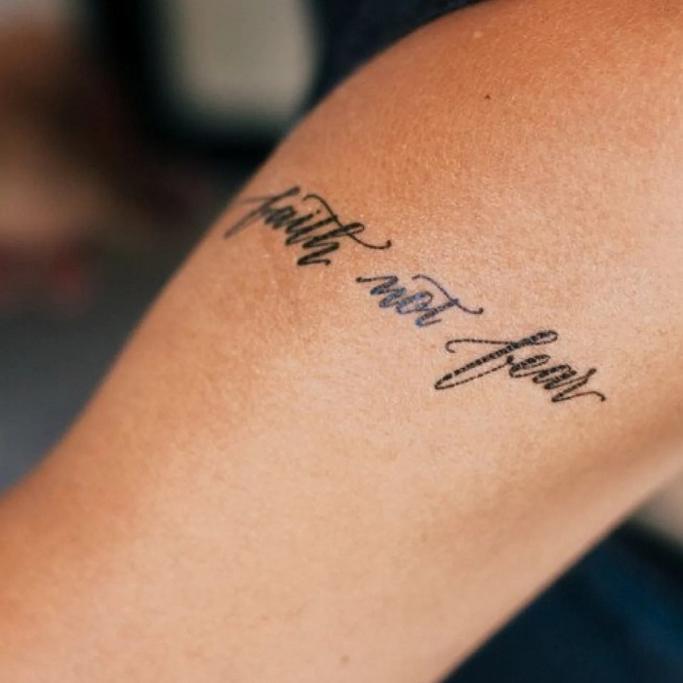 #6: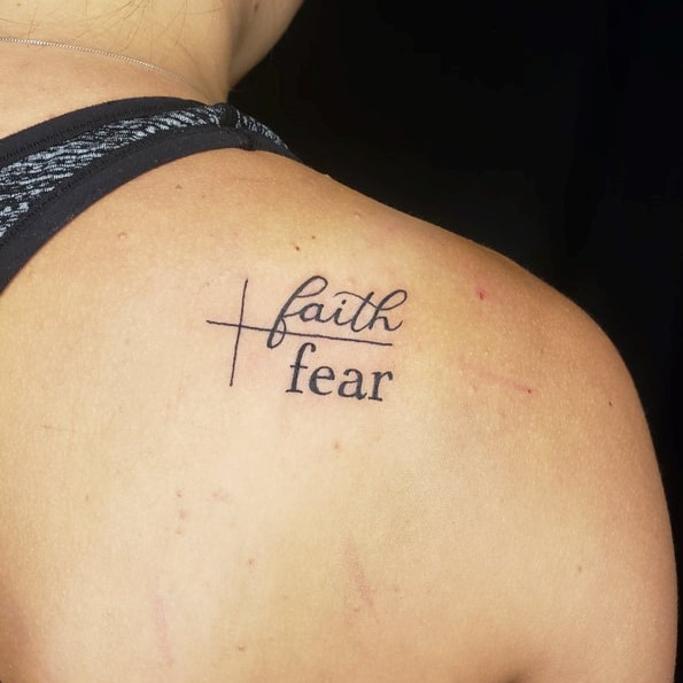 #7: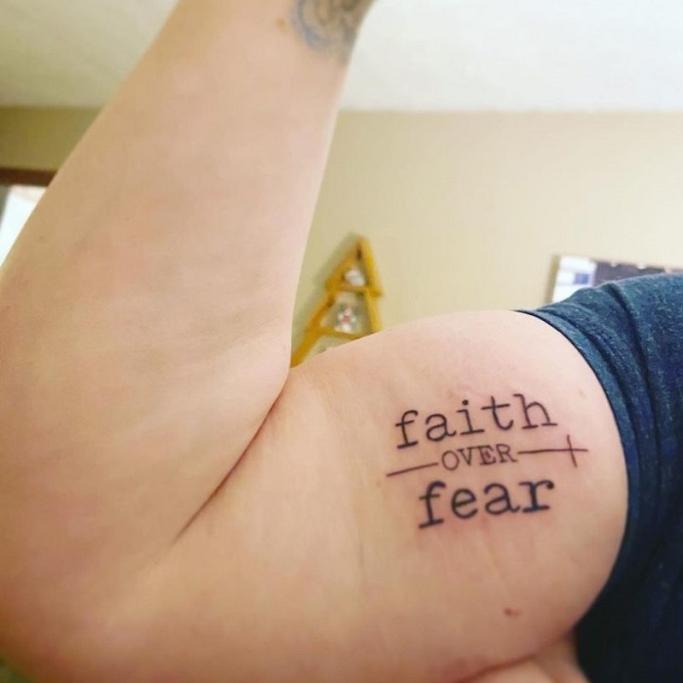 #8:
#9: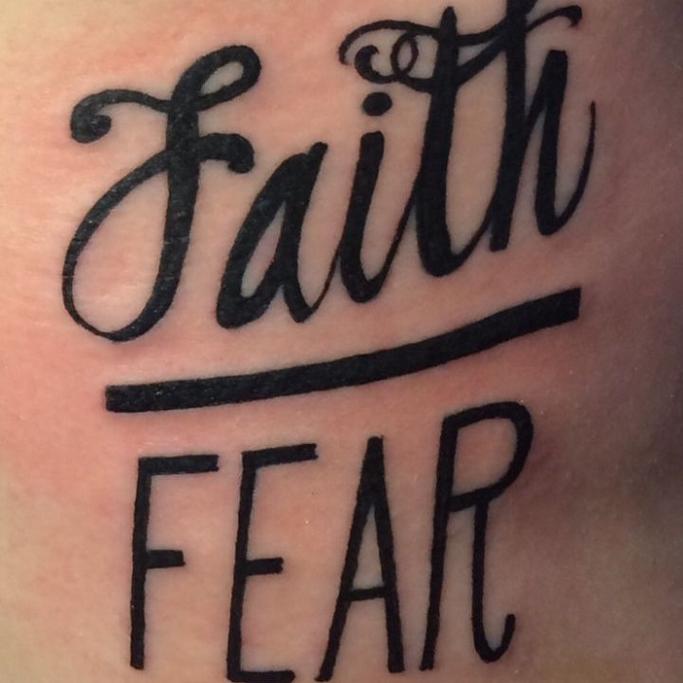 #10: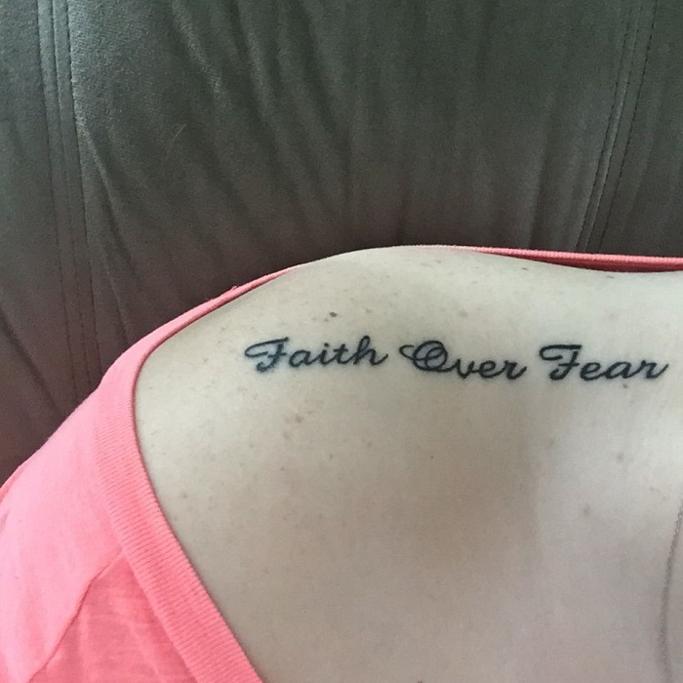 #11: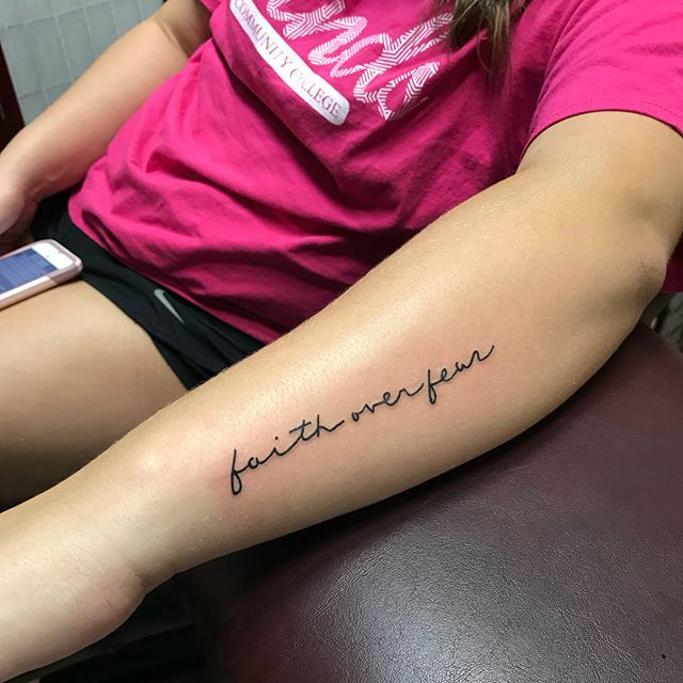 #12: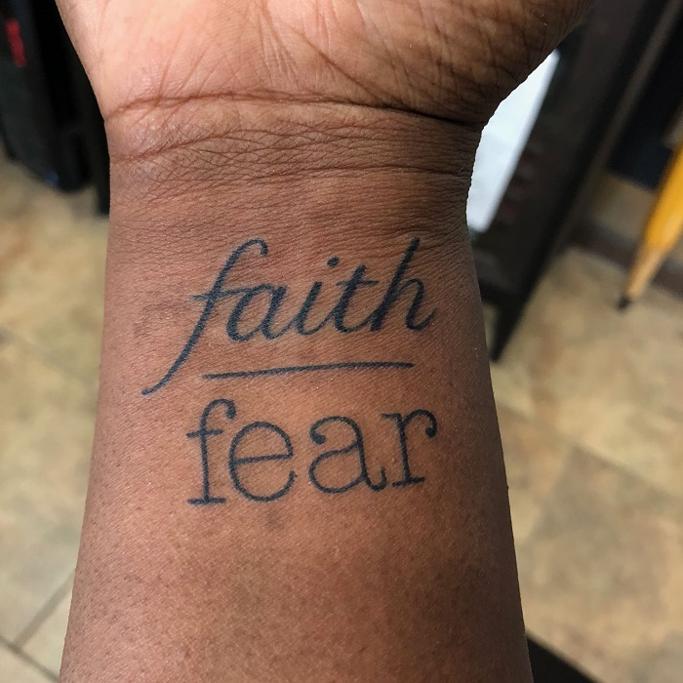 #13: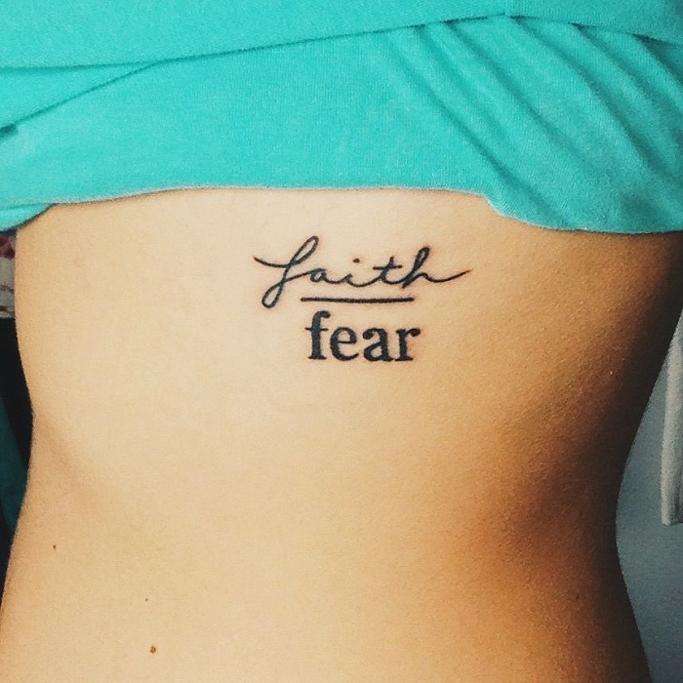 #14: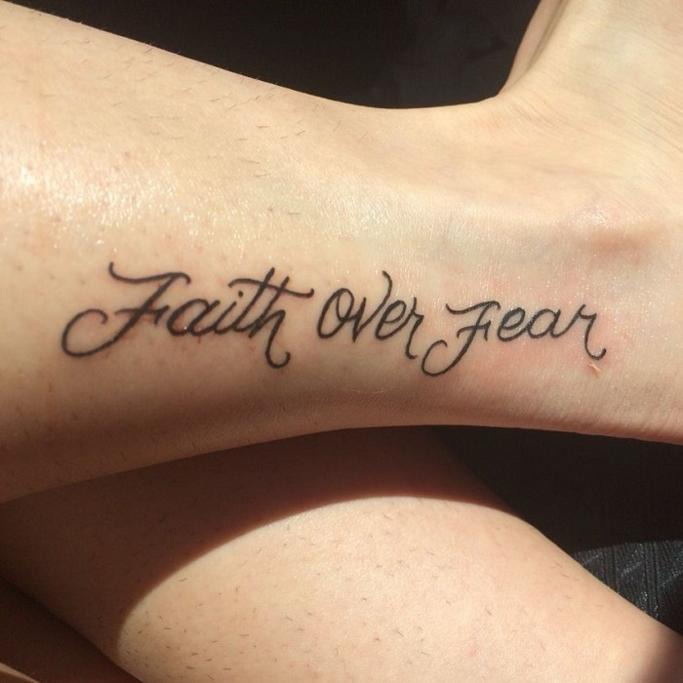 #15: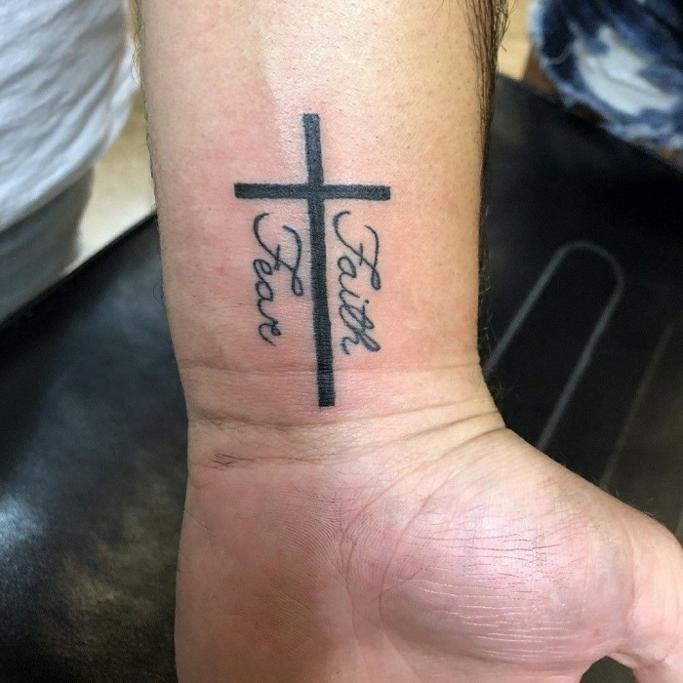 #16: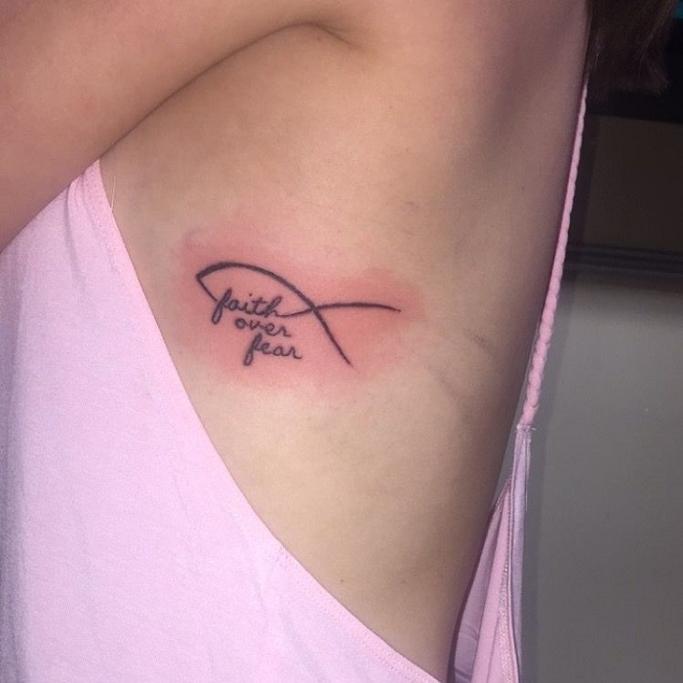 #17: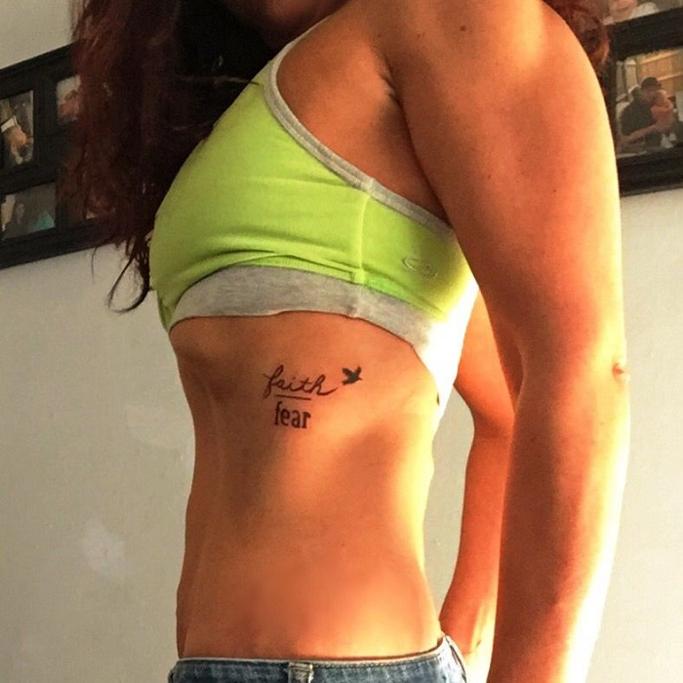 #18: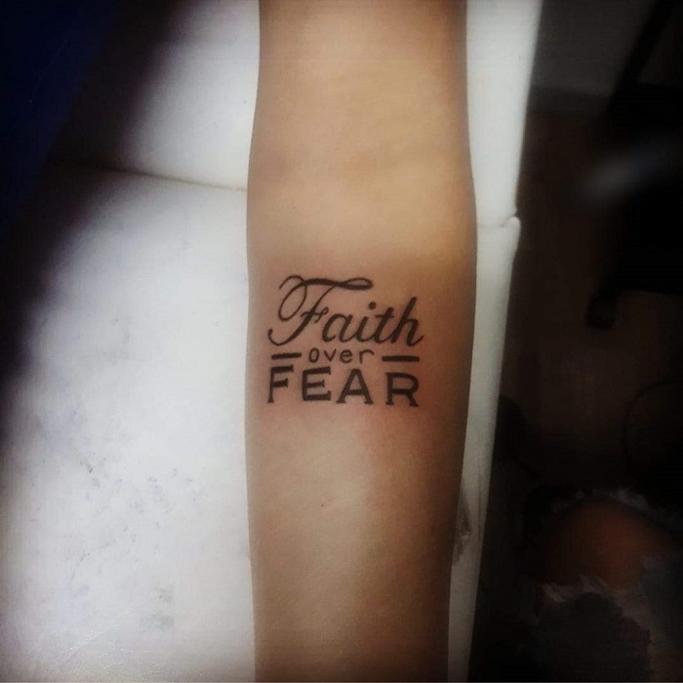 #19: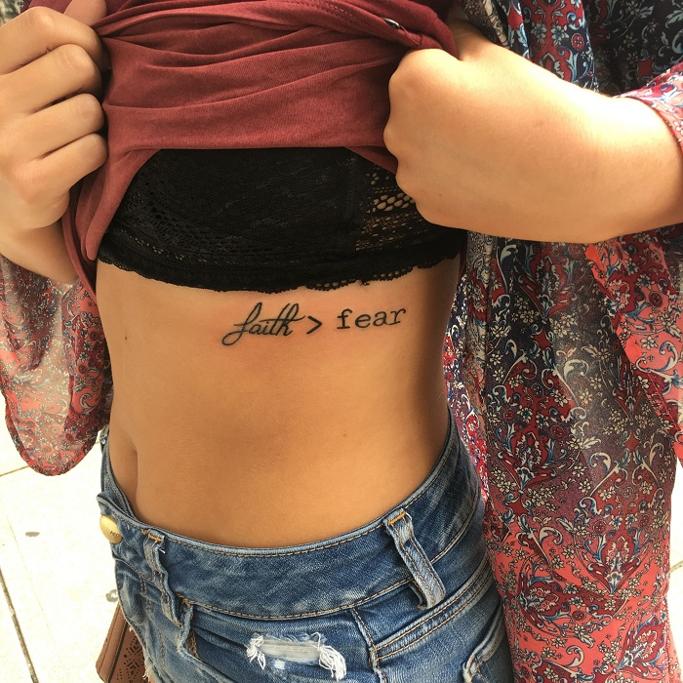 #20: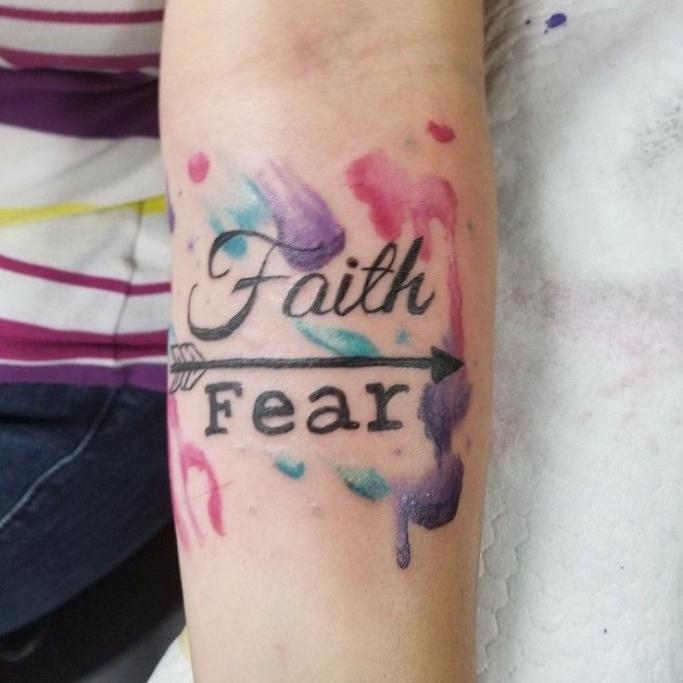 #21: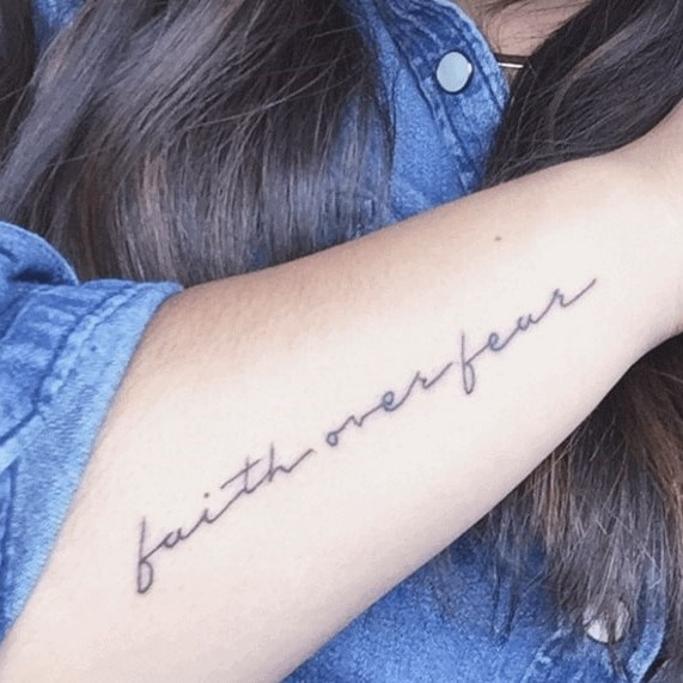 #22: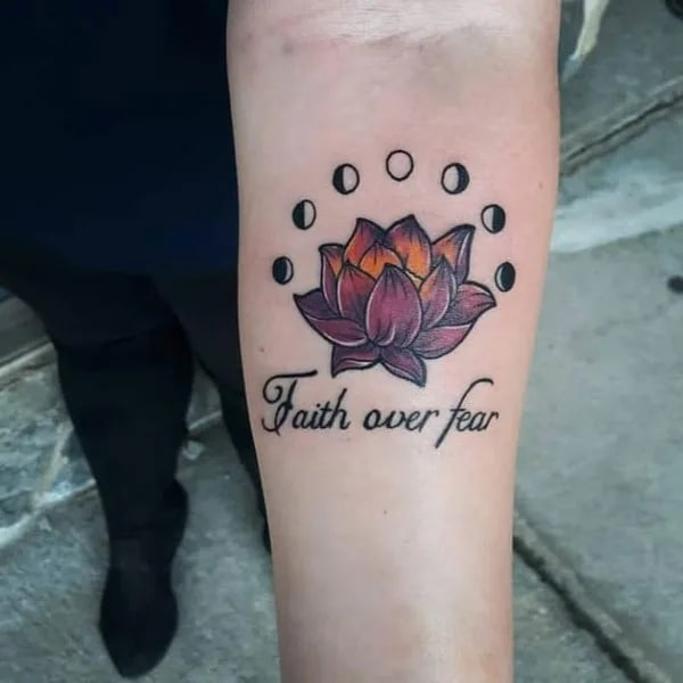 #23: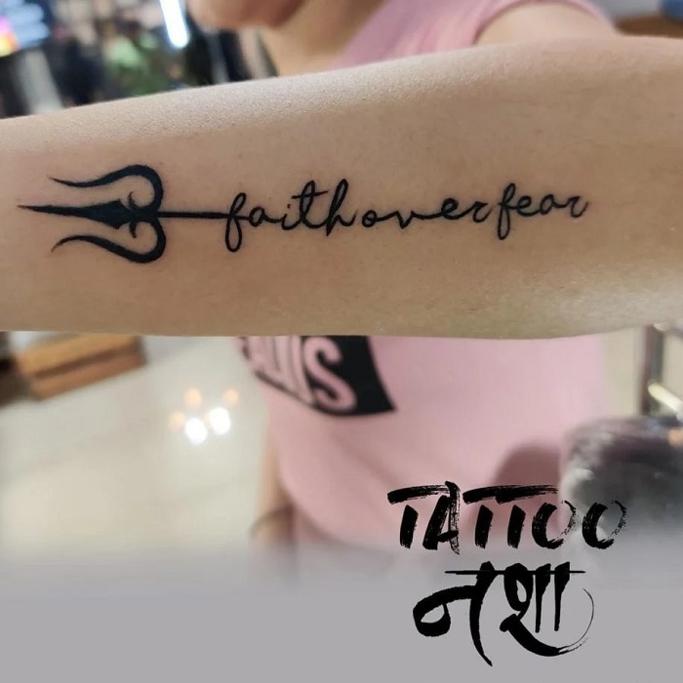 #24: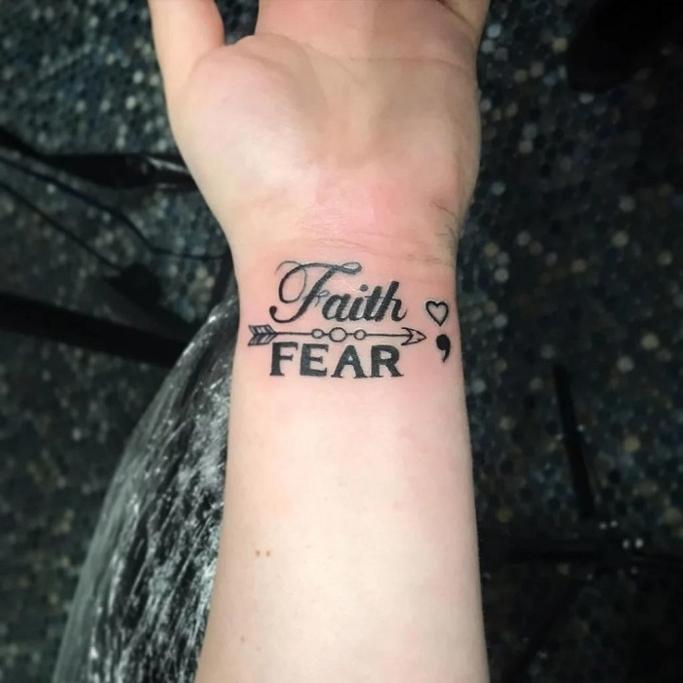 #25: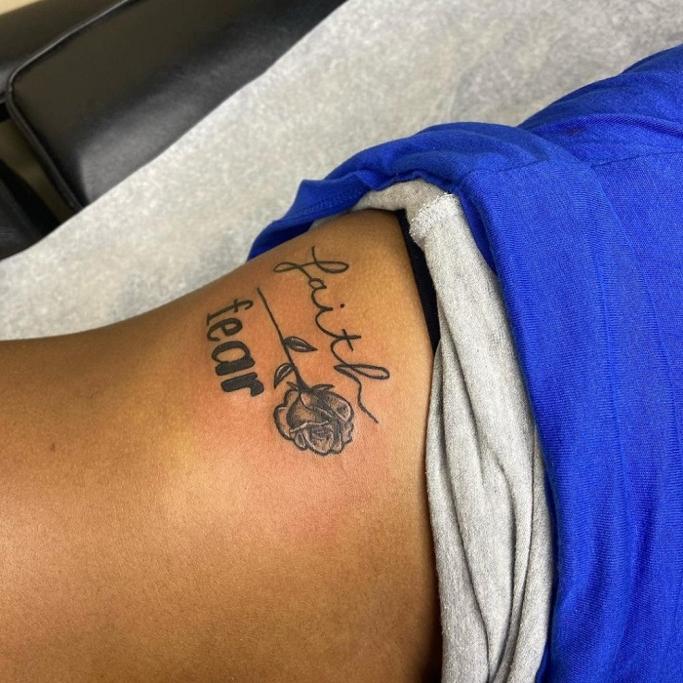 #26: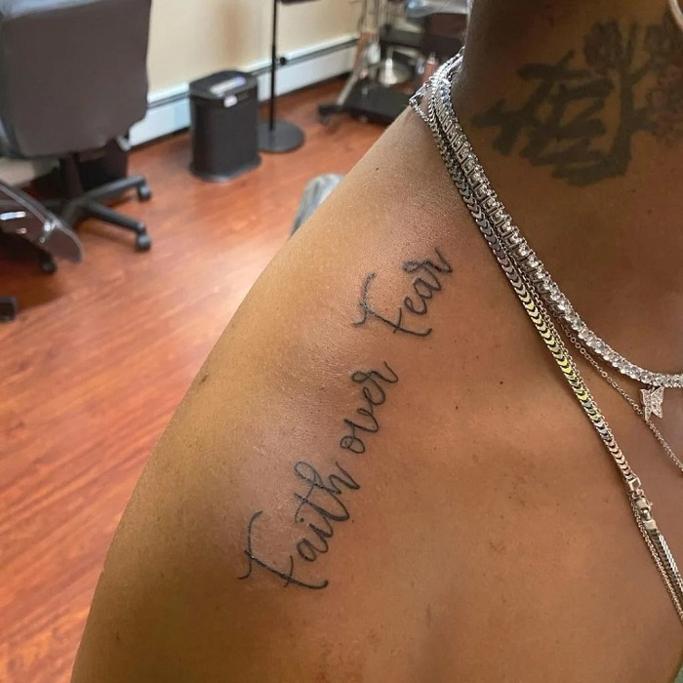 #27: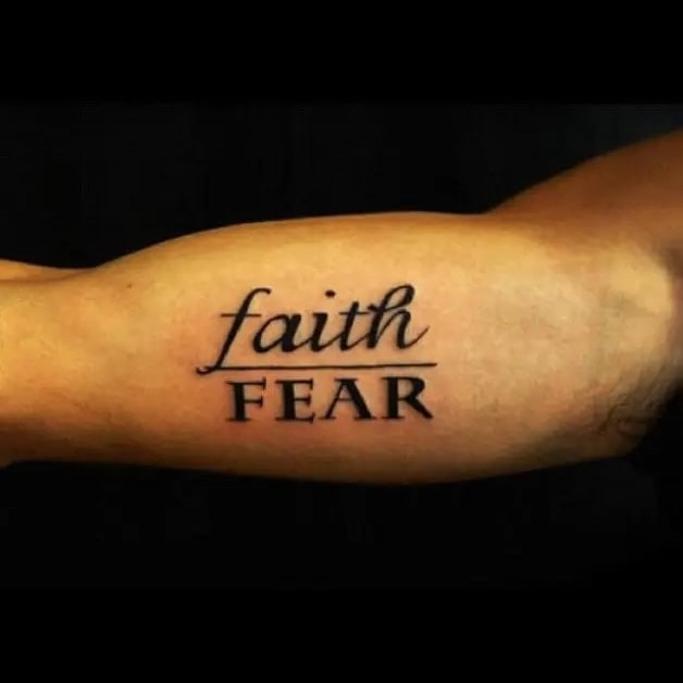 #28: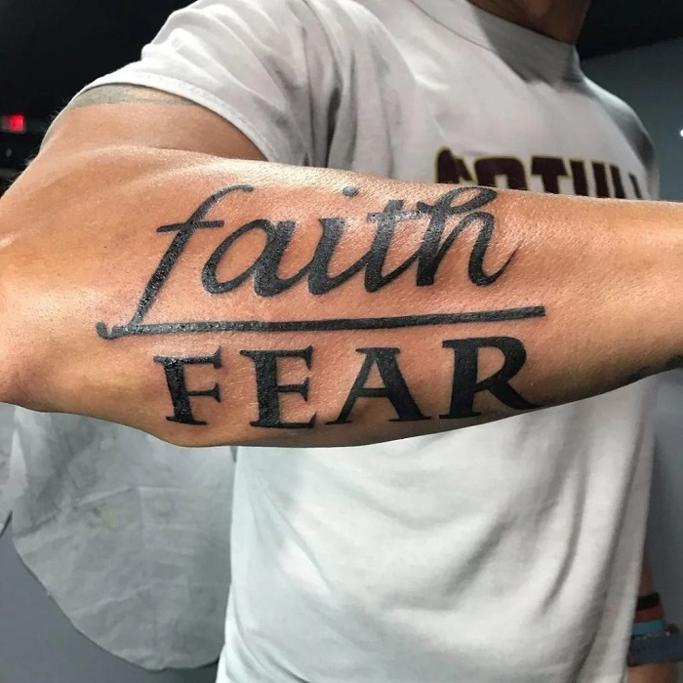 #29:
#30: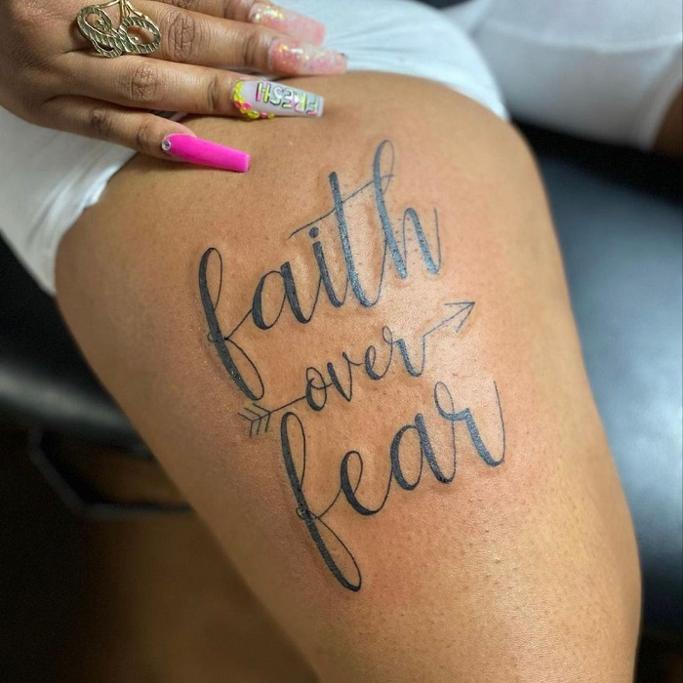 #31: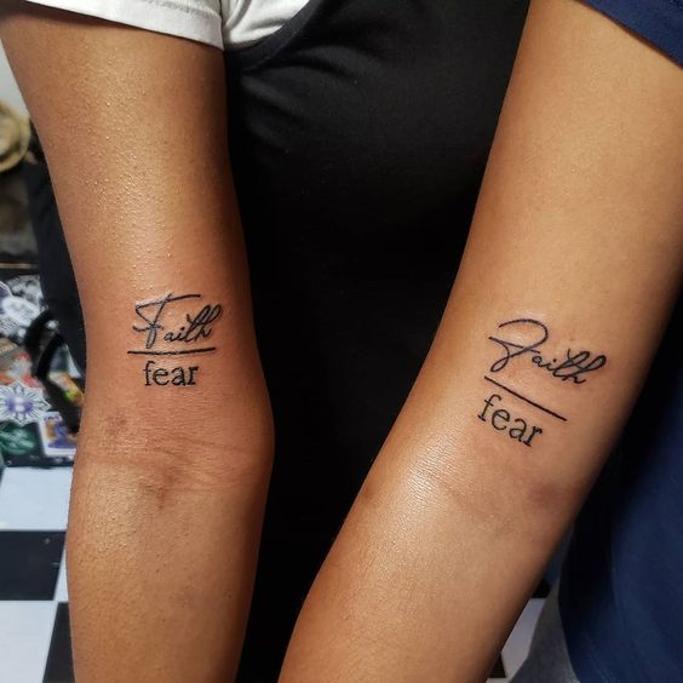 #32: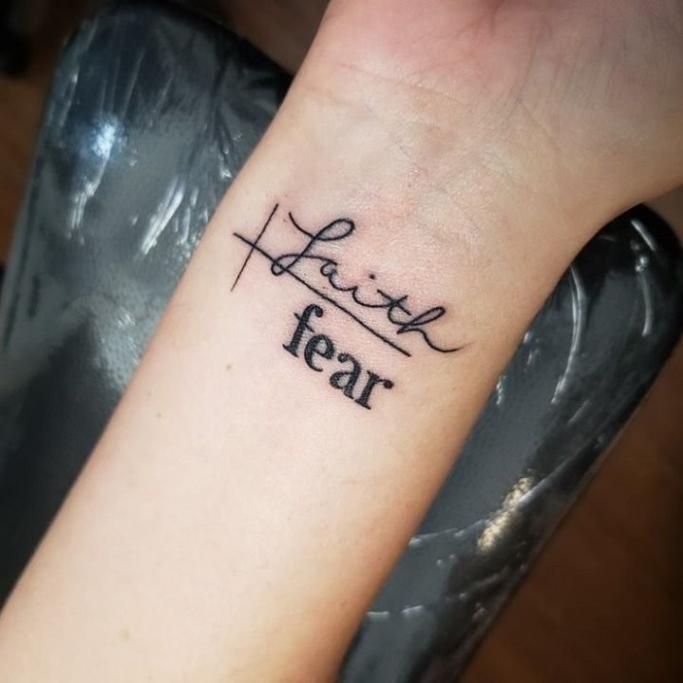 History Of Faith Over Fear Tattoos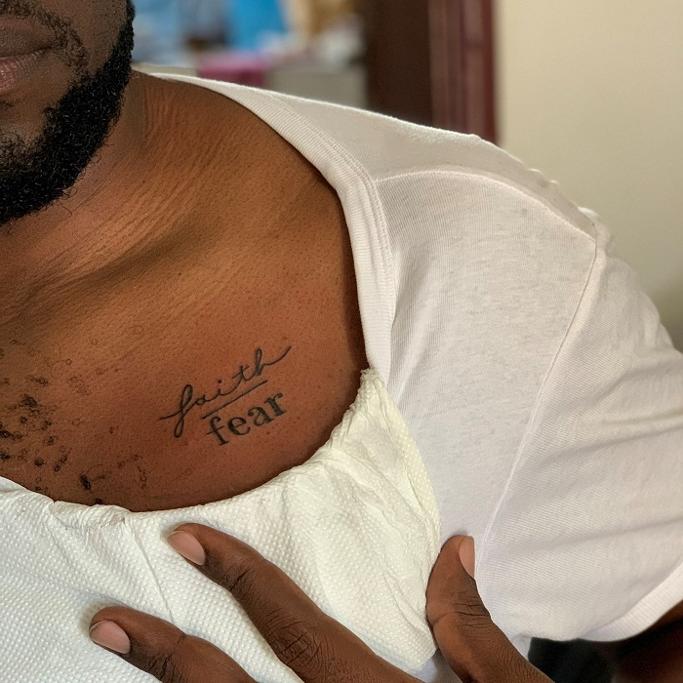 Now that we've gone through some of the best Faith Over Fear designs you may be even more curious to know about this tattoo's roots. I can't pinpoint the exact date someone first got this tattoo but I can try and understand the rise of its popularity.
The Faith Over Fear tattoo became trendy in recent years, especially after the global health pandemic. As people were grappling with collective trauma, many turned to their faith to keep them mentally strong, hence 'faith over fear.'
However, faith itself is by no means an avant-garde practice. People have been subscribing to religious practices such as prayer and worship for millennia.
For many religions, it's common practice to pray for those who are suffering in any capacity. Instead of thinking of the worst-case scenario, people use faith and community as a way to come together and spread messages of hope that things will get better.
If you've experienced something that you thought would take you down such as an illness, addiction, or any sort of trauma, and wondered what pulled you through, you may express gratitude to your faith.
Each faith has its own way of demonstrating compassion, courage, and healing within its community. However, the concept of 'faith over fear' can be used by just about anyone from any walk of life.
Which Celebrities Have A Faith Over Fear Tattoo?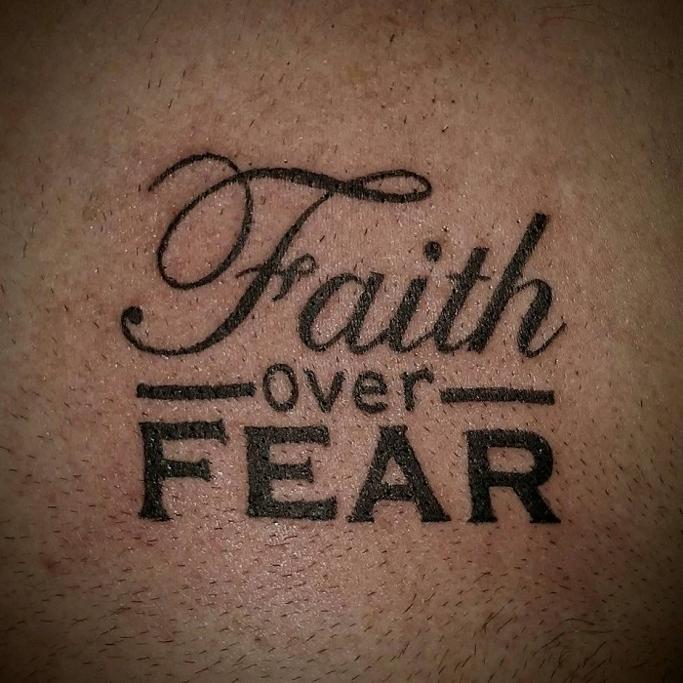 Many, many celebrities have chosen to get a religious tattoo—ranging in design and personal meaning. From Justin Bieber to Lil' Wayne, religious tattoos are a popular choice amongst the stars.
I scouted lots of celebrities with crosses or the word 'faith' tattooed on them.
Demi Lovato and Hayley Williams are a couple of names that you might have heard of. Some famous figures even had a special faith symbol or phrase from their native country. 
I was unable to find out if any celebrities have a Faith Over Fear tattoo specifically. Since faith and religion are very personal topics to each individual, some celebrities may be keeping this tattoo close to their heart and not publicly displaying it for the world to see. 
I did find a star with a tattoo that resembles the Faith Over Fear tattoo. The singer, model, and social media celebrity, Erika Costell has the phrase "fear ends where faith begins" on the left side of her stomach. Essentially, this is the same message of 'faith over fear,' just reworded.
Tattoos often carry deeply significant meanings to each individual. And honestly, no two tattoos are exactly alike which makes it all the better.
If you are someone who resonates with a religious tattoo such as the Faith Over Fear tattoo, why not join the club? A constant reminder of hope can make even the most difficult days a bit easier.
Challenges in life are inevitable. It doesn't matter who you are, you will have to face something that wasn't in your plan. Instead of fearing the unknown, embrace what is to come and have the courage to head toward your wildest dreams. 
---
In need of more inkspiration? We've got you covered:
36 Best Rose Neck Tattoo Ideas 
30 Best Hydrangea Tattoo Ideas 
30 Best Honeycomb Tattoo Ideas 
Get Access to Exclusive Deals
Subscribe for free to get exclusive deals in your inbox. 100% privacy