30 Best Gangster Tattoo Fonts Ideas 
About Gangster Tattoo Fonts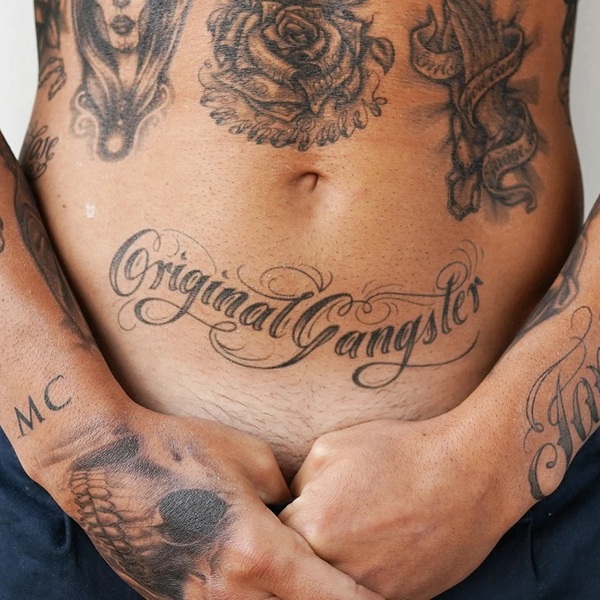 Gangster tattoo fonts are characterized by sharp and solid outlines and are a reflection of either your creativity, emotions, or personal aesthetic.
They were popularized in the '90s and were extremely important in both the biker as well as hip hop culture. 
The best gangster tattoo font designs are the ones you choose yourself to express a side of you that you love. In this guide, we'll outline several tattoo styles for you to consider, explain where you can place them, and help you pick the right design for you.
What Do Gangster Tattoo Fonts Mean And Symbolize?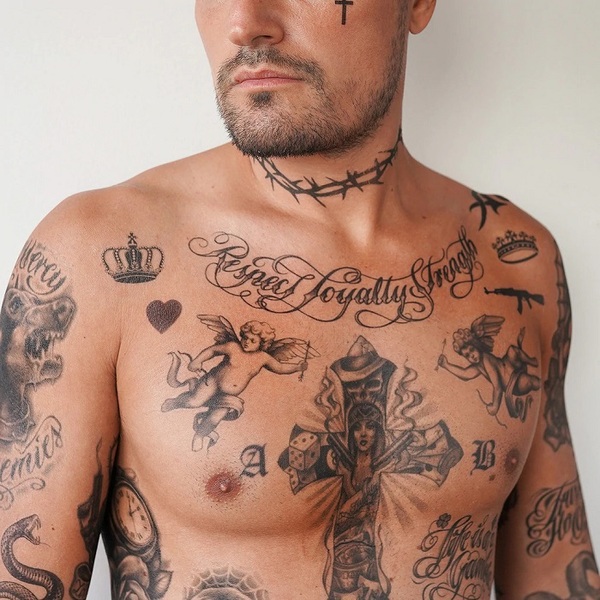 Lettering tattoos can be very personal because the font or words themselves add a layer of meaning to your tattoo.
The meaning can also change depending on whether or not you want to add in any other design elements with your letters, like images or other symbols. 
Your gangster tattoo fonts can be an awesome way to document a personal message, engrave the name of your loved one, or have a record of an important number or date.
Of course, the gangster tattoo font's meaning will vary depending on the phrase you get tattooed on your skin. Your gangster tattoo fonts can also be a symbol and reflection of your personal style and preferred aesthetic. 
Where To Get Gangster Tattoo Fonts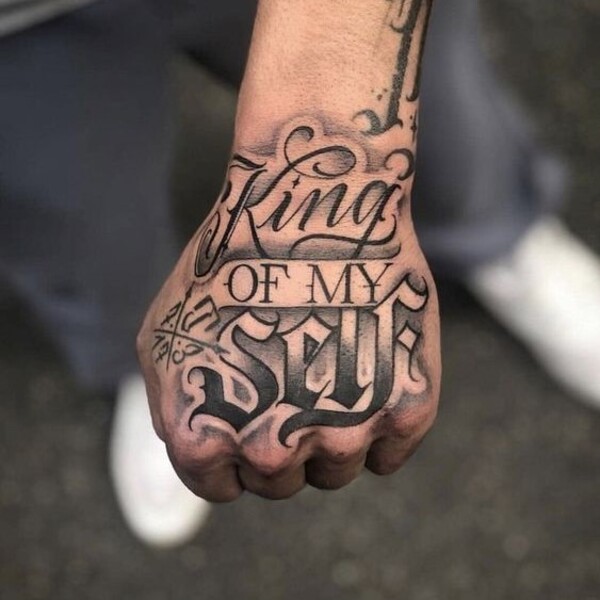 Considering the size of your gangster tattoo fonts will help you immensely when you're trying to decide where to place your tattoo. For example, if you have a long quote, you would need to place it somewhere on your body where there's enough room for it. 
Alternatively, for initials or numbers, you don't have to be as concerned, since their small size usually allows your tattoo artist to ink them pretty much anywhere.
Gangster tattoo font designs usually look best in areas that will allow the tattoo artist to work with more space. With that in mind, our picks for the best places to get gangster tattoo fonts are:
Forearm
Hand
Stomach
Chest
Back
Forearm
Large gangster tattoo fonts can look great on your forearm. Since your forearm can accommodate both complex and subtle gangster tattoo font designs, this spot works pretty well. Having a cohesive piece tattooed on your arm can also turn into a full sleeve if you ever feel like adding more tattoos. 
Back of the hand
The back of your hand is another great spot for your gangster tattoo font design because of how amazing it looks.
With that said, your hands have uneven surfaces with delicate skin and lots of nerve endings, which might make tattooing your gangster tattoo fonts a bit more difficult, but an experienced tattoo artist would know how to properly do it. 
Stomach
Due to the large surface area, the middle and lower stomach allows you to try out more elaborate gangster tattoo fonts ideas. Here's another bonus: the stomach area isn't as painful to tattoo, although it might get a bit ticklish.
Some designs work better on the ribcage or the side of the stomach, in which case it might just be a bit more unpleasant.  
Chest
Gangster fonts tattooed on your chest are pretty badass. The tattoo can outline your collarbone and chest area quite well.
Keep in mind that you might feel a bit of pain and discomfort when getting your gangster tattoo fonts inked on the center of the chest or your sternum. 
Back
Full-back tattoos are truly a work of art. They stand out because of their size and the level of detail it takes to create full-back gangster tattoo fonts. Keep in mind that the love handle area as well as your upper back towards the neck might be more sensitive.
How Much Do Gangster Font Tattoos Cost?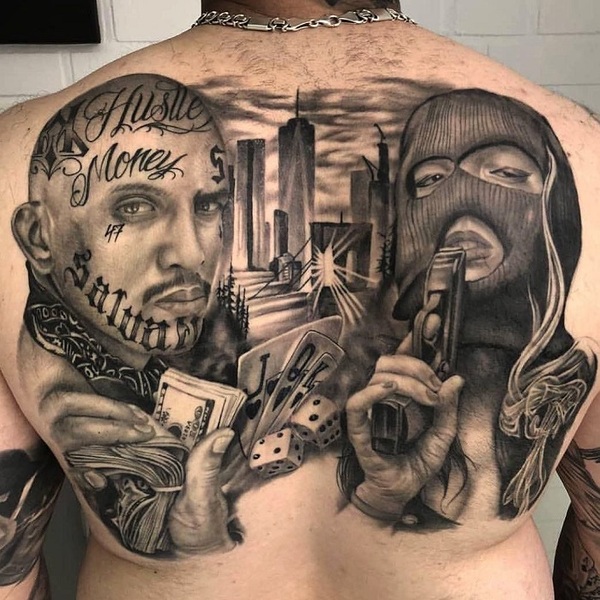 The cost of a gangster font tattoo will depend on the length of the phrase you want to get on your skin as well as your tattoo artist's skill level and hourly rate.
You can expect the average rate to be in the $40 to $100 range. Plus, some artists might charge up to $180 per hour depending on the detail of the tattoo (the more detailed ones cost more).
Other factors that determine the cost are the stencil that the artist creates as well as their labor and materials. 
Most lettering tattoos take about one to two hours to complete, so budgeting for at least two hours of tattooing will help you decide how much you're able to spend.
If you opt for larger gangster tattoo fonts, your tattoo artist might spend more hours completing the design. 
Most artists don't charge on a per letter basis, but some might. Getting one short word tattoo that covers two to four square inches of your skin ranges from $50 to $200.
Plus, it usually takes an hour of work or less, all depending on the size of your gangster font tattoo design. 
30 Best Gangster Fonts Tattoo Designs
Gangster tattoo fonts can be done in full color, but the more common designs come in black and grey.
Our picks for best gangster fonts tattoo designs include styles that feature both color and black and grey. The particular styles of the tattoos that we'll be looking at are: 
Old School
Cursive
New Tribal
#1: Old School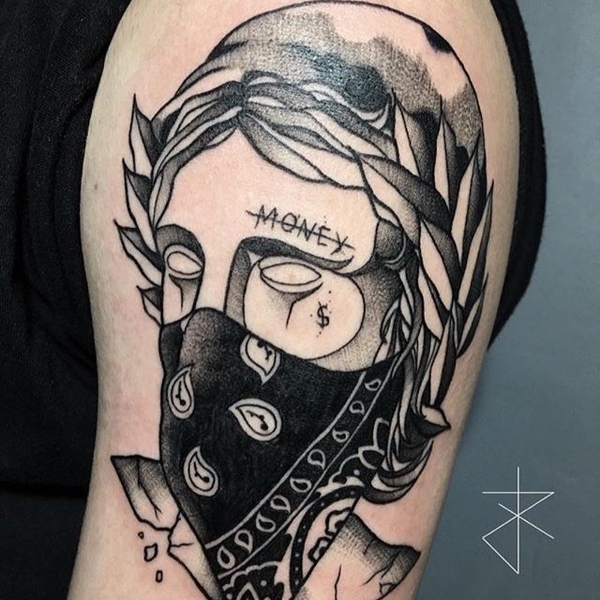 Old School gangster tattoo fonts are distinguished by their fine details. The reason for this is the fact that Old School tattoos are highly saturated and feature designs that are relatively simple.
Instead of using multiple shades to produce a sense of dimension, tattoo artists focus on creating a 2D image.
Bold black outlines come with big blocks of saturated colors, while shading is minimal and applied only in certain areas. The tattoo artist who works in this style will pay careful attention to detail to create precise designs. 
#2: Cursive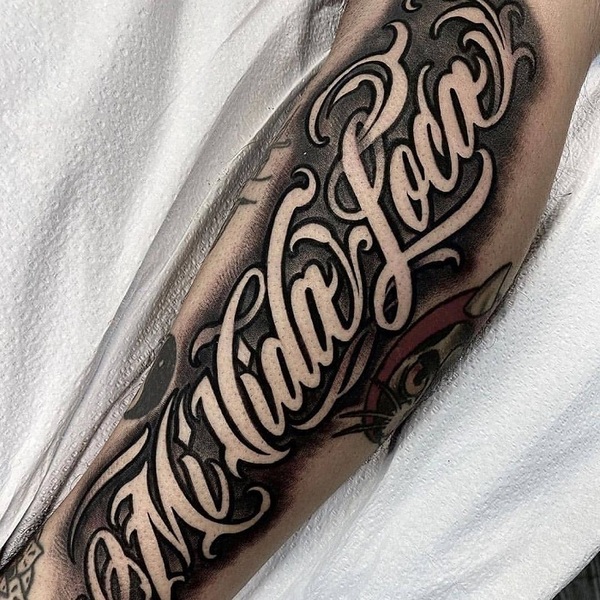 Your cursive gangster font tattoo can look great on every part of the body we've mentioned so far. It could be featured alongside other images as well. When images are involved, your cursive gangster tattoo fonts can stand out, especially on your forearm or chest.  
Block letters are one of the most common styles of cursive gangster lettering many artists use to tattoo. This style is also pretty classic and timeless.
#3: New Tribal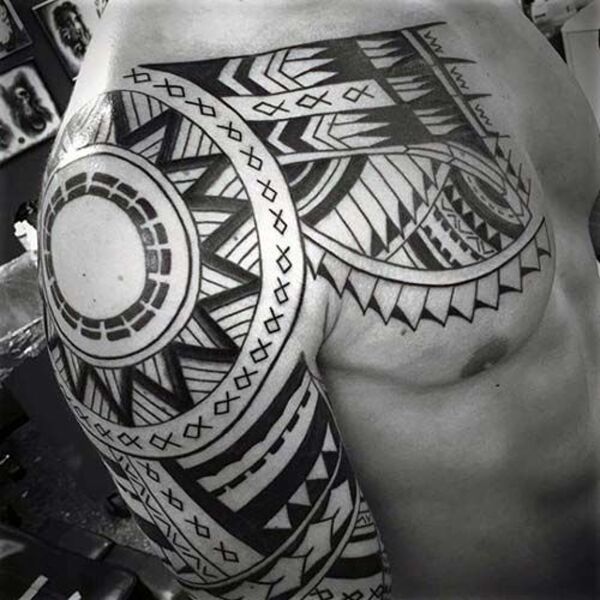 To create a new tribal font tattoo, your tattoo artist will use curved and pointed lines to produce shapes and designs you'd like to see illustrated on your body.
This style of tattooing was quite popular in the '90s and it's a great choice for a full-back or mid-stomach tattoo. 
A new tribal gangster font tattoo combines elements from a couple of independent traditions, and many tattoo artists that work in this style like to experiment with new patterns and shapes.
Also, your new tribal tattoo can be as detailed or as simple as you'd like it to be. 
#4: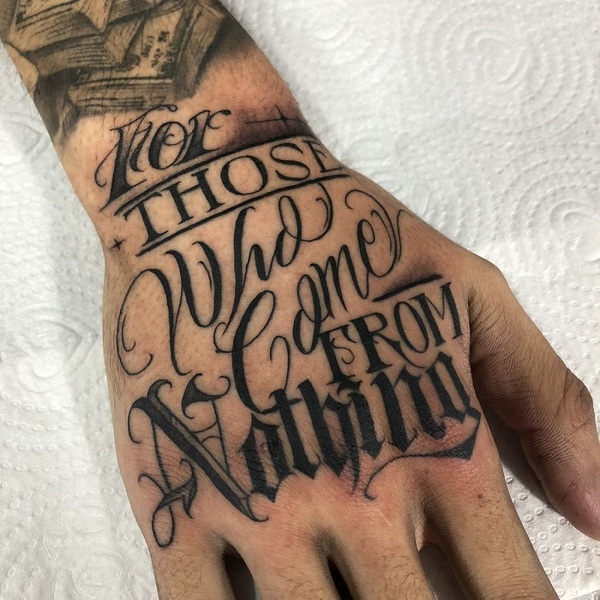 #5: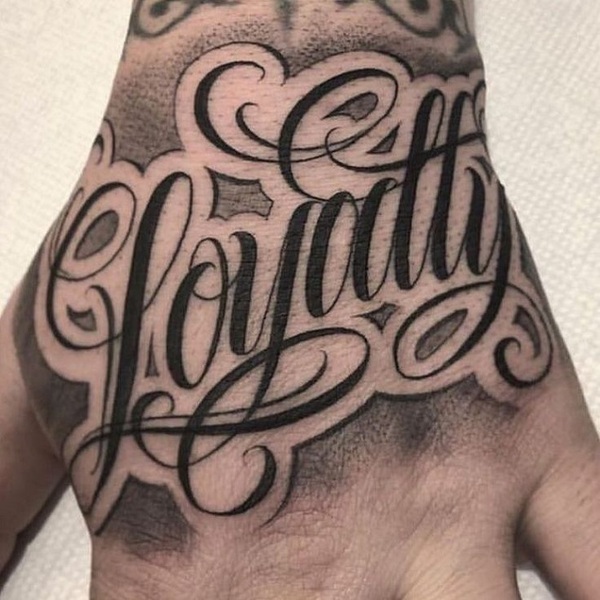 #6: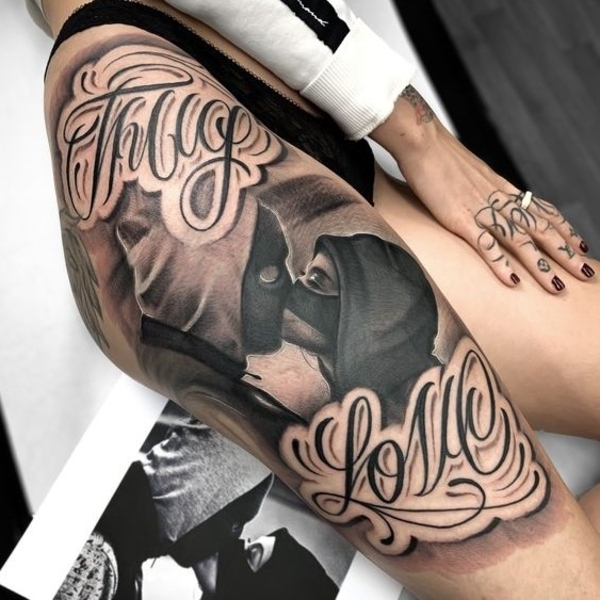 #7: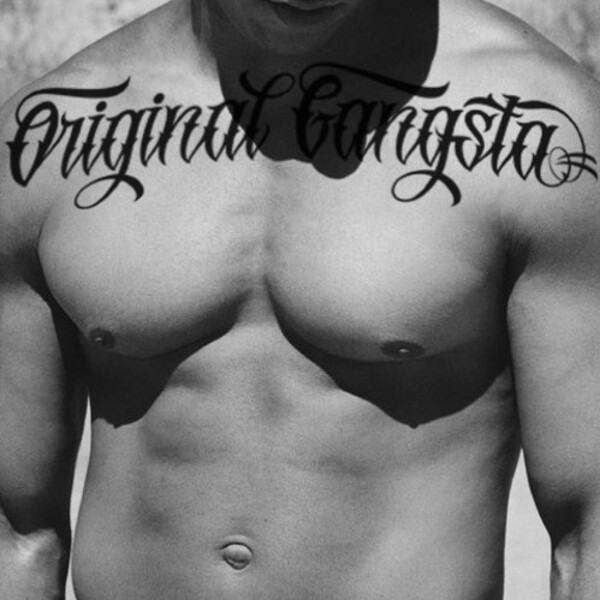 #8: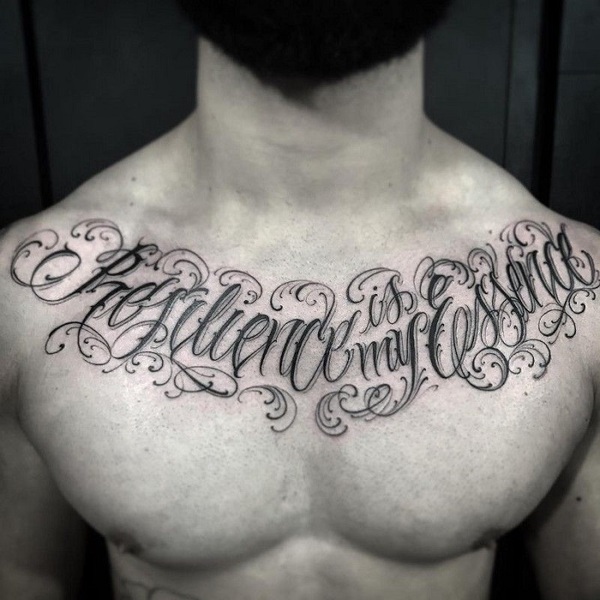 #9: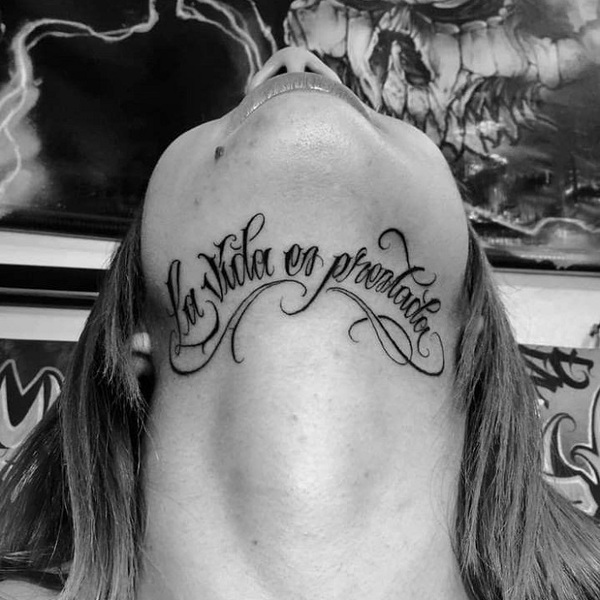 #10: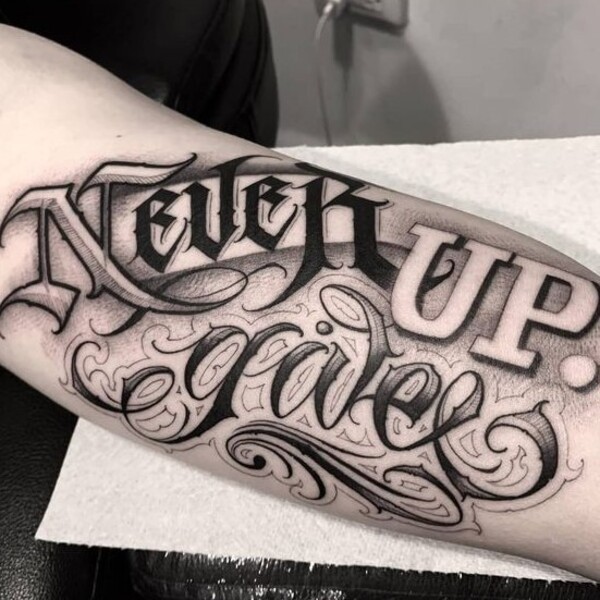 #11: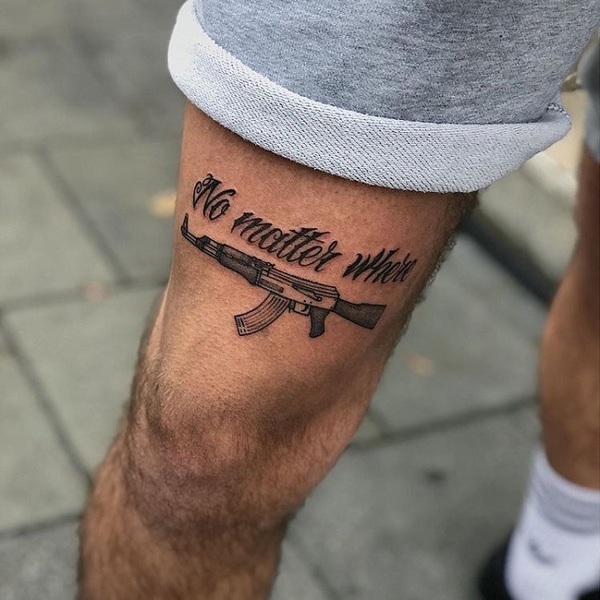 #12: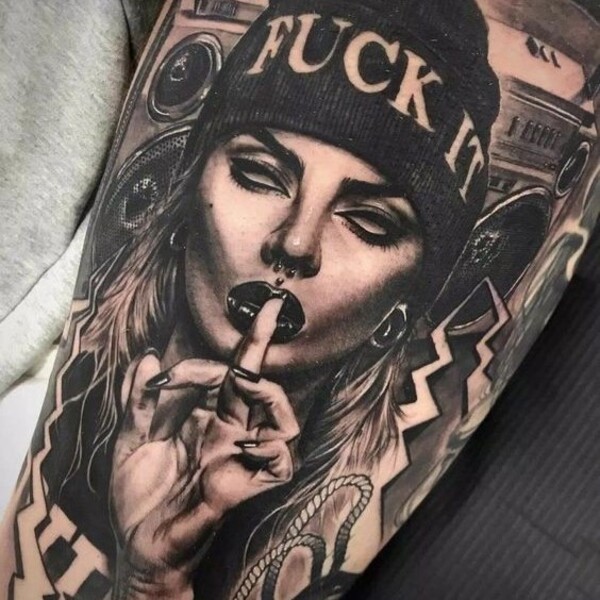 #13: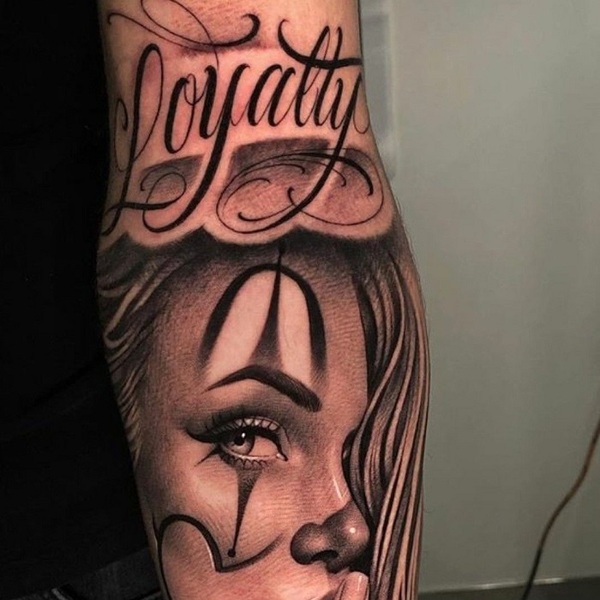 #14: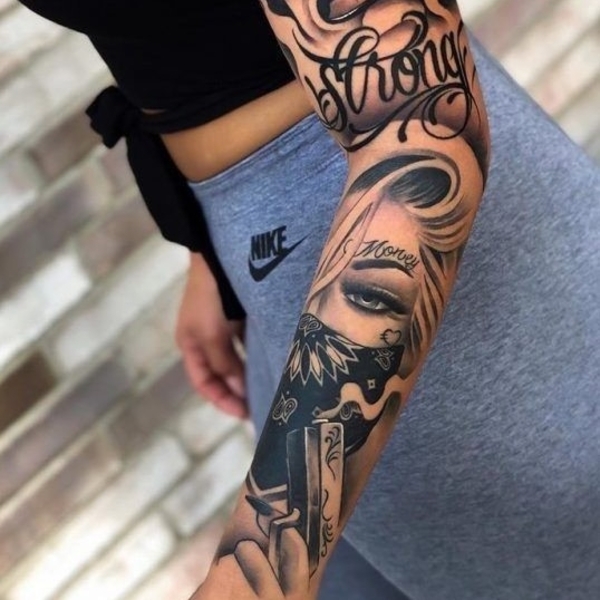 #15:
#16: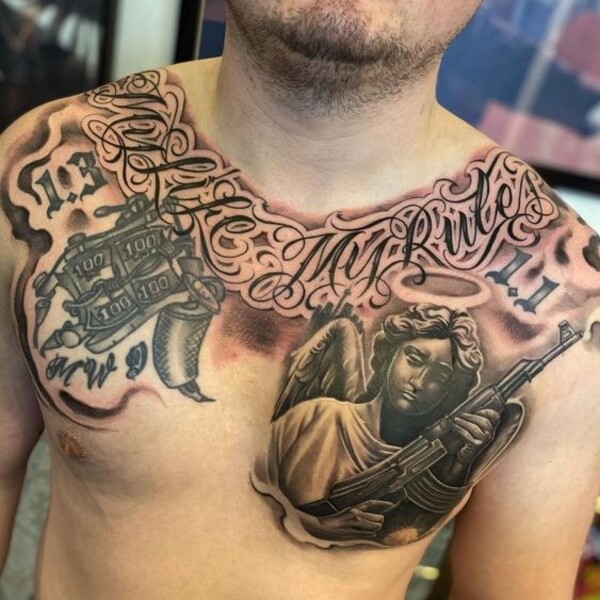 #17: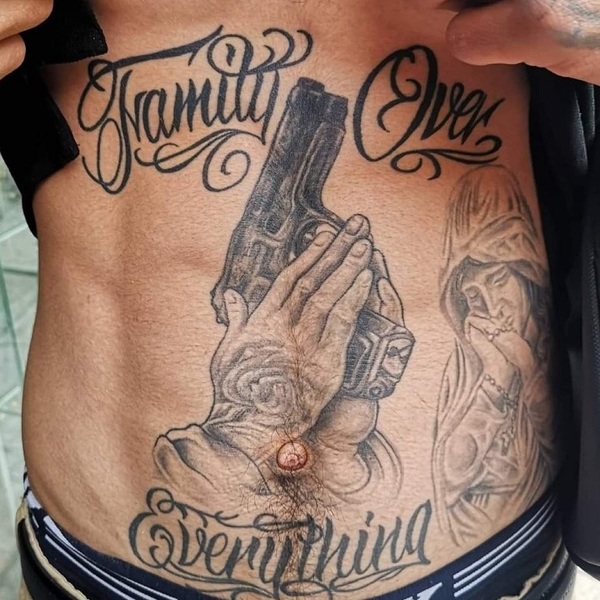 #18: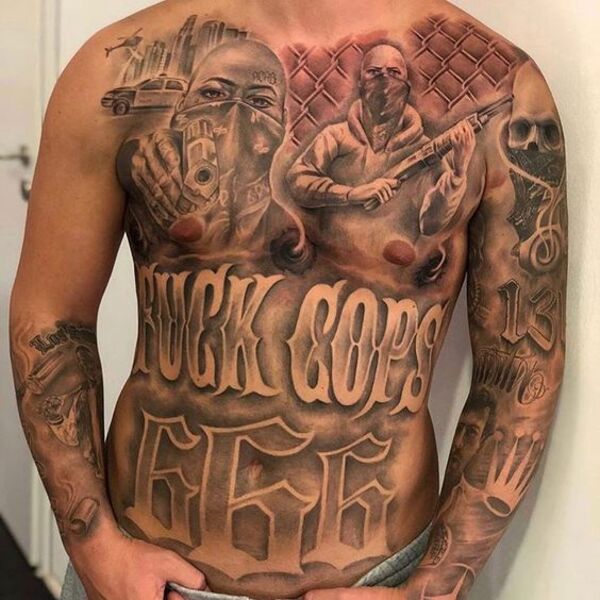 #19: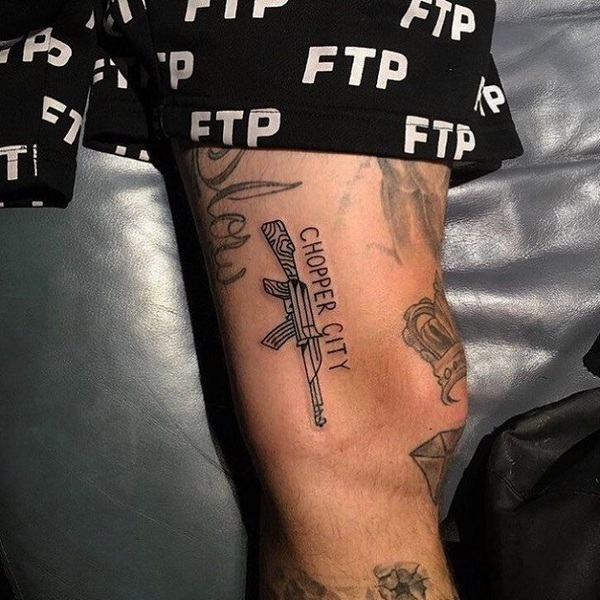 #20: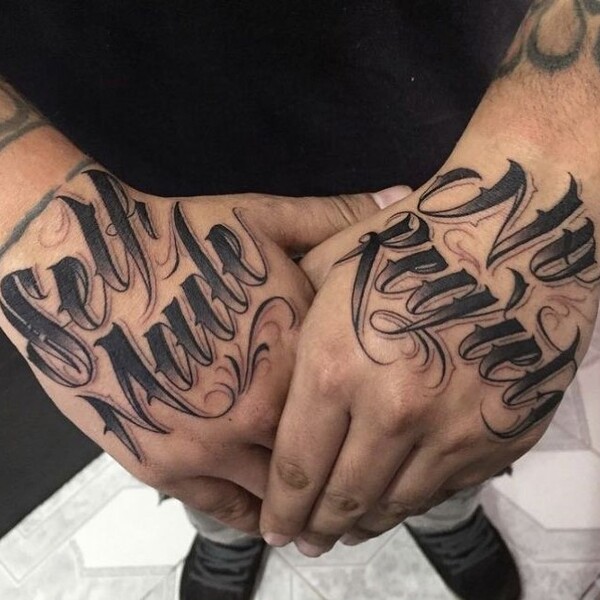 #21: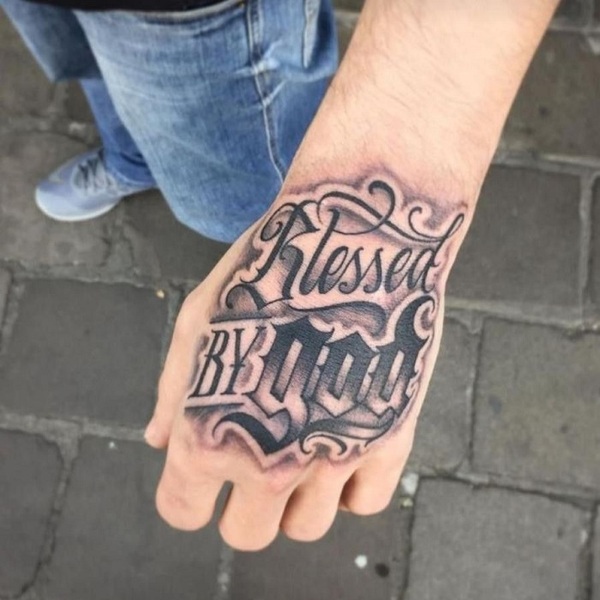 #22: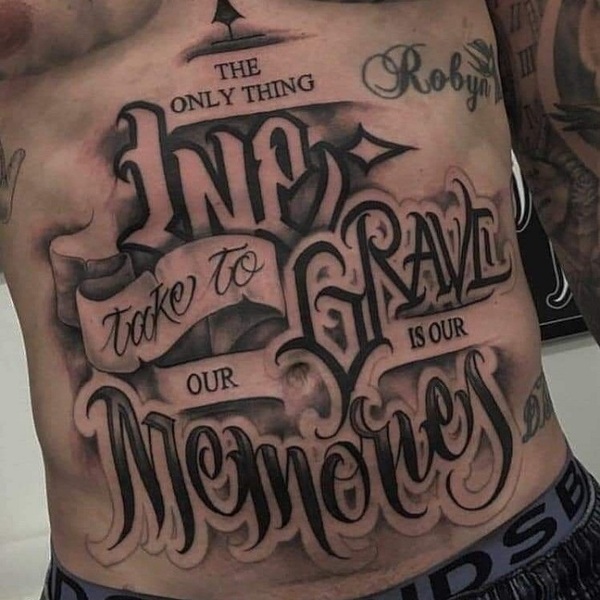 #23: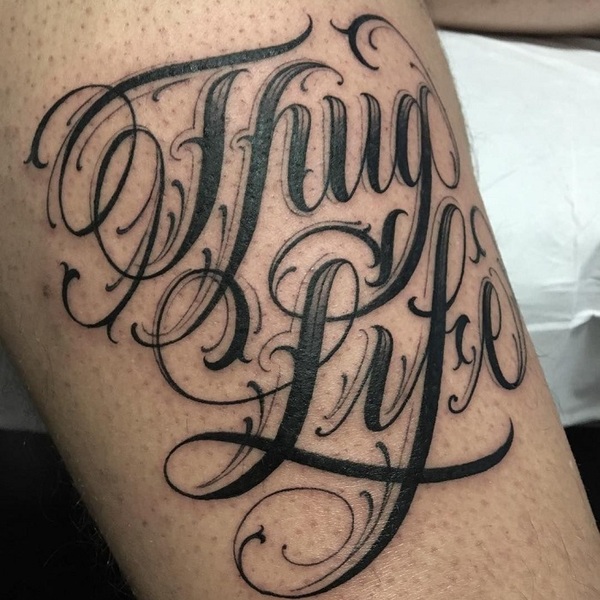 #24: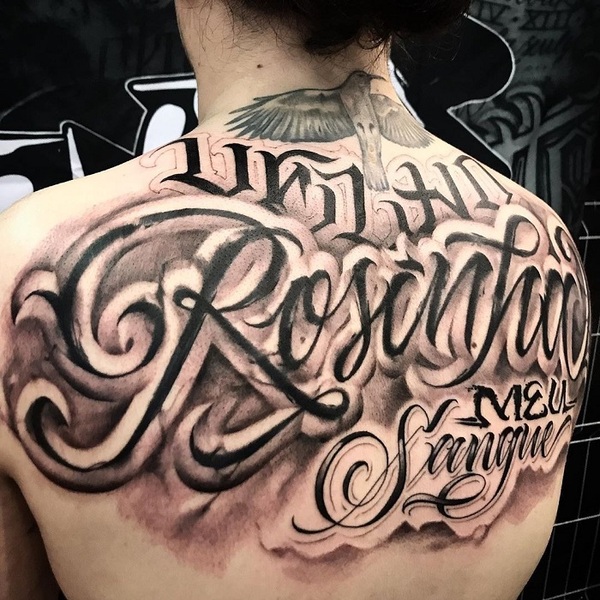 #25: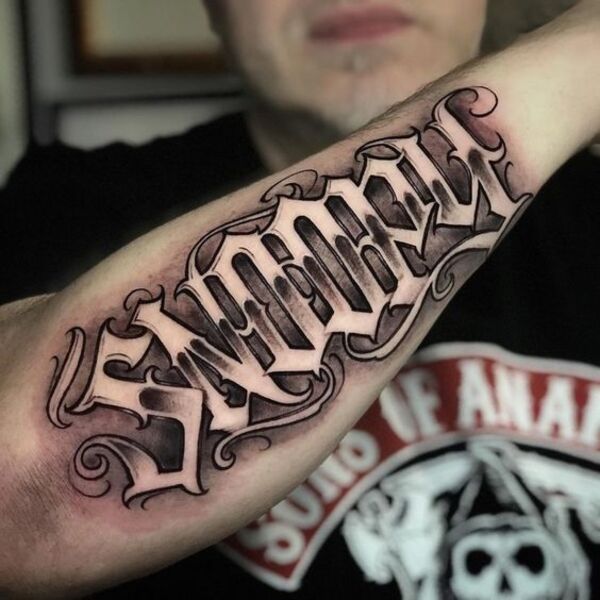 #26: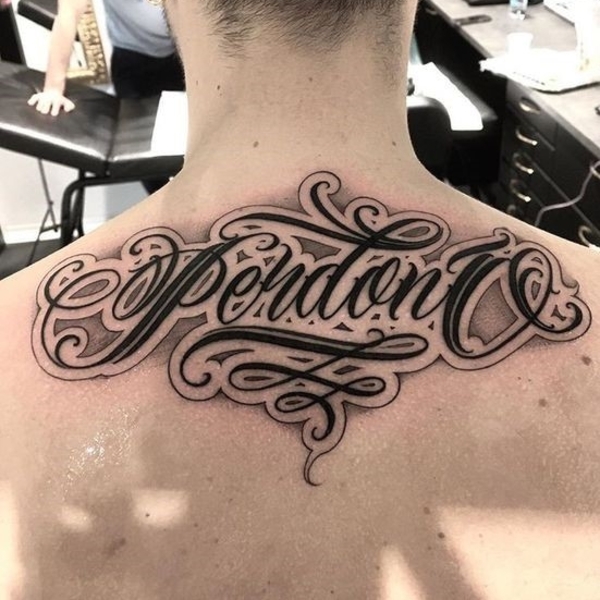 #27: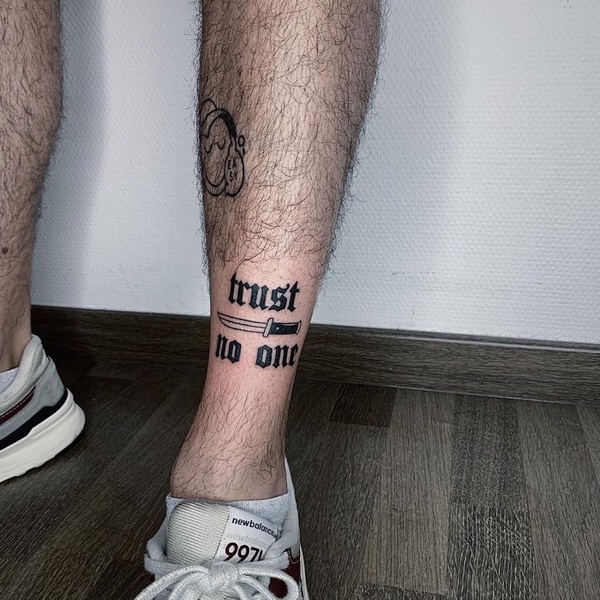 #28: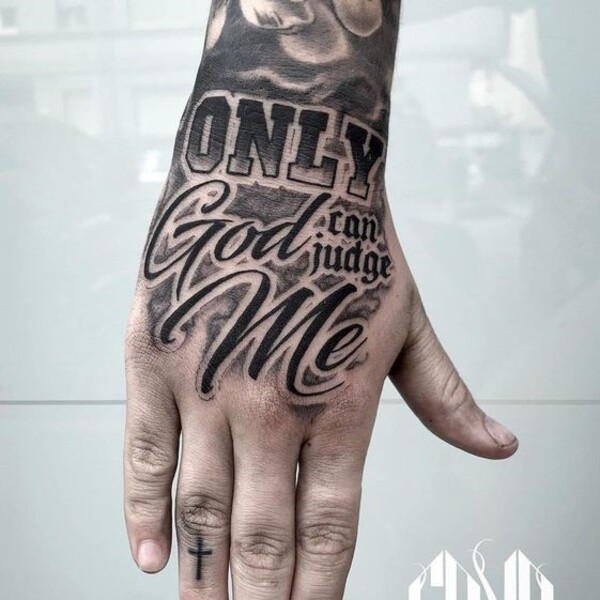 #29: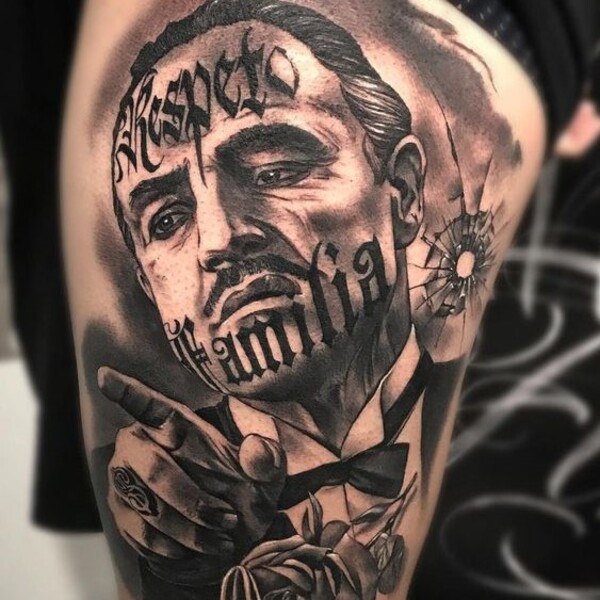 #30: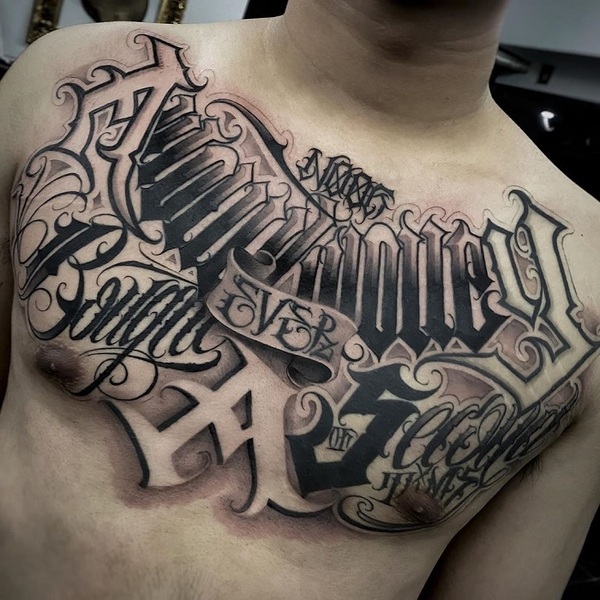 History Of Gangster Fonts Tattoos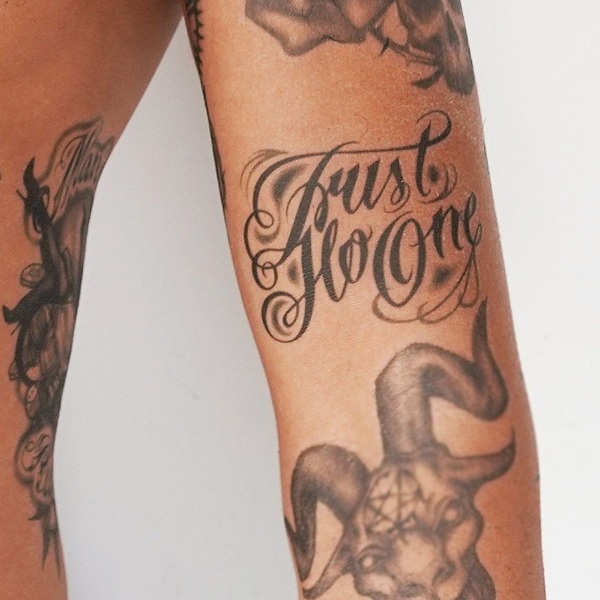 As we've mentioned, gangster font tattoos were particularly popular in the '90s. The original gangster tattoo fonts could be seen on the hip-hop scene as well as in biker culture.
These tattoos featured designs that were simultaneously bold and soft. They also included elaborate lines and tails. 
While they may seem simple, the spacing, filigree, and little details of gangster fonts tattoo designs have always been the reason why they appealed to a much wider audience over the years.
People have used these tattoo designs to honor a loved one or simply to express love since the first 'I heart mom' tattoo design emerged.
This style of lettering tattoos is still very much a popular way to show love and appreciation for significant people, dates, and memories. 
The lettering tattoos date back to the ancient peoples of the Greek, Roman, and Arabic cultures.
Today, in some cultures, the gangster tattoo fonts are quite popular among those who like to have Bible verses tattooed on their bodies as a way to express their devotion and spirituality.
Which Celebrities Have A Gangster Fonts Tattoo?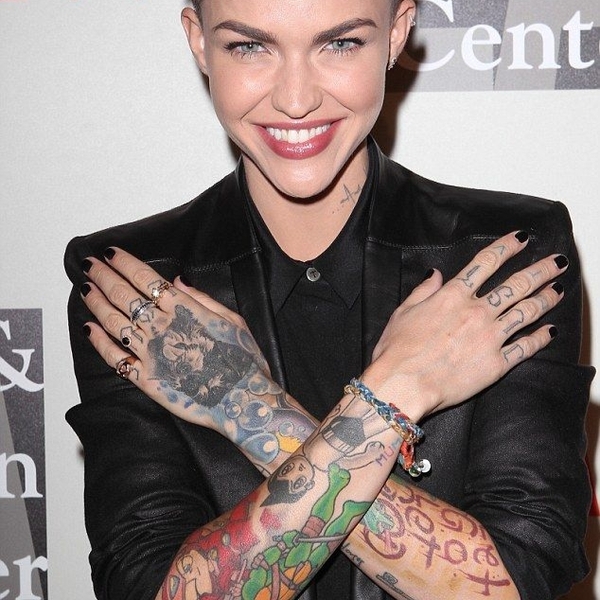 Since gangster tattoo fonts are fairly popular, many celebrities have been spotted with these tattoo designs, including:
Ruby Rose
Hayley Williams
Florence Welch
Ruby Rose
Actress and model, Ruby Rose has a large quote tattooed on her back with gangster tattoo fonts. Her tattoo says, 'Nothing takes away the past like the future.'
Hayley Williams
Hayley Williams, the lead singer of Paramore, got her ex-husband's initials tattooed on her body. Her gangster font tattoo spells CEG which is short for Chad Everett Gilbert. The tattoo is located on her left hand, with one letter inked on each finger.
Florence Welch
Florence and the Machine's lead vocalist, Florence Welch, has her gangster fonts tattoo on her left forearm. The tattoo says "Sad Sack" and it's in honor of her friend nicknamed Sad Sack. The tattoo also includes a bird and a heart. 
---
Looking for more inkspiration? Say no more:
The Best Bull Skull Tattoo Ideas
The Best Godzilla Tattoo Ideas
The Best YHLQMDLG Tattoo Ideas
Get Access to Exclusive Deals
Subscribe for free to get exclusive deals in your inbox. 100% privacy