How To Wear A Bandana In Your Hair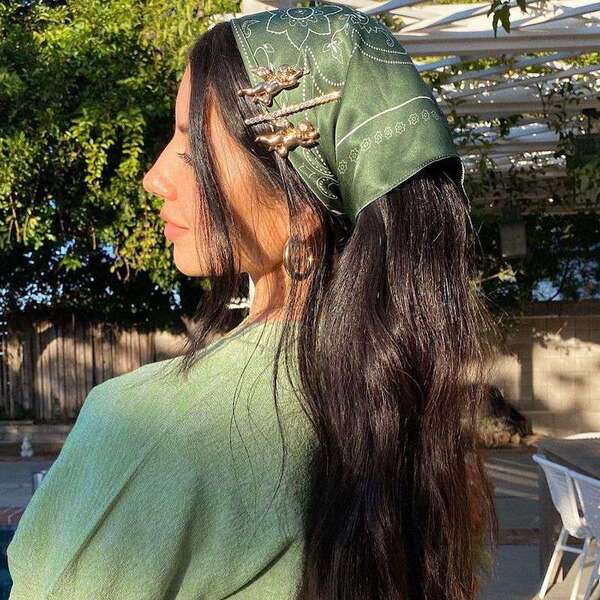 Hair upkeep is a tedious daily task. It's typically the last step in getting ready, as we usually focus on our outfits first.
In a fit of annoyance, we usually settle for its unflattering state. Baby whisps are left untamed, grease sheens remain visible, and tangled knots from the day before keep their hold. It is what it is.
While some opt for barrettes, chunky headbands, or a traditional ponytail to disguise weeks of unwashed hair, bandanas can also help cover up its dismal condition.
They cover a good portion of your scalp, which is great for those who deal with annoying baby hairs and grease pools. If you're wondering how to wear a bandana in your hair, you can relax knowing it's easy as pie.
From prairie girl chic to Y2K finesse, I'll teach you how to wear a bandana in your hair using 10 outfit ideas. This comprehensive style guide will cover some notable topics such as:
How to wear a bandana in your hair for guys
How to wear a bandana in your hair for girls
Cute bandana outfit ideas 
How to style a bandana 
What Makes Up A Hair Bandana Outfit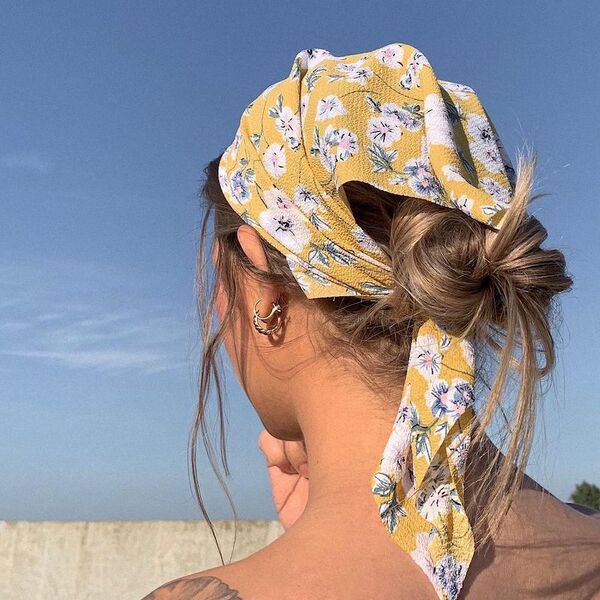 From the get-go, there is no such thing as a quintessential bandana in hair outfit.
This ensemble is considered a staple in various core aesthetics, including cottage-core, Y2K, Instabaddie, and VSCO girl. Typically, it's accessorized with additional jewelry, such as earrings, stacked necklaces, and rings. 
If you're struggling to come up with a cohesive fit, I recommend settling on a design first. Bandanas come in a wide variety of different colors, cuts, and prints which can act as a great starting point in coming up with a matching ensemble.
History Of The Hair Bandana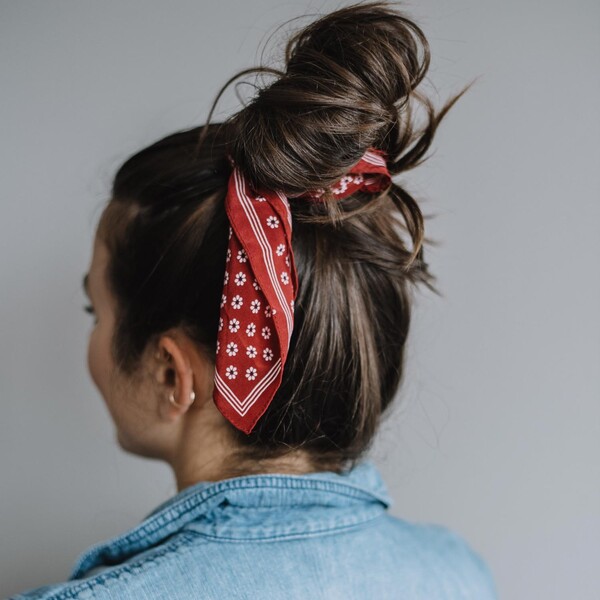 Bandanas predate Levis, leather jackets, and even the iconic white tee. We were first introduced to this revolutionary accessory in Ancient Greece, Rome, and Mesopotamia. They were initially used for functional purposes, mainly worn for protection and hygiene.
Over the years, the headscarf crossed multiple borders thanks to its practicality and fashionable outlook. It was considered a staple in religious sects, cowboy culture, and conservative countries where modest dress was mandated.
Bandanas are also culturally significant within the LGBTQ community, as in the early days, they were used to signify sexual preferences in the 1970s.
Additionally, this hair accessory was regarded as a mainstay in gang and hip-hop culture during the 1990s and early 2000s. Today, bandanas continue to remain popular. 
When To Wear A Bandana In Your Hair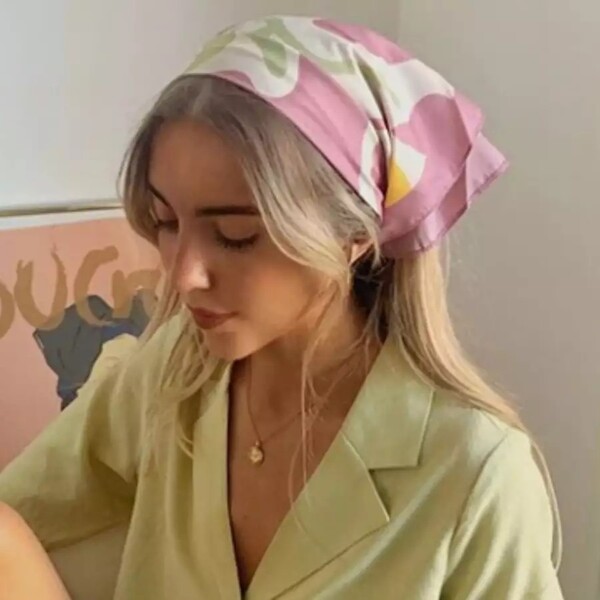 Bandanas are meant to be worn casually. A popular streetwear accessory, it can provide a subtle pop of color to any outfit. They're typically fashioned during the warm season, as it helps prevent frizz and dryness.
Additionally, they can help keep the hair away from your face, which is a must for those hard at work on projects or running errands.
With that in mind, I think it's safe to say that bandanas shouldn't be worn to formal events. If you want to add a little somethin' somethin' to your final formal 'do, it's best to opt for barrettes and headbands instead. 
How To Wear A Bandana In Your Hair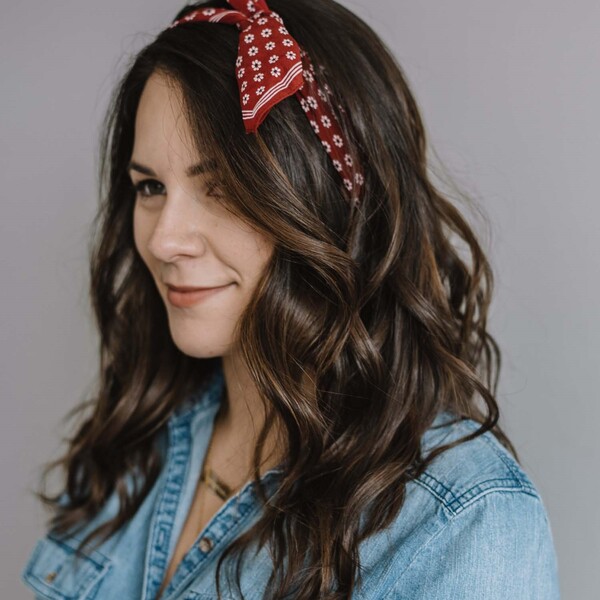 There's no need to channel your inner Tan France or Alexa Chung. Styling bandanas is relatively easy, especially if you've settled on a core aesthetic.
Best accompanied by jewelry, additional hair accessories, and a cute outfit, it offers a unique opportunity to get creative. For those in need of inspiration, I'll share some trendy looks for how to wear a bandana in your hair. 
10 Outfit Ideas With A Bandana In Your Hair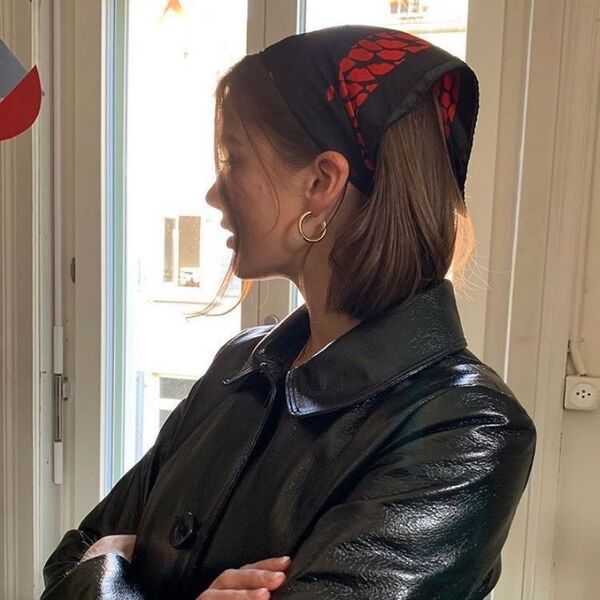 Bandanas are often affiliated with prairie dresses and peasant blouses. It's an attractive aesthetic to follow, but I totally understand if it's not your vibe. If you prefer something more modern, I suggest this stylish fit.
Centered around a red-print head scarf, a black leather jacket, and a pair of gold hoops, it acts as a refreshing alternative to over-romanticized ensembles. The patterned stripe on the bandana adds a pop of color to the entire OOTD, which is great for those not keen on wearing bright hues.
For the rest of the outfit, I recommend wearing a floral-print mini dress and a pair of Doc Martens for a hint of edginess.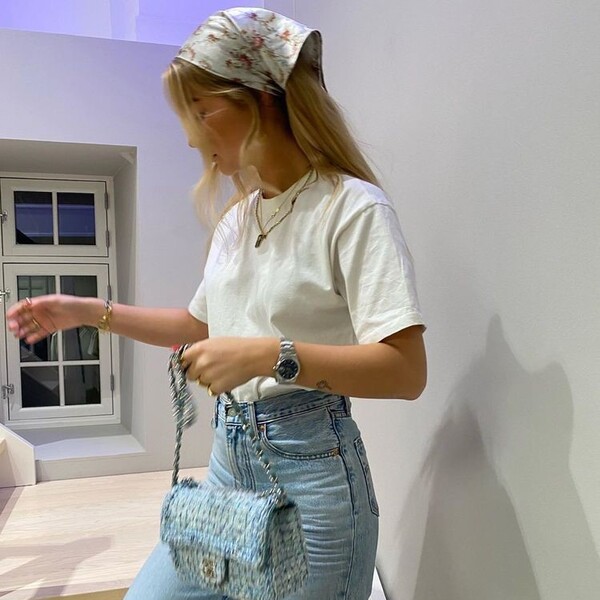 White tees and jeans are the ride or die of wardrobe staples. It's a timeless outfit, which is why I thought to include at least one example in this "how to wear a bandana in your hair" style guide.
A simplistic fit, this OOTD features a plain white shirt, a pair of high-waisted jeans, a silk head scarf, and a tweed Chanel bag for some added luxury. It's deceptively minimalistic, as this ensemble draws its strength through its defined silhouette.
I recommend wearing a pair of Converse to help keep the look casual.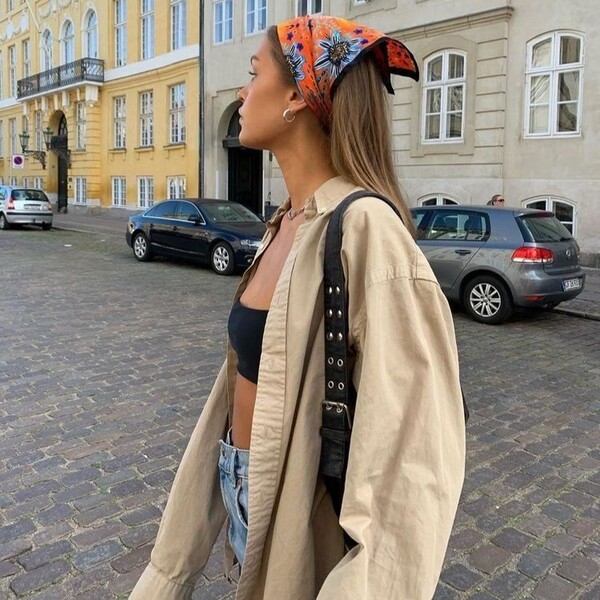 Ideal for sunny afternoons, this summery ensemble features an orange head scarf, a khaki button-down, a black crop top, and a pair of denim shorts to really give off those mid-July vibes.
Making it even more summer-approved, it's breathable, which is a godsend during those cruel 30° heat waves.
The oversized silhouette of the button-down does wonders in accentuating your body shape, as it provides the illusion of a more demure figure. Preferably paired with chunky dad-core sneaks for a touch of 90s flair, it definitely deserves an Instagram pic to capture the look.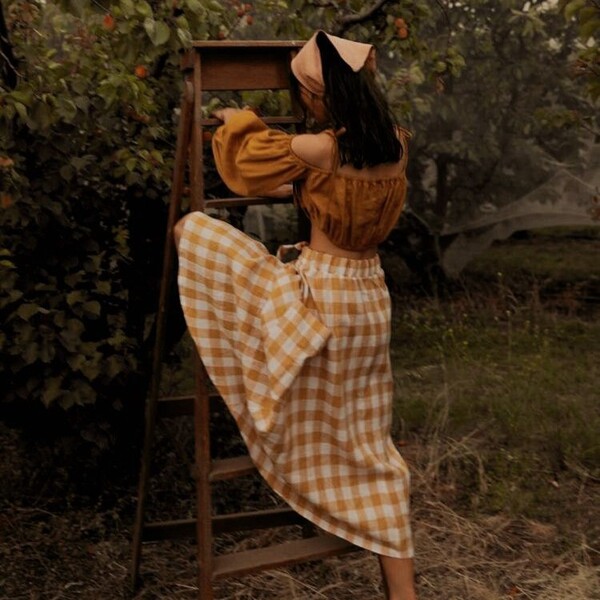 This wouldn't be a complete "how to wear a bandana in your hair" style guide without including one cottage-core ensemble.
This romantic jaw-dropper is comprised of a yellow gingham midi skirt, an off-the-shoulder mustard blouse, and a tinted head scarf for some added visual interest. 
It's definitely reminiscent of countryside orange-picking, picnic baskets, and running through a flower field. It's the perfect summer outfit, given the OOTD's level of practicality and breathability. Don't forget to top the look off with a pair of rattan-woven espadrilles!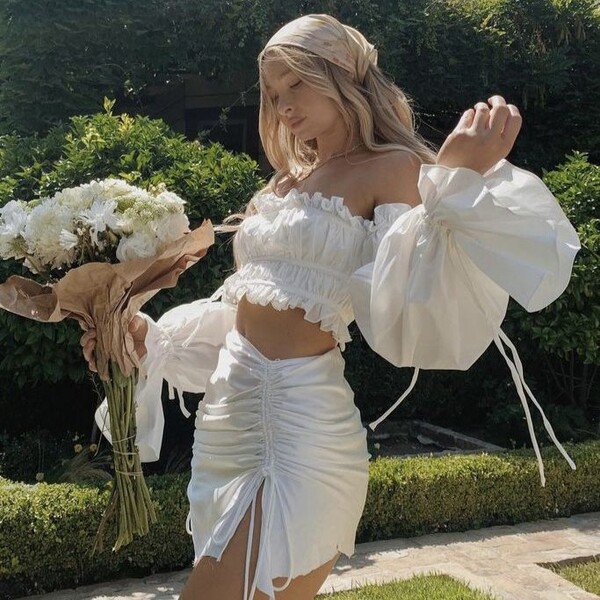 Obviously, this outfit isn't the most practical out of the looks featured in this "how to wear a bandana in your hair" style guide, but let's be honest. Most of us love to fantasize about our imaginary selves.
This ensemble is straight out of a fairytale, as it's composed of a ruffled, off-the-shoulder blouse, a ruched mini skirt, and a cream bandana as an added accessory.
With a dramatic silhouette, it's the kind of outfit you'd associate with garden parties, high tea, and wandering through a magnificent palace. If anything, it can act as the perfect birthday outfit.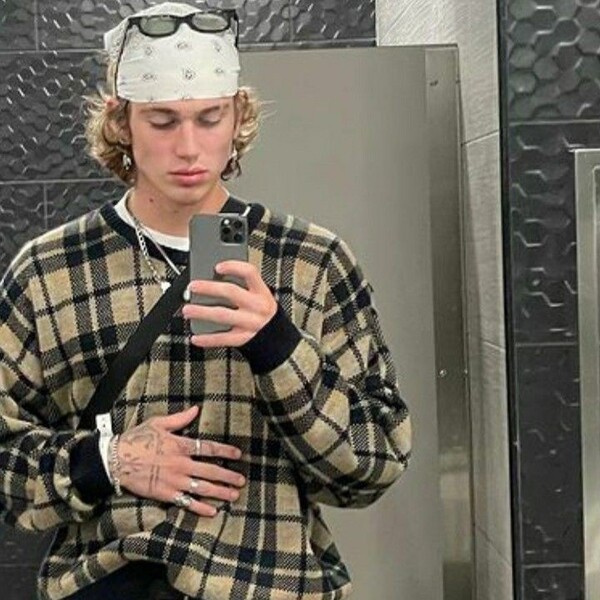 Bold outfits typically require head accessories to help counterbalance their bright aesthetic. Case in point, this "how to wear a bandana in your hair" contender uses a headscarf to do just that.
It features a plaid sweater, a pair of cargo pants, an array of silver jewelry, and a white tie-up to help freshen up the look.
Complemented with sunnies, this streetwear-inspired outfit is relatively easy to put together, especially if you already own all four components. In terms of shoes, I suggest wearing a pair of Doc Marten loafers for a touch of schoolboy sophistication.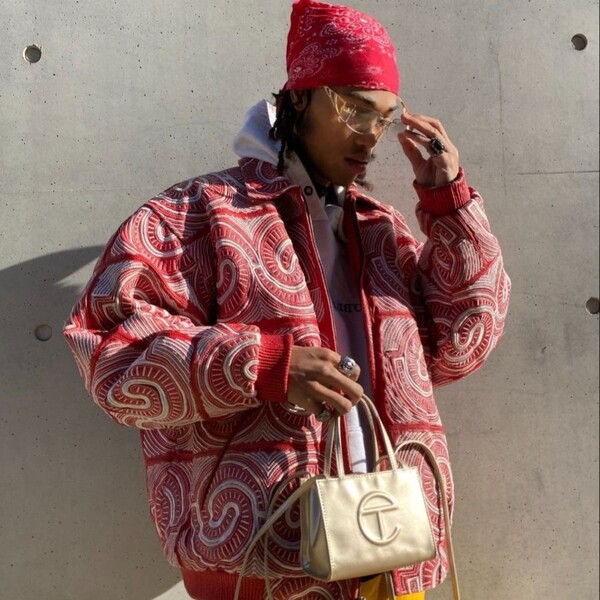 If I could only describe this outfit in one word, I would say it's extra. Comprised of a bright red jacket, a white hoodie, a pair of yellow cargo pants, and a paisley bandana to help tie the whole look together, it's definitely a look reserved for confident trendsetters.
Considering the number of layers it has, I believe that this OOTD is great for the fall or winter. If you prefer something more summer-appropriate, you can always swap out the coat and hoodie for a graphic tee instead.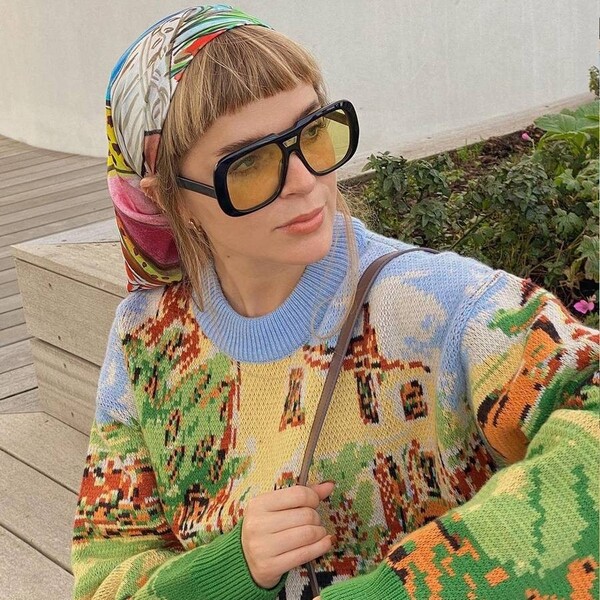 Print on print can sometimes be seen as too much. But have you ever heard that two negatives make a positive?
Take, for instance, this bold outfit which features a cross stitch-like cable knit, a matching headscarf, and a pair of oversized sunglasses to emphasize this ensemble's wild vibe.
While each features a different print, the colors of the bandana and the sweater match, which helps form a more cohesive fit. For the pants themselves, you can never go wrong with a traditional set of mid-wash Levi's.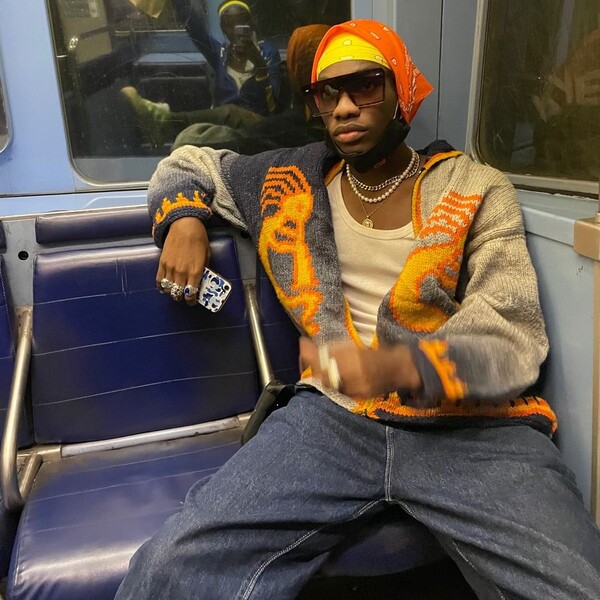 Outfit coordination can easily be simplified through color theory. In short, it's best to pair warm tones together.
The same goes with cold hues as well. This ensemble is considered a prime example of this method, as this model chooses to base its outfit on orange and yellow shades. 
The white tee and the mid-wash jeans help to tone down the outfit's brightness, as they act as an excellent foundation. For accessories, a matching headscarf and an array of jewelry are a must.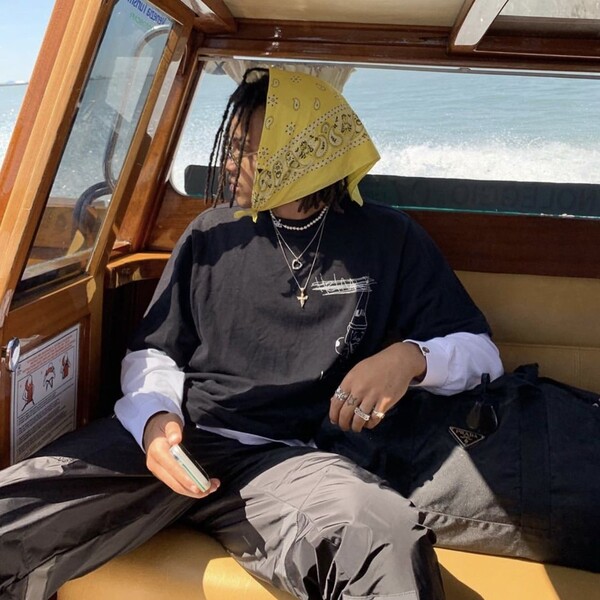 Ever thought of turning your headscarf into a statement piece? If so, I recommend using this "how to wear a bandana in your hair" outfit as inspiration.
Featuring a bright yellow cotton tie, a black tee, a white long-sleeve undershirt, and a pair of nylon cargo pants, this streetwear-esque ensemble offers the perfect balance between subtle and chic. 
Since this OOTD is relatively simple, I recommend accessorizing with silver jewelry for some added glitz. For shoes, a set of matching Air Jordans can help complete the final look.
What Type Of Hair Bandana Outfits Can You Get?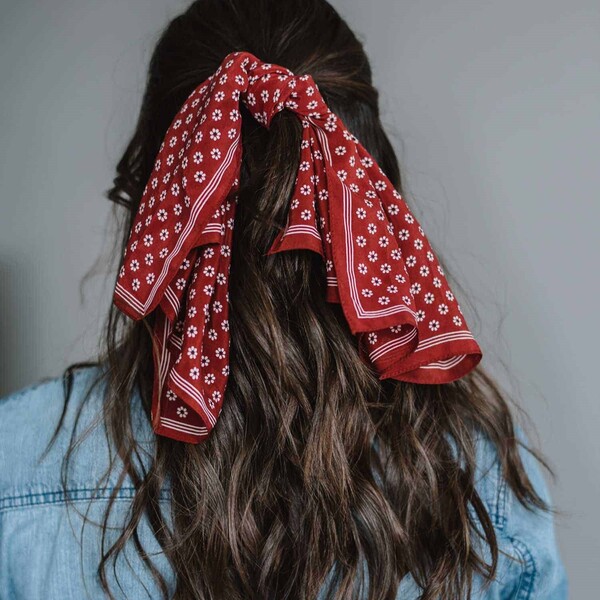 Considering its extensive history, you're bound to find at least one bandana look in any core aesthetic.
It's a simple way to jazz up an everyday look, which is great for those who don't have time to style their 'do. I thought to include some trendy outfits for those wondering how to wear a bandana in your hair:
Cottage-Core: This aesthetic is all about floral dresses, peasant tops, and rattan accents. Bandanas are considered a wardrobe staple in this particular trend. 
Boho/Hippie: The 1970s were particularly fond of the bandana. For the outfit itself, you can't go wrong with a pair of bell bottoms and a floral button-up.
Y2K: Bandanas were quite popular during the early 2000s. Often paired with silver chains and low-waisted bottoms, I highly recommend copping this aesthetic if you vibe with early-day hip-hop.
Classic Streetwear: Bandanas go intrinsically well with streetwear staples such as bomber jackets, jeans, and graphic tees. 
Instabaddie: This particular garment imbues a sense of mischief, which is definitely the vibe that this core aesthetic is all about.
How To Choose The Best Hair Bandana Outfit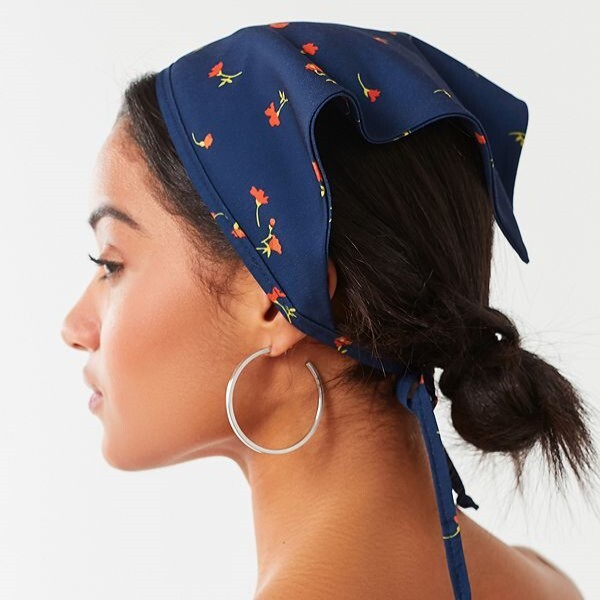 Like most hair accessories, bandanas aren't considered a serious investment.
If anything, they're regarded as a mindless purchase given their affordability. That said, finding the perfect head scarf is a lot more complex than visiting your go-to fast fashion retailer. 
It entails some forethought, especially for those who want to commit to sustainable and ethical clothing. Care for some in-depth specifics? If so, I'll give you a brief rundown. 
Responsible shoppers typically consider material quality, design, practicality, and price before committing to checkout. Well-made bandanas are usually constructed out of durable fabrics, such as silk, satin, and cotton.
I don't recommend choosing a 100% nylon or polyester head scarf, as they typically feel plastic-y. Often resulting in unflattering drapes, they're also quite flimsy. Trust me, nothing is more annoying than a sagging bandana.
As previously mentioned, bandanas come in a broad variety of colors, prints, and sizes. It's always a good idea to settle on a design that aligns with your current aesthetic, as this will help guarantee you actually use it.
If you have yet to discover your dress sense, I suggest buying neutral tones to keep outfit coordination simple. This is also a practical choice, as you don't want to be stuck with a head scarf that's difficult to accessorize.
In terms of price, bandanas are quite inexpensive. You can easily find a well-made head scarf for around $10 to $20.
However, luxury brands such as Hermes and Versace offer a curated selection of haute couture wraps for $200+. It's definitely a hefty investment, but it's worth considering if you often wear bandanas.
How To Style Hair Bandana Outfits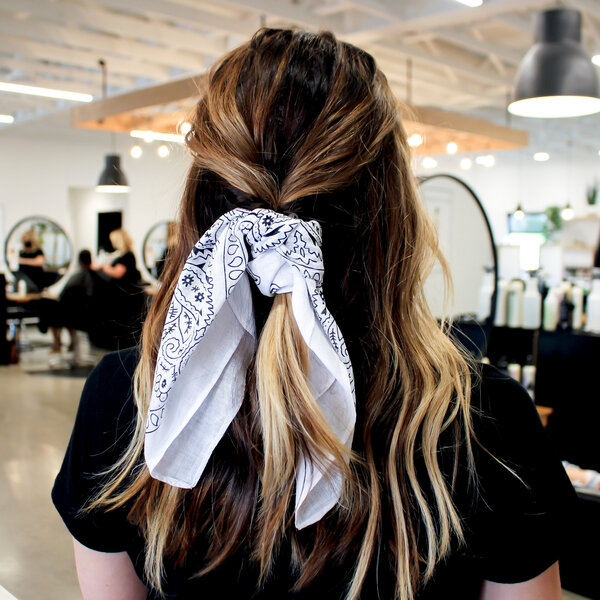 Versatile in design, bandanas are a godsend to those who struggle with outfit coordination.
They pair well with several ensembles, as evidenced in the multiple looks I've shared so far. If you prefer a condensed list of fashion specs, I'll share some ways how to style a bandana in your hair:
Stacked Jewelry: Necklaces, rings, and earrings are typically worn with bandana-based outfits. I recommend sticking to one material type (such as gold or silver) to help keep the ensemble cohesive.
Sunglasses: Considering that bandanas are a summer staple, it only makes sense to finish off your look with a pair of sunnies.
Dainty Hair Clips: If your head scarf loves to sag, I recommend fastening on a set of barrettes or bobby pins to help keep it in place.
Curly or Wavy Hair: Bandanas do wonders in covering up dirty hair. That said, you can never go wrong with a styled 'do to help accentuate the final look.
Color Theory: As previously mentioned, it's always a good idea to stick to one universal hue to help guarantee a cohesive outfit.
Fashion Tips To Avoid With Hair Bandana Outfits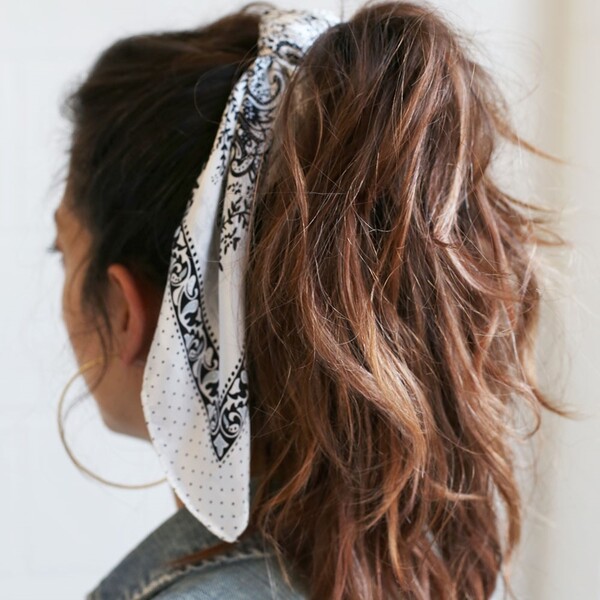 It doesn't matter how iconic an accessory is, it's bound to come with a list of fashion faux pas. Bandanas are no exception, as it's quite simple to over-complicate this hair piece. To help prevent post-outfit regret, I'll share some styling tips to avoid with bandana-in-hair ensembles.
Baseball Caps: Considering its full coverage, it seems counterintuitive to wear a bandana. I suggest wearing a beanie underneath if you intend on donning a hat.
Excessive Hair Accessories: Pairing your bandana with a few hair clips is considered a good move. Wearing an additional headband and a scrunchie, on the other hand, is regarded as a fashion faux pas.
Formalwear: As previously mentioned, bandanas should only be worn casually. I don't recommend wearing them alongside evening gowns or pantsuits.
Athleisure: The nostalgic vibe of bandanas clashes with the lax attitude of yoga pants, hoodies, and tracksuits.
Oversized Head Scarves: If your bandana results in a super bulky knot, it's time to go back to square one.
How To Take Care Of Hair Bandana Outfits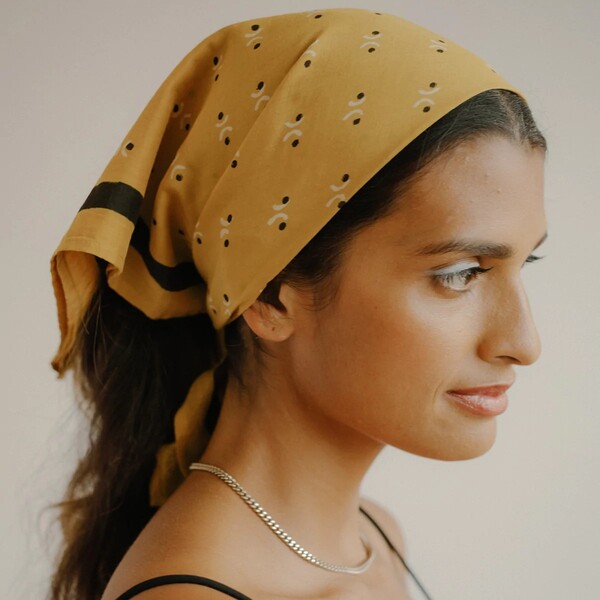 In most cases, bandanas can be added to your regular load of laundry. Those constructed out of linen and cotton can be machine-washed and dried.
To help maintain its color and silhouette, a gentle solution of lukewarm water and mild detergent is recommended. On the other hand, those made out of silk and satin may require handwashing.
It's worth mentioning that luxury headscarves (such as those sold by Hermes and Alexander McQueen) may need professional help. In terms of storage, I recommend rolling your bandanas instead of folding them, as that will typically result in unwanted creases and wrinkles.
Best Places To Buy Hair Bandana Outfits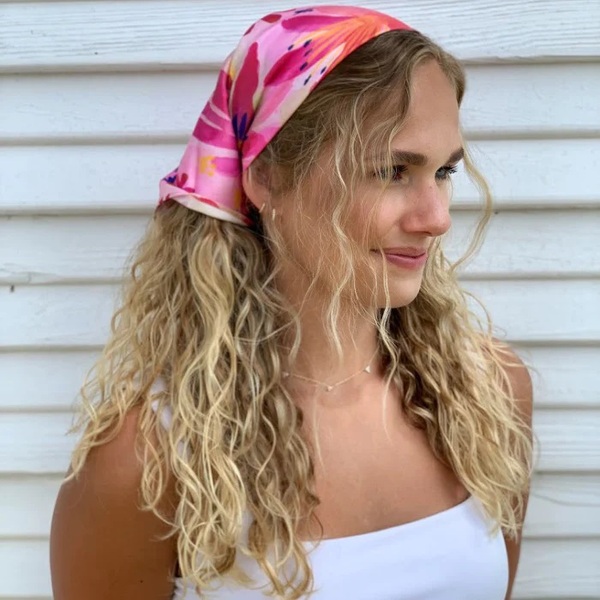 Before I end my style guide, here are some store recommendations for trendsetters to check out if you're looking for a stylish new bandana:
Nordstrom 
Etsy
Urban Outfitters 
Your local thrift store
Final Thoughts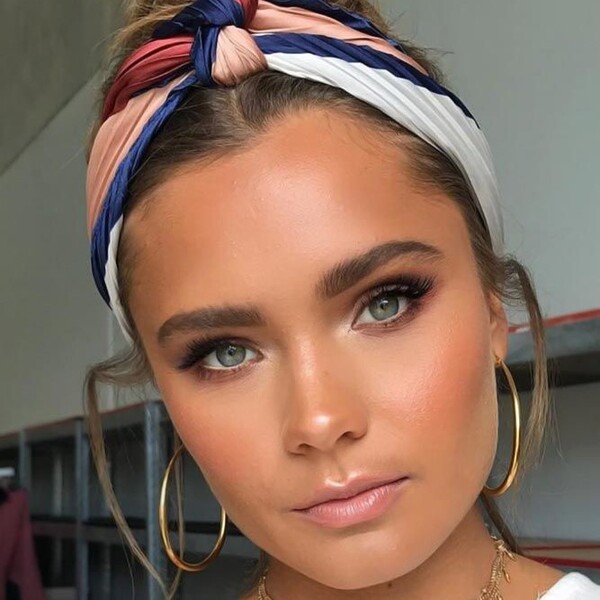 Those unfamiliar with bandanas are probably not aware of their versatility and practicality. Considered an excellent way to disguise unwashed hair, head scarves act as the perfect distraction. Take this as your sign to buy as many as you can.
Offered in a wide selection of unique prints and bright colors, they might be the missing piece of the puzzle if you're often stuck in outfit coordination. Of the 10 looks I've featured, I'm fairly sure that you know how to wear a bandana in your hair. 
---
Check out some of our other style guides:
Get Access to Exclusive Deals
Subscribe for free to get exclusive deals in your inbox. 100% privacy