How To Wear A Sling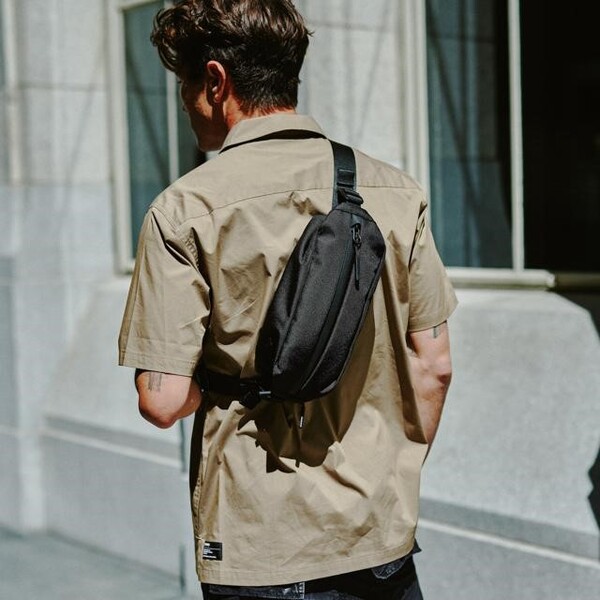 Not to be confused with the supportive arm strap you'd use for broken limbs, slings are a popular fashion accessory. It's a type of bag that's usually short in storage space and convenient to access.
Considered the go-to carry-on for busy bees, slings have grown in popularity over the last few years thanks to celebs and influencers. 
Considering its similarity to the iconic fanny pack, the sling is often confused with its bumbag counterpart.
I think it's safe to assume that we can use them interchangeably, given their shared resemblance. If you're wondering how to wear a sling, I've developed a comprehensive style guide full of outfit ideas. Long gone are the days of wardrobe indecisiveness.
From classic streetwear to utilitarian fashion, I'll teach you how to wear a sling using 10 OOTDs. Within this style guide, I'll be sure to touch on topics such as:
What are sling bags
Sling bag fashion faux pas
Where to buy sling bags
How to style sling bags
What Is A Sling?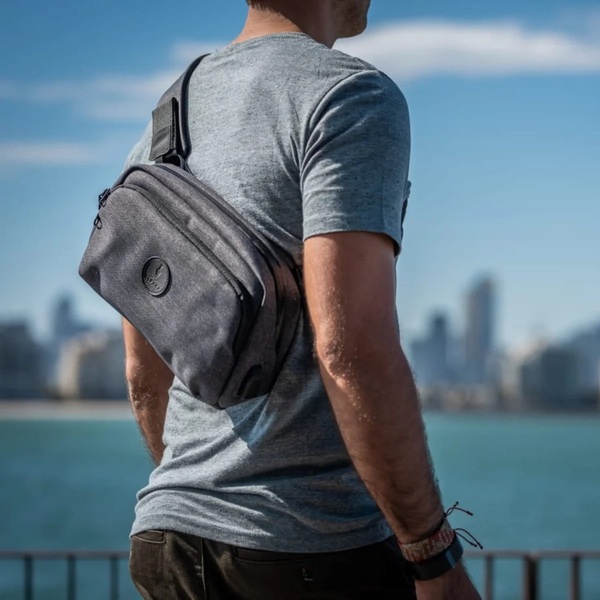 A sling bag is a type of purse that's commonly worn across the body. Usually small in design, this carry-on is usually situated on the chest for easy access.
It's considered an excellent alternative for wearers who have back problems, as it evenly distributes its weight across your hips and torso. As mentioned, the sling bag and the fanny pack are often used interchangeably, given their list of similarities.
Sling bags come in a variety of different materials, designs, colors, and silhouettes. It's definitely something to consider if you're trying to achieve a certain look or style.
When To Wear A Sling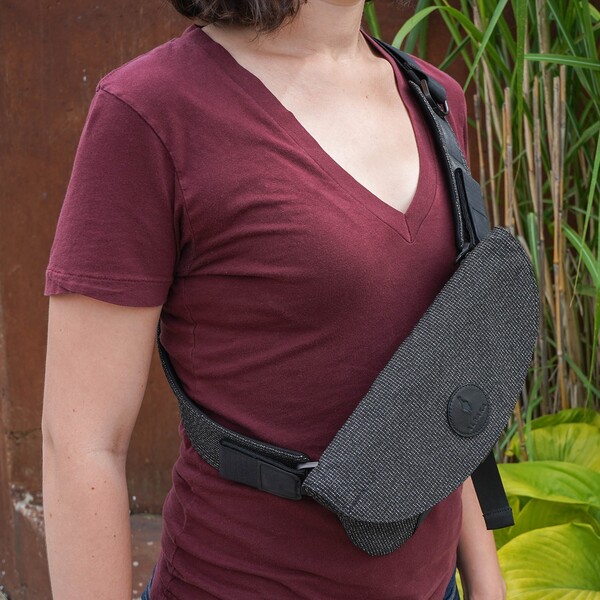 Given their casual nature, sling bags are meant to be worn for informal events.
They're typically favored for their versatility, comfort, and practicality, as this purse provides easy access compared to other types of carry-ons such as totes, minis, and clutches.
Sling bags are commonly worn by athletes and errand runners, considering that they don't bump or fly around while in motion.
History Of Sling Bags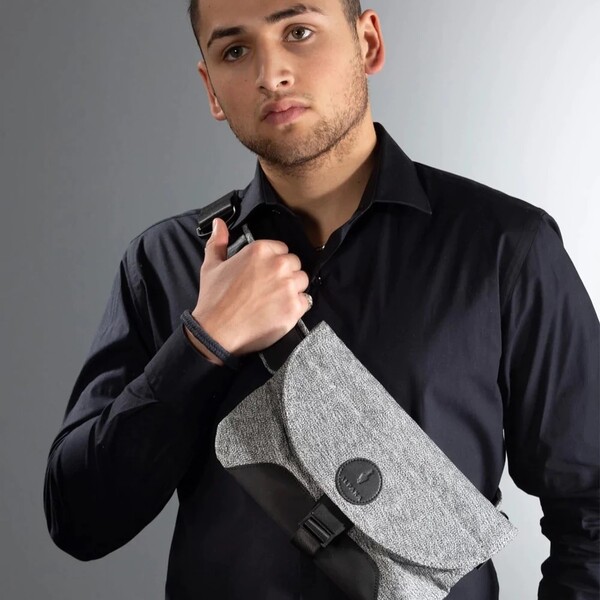 Today's sling bags hold modern-day essentials such as phones, wallets, and car keys but similar handy bags have been used for a long time.
We can go back to the prehistoric age when the sling bag's predecessor would have only held the bare necessities, like foraged goods. After that, Ancient Egyptian travelers used similar bags for spare change or jewelry.
Back then, this specific purse was valued for its practicality, as it allowed wearers to easily access their valuables without much hassle.
Sling bags grew and waned in popularity over the millennia, eventually being recently revived by travelers in 1960s India, before exploding during the 1980s ski trend and becoming a mainstay of 90s fashion.
Remember that cringy pic of The Rock in a black turtleneck? Yep, he was partially responsible for iconizing this particular carry-on. Today, sling bags are considered a top option for those who value style and functionality.
How To Wear A Sling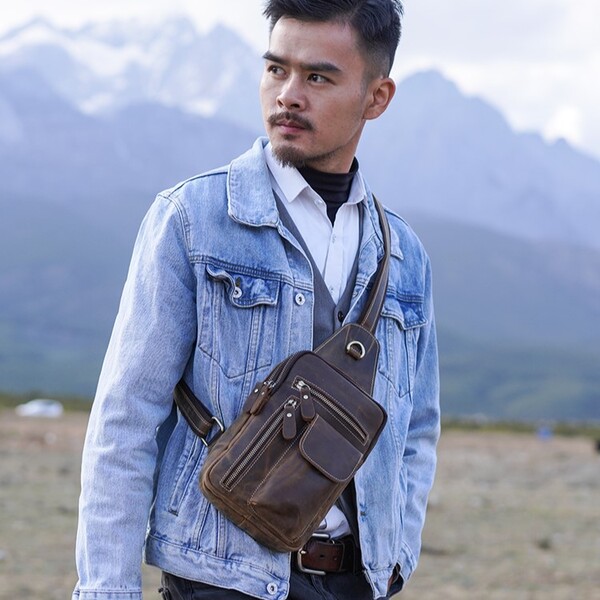 Sling bags are one of the easiest purses to wear. Depending on the design, you can fashion them in two separate ways: on your waist or across your body.
This purse is meant to hug your torso, which is great for those constantly on the move. You can practically say goodbye to shoulder strap sag and the annoying pendulum bag bump.
If you are looking for outfit inspo, you've come to the right place. I'll share some trendy looks below for fashionistas to consider. Hopefully, by the end of this article, you'll know how to wear a sling the right way.
10 Outfit Ideas With A Sling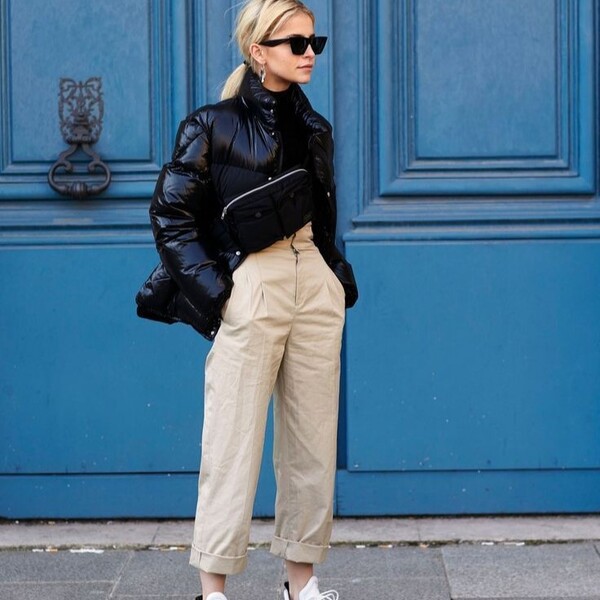 As fall approaches, we usually predict a sea of infinity scarf-clad Tumblr girls. Don't get me wrong, it's an iconic aesthetic, but I totally understand if you prefer a modernized update. This year, we've seen an upsurge in refined athleisure. 
This trend caters to rugged silhouettes, neutral tones, and semi-practical closet staples, which are common elements to have in everyday wardrobe.
Case in point, this stylish OOTD features a black puffer jacket, a crossbody bumbag, cargo pants, and a pair of dad-esque sneakers for some added sass.
If you're wondering how to wear a sling, I highly recommend basing your look on this iconic fit.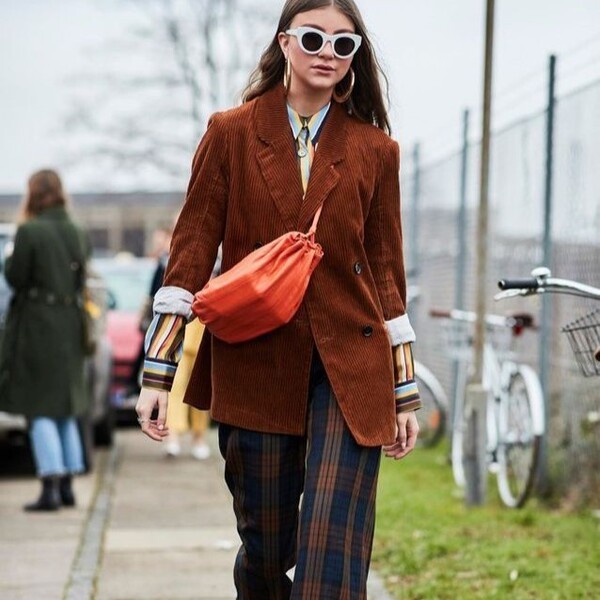 Most outfits require a pop of color. Whether it's blue or pink, adding some much-needed contrast to an OOTD can help break up the monotony of a monochrome ensemble. For instance, this stylish look utilizes an orange sling bag as an accent piece.
The dark tones of the corduroy blazer paired with the plaid pants are quite moody, which is brightened by the purse itself. The blue boots and the striped undershirt help to counterbalance the bold nature of the carry-on.
Complemented with white sunnies and a set of massive gold hoops, this outfit is considered the perfect amalgamation of 1970s finesse and corporate chic.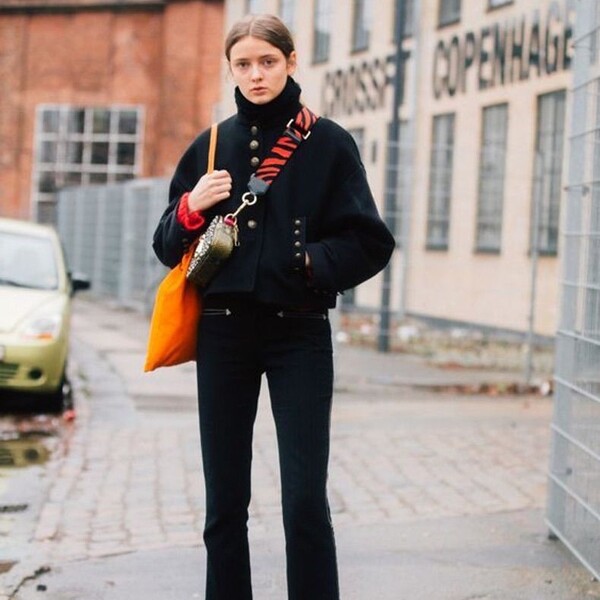 Speaking of statement pieces, you can never go wrong with a colorful carry-on and an all-black outfit. This example of how to wear a sling is considered the perfect example of fashion juxtaposition.
Featuring a button-down jacket, a pair of matching pants, a set of pointed-toe boots, and a bright orange/red Marc Jacobs camera bag, it's an interplay of light and dark tones that provides some visual interest to the entire outfit.
It's a safe way to introduce vibrant hues to your wardrobe, especially if you always opt for black.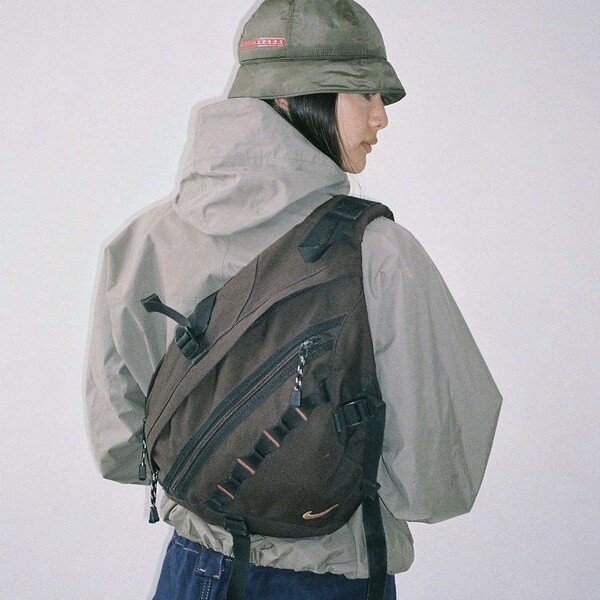 It's easy to label utilitarian wear as the antithesis of fashion, but you'd be surprised to know that it's a popular aesthetic today.
The rugged, apocalyptic tones of this trend are definitely a mood, especially for those familiar with alternative styles such as grunge and goth.
This how to wear a sling contender is considered the perfect example, as it features a gray parka, a military-esque bumbag, jeans, and a nylon bucket hat for some added texture. Muted in color, it's definitely something to consider for when you're feeling rebellious or angsty.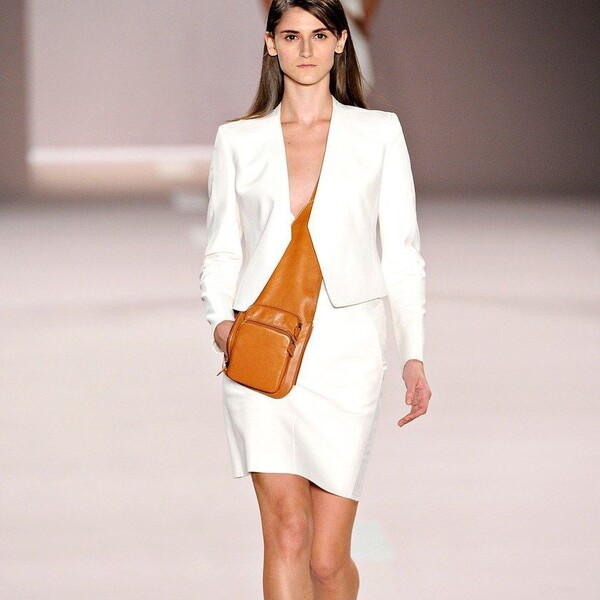 Sling bags can't be worn formally, right? According to Swiss designer Akris, there's an element of sophistication and luxury unseen in the iconic fanny pack. Their 2012 collection featured a curated assortment of haute couture sling bags paired with elegant outfits.
This outfit is no exception, featuring a white blazer, a matching pencil skirt, and an interesting pair of platform heels.
Accentuated with a leather beige sling bag, it manages to transform the cheesy nature of this particular carry-on into a corporate accessory.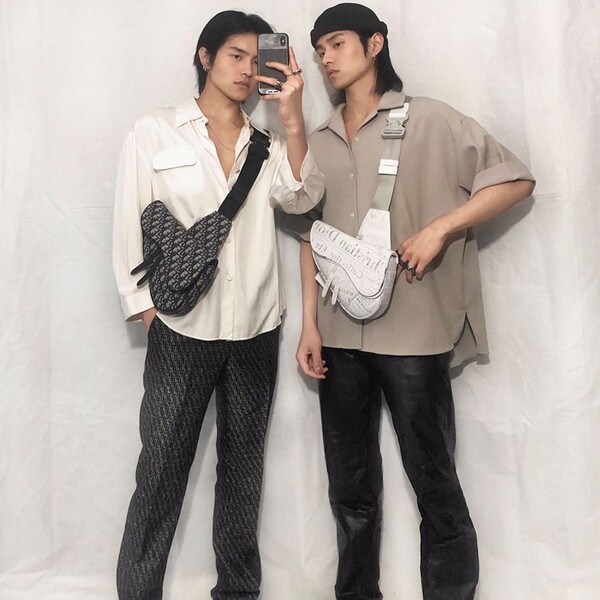 Ever heard of the trickle-up theory? It's a hypothesis used by fashion experts to explain how trends arise. In short, it basically assumes that fads are partially inspired by the lower class and quickly move up to "higher" levels of society, such as haute couture designers and celebs. 
The Dior sling bag is considered a prime example of the trickle-up theory. Regarded as a direct copy of the iconic fanny pack, it's embellished with the brand logo for a more luxurious touch. 
In terms of the outfit itself, luxury bags are best paired with simple, monochrome ensembles. Here, the fanny pack is worn with a loose button-up shirt, a set of black pants, and white sneakers. Boasting a minimalist aesthetic, it provides the perfect base for statement pieces to shine through.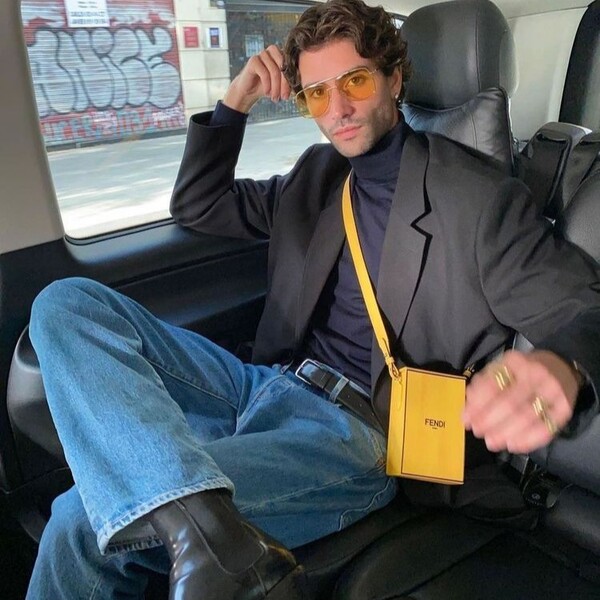 With a neutral tone, this idea for how to wear a sling is perfect for Instagram photo ops and casual office meetings. It's composed of a black blazer, a navy blue turtleneck, a pair of mid-wash jeans, and a set of pointed-toe leather boots. 
Obviously, the main star of the show is the bright yellow Fendi crossbody purse, which does wonders in brightening up the serious tones of the ensemble. In terms of additional accessories, a pair of vintage shades is an absolute must.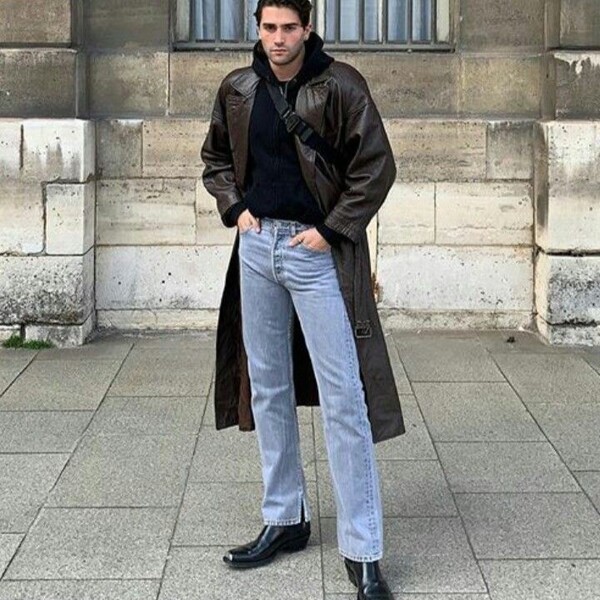 Prepping for fall? If so, this stylish contender is both functional and fashionable for the impending autumn breeze.
The brown leather trench coat paired with the black hoodie is emblematic of the sweatshirt and motocross jacket trend that's all over social media. 
The blue jeans help to tone down this OOTD, as it provides the right amount of casual finesse. Topped off with cowboy boots for a touch of Western twang, it's basically the entire Instagram fashion algorithm summarized in one look.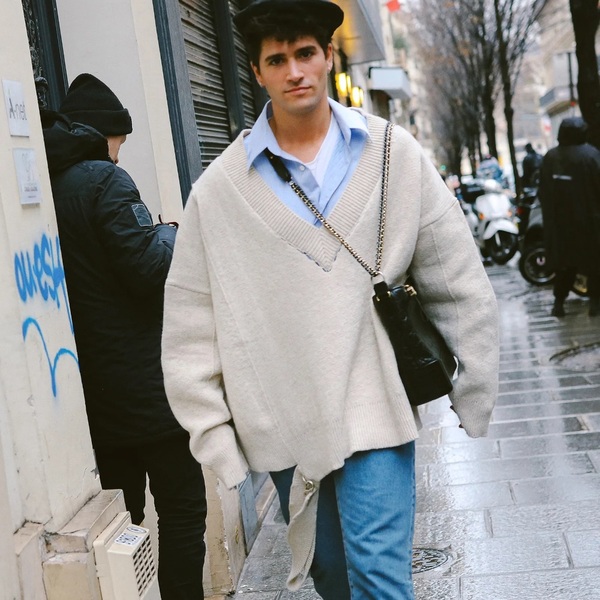 It's giving Hugh Grant in Notting Hill kind of vibes which is an aesthetic that all trendsetters should try to achieve when styling a romantic outfit. 
Featuring an oversized white cable-knit, a light blue button-down, jeans, Converse, and a Chanel-esque sling bag for a hint of luxury, this outfit is the perfect example of casual, old-English finesse.
The black beret is a nice touch, as it works to bolden the outfit's mix of creams and pastels.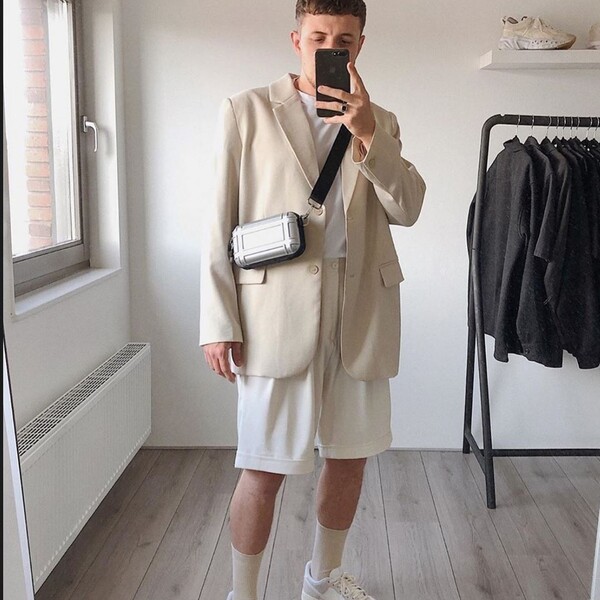 Monochrome outfits are catered to those who prefer minimalist fashion.
Take, for instance, this stylish OOTD, which features a cream blazer, a simple white tee, a pair of matching shorts, and a silver bumbag for some added glitz.
Complete with lace-up sneakers, this mix of corporate wear and casual style is definitely emblematic of trends that are prevalent today. I don't recommend adding any jewelry to this way how to wear a sling, as its simplicity speaks for itself.
What Type Of Sling Outfits Can You Get?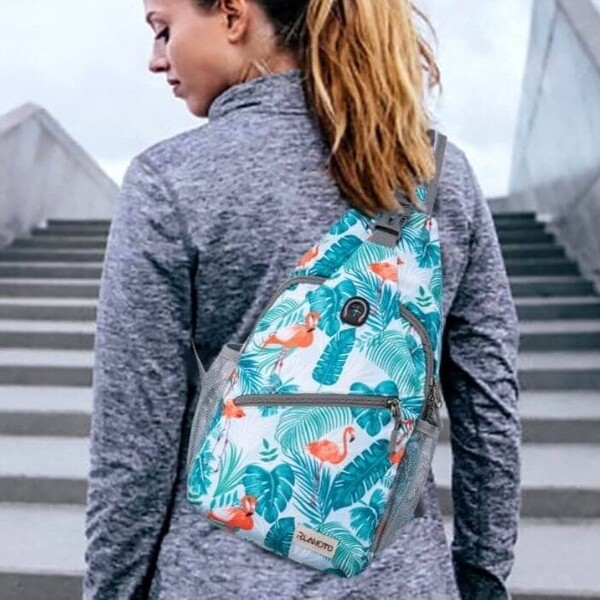 Given the nature of this article, sling bags aren't optional. They can easily be an important part of any outfit.
If you're keen on basing your look around your sling bag, it's important to consider what aesthetics and trends pair well with this particular carry-on.
Below, I'll share some popular outfit styles if you're struggling to compose the perfect fit: 
Athleisure: The practical nature of sling bags pair well with the active vibe of track pants, hoodies, and leggings.
Utilitarian-chic: If you vibe with cargo pants and nylon parkas instead, this core aesthetic is definitely for you. Sling bags are considered a wardrobe staple in this particular trend.
Classic Streetwear: You can never go wrong with a pair of jeans and a crop top. Sling bags can provide a more casual touch to your entire look.
Blazers: You'd be surprised to know that corporate wear pairs intrinsically well with fanny packs.
Performancewear: Those prepping for casual jogs, marathons, or even a quick run to the grocery store may view the sling bag as an indispensable accessory.
How To Choose The Best Sling Outfit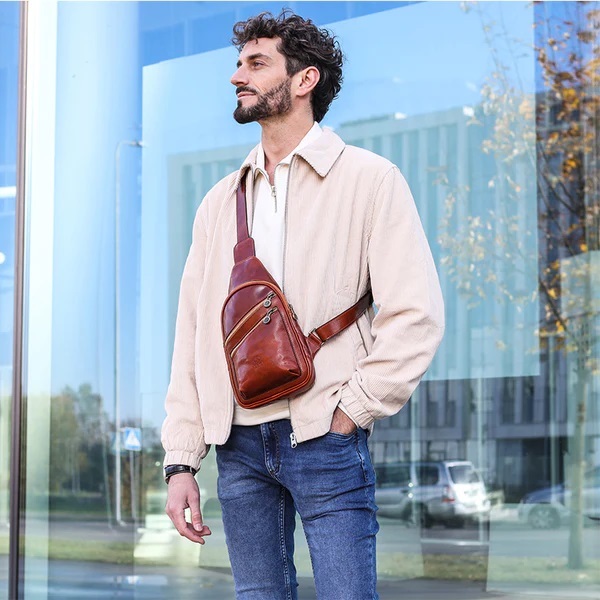 Those familiar with the ins and outs of clothes shopping probably don't need a refresher on how to buy responsibly. Instead, I thought to focus on sling bags themselves. If you need a new carry-on, there are a few things to consider before committing to checkout.
Elements like material quality, design, practicality, and price play a big role in determining continued use. Require a quick debriefing? If so, I've got you covered.
As previously mentioned, sling bags come in a wide variety of cuts, colors, and materials. They're typically made out of durable fabrics to ensure security, support, and comfort. Fabrics such as canvas, nylon, and leather are commonly used, as they're known to be quite sturdy upon usual wear and tear.
Material quality also relates to the construction of the sling bag itself. Zippers, pockets, additional straps, and adjustable buckles are all tell-tale signs of a practical fanny pack.
In terms of design, it's important to settle on a sling bag that aligns with your current aesthetic. If you prefer utilitarian fashion, nylon fanny packs are the way to go.
Those in favor of luxury goods may find Dior purses a notable investment. At the end of the day, you don't want to choose a sling bag that's difficult to style.
Given that sling bags rank high in practicality, you don't have to worry too much about overall usage.
That said, some designs come in varying sizes. There are a few mini fanny packs out there, which aren't very functional in storing large valuables. If you're an avid online shopper, I highly recommend double-checking the measurements before moving on to checkout.
Price-wise, sling bags can retail anywhere from $30 to $1,000+ depending on the brand, material, and design. I suggest working within a limited budget to help mitigate overspending.
How To Style A Sling Outfit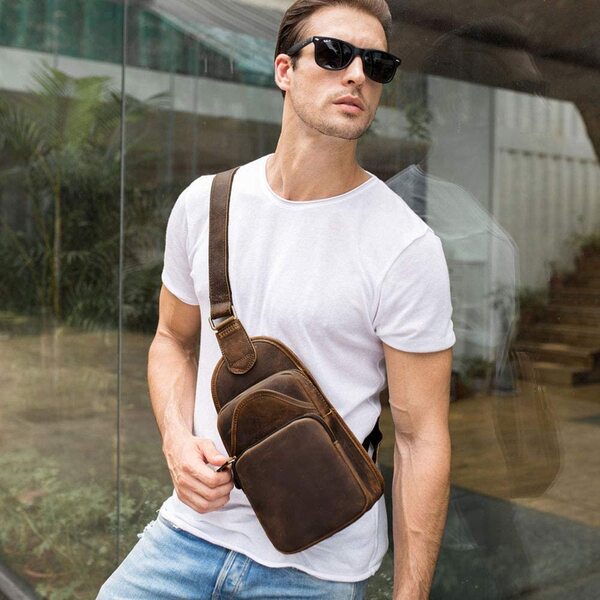 In a literal sense, asking how to wear a sling will usually entail some basic instructions on how to style it on your body. Styling it, on the other hand, will involve a hundred-some list of outfit possibilities.
If you're struggling in the fashion department, there's no need to fret. I'll discuss some trendy ways how to accessorize this iconic carry-on.
Keychains: Considered an easy way to personalize any bag, I recommend opting for pendants, mini plushies, or even custom-made AirPod cases for some added glitz.
Swap out the shoulder strap: Given that most sling bags come with a detachable strap, I suggest choosing a printed or embellished alternative if you require a pop of color.
Monochrome outfits: If your sling bag is quite bold in color and design, it's always a good idea to wear a one-color OOTD to help it stand out.
Jewelry: Sling bags with metal clasps are best paired with matching jewelry, such as earrings, rings, and necklaces.
Sneakers or boots: Relatively bold, these shoes work to counterbalance the lax attitude of sling bags.
Fashion Tips To Avoid With A Sling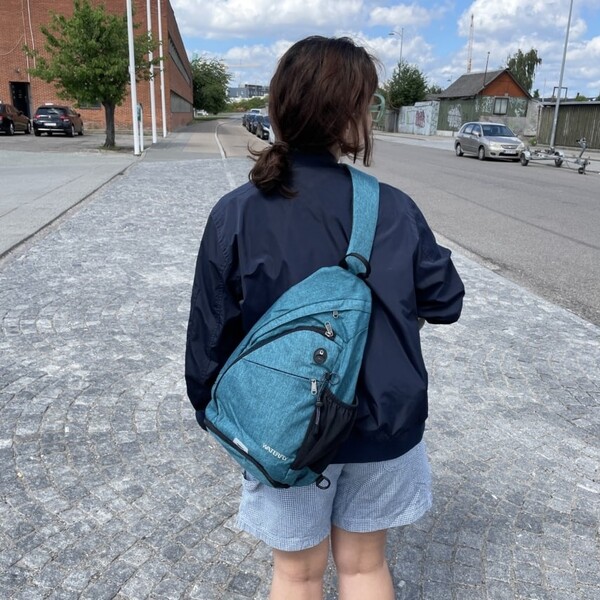 There's a good reason why sling bags were considered cheugy in the past. Commonly affiliated with dad-core, it was usually paired with ugly garments such as cargo shorts and polo golf tees.
Unless you're composing a comedic Halloween outfit, I'll share some fashion tips to avoid when wearing a sling.
Complete dad-core: Wearing cargo pants, baseball caps, polo shirts, and running sneakers can look great if they're worn separately.
Additional purses: Sling bags look amazing on their own. Wearing a backpack, a tote bag, and an added clutch will run the risk of looking too busy.
The bulky silhouette: If you're struggling to fit all your valuables in your sling bag, it's probably best to opt for a larger bag. Trust me, bulging water bottles and notebooks are not a good look to have.
Strappy heels: The extravagant nature of stilettos clashes with the lax attitude of sling bags. Try sneakers and boots as a better alternative.
Too many accessories: Personalization is always a recommended move with bags. That said, adding too many patches, pins, and stickers may complicate the final look.
How To Take Care Of A Sling
Like any purse, sling bags vary in care and maintenance. It really depends on its material, as textiles such as leather and nylon require different methods and practices.
I highly recommend double-checking the laundry tag of your purse, as some may need professional care.
As a general rule of thumb, it's always a good idea to eliminate surface-level debris with a soft microfiber cloth. Those riddled with stains can be fixed with a damp rag.
In terms of storage, I suggest placing it on the shelf instead of hanging it on the rack. By using this storage technique, you don't have to worry about worn-in shoulder straps.
Best Places To Buy A Sling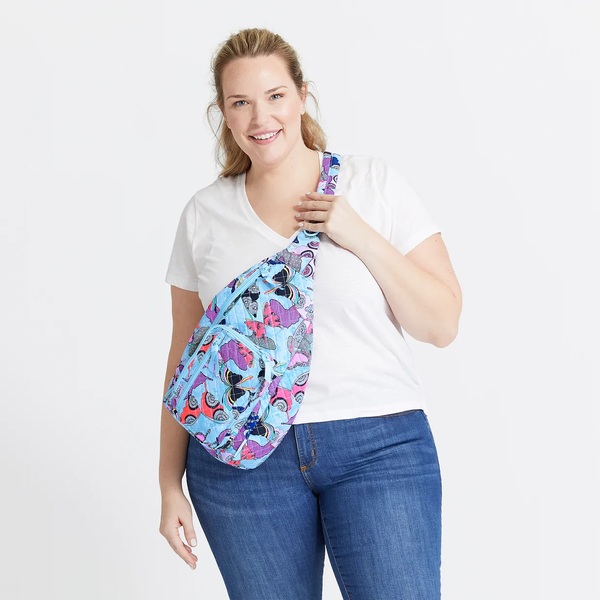 Before I conclude my style guide, I thought it best to share some store recommendations for trendsetters to follow:
Nordstrom 
Bentley 
Etsy 
Free People
Final Thoughts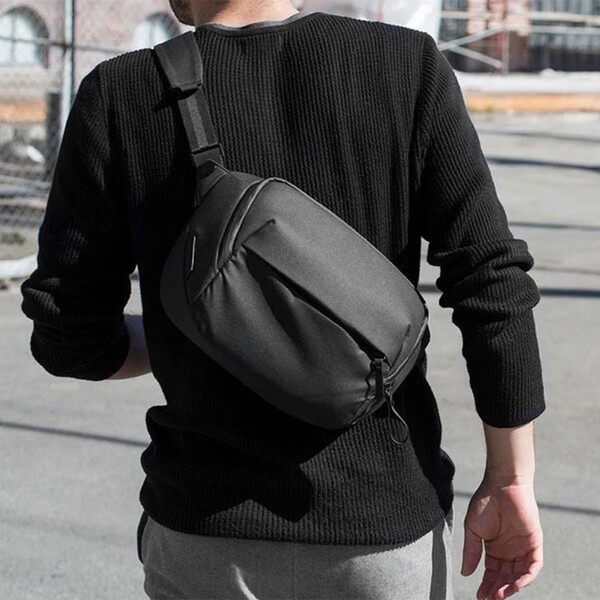 Finding out that sling bags are back in style may trigger some eye rolls and sighs. It's frustrating to keep up with fashion, especially for garments that were once considered unfashionable. Nevertheless, I'm fairly certain that bumbags of all styles are here to stay.
Practical, functional, and indispensable in everyday wear, you can relax knowing that today's sling bags have been updated to appeal to modern-day tastes. Of the 10 outfits I've featured, here's to hoping that you know how to wear a sling.
---
Check out some of our other style guides:
How To Wear Oversized Sweaters
Get Access to Exclusive Deals
Subscribe for free to get exclusive deals in your inbox. 100% privacy