How To Wear Ear Cuffs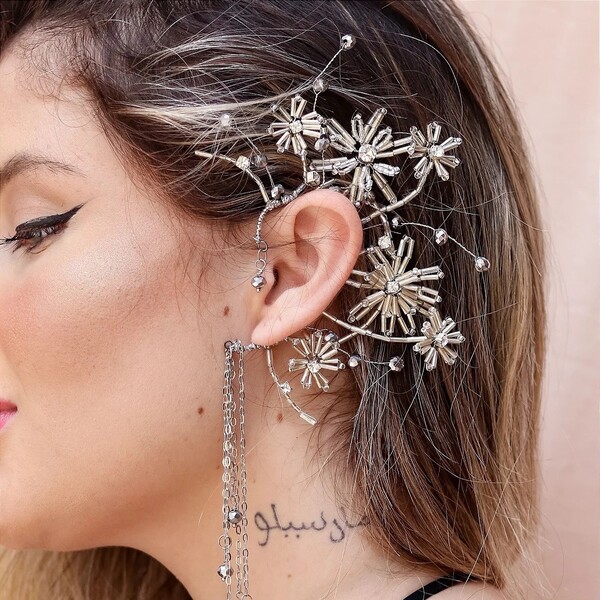 Ear cuffs are an odd accessory. They don't exactly fit in the earring category, considering that they aren't fastened with a hook and closure.
Offered in various designs, they're regarded as the perfect accessory for those who can't commit to permanent pierces. Ear cuffs add the right amount of sparkle to any outfit—whether it be a minimalist look or a Y2K-inspired OOTD. 
If this is your first time getting acquainted with this jewelry piece, you're probably wondering how to wear ear cuffs. Fastening them on is as easy as pie. Styling them, on the other hand, is a whole different story.
Thankfully, this accessory has been re-imagined to suit various core aesthetics, so you can rest assured that there's a design and outfit suited for you. 
In this comprehensive style guide, I'll show you how to wear ear cuffs using 11 outfit ideas. I'll be sure to cover related topics such as:
How to put on ear cuffs
How to style ear cuffs
Different types of ear cuffs
Ear cuff fashion faux pas
What Are Ear Cuffs?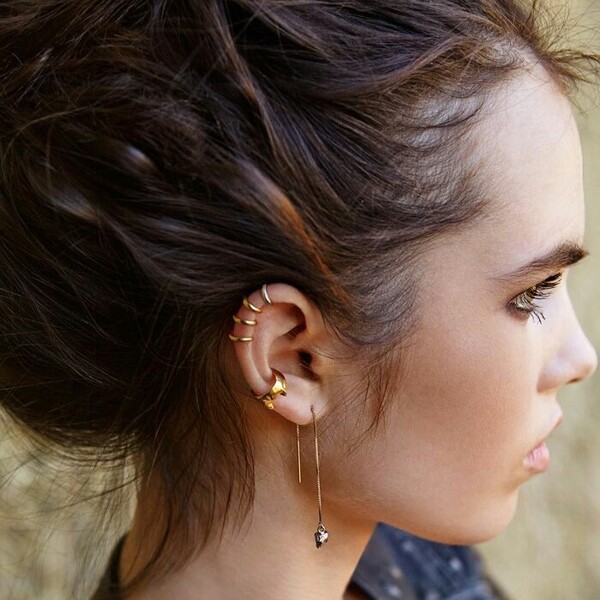 To put it simply, ear cuffs are decorative accessories. Designed to be worn on the helix or pinna section of the ear, trendsetters can either opt for permanent piercings or temporary fasteners.
They're offered in various designs, materials, and shapes, as they're considered intrinsic to several core aesthetics. Try searching 'fairy ear cuffs' or 'elf ear cuffs' on Etsy or Amazon. You're bound to find something that aligns with your current dress sense.
History Of Ear Cuffs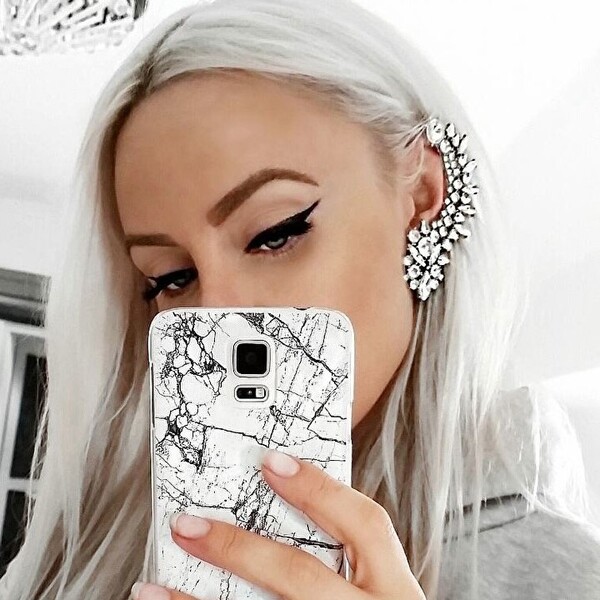 Earrings date all the way back to the New Stone Age. That said, they're definitely not out of style. In 2,500 BCE, Sumerian women were the first to wear hoops, which were commonly made out of gold, silver, and bronze.
Their popularity quickly spread to other neighboring civilizations, such as Ancient Greece and Europe. Simplicity wasn't a trend back then, given that most earrings were decorated with elaborate gemstones, flower decals, and embellishments.
Ear cuffs, on the other hand, were first popular in India. The 'Kaffa' was a trendy design amongst the nobility, as they were typically adorned with precious metals, jewels, and other extravagant accents. 
While large, exaggerated Kaffas were worn during wedding ceremonies, 'ordinary' ear cuffs were considered an acceptable accessory for daily use.
Today, this historic accouterment is still regarded as a staple in the fashion world. 
When To Wear Ear Cuffs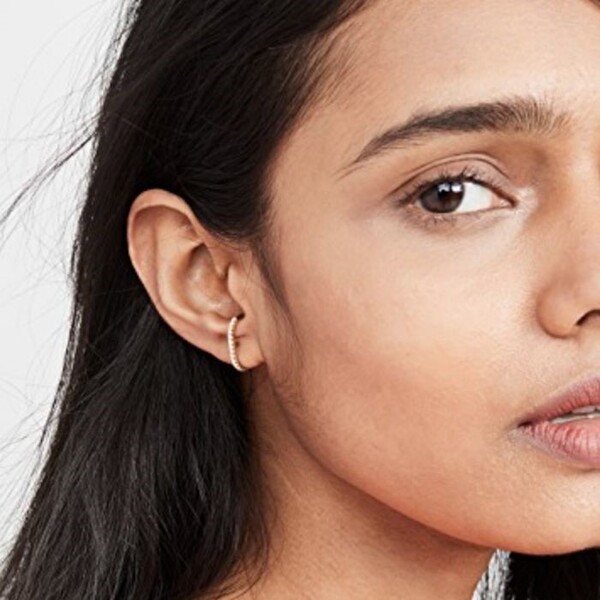 Given their diversity, ear cuffs can be worn for many occasions. They're commonly worn casually, as this accessory is typically paired with streetwear classics such as graphic tees, sweaters, and cargo pants.
Ear cuffs are generally viewed as a subtle way to introduce 'edgy-ness' to an outfit—especially considering that they're intrinsic to specific core aesthetics such as techwear and goth.
If you're prepping for a formal event, you'll be glad to know that fancy ear cuffs exist. Most trendsetters opt for dainty options to keep things simple. Designs usually include silver and gold hoops without any pendants or added jewels. 
How To Wear Ear Cuffs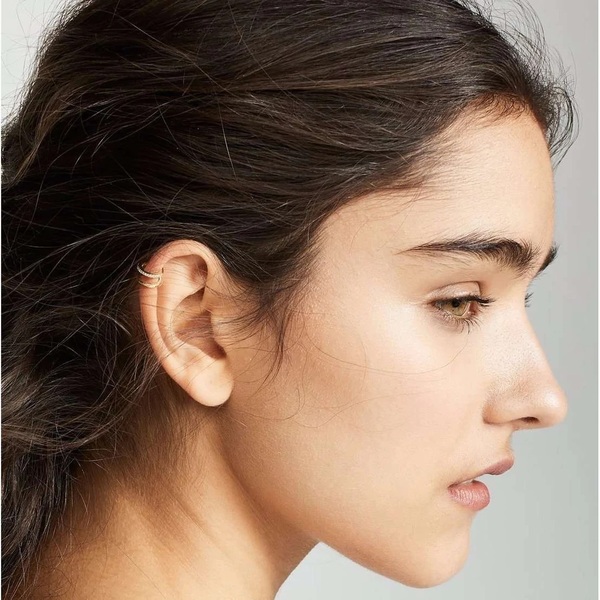 A quick discretionary note before I start this 'how to wear ear cuffs' style guide: You'll notice that the featured ideas don't include an ear cuff.
Given the limited amount of photos that show a full ensemble and this specific accessory, I chose to focus on OOTDs that can be improved upon with an ear cuff. With that out of the way, let's get started!
11 Outfit Ideas With Ear Cuffs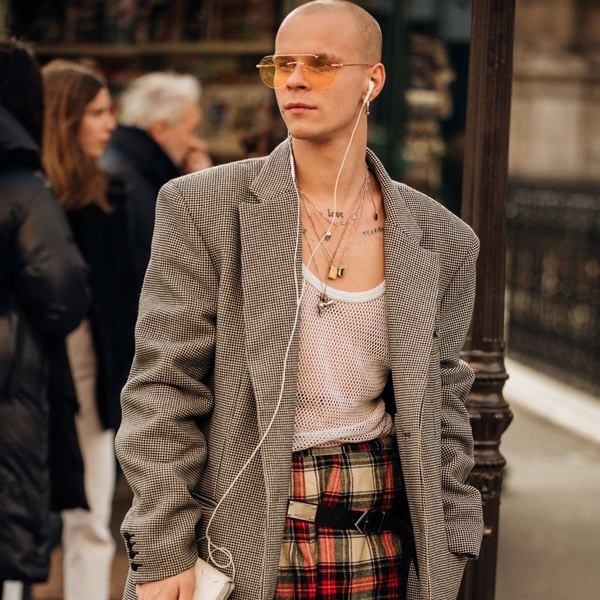 Achieving 'edginess' requires an eye for color, texture, and pattern. It's an expressive type of dress sense, as it usually exudes moodiness and counterculture.
Mixing plaids and stripes is a good route to follow, as it's considered a refreshing break from traditional matching prints. 
Juxtaposed with a white mesh top, this outfit definitely expresses a hint of self-angst and rebellion, which is great for trendsetters in the My Chemical Romance crowd. I highly recommend donning some silver ear cuffs to really emphasize those 'alternative blues.'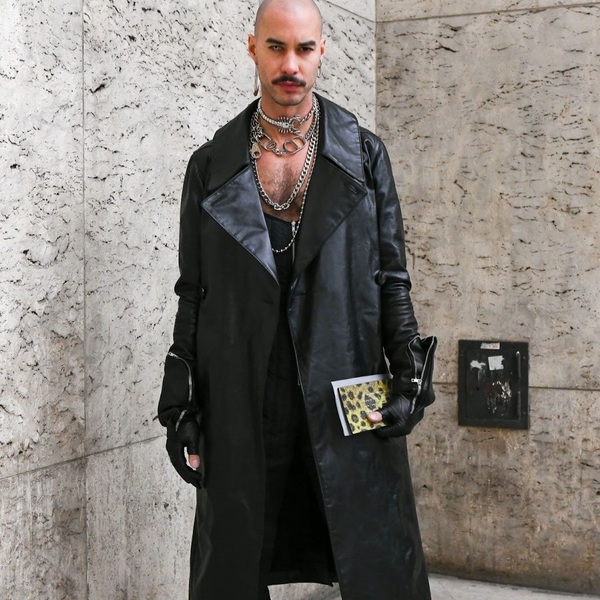 Techwear and ear cuffs go hand-in-hand. Given that this particular accessory is typically made out of silver or gold, it can help add some color to your all-black look.
This stylish OOTD is composed of a leather jacket, a loose tank top, a pair of relaxed pants, and some chunky boots that are perfect for stompin.' 
Already, the model chose to accentuate their fit with silver jewelry, which does wonders by brightening up the ensemble. Instead of opting for just one ear cuff, however, I highly recommend donning several in order to achieve peak edginess.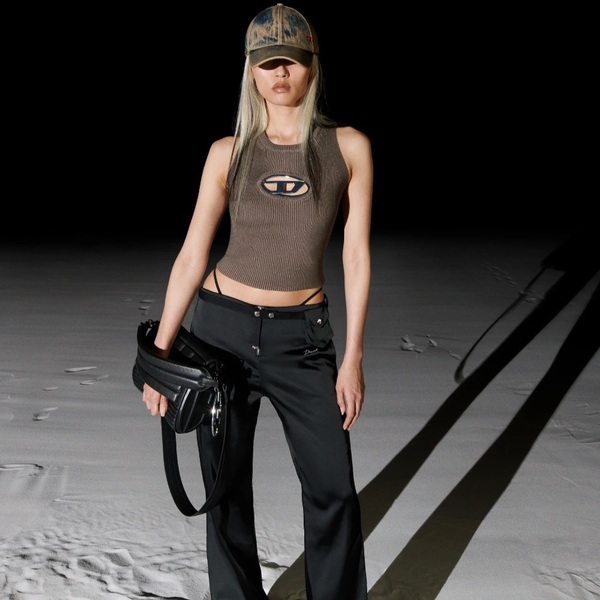 Next up in this 'how to wear ear cuffs' style guide, I thought to include some Y2K finesse for those nostalgic for the early 2000s.
Composed by design label Diesel, this charming OOTD features a keyhole tank top, a pair of low-waisted cargo pants, a baseball cap, and pointed-toe shoes for a touch of sass. 
Complemented with a high-cut string thong for some added sauciness, this chic contender can definitely be improved upon with some jewelry, such as an ear cuff. I suggest opting for butterfly-themed designs to keep on the theme with the Y2K aesthetic.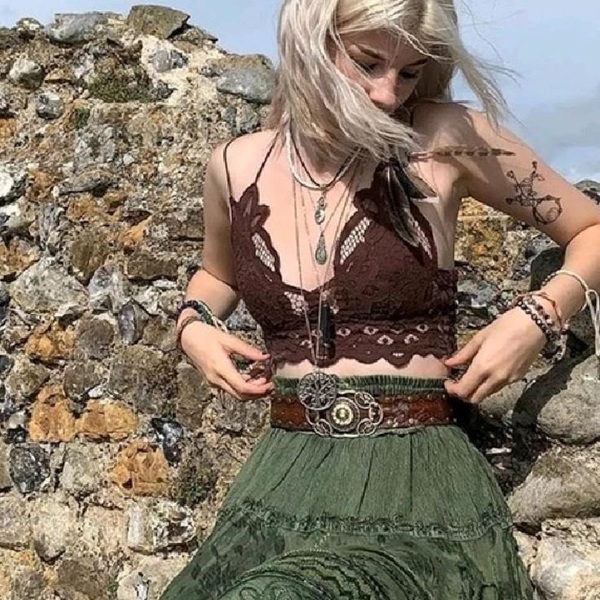 Fairy-core is a unique aesthetic that focuses on marrying nature, bohemian elements, and vintage clothing together. It's one of the few dress senses that view ear cuffs as a wardrobe staple. 
If you're having difficulty pairing your silver (or gold) accessory, I suggest drawing inspiration from this outfit.
Composed of a brown lace bralette, a green tiered skirt, and a series of stacked necklaces, this fairytale-esque hippie look manages to make The Hobbit trendy and cool (sorry, J.R.R Tolkien fans). For shoes, you can never go wrong with a pair of classic Mary Janes.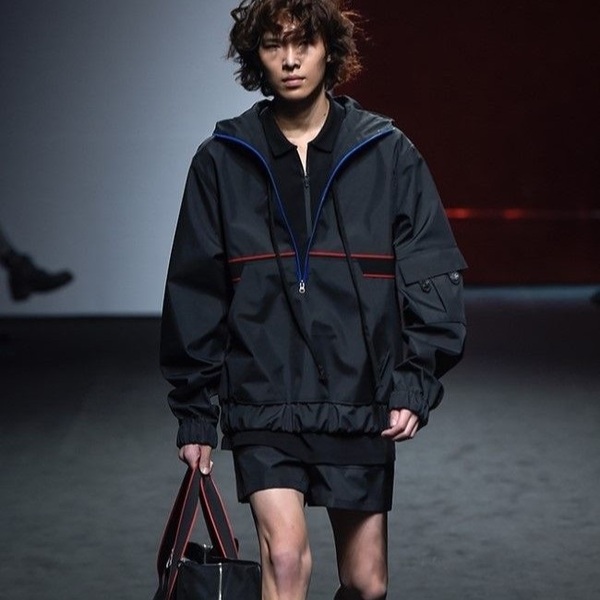 Alternative fashion isn't exclusive to grunge, goth, or punk. Techwear, an emerging core aesthetic in streetwear, is also considered a popular trend in this category. Known to pair well with silver jewelry, this 'how to wear ear cuffs' contender provides the perfect base for additional accessorizing. 
The black parka and the shorts are quite simple in design, which allows the oversized silhouette to stand out. Plus, the tennis shoes work to counterbalance the moody tones of the outfit, as they provide a casual touch.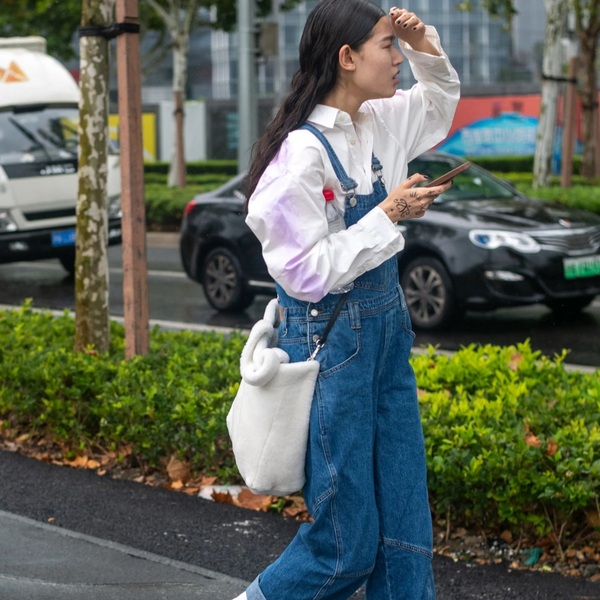 As previously mentioned in my past style guides, fashion is all about juxtaposition. Let's use this 'how to wear ear cuffs' contender as a prime example. Featuring a pair of denim overalls, a white collared tee, and a pair of black mules, this adorable OOTD is best accessorized with 'edgy' or alternative jewelry. 
Ear cuffs can act as the perfect accouterment—especially those inspired by goth or techwear designs. Considering that the shoes come with a gold decal, I suggest opting for warm-toned jewelry to ensure no color clashing.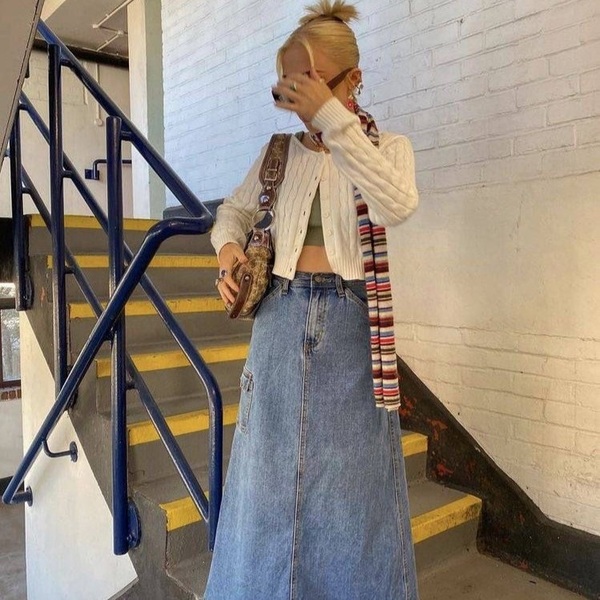 Y2K-inspired, this cute outfit is comprised of a white cable-knit cardigan, a green crop top, a denim midi skirt, and a pair of OG Chuck Taylors. Accessorized with a mini handbag and a thin striped scarf, this kitschy OOTD can definitely use some added glitz as the final cherry on top. 
A set of silver-toned ear cuffs can do just the trick, as they're considered the perfect compromise between traditional studs and chandelier earrings. Take this as your sign to find some Y2K-inspired ear cuffs on Etsy. There's a vast selection of unique designs to choose from.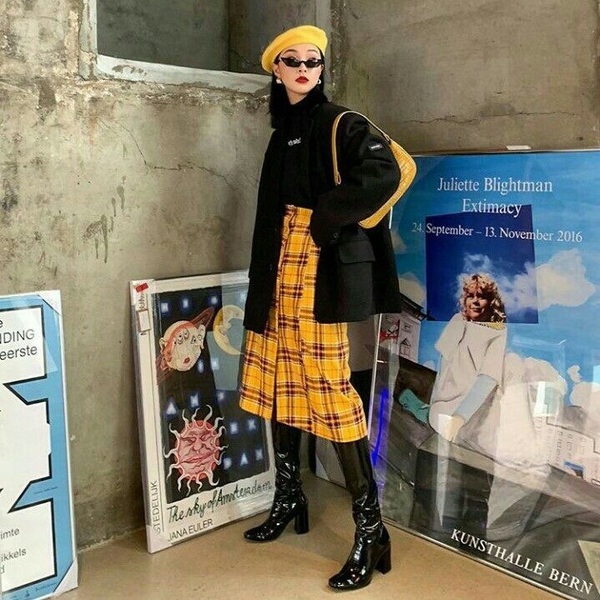 Considered a blend between preppy and alternative, this 'how to wear ear cuffs' contender is perfect for those who can't decide between these two core aesthetics. It features a black coat, a matching turtleneck, a yellow plaid midi skirt, and a pair of leather-heeled boots. 
Finished off with a matching beret and a set of shades, it's the kind of look you'd associate with university fashion students. Since the OOTD is already bold in nature, adding jewelry (such as ear cuffs) wouldn't overwhelm the entire fit. Instead, it'll work to enhance the bright tones of the ensemble.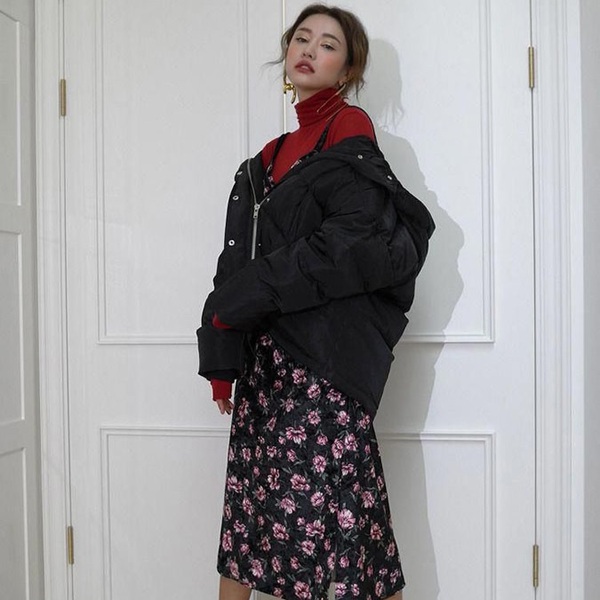 This model didn't get the memo on simplicity. Considered a subtle homage to maximalism, this chic outfit is composed of an oversized black jacket, a red turtleneck, and a floral midi skirt. The crimson socks paired with the open-toe block heels definitely act as the statement piece of this look, given the colors and silhouette. 
While this OOTD features warm tones, I recommend opting for silver-toned ear cuffs for some added juxtaposition. And if you own more than one, take this as an opportunity to absolutely go ham with accessorization.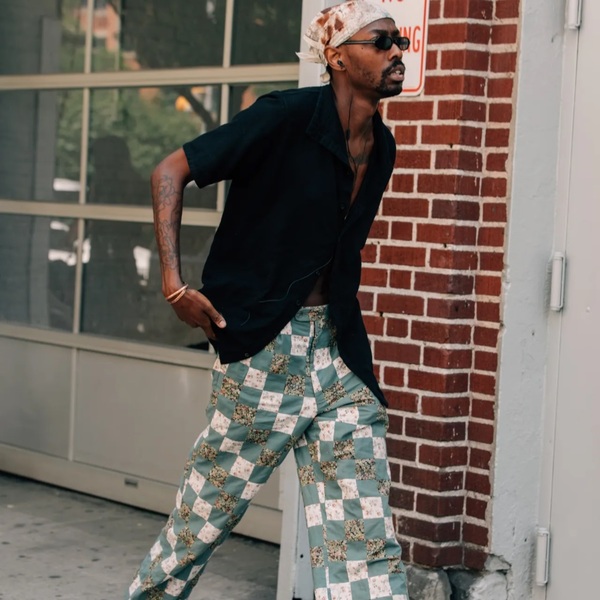 Since ear cuffs are regarded as a bold accessory, it's only fitting to pair them with something that's equally as daring. Case in point, this outfit features a pair of green/white checkerboard pants, a loose-fitting black button-down shirt, a decorative headscarf, and a pair of brown loafers. 
It's relatively bizarre in design, as it's considered an amalgamation of casual and expressive streetwear. A silver-toned ear cuff can help add some glitz to the entire look, which is recommended for those not fond of giant hoops or chandelier earrings.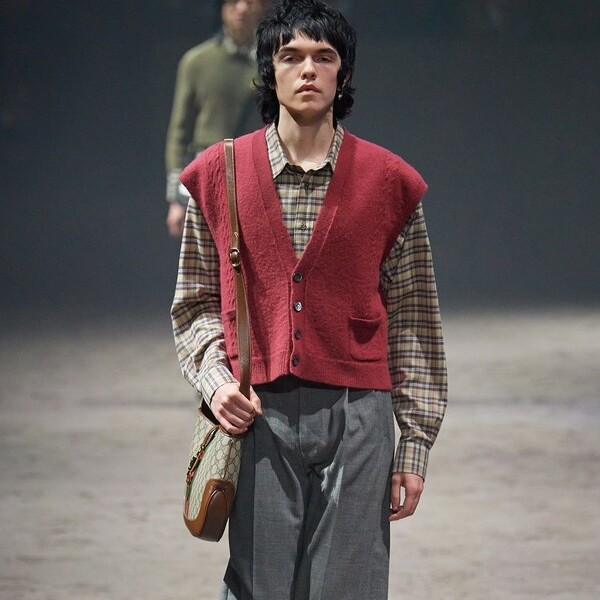 Preppy in aesthetic, this collegiate core outfit could be the perfect base for accessorization. Ear cuffs usually exude an alternative attitude, which can do wonders by contrasting with the 'cleanliness' of this entire look.
I recommend opting for gold-tinted earrings to better match the decals featured on the mules. 
What Type Of Ear Cuffs Can You Get?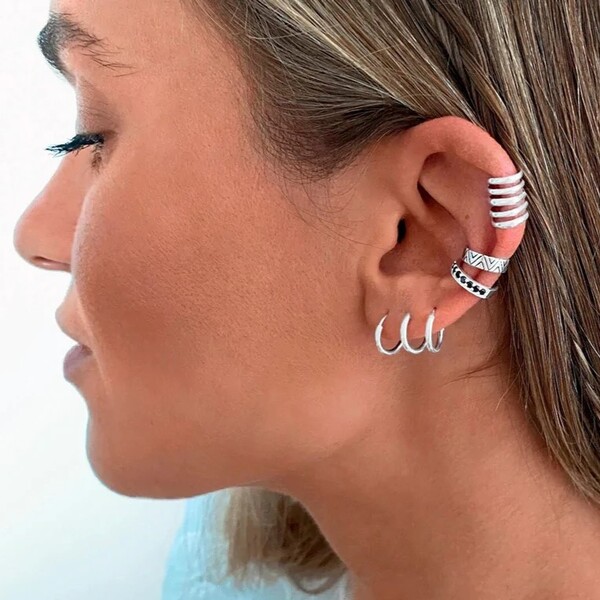 Like any type of accessory, ear cuffs come in a number of different designs. While I'm all for a healthy dose of good ol' fashion juxtaposition, I still recommend copping a set that aligns with your current aesthetic.
Below, I'll outline some trendy options for you to consider. 
Techwear: Hyped up by brands like Vitaly, this core aesthetic focuses on exaggerated silhouettes and bold designs. 
Fairy-core: Inspired by magic, fantasy, and nature, this core aesthetic can help add a mystical touch to your final OOTD. 
Traditional streetwear: If you prefer something more simple, you can never go wrong with a series of hoop ear cuffs. 
Grunge/Alternative: This core aesthetic closely mirrors techwear, but it has a few key differences. Ear cuffs inspired by this dress sense usually get their inspiration from music, such as bands like My Chemical Romance or Nirvana. 
How To Choose The Best Ear Cuffs Outfit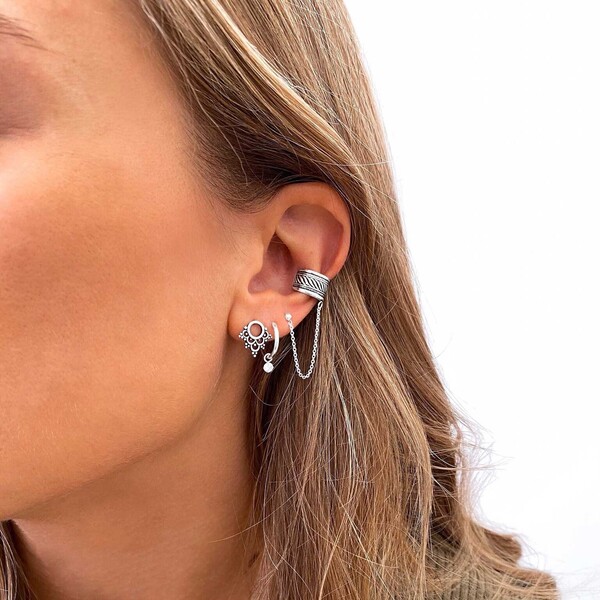 Those familiar with Soxy style guides are probably aware of the ins and outs of clothes shopping. So, to switch things up a little, I thought it best to focus on jewelry instead.
Finding the perfect ear cuff still requires a level of responsible shopping—as it's important to consider material quality, design, practicality, and price before heading to the checkout. Need the skinny? Don't worry; I've got you covered. 
Earrings are typically constructed out of precious metals such as sterling silver and gold. Durable in nature, you shouldn't really worry about flimsy handcraftsmanship here. Of course, the material quality also relates to factors such as sensitivity and tarnishing.
Ultimately, opting for a hypoallergenic, rust-free ear cuffs is always a good move. Take this as a small reminder to double-check the product specs beforehand, as brands will usually indicate if their pieces are nickel-free and suitable for sensitive skin.
As previously stated, ear cuffs come in a wide variety of designs. And unless you love to mix and match contrasting styles, it's always best to cop an earring that aligns with your current dress sense. This helps to guarantee continued use.
Additionally, practicality plays a significant role in the decision-making process. You should never opt for a pair that's difficult to fasten or too heavy to wear.
Price-wise, ear cuffs can sell for $20 to $100. Obviously, the total expense depends on the brand and design itself. I recommend sticking to a limited budget to help prevent overspending.
How To Style Ear Cuffs Outfits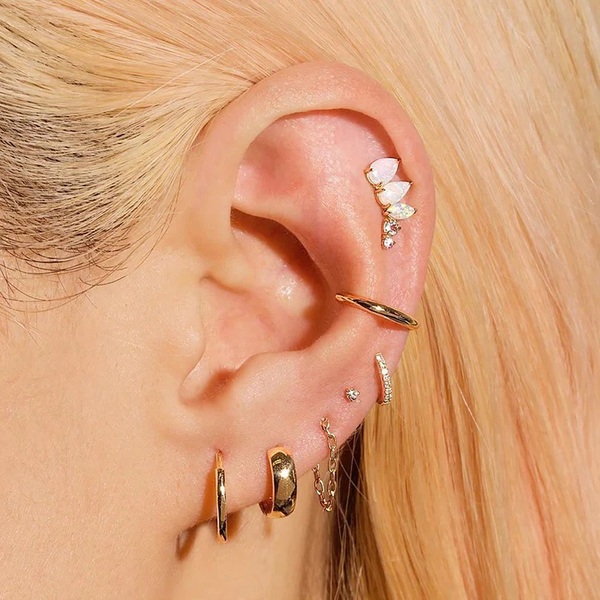 Ear cuffs are considered the cherry on top of an outfit. With that in mind, is there really a need to over-accessorize? Absolutely!
Those fond of layering jewelry and maximalism fashion are encouraged to get creative when styling this unique piece. For those in need of inspiration, I'll provide some fashion tips within this 'how to wear ear cuffs' guide. 
The multi-ear cuff look: Often dainty in silhouette, ear cuffs are best accessorized with more ear cuffs. Try experimenting with different shapes, sizes, and embellishments!
Earrings: It's an obvious go-to, but I thought to include it anyways in case you forget that it's even an option. Dangling chandeliers and studs go intrinsically well with ear cuffs.
Matching jewelry: If you intend to wear silver ear cuffs, it's best to follow along with matching silver necklaces, rings, and other paired accessories.
Consider color theory: Golds pair well with warm-toned colors such as red and orange. On the other hand, silvers match up with cool-toned hues like blue and green. You should definitely keep this in mind during outfit coordination.
Hair accessories: Bobby pins, barrettes, metal snaps, and other decorative accouterments pair beautifully with ear cuffs.
Fashion Tips To Avoid With Ear Cuffs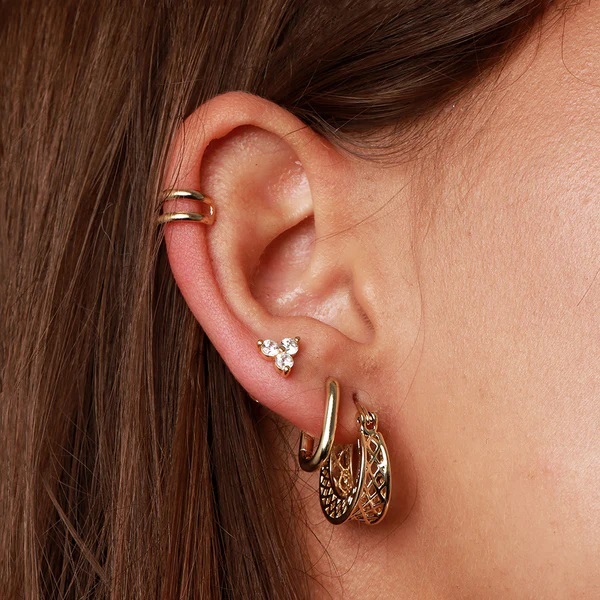 Every reputable style guide should include a list of fashion faux pas. Ear cuffs, while versatile, can look bulky and out-of-place depending on the outfit. If you're not particularly fond of post-ensemble regret, I'll discuss some styling tips to avoid with this specific accessory.
Consider your poor ears: While donning the multi-ear cuff look is regarded as a fashion statement, I suggest overlooking this tip if you intend to wear headphones, Airpods, or chunky headbands.
Gold with silvers: Mixing these two precious metals is considered a major fashion faux pas. You should always stick to just one or the other to avoid clashing.
Time and place: In some instances, wearing ear cuffs is perceived as inappropriate, such as during black-tie weddings or corporate events.
The impractical ear cuff: Heavy, difficult to fasten, and bulky beyond measure, this type of ear cuff is typically destined for the unworn section of your jewelry collection.
How To Take Care Of Ear Cuffs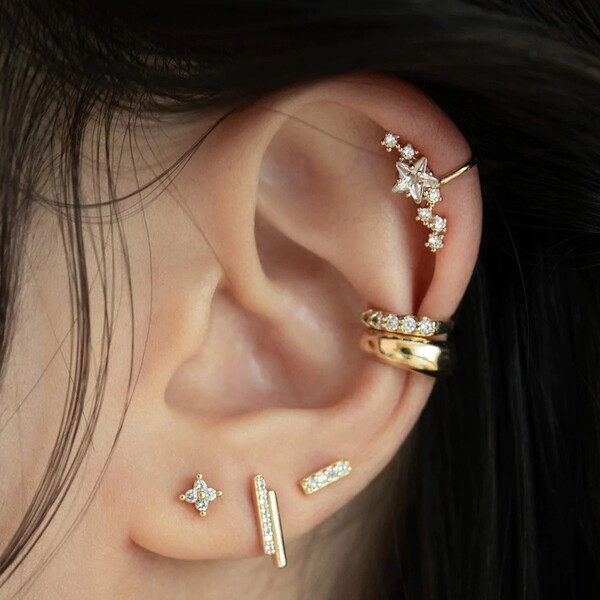 All jewelry pieces require a decent level of TLC. Ear cuffs are no exception, as it's important to implement a daily cleaning routine to help maintain their quality. Most experts advise soaking your accessories in alcohol or hydrogen peroxide to eliminate grime and dirt.
Afterward, you can rinse them with lukewarm water and scrub the surface gently with a toothbrush. However, if your ear cuff has gone through hell and back, it's probably best to leave it to the professionals.
In terms of storage, jewelry is best kept in a dark and dry place to prevent oxidation. I suggest placing it in a velvet pouch or a box to ensure all-around security.
Best Places To Buy Ear Cuffs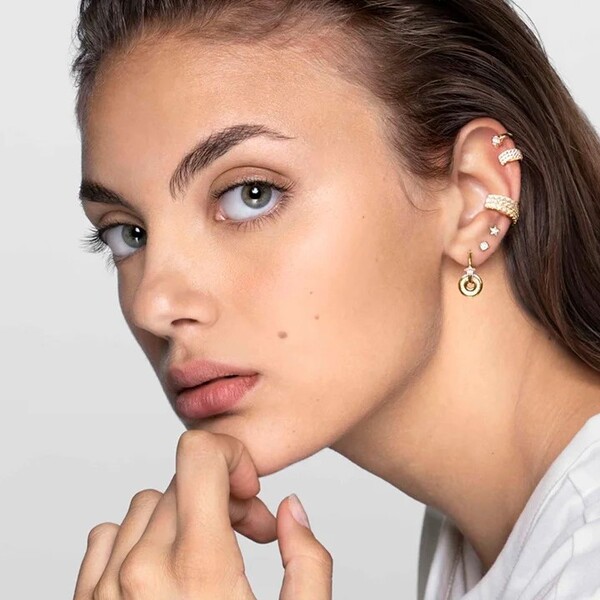 Before I conclude this 'how to wear ear cuffs' style guide, I'll share some store recommendations for trendsetters to check out.
Vitaly 
Etsy 
Nordstrom 
Melanie Auld 
Final Thoughts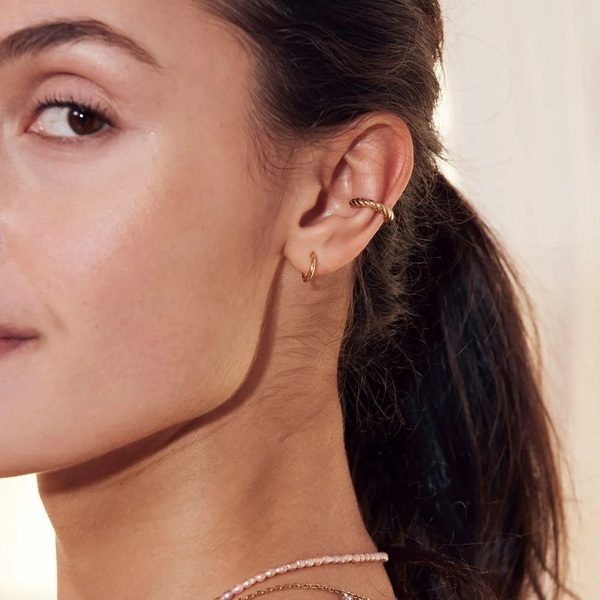 From initial observation, ear cuffs are an intimidating piece of jewelry. Given their association with edgy core aesthetics, I totally understand if you have difficulty styling this piece.
It's worth mentioning that you don't have to exhibit a certain level of confidence in order to pull them off—it's already a built-in element in ear cuffs. 
Bold and unapologetic in style, this accessory is the literal embodiment of fashion empowerment. And after viewing the 11 outfits I've featured, here's to hoping that you know how to wear ear cuffs.
---
Looking to up your fashion game? Check out some of our other articles:
How To Wear Oversized Sweaters
Get Access to Exclusive Deals
Subscribe for free to get exclusive deals in your inbox. 100% privacy