15 Best Jacquemus Dresses
Department store dresses are devoid of that 'je ne sais quoi' factor. They carry a dull selection of mass-produced designs, which doesn't provide much excitement to the veteran trendsetter.
If you're itching for something new, Jacquemus is considered a rarity in the French fashion scene.
Known for its avant–garde take on European classics, this acclaimed designer label is what you need to cure any styling slump. Their website is home to hundreds of stunning styles, which begs the question, what are some of the best Jacquemus dresses out there?
Looking for recommendations? If so, you've clicked on the right article. From the Obiou Cutout Woven Maxi Shirt Dress to the Saudade asymmetric draped maxi dress I'll be counting down 15 of the best Jacquemus dresses to have ever graced the runway.
Finding The Best Jacquemus Dresses
Designed for the modern woman, the best Jacquemus dresses are made to dress to impress. You can rest assured that each one is made with high-quality materials, as the brand commonly uses viscose, linen, wool, and elastane for their gowns. Intricately stitched and elegantly draped, they're definitely a far cry from those $20 deals you'll find on Shein.
In terms of design, Jacquemus' dress collection includes a 50/50 mix of classic silhouettes and avant–garde pieces. Most of them can be adapted for everyday use—that is, if you're truly experimental with fashion.
Often dyed with bright monochrome colors, their dresses are made to stand out. Before you settle on a gown, it's important to consider your current aesthetic to help guarantee continued wearability.
The 15 Best Jacquemus Dresses
Prepping for a fancy dinner party? If not, how about an extravagant photo shoot? Whatever situation you're in, I've rounded up 15 of the best Jacquemus dresses to help ensure that all eyes stay on you.
Below, I'll share details concerning cost, material quality, and any added features. Also, be sure to check out our style guide, where I'll provide some fashion tips to consider if you own a Jacquemus dress.
#1: Jacquemus - Obiou Cutout Woven Maxi Shirt Dress - Green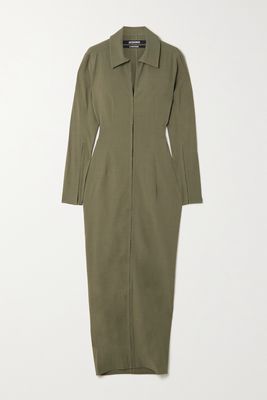 ---
#2: Jacquemus - Esca Cutout Draped Woven Mini Dress - Green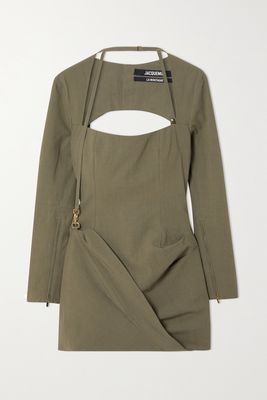 ---
#3: Jacquemus - Maniu Cutout Wool Mini Dress - Neutrals
---
#4: Bahia Draped Mini Wrap Dress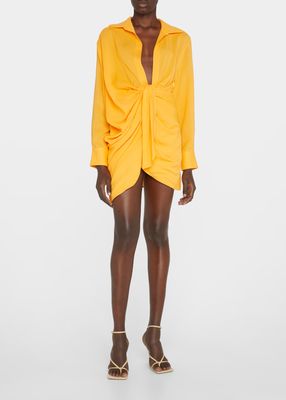 ---
#5: Jacquemus La Robe Saudade Asymmetric Draped Minidress in Orange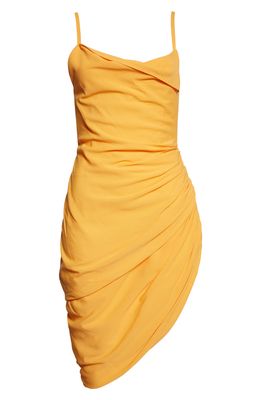 ---
#6: Jacquemus open-back zip-up dress - Yellow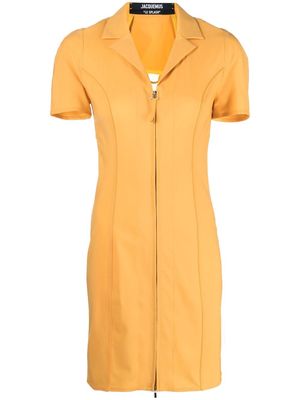 ---
#7: Jacquemus Saudade draped maxi dress - Black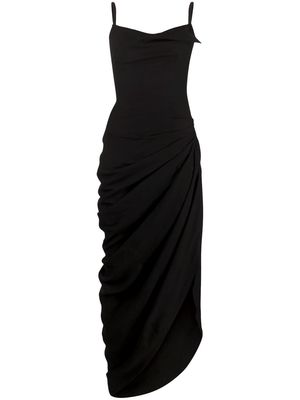 ---
#8: Jacquemus Tangelo shirt dress - Orange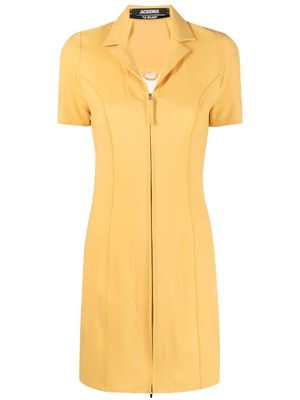 ---
#9: Jacquemus Maille Azur Button Panel Long Sleeve Ribbed Dress in Khaki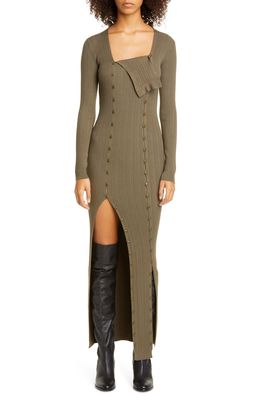 ---
#10: Jacquemus Hielo Cutout Stretch Wool Halter Neck Minidress in Light Blue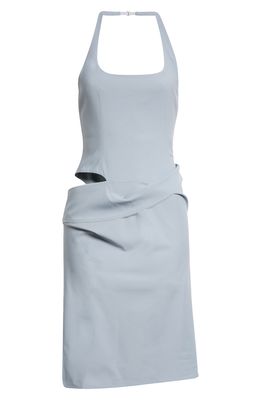 ---
#11: Jacquemus La Robe Mari Cutout Long Sleeve Body-Con Minidress in Black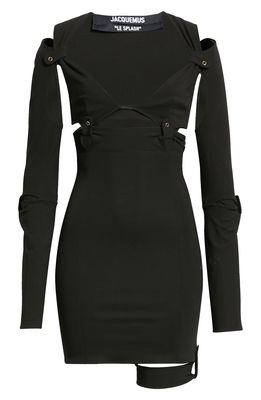 ---
#12: Jacquemus cut-out detail maxidress - Orange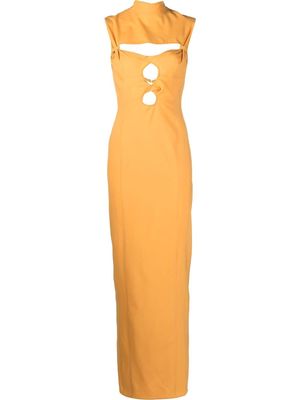 ---
#13: Jacquemus La Rove Limao halterneck dress - Pink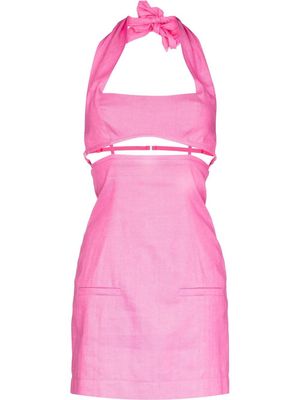 ---
#14: Jacquemus La Robe Saudade asymmetrical dress - Pink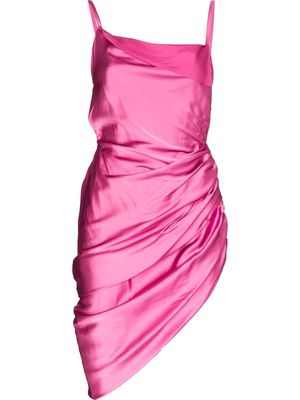 ---
#15: Jacquemus Saudade asymmetric draped maxi dress - Neutrals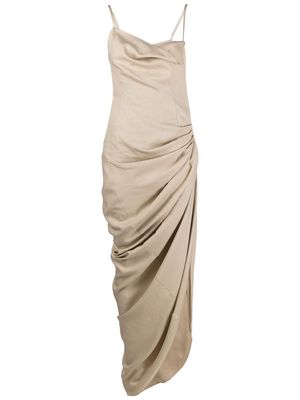 ---
What Are The Most Popular Jacquemus Dresses?
It's no secret that Jacquemus is a coveted celebrity favorite. A-listers such as Elsa Hosk, Rosie Huntington-Wheely, and Kylie Jenner have all been spotted wearing the brand's dresses.
Since most of them sport different designs, it's hard for me to pinpoint a particular gown out of the bunch.
But if I were to take a guess, I'd say that the La Robe Lagoa Maxi Dress and the Sun Dress are the brand's most sought–after pieces.
Do Jacquemus Dresses Run True To Size?
According to a few online customers, the best Jacquemus dresses do run true to size. It's worth noting that some of their designs feature a stretchy knit, which helps to provide a roomier fit. I recommend double-checking the brand's measurements before heading to checkout.
How Can You Tell If Jacquemus Dresses Are Real?
Encountering a bonafide Jacquemus dress at your local thrift shop is considered a rarity.
Naturally, such a cheap find will generate some skepticism. If you can't be bothered to visit a local professional, here are a few ways to differentiate a designer dress from a dupe.
Check for brand tags, logo, and laundry labels
Test the material's quality and durability
Consider where you bought it from
Where Are Jacquemus Dresses Made?
According to my research, it appears that the best Jacquemus dresses are made in Portugal and Italy. It's worth noting that you can usually find out where your garment was made by viewing the product's laundry tag.
Are Jacquemus Dresses Good Quality?
Absolutely! Jacquemus dresses are constructed with the best materials, ranging from virgin wool to viscose. Plus, they've gained a stamp of approval from several celebrities, so you can relax knowing that your $500+ purchase is well worth the investment.
For those especially concerned about fabric composition, I recommend reading the product description for more details.
How To Style Jacquemus Dresses
Care for some fashion tips? If so, I'll show you how to style your Jacquemus dress. Check out the three glam looks below.
I'm fairly certain that Jacquemus has stolen a page out of Ariana Grande's style book. Composed of a white halter dress and a pair of beige knee-high boots, this look is definitely emblematic of Ari's fashion sense.
You can never go wrong with a cute monochrome outfit. This stunning Jacquemus dress features a cowl neckline, a draped hem, and thin spaghetti straps. Accentuated with square-toed heels, this look is perfect for 5-star dinner dates.
The best way to de–accentuate a loud color is to pair it with a complementary hue. Case in point, this bright orange Jacquemus dress looks rather subtle when matched with a pink purse. For shoes, I recommend keeping things simple with a pair of cream kitten heels.
---
Looking to up your fashion game? We've got you covered:
Get Access to Exclusive Deals
Subscribe for free to get exclusive deals in your inbox. 100% privacy