10 Best Jacquemus White Bags
Tired of traditional black? While it's the go-to shade for basic styling, I totally understand if you're in need of a switch–up.
Instead of resorting to pinks, greens, and bright oranges, you can never go wrong with classic white. Considered an easy way to brighten up an outfit, you should never underestimate the power of this universal color.
Obviously, there are hundreds of brands to choose from. Balenciaga, Prada, and Dior are typically the go-to options for many trendsetters, with the inclusion of one notable company.
Known for its avant–garde take on French classics, Jacquemus should definitely be added to the list. So, may I interest you in a selection of the best Jacquemus white bags?
From La Montagne 'Le Ciuciu' to Le Chiquito, I'll feature a few of the best Jacquemus white bags that are all the rage this season. I'll be sure to include details concerning price, material quality, and where you can buy them.
Finding The Best Jacquemus White Bags
Refined in silhouette and simple in color, Jacquemus white bags are considered the perfect accouterment to any outfit. Plus, it's a minimalist must-have, given its uncomplicated design.
While many might think the Le Chiquito is the company's only purse, trendsetters can choose from a multitude of different styles. The best Jacquemus white bags also include Le Bambino, Le Ciuciu, Le Bomba, Le Sac Rond, and more.
Given its outrageous expense, it's important for shoppers to consider their budget, needs, and current aesthetic.
Don't get me wrong, it's hard to say no to something as adorable as the mini Le Chiquito, but let's be honest. This petite handbag is not the most practical out of the bunch.
The 10 Best Jacquemus White Bags
The fashion industry is full of unique designs. With that in mind, what makes this brand so special?
Iconized for its unusual take on French classics, trendsetters view Jacquemus as a refreshing alternative to stark traditionalism.
For those in need of further evidence, I'll feature 10 of the best Jacquemus white bags that are sure to turn any skeptic into a believer.
#1: Jacquemus - Carinu Leather Shoulder Bag - Womens - White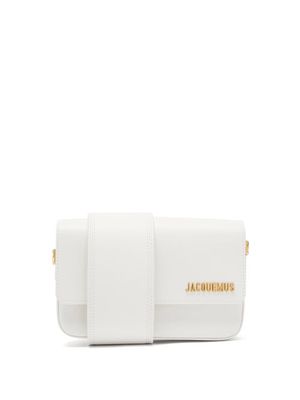 ---
#2: Jacquemus White La Montagne 'Le Ciuciu' Clutch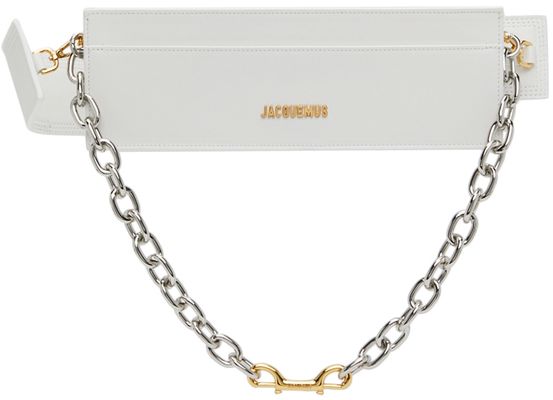 ---
#3: Jacquemus Le Chiquito long tote bag - White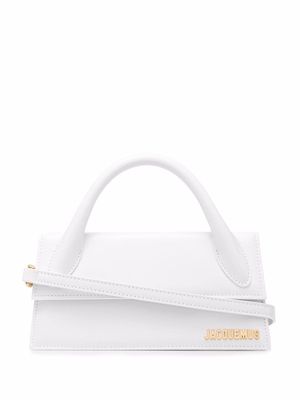 ---
#4: Jacquemus - Chiquito Small Leather Bag - Womens - White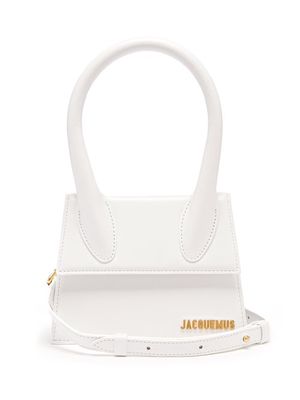 ---
#5: Jacquemus White 'Le Bambinou' Clutch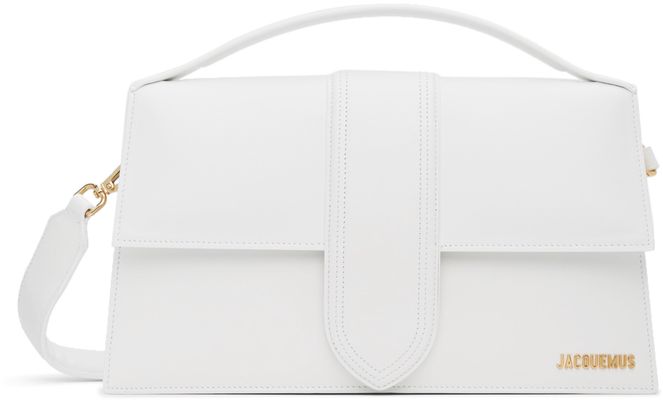 ---
#6: Jacquemus Le Bomba shoulder bag - White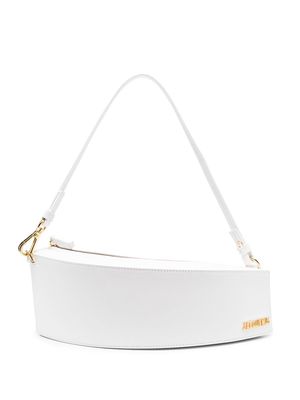 ---
#7: Jacquemus Le Grand Bambino crossbody bag - White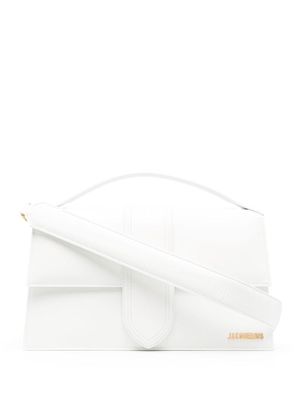 ---
#8: Jacquemus Le Sac tote bag - White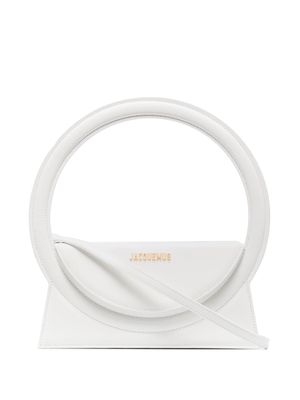 ---
#9: Jacquemus logo lettering flap shoulder bag - White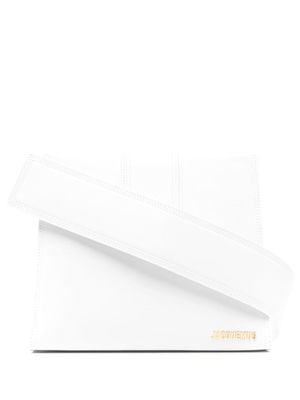 ---
#10: Jacquemus Le Chiquito Moyen Crossbody in White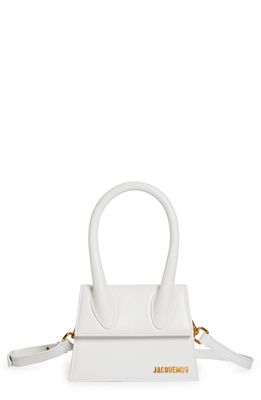 ---
What Are The Most Popular Jacquemus White Bags?
The Le Chiquito, Le Sac Rond, the Le Bambino, and the Le Ciucu collection are the most popular designs sold at Jacquemus. Uncomplicated in silhouette, they're considered the perfect statement piece for any outfit.
Trendsetters should also know that the best Jacquemus white bags are owned by several celebrities, including Lizzo, Bella Hadid, and Kim Kardashian.
How Can You Tell If Jacquemus White Bags Are Real?
Finding a fake designer purse on Facebook Marketplace is not a difficult task. On the other hand, discovering a bonafide steal is considered a rarity. For those in need of some tips and tricks, here are a few ways to authenticate your Jacquemus white bag.
Verify any serial numbers, date codes, logos, and brand tags
Test the bag's quality through fabric choice, stitching, and any added hardware
Double-check for any off-prints or misspellings
Consider where you bought it from
Where Are Jacquemus White Bags Made?
The best Jacquemus white bags are made in Italy, Portugal, and Spain. It's worth noting that the brand designs its purses in France.
Are Jacquemus White Bags Good Quality?
Absolutely! Jacquemus white bags are constructed with the best materials. The brand commonly uses vegetable-tanned leather and metal hardware for most of its purses.
Expertly stitched and durable, you can rest assured that your coveted carry-on won't flake out any time soon.
Can Jacquemus White Bags Be Unisex Or Gender-Neutral?
At Soxy, we believe that fashion is non-binary. While most brands choose to organize their collections by gender, that shouldn't stop you from copping a specific item.
Ultimately, you're free to choose whatever purse calls your name—whether that's the dainty Le Chiquito or the straw Le Baci bag.
How To Style Jacquemus White Bags
Before I conclude this article, I'd like to share a few fashion tips. So, here are some ways to style your brand new Jacquemus white bag.
Considered a simple way to style your Jacquemus white bag, this outfit features a basic button-up shirt and a pair of blue denim jeans.
I recommend swapping the strappy heels for a pair of Comme Des Garçons Converse shoes for a more casual look.
Funnily enough, the white Jacqumeus bag is the statement piece next to this bright blue outfit. While you're free to opt for a matching azure purse, the cream Le Ciuciu helps to break the monotony of this vibrant color.
Monochrome matching sets are in dire need of additional accessories. Case in point, this all-beige outfit looks rather sophisticated when paired with the white Le Sac Rond from Jacquemus.
Carrying a purse is a simple way to accentuate any OOTD, and this ensemble is definitely ready for Instagram photo ops.
---
Looking to stay up to date on all things Jacquemus? We've got you covered:
Get Access to Exclusive Deals
Subscribe for free to get exclusive deals in your inbox. 100% privacy