30 Best Jimi Hendrix Tattoo Ideas 
About Jimi Hendrix Tattoos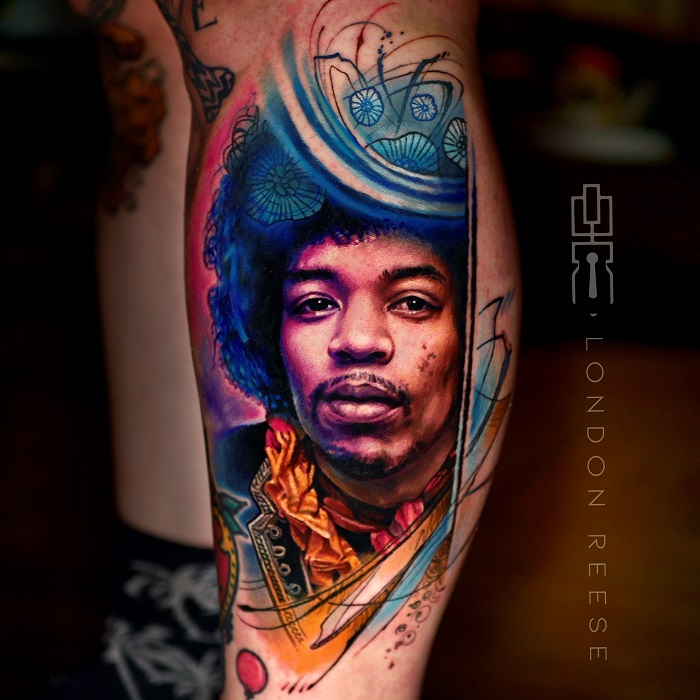 A classic way to pay respect to a rock 'n' roll legend, a Jimi Hendrix tattoo is common among musicians and other Jimi Hendrix fans.
If you're in awe of Hendrix's raw talent and musical aptitude, and also deeply moved by his songs, you might consider yourself one of his top fans. If that's the case, then getting a Jimi Hendrix tattoo might be a fantastic idea for you.
Getting a tribute tattoo of a celebrity you really admire is a cool idea. But it can also be a risky decision, especially since the tattoo is permanent.
If this is your first tattoo, you might even be feeling a little stressed out and wondering where to start. So, if you're unsure what to do, and you haven't asked anybody yet, you're in the right place!
If you love tattoos and you also adore Jimi Hendrix, keep on reading. This article will introduce you to several of the best Jimi Hendrix tattoo designs, explain what they mean, and go over their history.
We'll also address some practical concerns, such as where to get these tattoos, and their cost. All of the tattoos honor this one-of-a-kind guitarist in their own unique way. 
What Do Jimi Hendrix Tattoos Mean and Symbolize?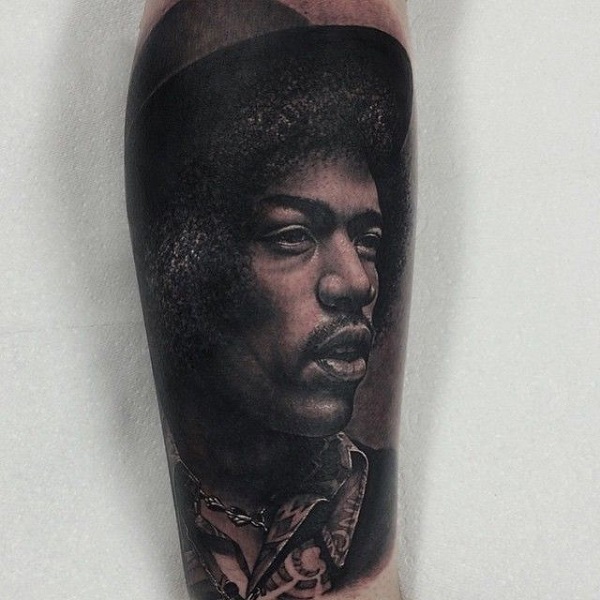 Jimi Hendrix tattoos have one thing in common: they each emit the electrifying energy of the man who became a rock and roll icon from the moment he started playing music.
He played the guitar left-handed and influenced the music industry in a remarkable way. That's why he's considered a rock and roll legend who will never be forgotten.
His legacy has reached today's generation, and rock and roll fans everywhere still listen to Jimi Hendrix's music. And many of these fans are getting inked with a Jimi Hendrix tattoo.
Jimi Hendrix tattoos symbolize everything his songs stood for, including love and freedom. But they also pay homage to the mark he left on the music scene and beyond.
The Jimi Hendrix tattoo meaning is quite powerful. In many ways, these tattoos are also legendary, just like the man himself.
People have connected to Jimi Hendrix's music in many different ways over the years. This is reflected in the endless Jimi Hendrix tattoo designs that are available.
Many of them emerged during Hendrix's height in popularity, as well as after he stopped making music. So if you're thinking about getting a Jimi Hendrix tattoo there are lots of great designs to choose from.
Where to Get a Jimi Hendrix Tattoo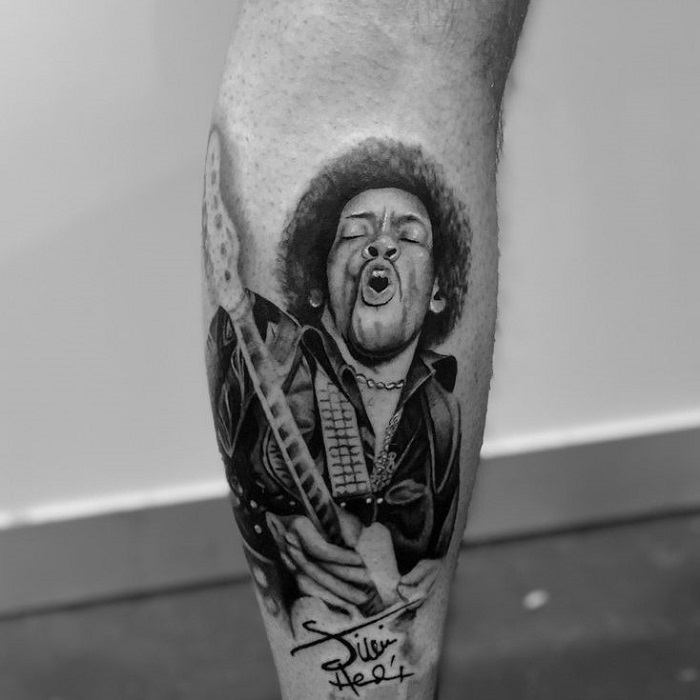 Planning your tattoo design involves mapping out where to place the tattoo on your body. Several factors influence this decision. The size of the tattoo matters a lot, as well as your own pain threshold.
Here is a list of some of the best places to get this tattoo:
Upper back
Upper arm
Shoulder cap
Rib cage
The large area of the upper back is often the spot for a tattoo, especially if it's a tribute to a big love in one's life. You can get a Jimi Hendrix tattoo inked on your upper back and have it be as large and detailed as you'd like. Plus, the tattoo artist will have enough room to create a smooth image, which is an important consideration.
The upper arm or shoulder cap is another body part for a Jimi Hendrix tattoo design. This area is very accessible, so the tattoo artist can illustrate with a bit of ease. The skin around the shoulder cap can be quite thin and sensitive, so you can expect slight pain as the needle starts inching towards your shoulder cap.
A Jimi Hendrix tattoo design on the rib cage could really test your pain threshold, but it could absolutely be worth it when done right. Just like the big area on the upper back, the rib cage will also allow the artist to take broader strokes, and really flesh out the details.
How Much Do Jimi Hendrix Tattoos Cost?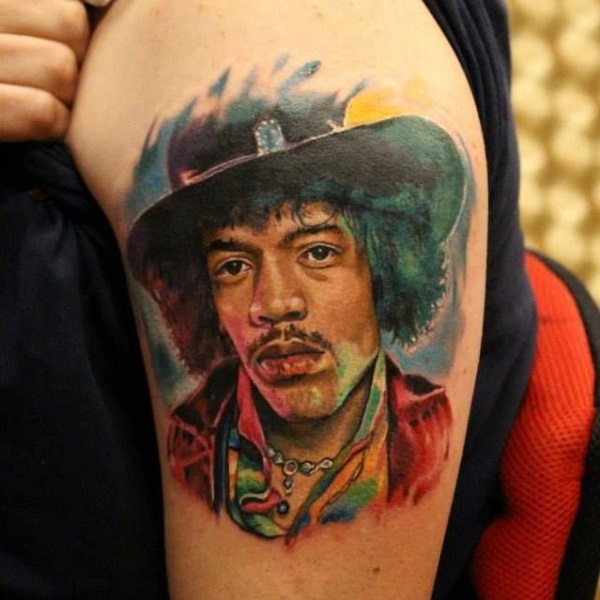 Before booking your tattoo appointment, understanding the various costs is essential. This info can impact how you design your Jimi Hendrix tattoo.
The cost of your tattoo will depend on a few factors:
Tattoo size
Design (level of detail, colors, etc.)
Time
Placement
Hourly rate
Tattoo artist's experience
A large tattoo design can mean that the cost is higher! The price will also include the time the artist takes to create and sketch out the tattoo design prior to tattooing it on you. This could take quite a bit of time, especially if you ask for a couple of drafts.
Tattoo artists usually give a piece rate or an hourly rate. On average, they typically charge $120 to $150 per hour. Back tattoos will most likely be priced at a 'per hour' rate, but it'll really depend on the size of your tattoo.
If charged per piece, for a large tattoo, like a back or full sleeve tattoo, prices start at $500 and can get up to around $4,000 (if it's the full back).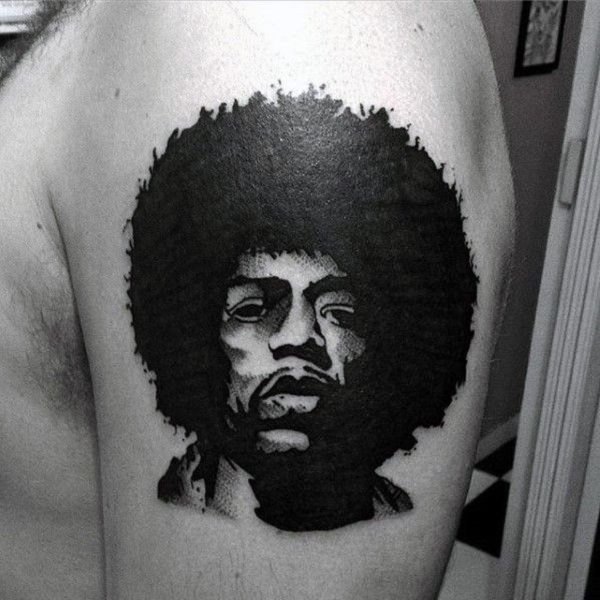 The level of detail included in your Jimi Hendrix tattoo design could also up the cost. If you're adding color (including multiple colors), you should set aside a bit more money to spend on your tattoo. For instance, watercolor-style tattoos can cost a lot more than simple black and gray designs.
Another factor to consider is that an experienced artist will likely charge more than someone who is just starting out. In both cases, a larger design will still be on the pricier side, but with some cost variations.
In the end, it will all depend on the style you prefer. You need to make sure the tattoo artist understands your vision and design preferences. While an experienced tattoo artist might have the best skills, your tastes might not match up, so they may not be able to create a design that you love. So, shopping around for the best artist for you is a good idea.
30 Best Jimi Hendrix Tattoo Designs
By now, you might be thinking about getting your very own Jimi Hendrix tattoo. If you need some design inspiration before you book your session, check out the list of Jimi Hendrix tattoo ideas below.
#1: Realistic portrait of Jimi Hendrix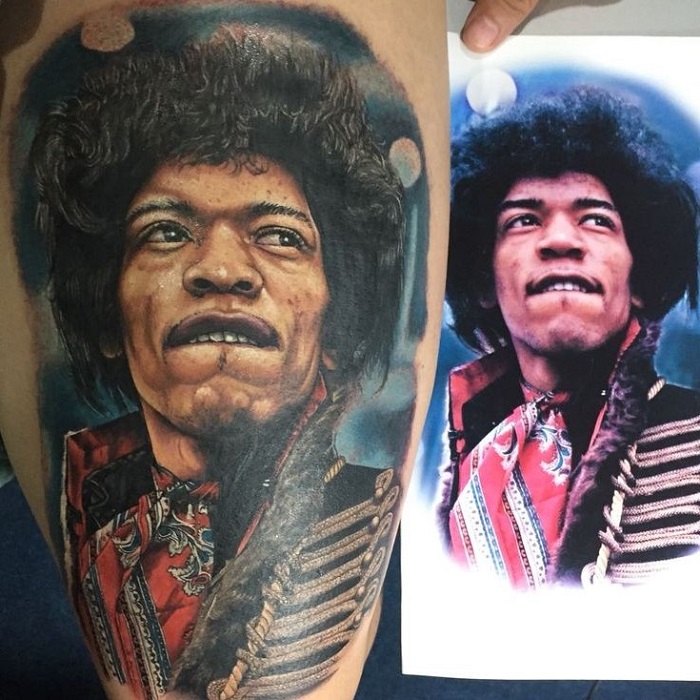 A realistic portrait Jimi Hendrix tattoo is the most common design. It's also the most impressive one, because of how realistic portrait tattoos can be these days. Tattoo artists are able to achieve incredibly realistic images of people using both colors, as well as black and gray shades. 
Portrait tattoos can be very intricate since there's a great level of detail that goes into shading, blending, and using various other tattoo techniques. Tattoo artists will usually use a photograph to create a design that'll be the most realistic, and that also aligns with what you had in mind.
#2: Illustrative Tattoo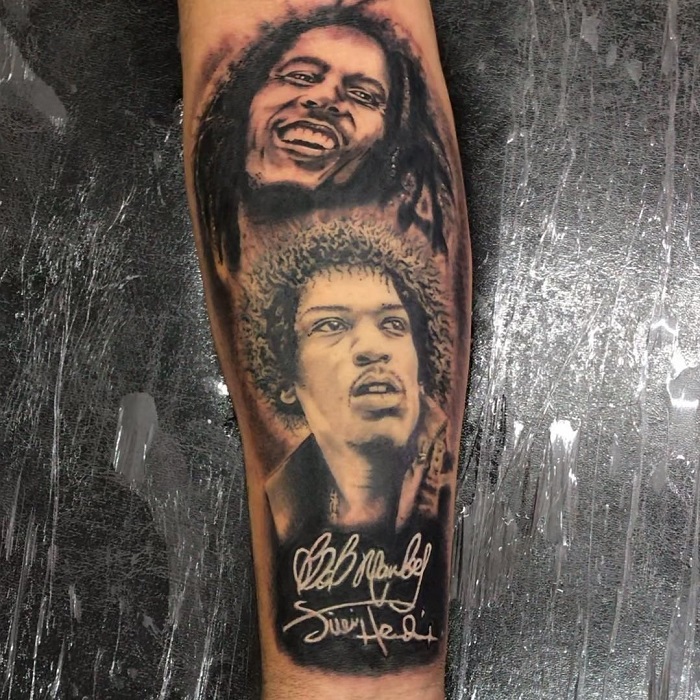 The most versatile tattoo style is called 'illustrative.' It's a great Jimi Hendrix tattoo design that involves not only his image but can even include fine line calligraphy to add his lyrics. 
Many skilled tattoo artists will incorporate their own aesthetic into the design, and create something totally fresh. These impressive tattoo designs usually look like they belong in an art museum.
#3: Line Art Tattoo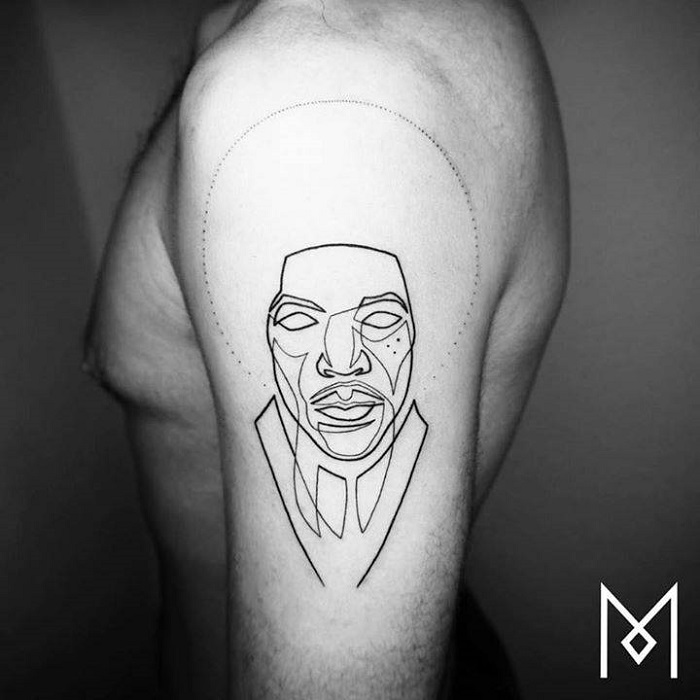 Line art tattoos look as though the design is just one long line that goes around, and is overlapping at times. A line art Jimmy Hendrix tattoo design won't include any saturated colors or detailed shading—it will simply consist of lines. Just like other styles, this design asks that you trust the artist to create a tattoo that's clear, delicate, and accurate.
#4: Watercolor Tattoo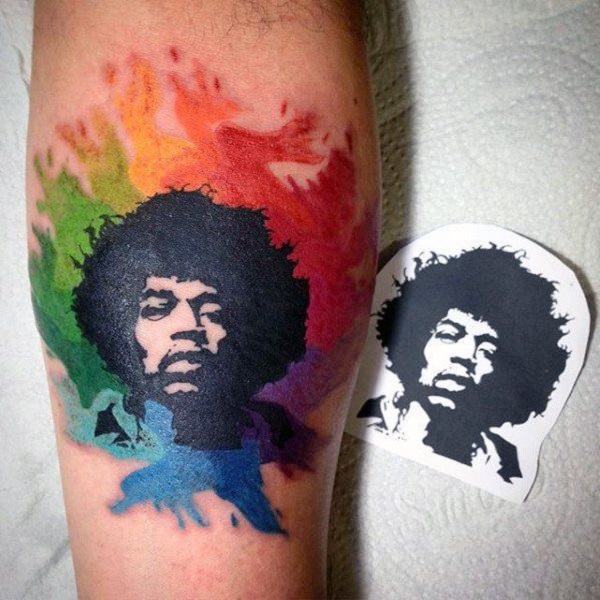 Watercolor tattoo designs work pretty well for images that combine bold lines and abstract patterns. A watercolor Jimi Hendrix tattoo is created using a pastel color palette and includes a soft finish. This design uses a wider spectrum of ink pigments to create a fading, gradient effect.
But this tattoo doesn't always have to be in pastels or solid colors. It can also be designed with black and shades of gray.
It's important to understand how the colors mix together and determine how well the design will look on your skin before deciding to go forward with this design. That way you'll figure out if you should choose a black and gray design or go with the colored version. 
#5: Trash Polka Style Tattoo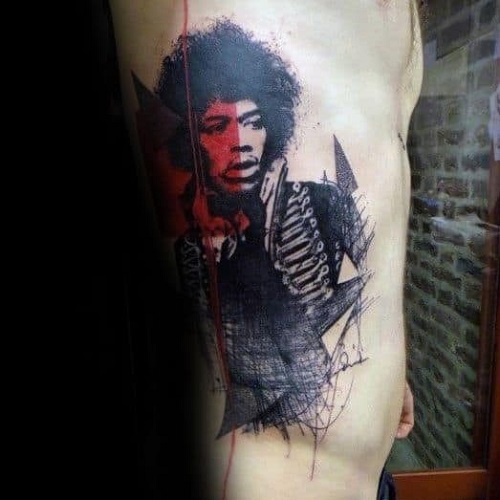 A trash polka Jimi Hendrix tattoo design uses only red and black ink and has a mix of both thin and bold lines. This design tends to combine fantasy and realism, and the images usually have darker undertones. 
A lot of detailing and shading goes into creating this tattoo. The complex design includes both abstract and realistic styles blended into one. This Jimi Hendrix tattoo is also absolutely adored by many of Jimi's fans. The history of this design and the technique behind it align well with everything that Jimi's music represented. 
#6: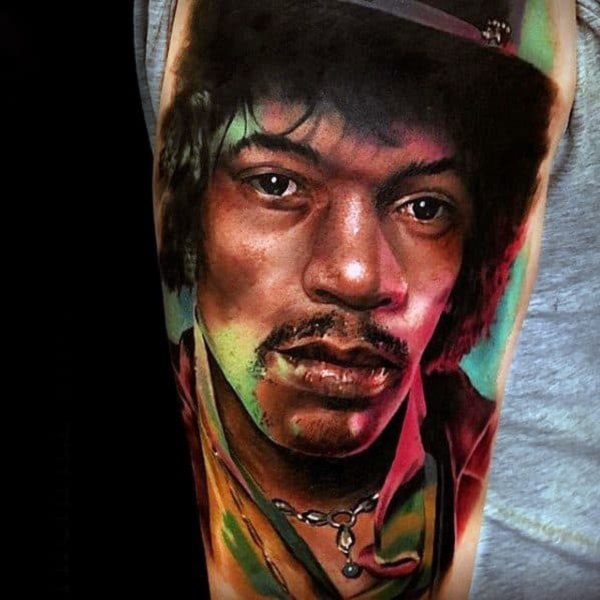 #7: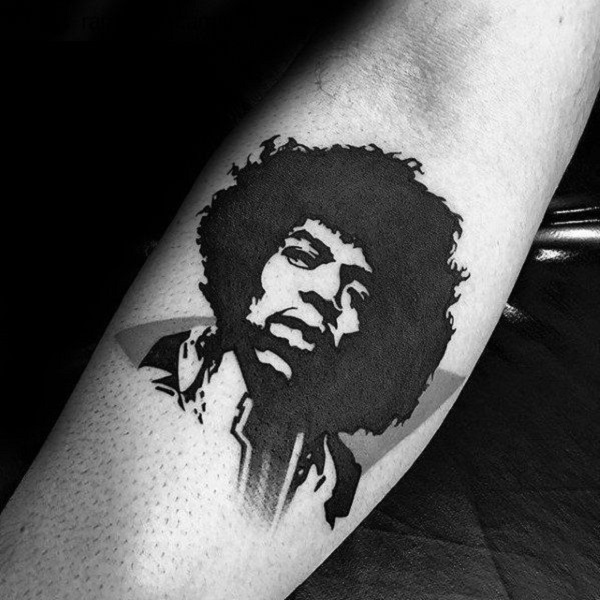 #8: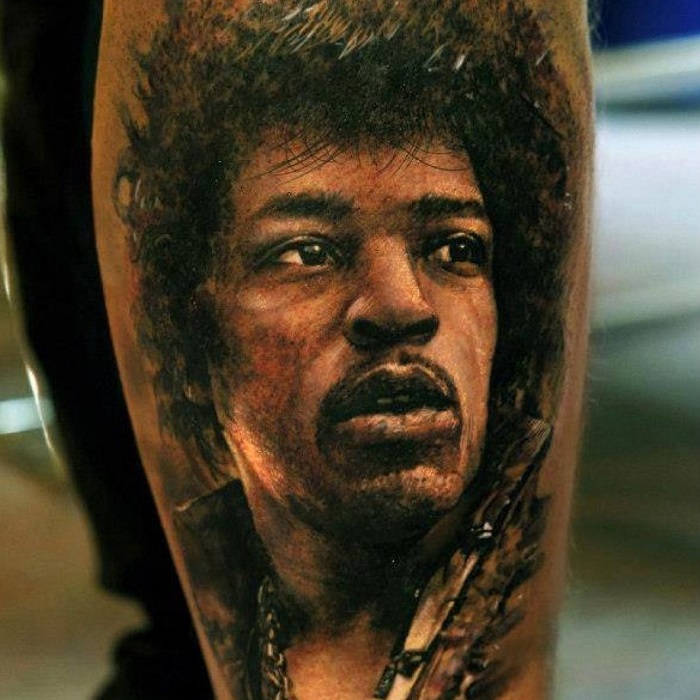 #9: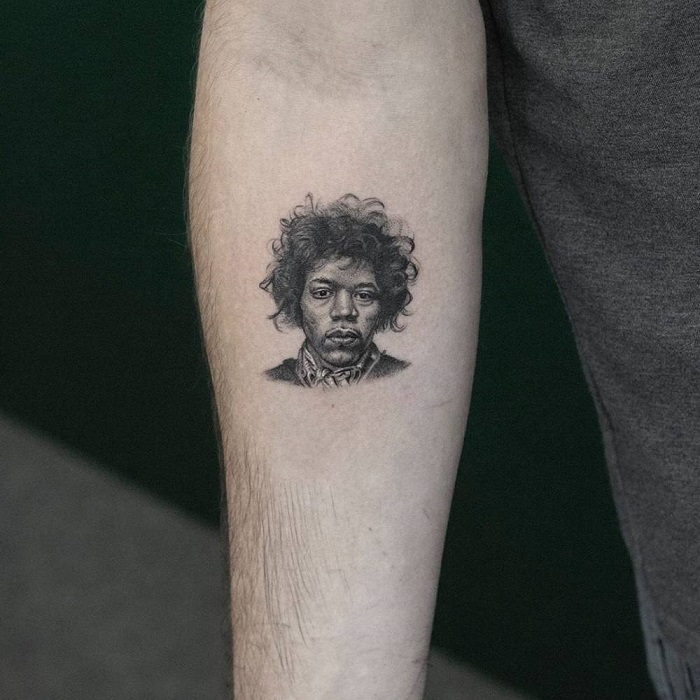 #10: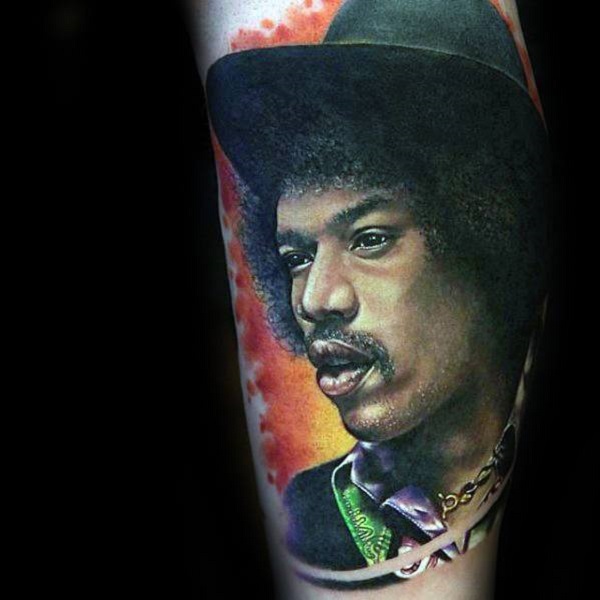 #11: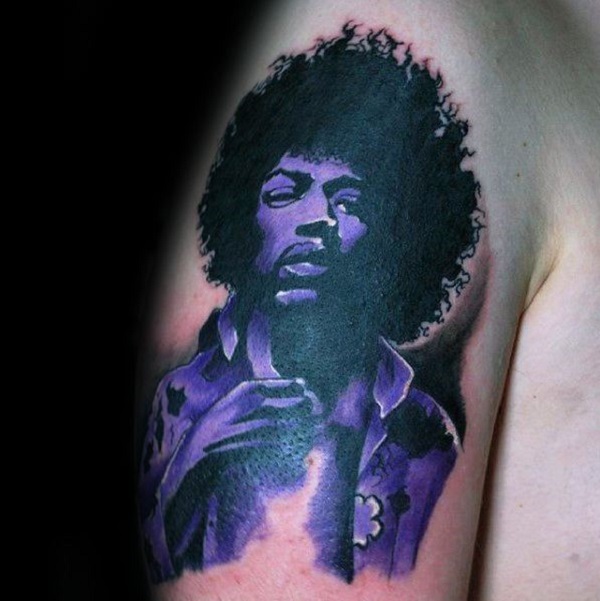 #12: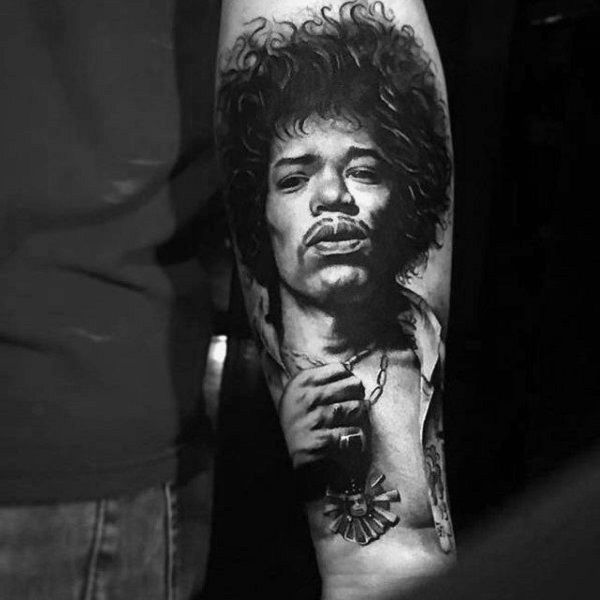 #13: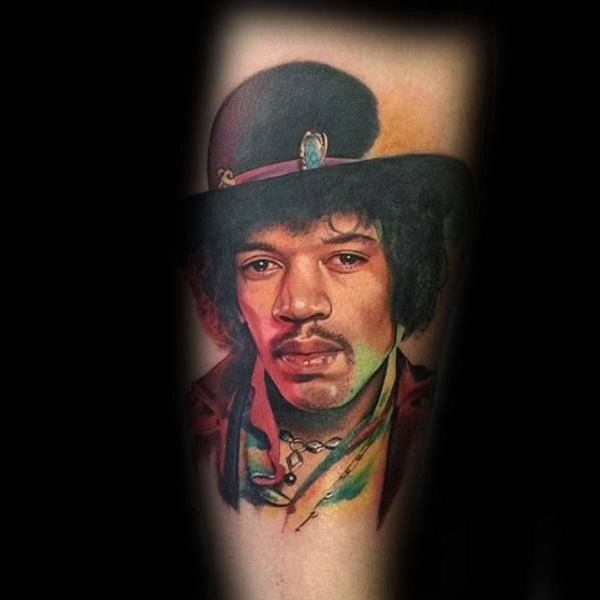 #14: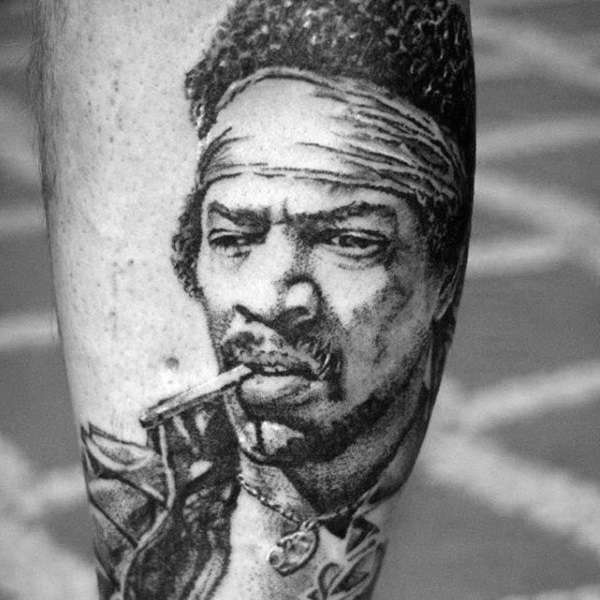 #15: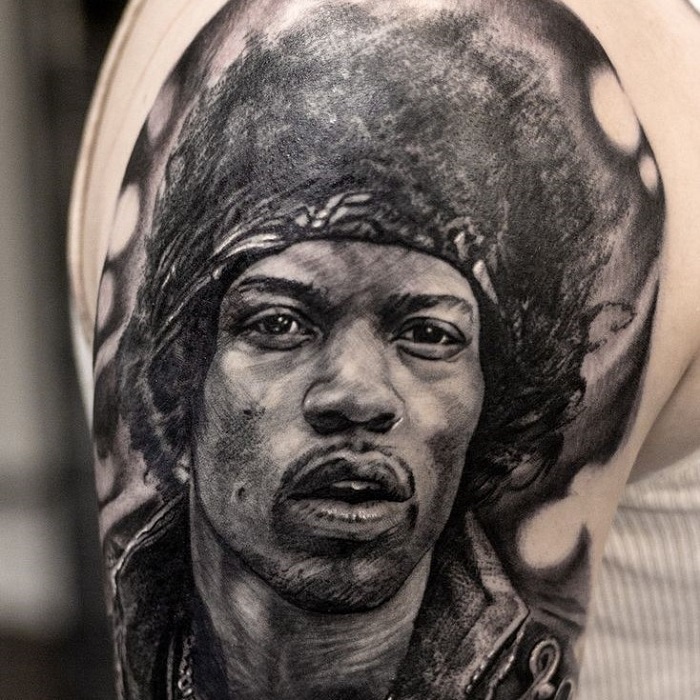 #16: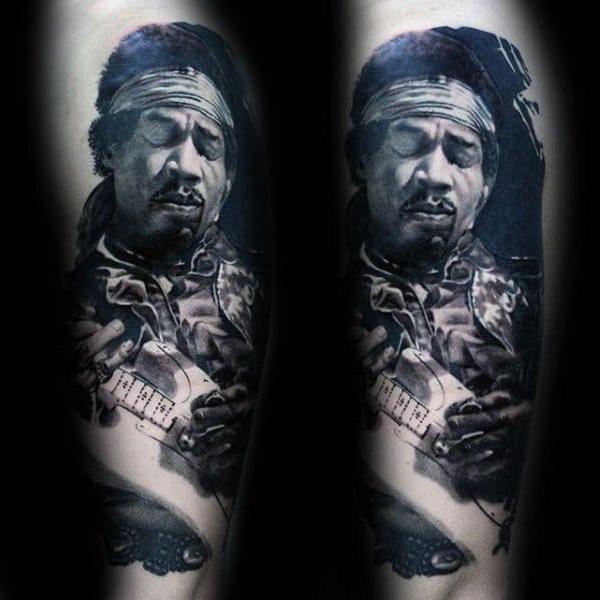 #17: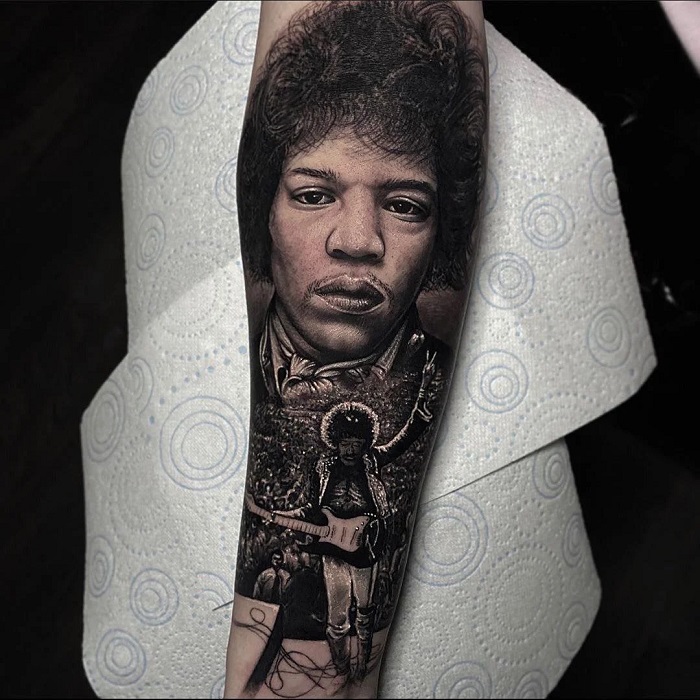 #18: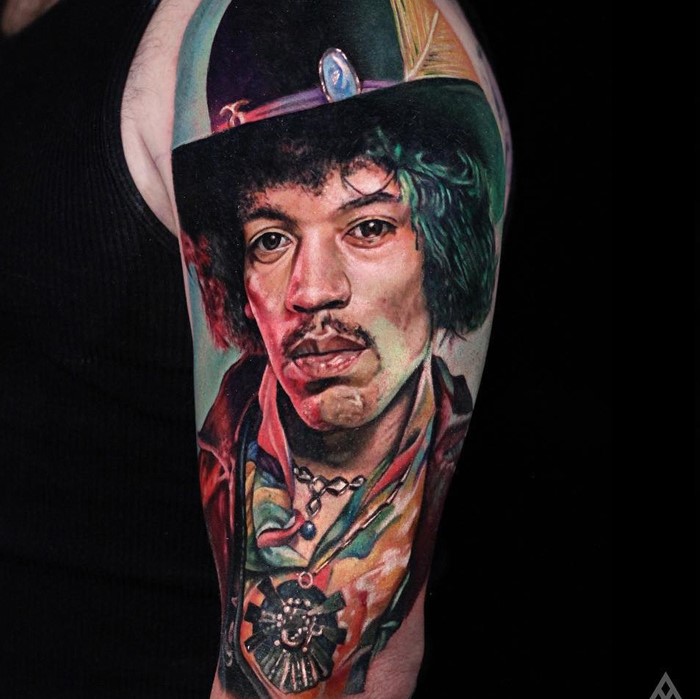 #19: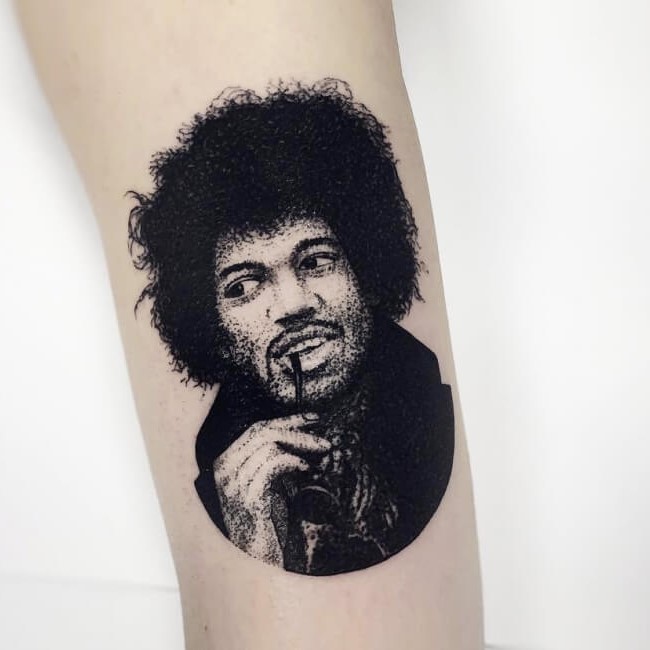 #20: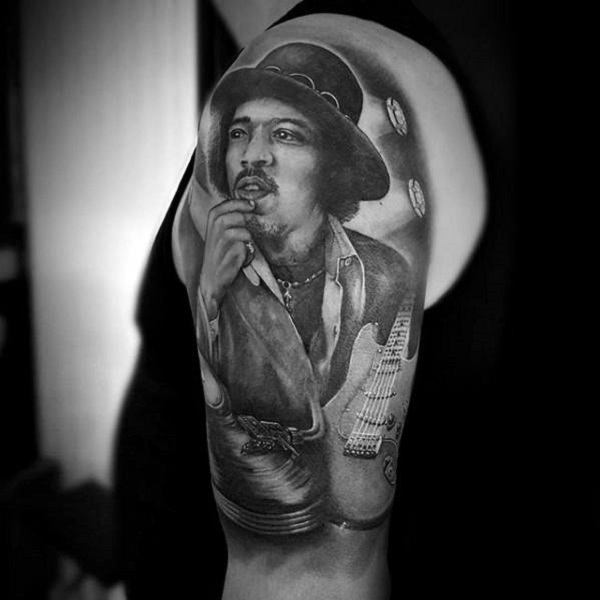 #21: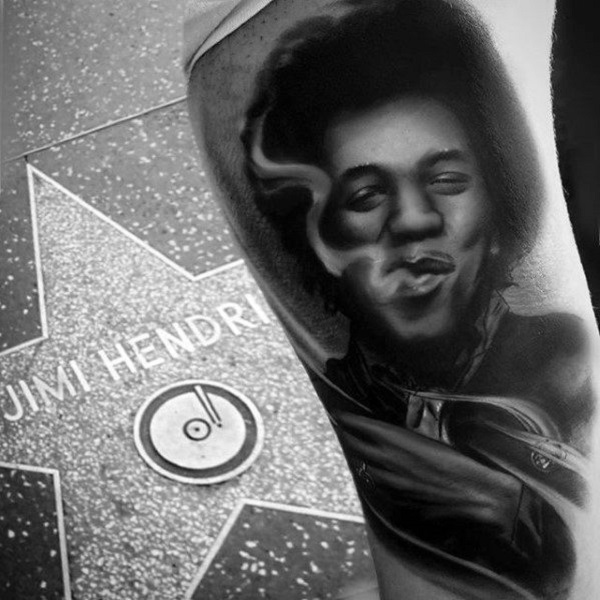 #22: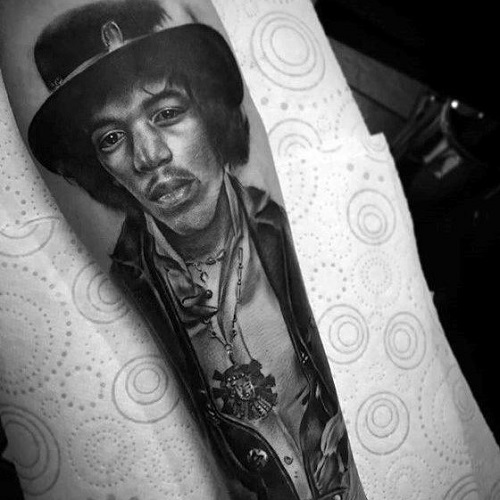 #23: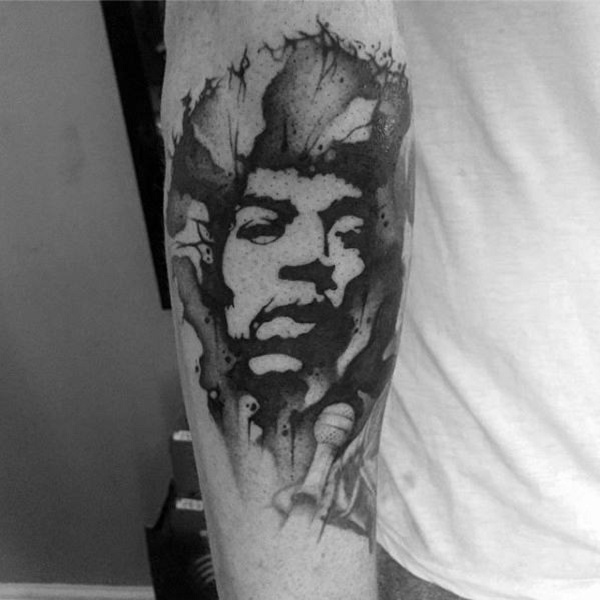 #24: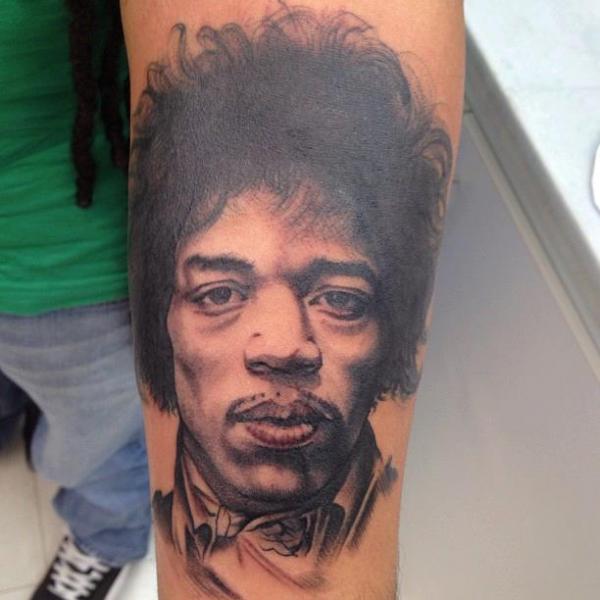 #25:
#26: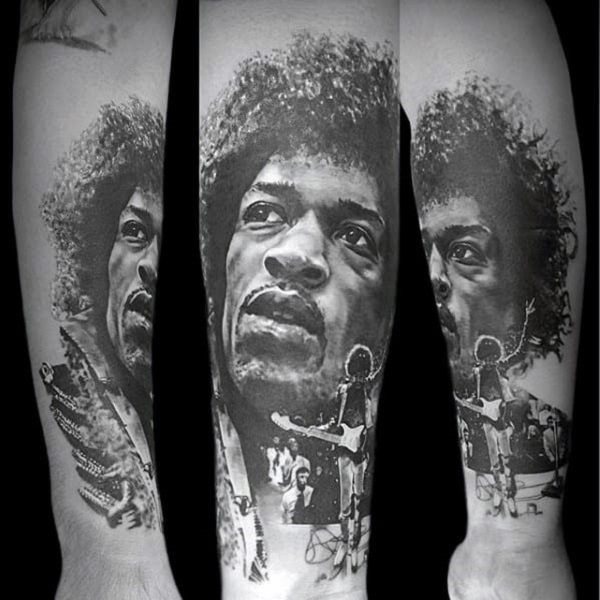 #27: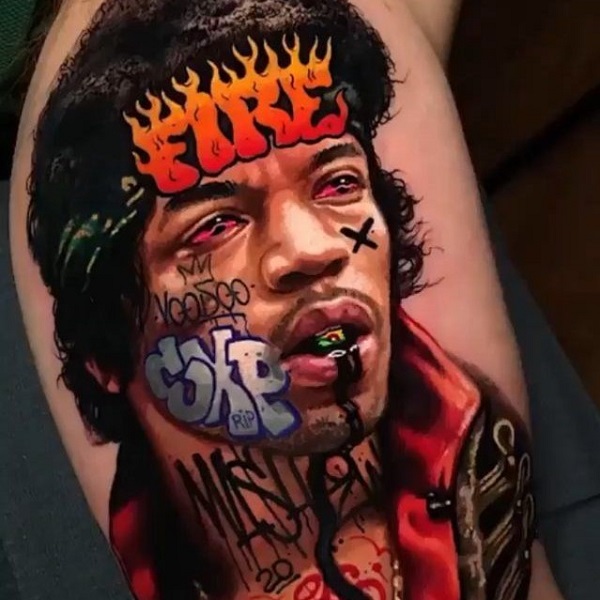 #28: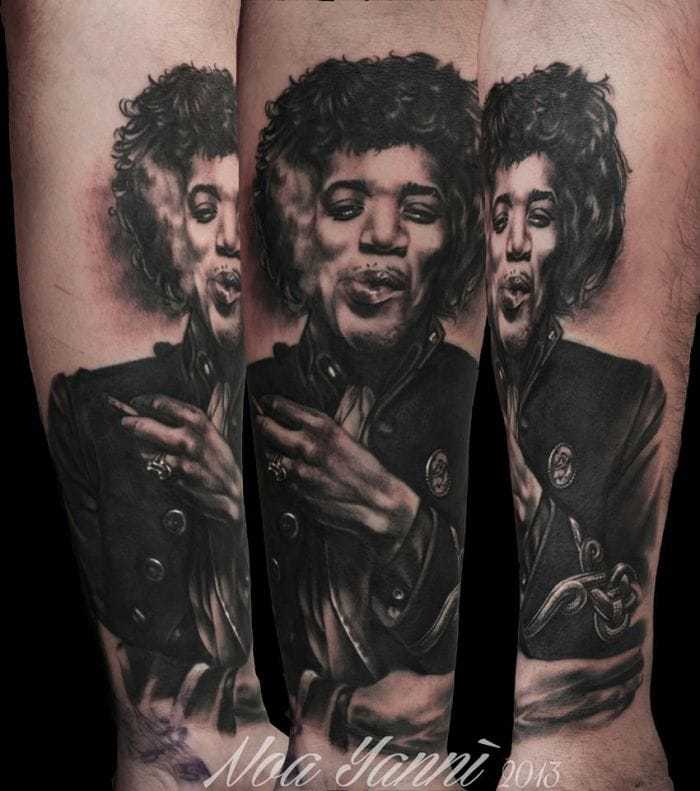 #29: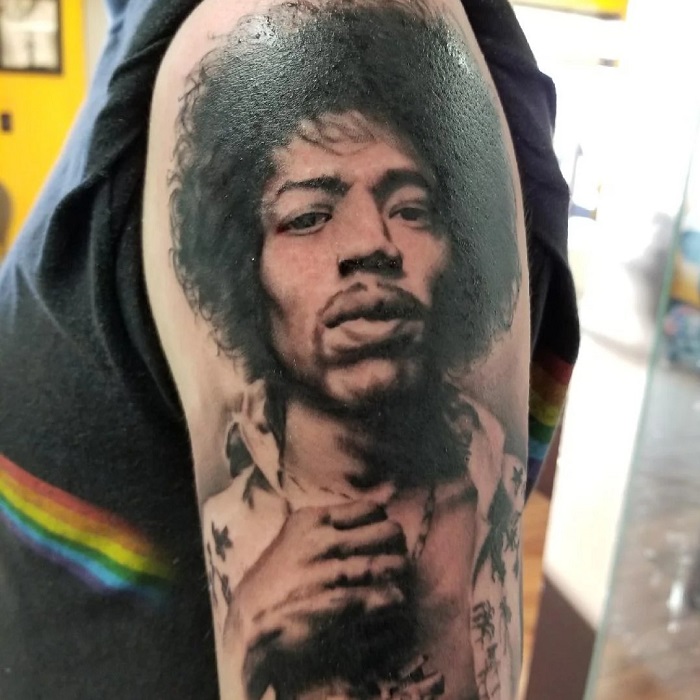 #30: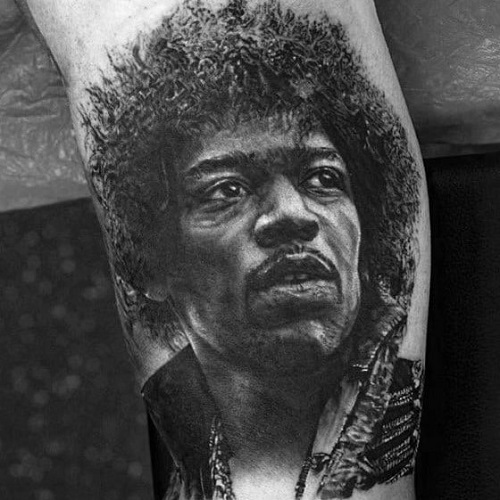 History of the Jimi Hendrix Tattoo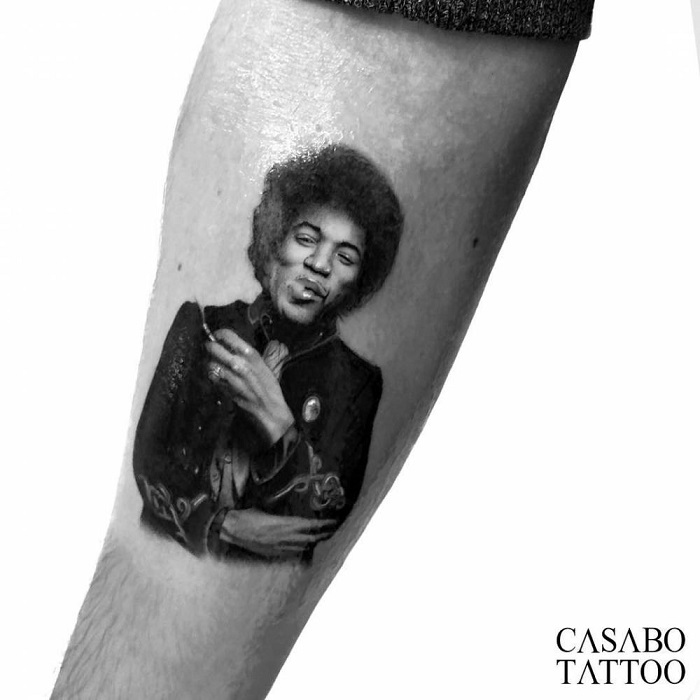 Jimi Hendrix was the rock legend who heavily influenced the way music is created, and he also raised standards for the entire music industry. He's still seen as one of the greatest musical prodigies of all time to this day.
He's highly praised for his accuracy and tempo while playing his guitar. But he's also celebrated for the person that he was. This talented musician was passionate about his art and played his music the way he felt it.
Hendrix's fans were immediately drawn to this vibrant energy and have been getting Jimi Hendrix tattoos for decades to honor him and his art. People would connect deeply with his music, but also connect with his persona. As Jimi's personal and musical style evolved, so did the Jimi Hendrix tattoo designs.
In the 1960s counterculture there was a rebirth of Romantic and Victorian aesthetics in various fields, including music, art, and fashion. At the time, the clothes that were styled together looked both old and new—both Victorian and modern.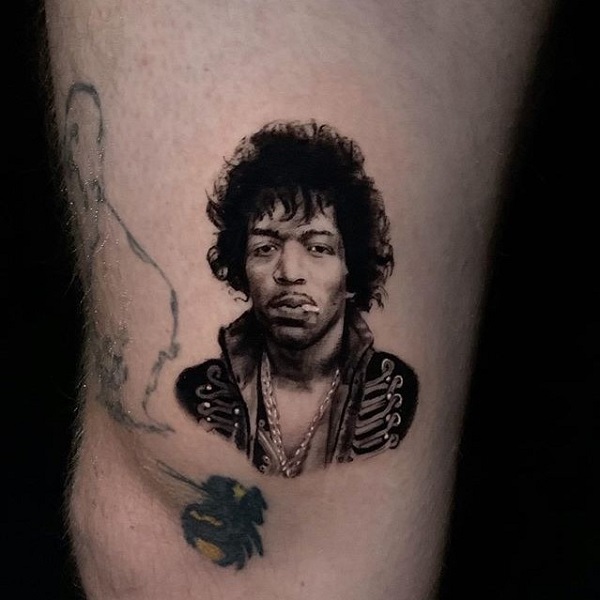 Many tattoo designs of that period depicted Hendrix holding his guitar in his Victorian jacket. These designs were inspired by the unique style that Hendrix embodied back then. This outfit also shows how much influence contemporary London fashion had on him.
In the early 70s, one of Hendrix's staple wardrobe pieces became his black hat. He wore it tilted to the side and he often added feathers, jewels, and silk scarves to enhance the look. This is why the black hat is included in many Jimi Hendrix tattoo designs till this day.
As we've stated, Hendrix's style and music are both timeless and people still get Jimi Hendrix tattoos today to honor this legend.
Nowadays, Jimi Hendrix tattoos vary and there are lots of different options available, because there's no singular way that people experience his music. That said, the Jimi Hendrix portraits usually include his guitar and sometimes he's pictured smoking as well.
Which Celebrities Have a Jimi Hendrix Tattoo?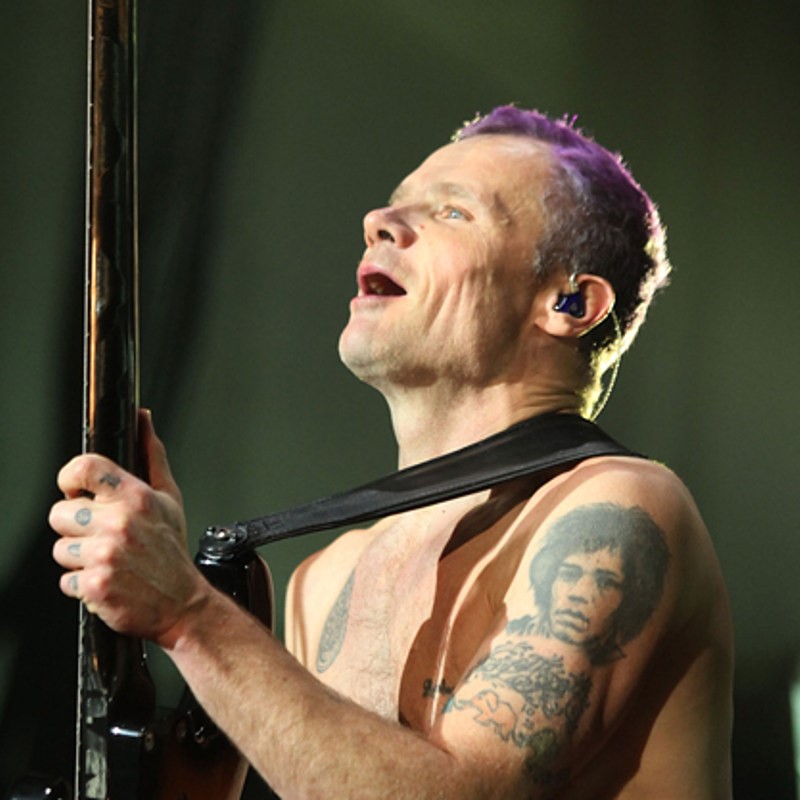 The Red Hot Chili Peppers guitarist, Flea, has a Jimi Hendrix tattoo at the top of his left arm.
Flea has talked about how much Jimi Hendrix has influenced his music and guitar playing. The Jimi Hendrix tattoo design on Flea's left biceps is a portrait of young Hendrix, and it was done in black and gray.
Cleveland Indians player Mike Clevinger also has Jimi Hendrix's face tattooed on his left hand's pointer finger. His tattoo is an image of Hendrix's serious facial expression.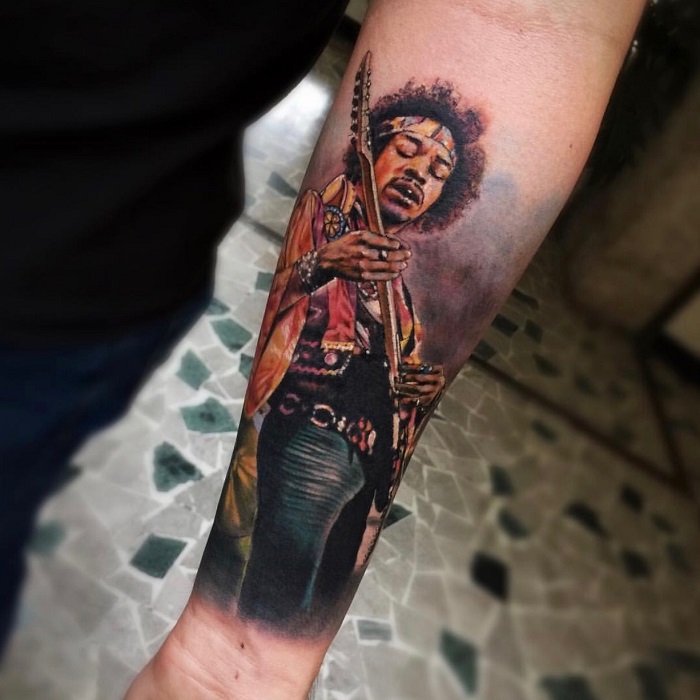 Clevinger chose the tattoo placement purposefully on his finger, so that it stands out when he takes off his glove in the field.  
He's talked about how he got the design, and explained that it was inspired by Hendrix's famous "If 6 Was 9" song. 
---
Looking for other top brands? Check out these curated lists below:
Best Michael Myers Tattoo Ideas
Best Beauty and The Beast Tattoo Ideas
Get Access to Exclusive Deals
Subscribe for free to get exclusive deals in your inbox. 100% privacy