32 Best Lion Hand Tattoo Ideas 
About Lion Hand Tattoos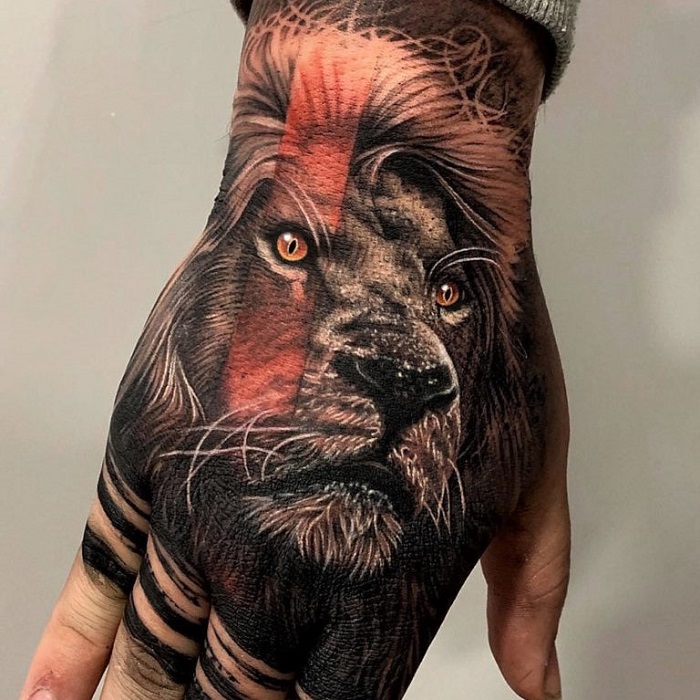 So, you've been thinking about it for a while and you've decided you're finally ready to get a lion hand tattoo.
Or maybe you're still warming up to the idea and would like to know more about it before you make your tattoo appointment. Whatever the case may be, you've come to the right place.
We've compiled a list of the best lion hand tattoo designs to give you several lion hand tattoo ideas. Get ready to learn everything you need to know about this tattoo so you choose the best one for you.
What Do Lion Hand Tattoos Mean And Symbolize?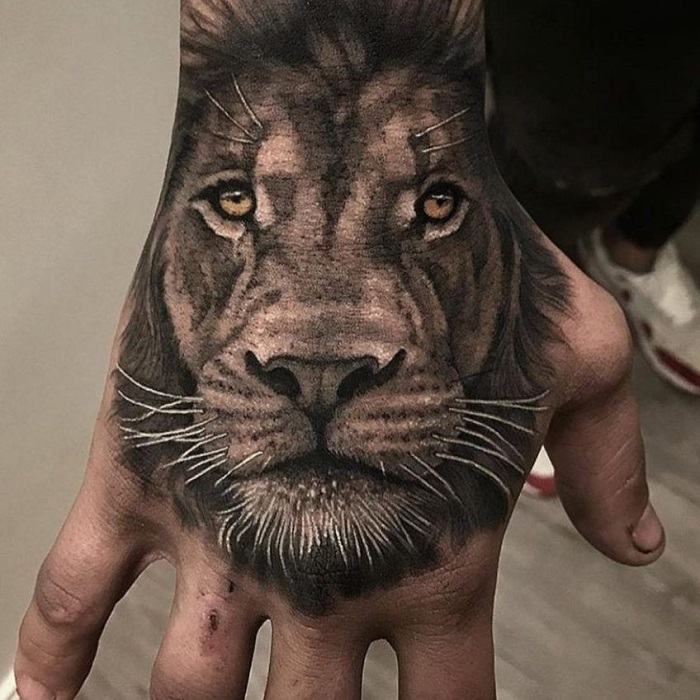 The lion hand tattoo meaning will vary from person to person, of course, but the general essence of the lion and the energy it exudes might influence what kind of design you choose.
Based on the meaning alone, you might opt for a smaller, accent tattoo or go for a larger design that paints the lion in all his glory. 
Typically, lions are depicted as tough and bigger than life creatures and they can also symbolize:
Power
Strength
Protection
Courage
Loyalty
Royalty
Your lion hand tattoo meaning can include one or all of these traits and could exemplify how you feel about yourself, the world, or something you're going through.
People may also get this tattoo simply because it looks really good and it makes them feel good and confident about themselves. After all, lions are often symbols of confidence and self-belief. 
Lions have also been synonymous with courage and bravery. So a lion hand tattoo can symbolize a challenging time in your life that you've had much to overcome and have done so with a lot of courage and tenacity. Ultimately, your tattoo's meaning can be as personal as you'd like it to be. 
You might also choose to add a crown on the lion's head. And your lion hand tattoo meaning might extend beyond the above-mentioned characteristics and signify your regal and noble nature—since the male lion is considered the 'king of the jungle.' 
Lastly, a lion hand tattoo can symbolize mindfulness, since lions are always on guard. So in this case, your lion tattoo will be a symbol of a force that grounds you and makes you more present, confident, and empowered.
Where To Get A Lion Hand Tattoo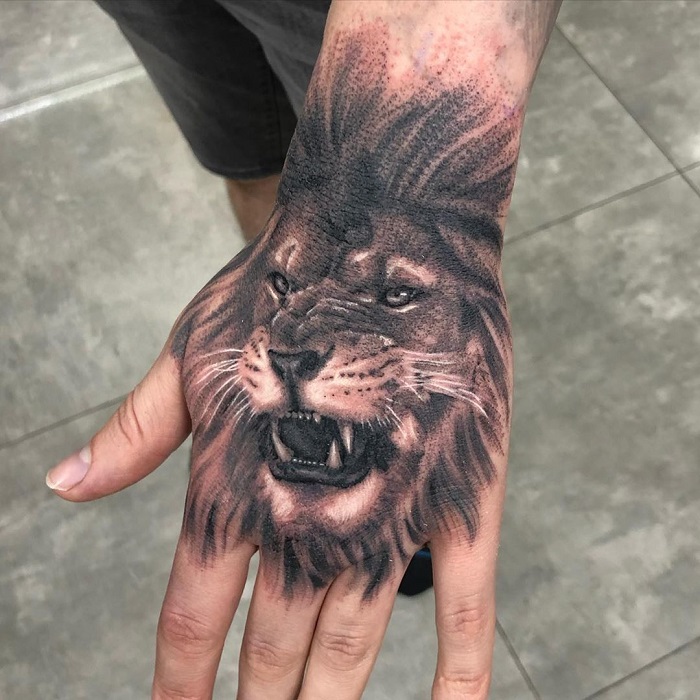 There are a couple of things you should consider before scheduling your tattoo appointment.
First of all, our hands are very sensitive and bony with a lot of nerve endings, so it could be a bit painful to get that area inked—especially because your tattoo artist might need to do a lot of shading to create the best design. 
You should also be patient during the healing process. Because we use our hands a lot and wash them regularly, you'll have to take really good care of your hand tattoo.
Also, you should keep your tattoo moisturized and protected from the sun. Keep in mind that you can purchase aftercare products from your tattoo artist. 
With that said, a lion hand tattoo can look good on any part of your hand, but it looks particularly great inked in these three spots:
Back of the hand
Point Finger
Thumb
Back of your hand
A lion tattoo on the back of your hand or fist works pretty well, especially for the more elaborate and intricate designs. The back of your hand provides more space than any other area on your hand for your artist to flesh out a pretty badass design.
Try to assess your own pain threshold before deciding whether this spot works best for your lion hand tattoo design. The back of your hand is quite sensitive, the skin is quite thin, and many nerve endings are located in that area.
But you could also get your tattoo done in a couple of different sessions, so you can cope with the discomfort better. 
Index Finger
Your index finger is another great placement for your lion tattoo. It works especially well if you'd prefer a smaller, accent tattoo. However, it might seem like designs are a bit limited because of the size of this area.
And while it's true that certain designs only work in large sizes, it's not necessarily always the case. Plus, you always have the option to ask your tattoo artist to downsize a larger design to fit your finger.
Finger tattoos are also quite affordable because of the amount of ink and hours that go into creating a lion hand tattoo. Even the more detailed finger tattoos don't take more than an hour or two to complete. This area is sensitive and bony, but it helps to know that your tattoo won't take very long to finish. 
Thumb
For a modest-sized lion hand tattoo, your thumb area provides enough surface for your artist to work out a cool design.
You can play around with a couple of design ideas here. Your lion tattoo can wrap around your thumb or extend down your wrist for a very powerful image. 
The healing process for a thumb tattoo might be a bit tricky however since it's easy to overwash your hands or use the wrong products. So make sure to use tattoo soap instead of your regular bar soap to prevent any infections.
Plus, you'll need to apply the aftercare cream to keep that area moisturized as well as sunscreen to protect your lion hand tattoo from UV rays.
How Much Do Lion Hand Tattoos Cost?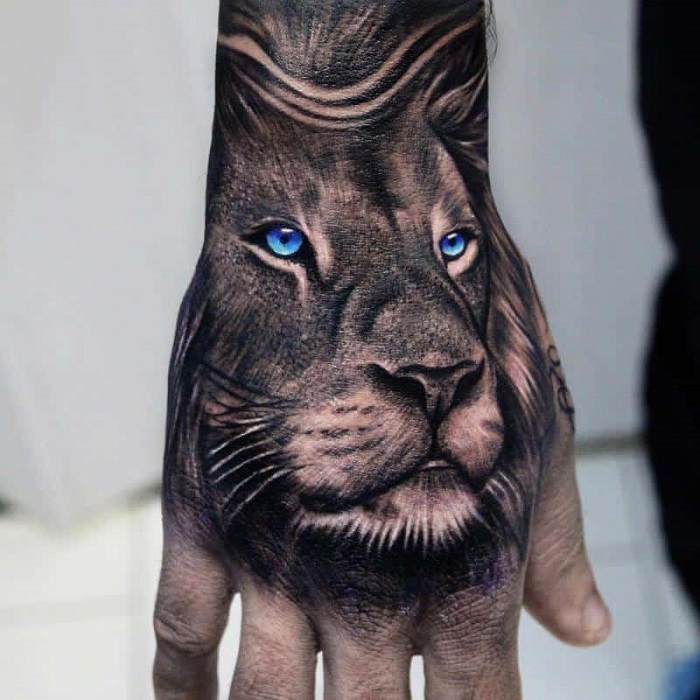 A cool lion tattoo can be etched in small designs. A smaller lion hand tattoo can cost anywhere between $70 to $300. What affects the price is definitely the level of detail and shading that's required.
A medium-sized lion hand tattoo can cost anywhere between $300 and $700. If you decide to go for a full-color design, the cost will be on the higher side.
The most common lion hand tattoos feature a realistic lion portrait. For any portrait work, a tattoo artist will have to be very attentive to detail and might charge an hourly rate, which can be anywhere from $150 to $400 on average.
In case you ever consider getting a lion tattoo full sleeve design that starts from your hand, it could cost around $200 an hour to get it done. The number of hours required will depend on the size and design as well as the artist's skill level.
Plus, the final cost of your tattoo will always depend on the style of your tattoo. For a well-executed lion hand tattoo, your artist should be someone who knows your vision and style preferences.
An experienced tattoo artist might have a lot of skills, and your design ideas might be similar. So, here is our most important tip: look around for the best artist for you.
Not only will this ensure you get the best tattoo design, but it'll also help you budget for your tattoo. 
32 Best Lion Hand Tattoo Designs
Since some of the best lion hand tattoo designs include a well-shaded portrait of a lion, our top picks for a lion hand tattoo include various versions of a shaded lion.
The best shading techniques we've found include whip and pendulum shading as well as packing. 
Whip shading is done by moving the needle in a way that creates brush-like strokes. Your artist will drag the needle across your skin and flick the tattoo machine away from your skin near the end. 
On the other hand, the pendulum shading technique involves moving the needle in a pendulum motion to spread out ink at an angle.
With this technique, your lion hand tattoo will be darker in the center and lighter on the outer edges. Moving the needle this way creates a gradient of shading that becomes a prominent feature once your tattoo is fully healed. 
Lastly, packing is done by using tight oval motions to fill in the design. The circles could be small or large, but if they are larger, the shading might look a bit patchy while it's healing.
#1: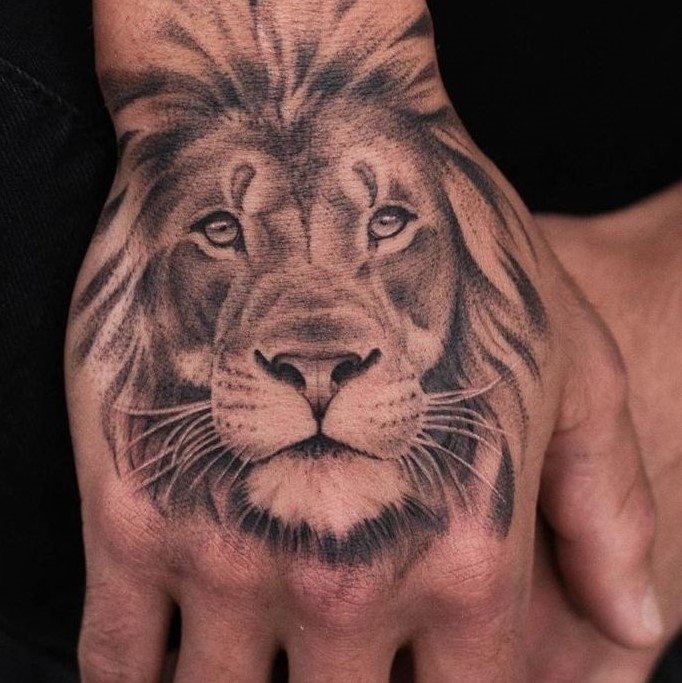 #2: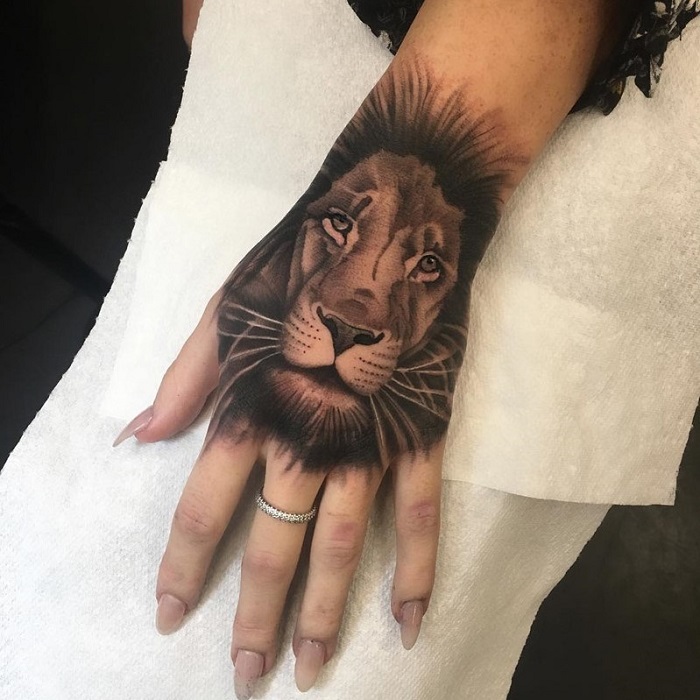 #3: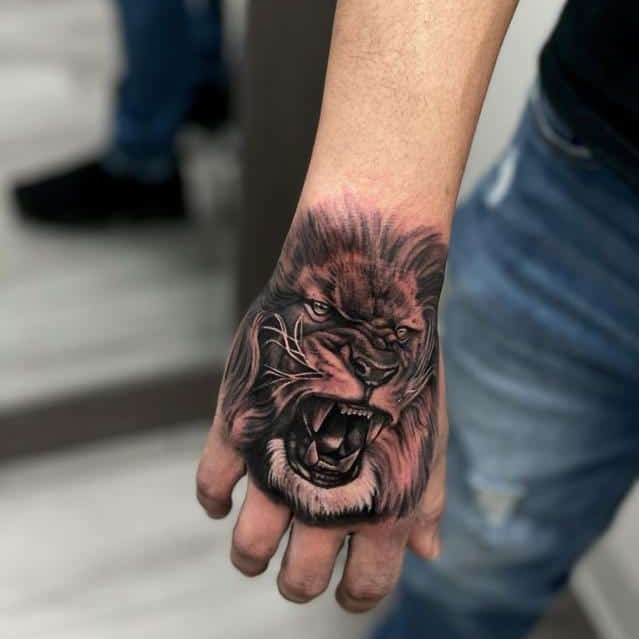 #4: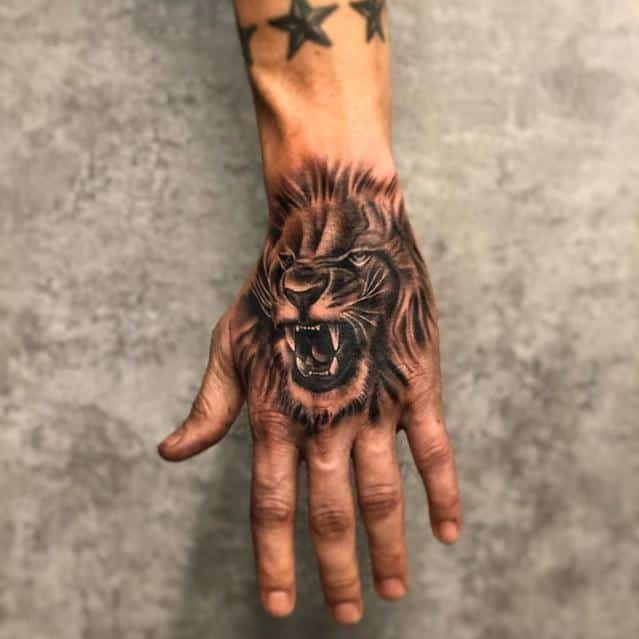 #5: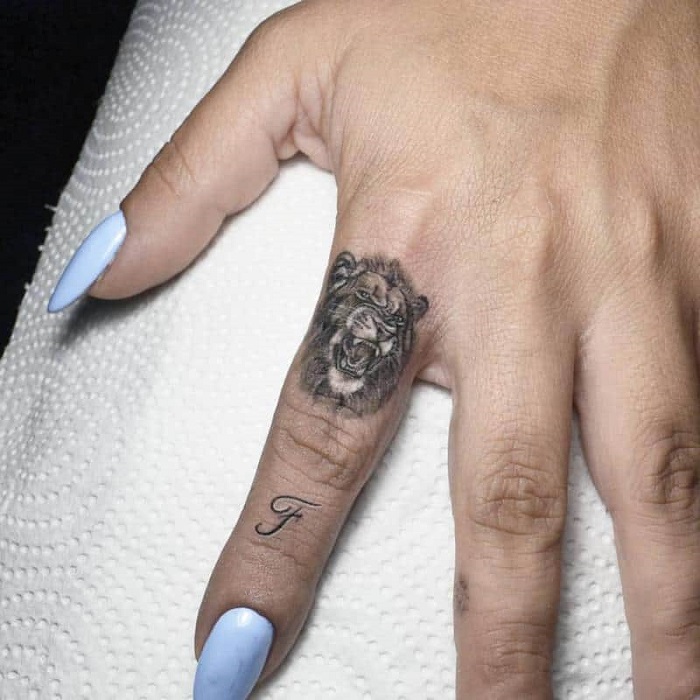 #6: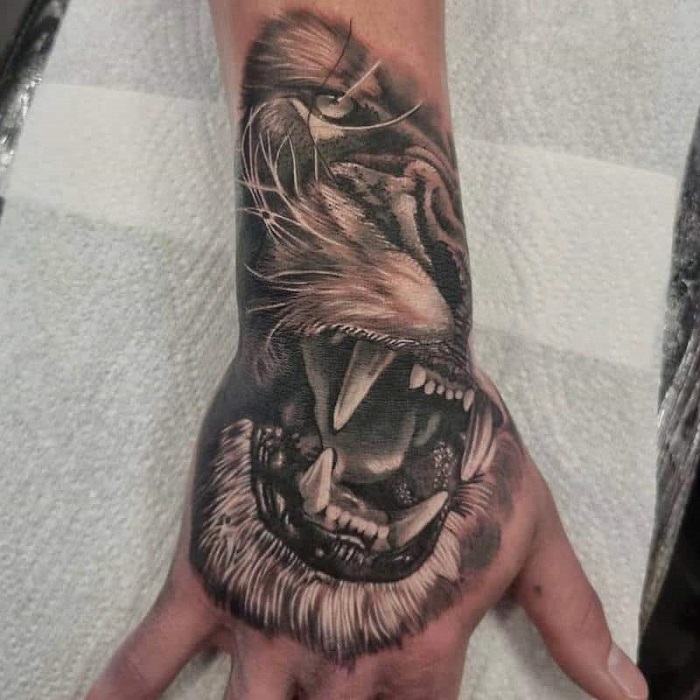 #7: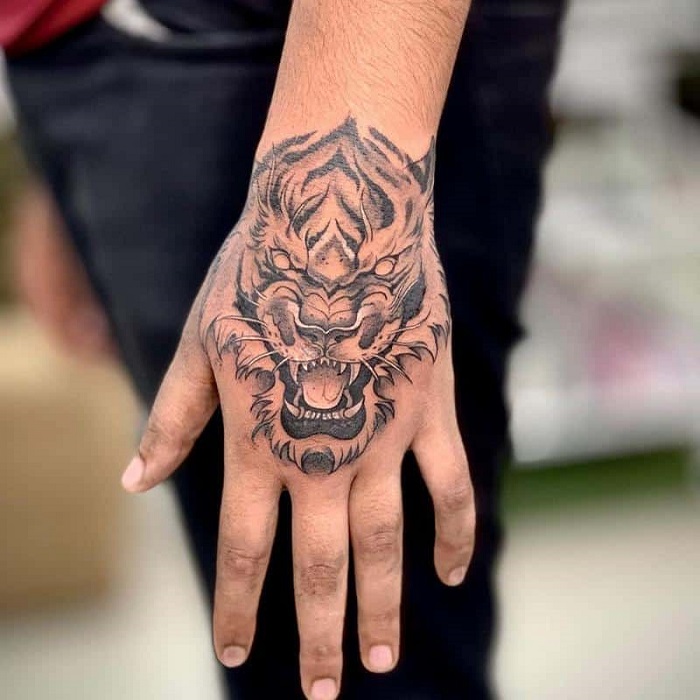 #8: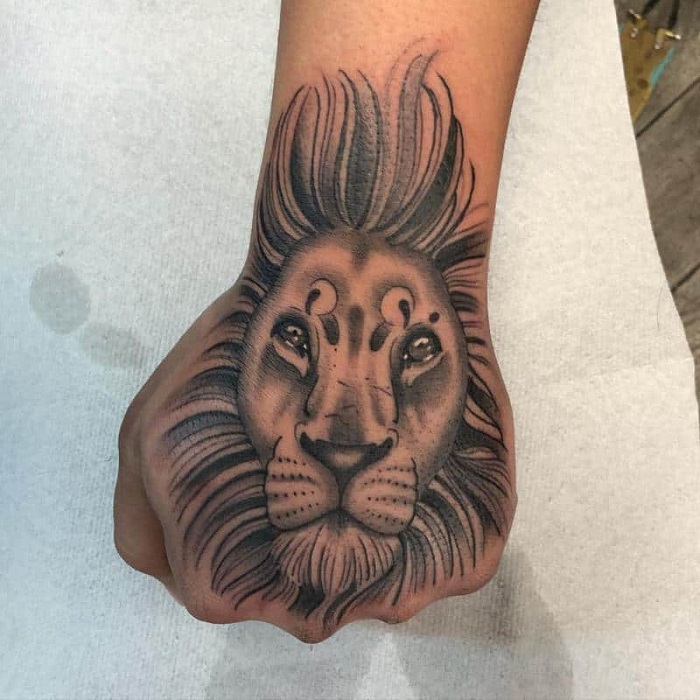 #9:
#10: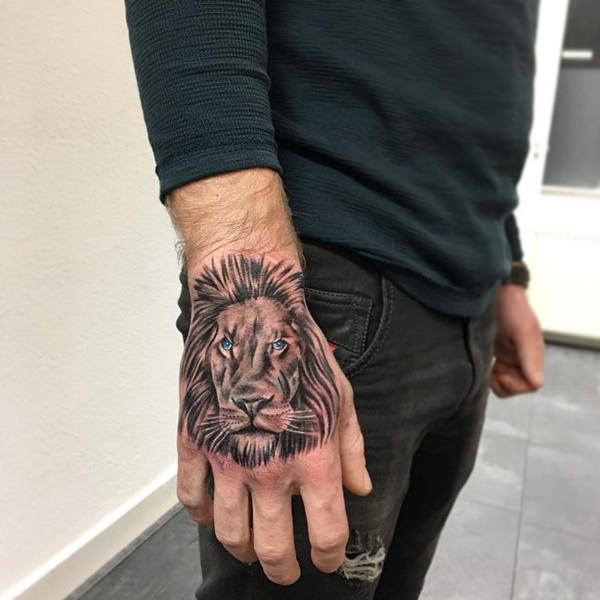 #11: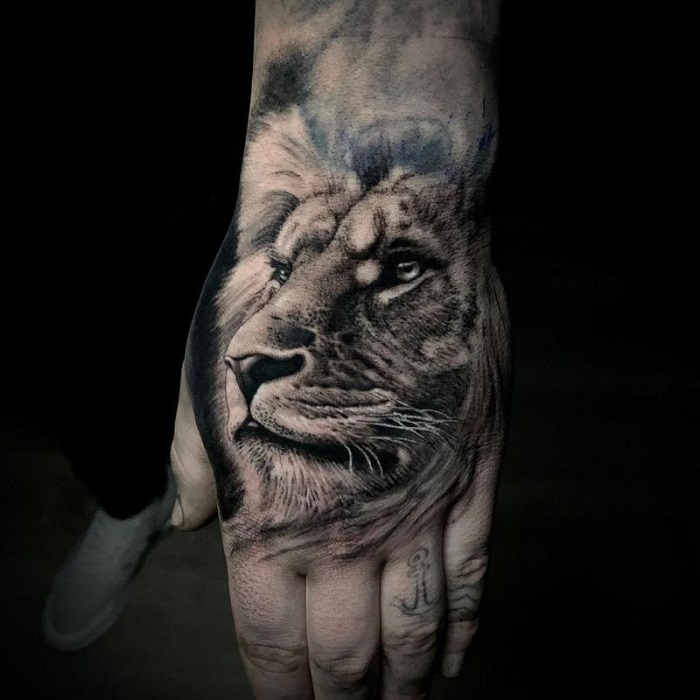 #12: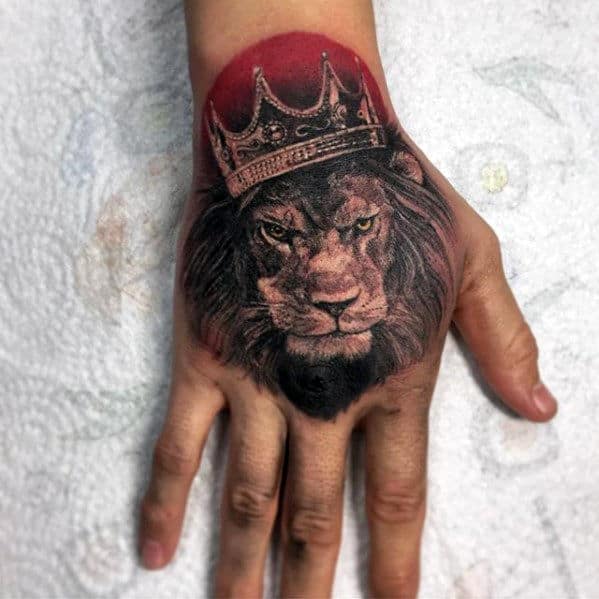 #13: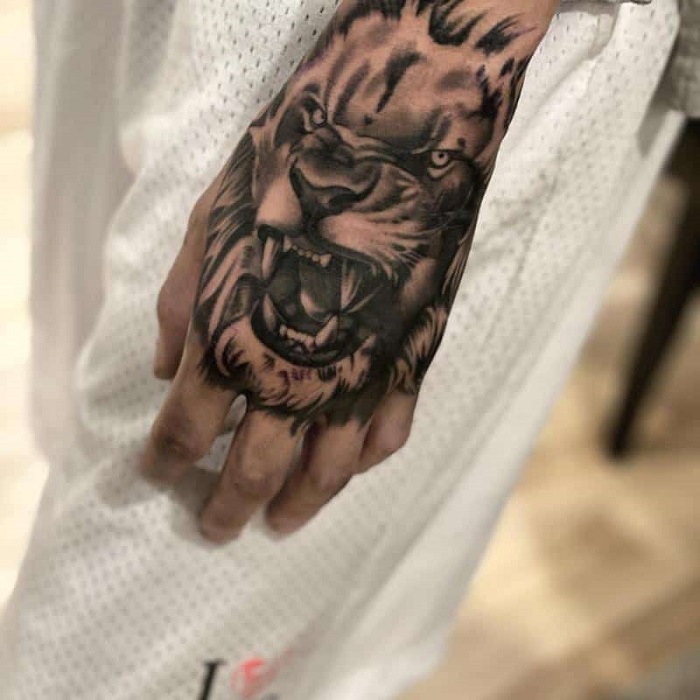 #14: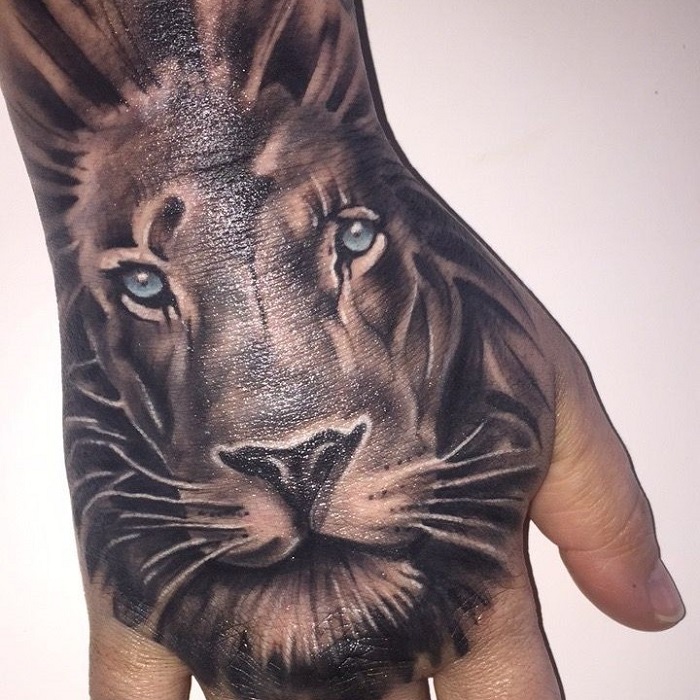 #15: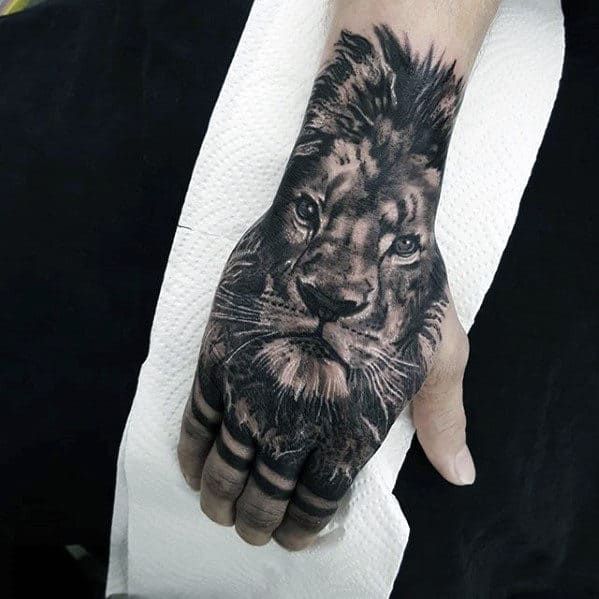 #16: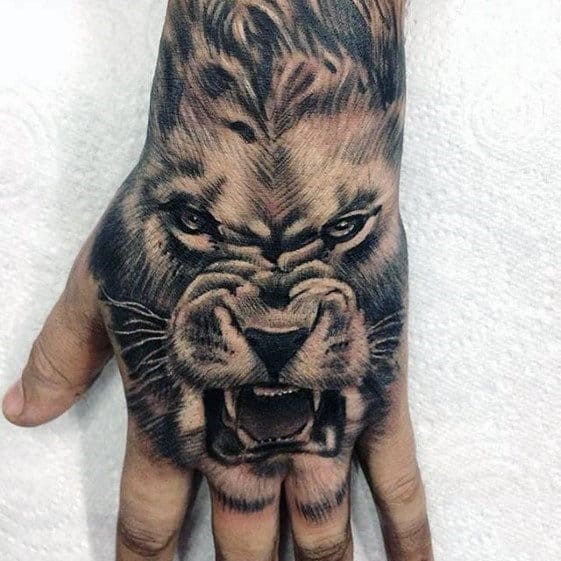 #17: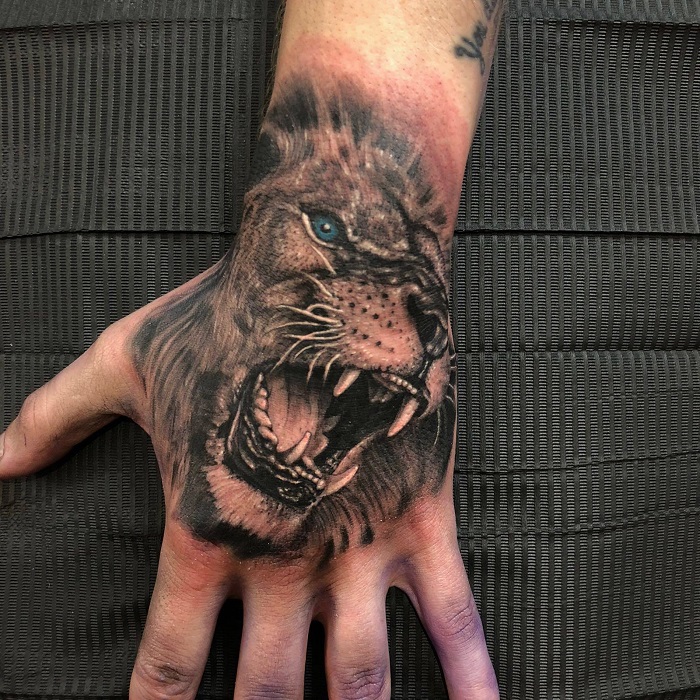 #18: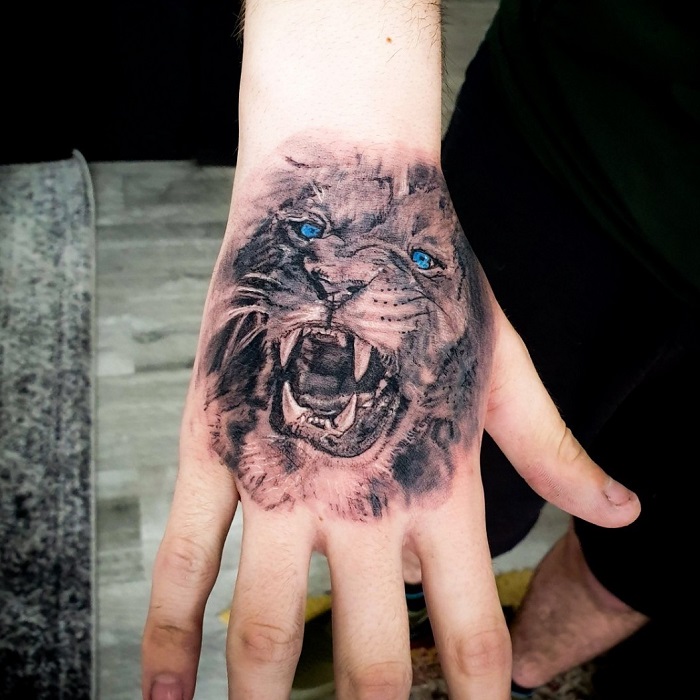 #19: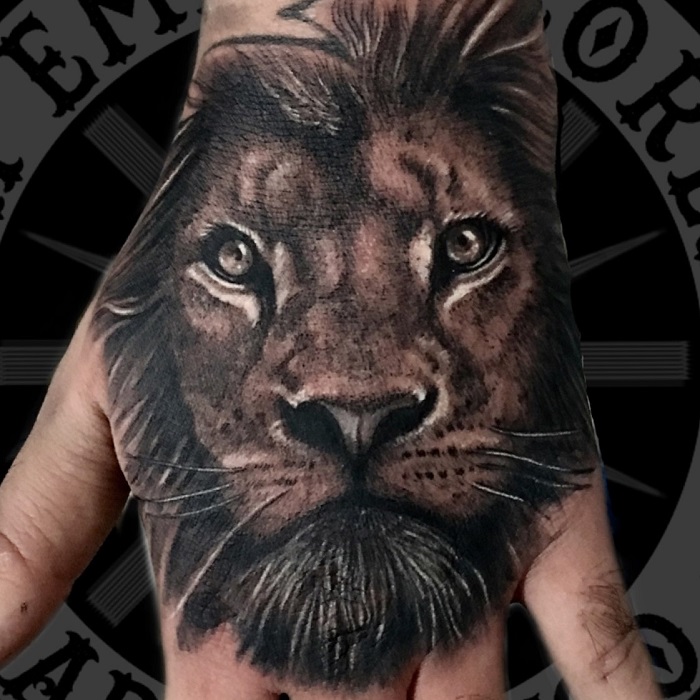 #20: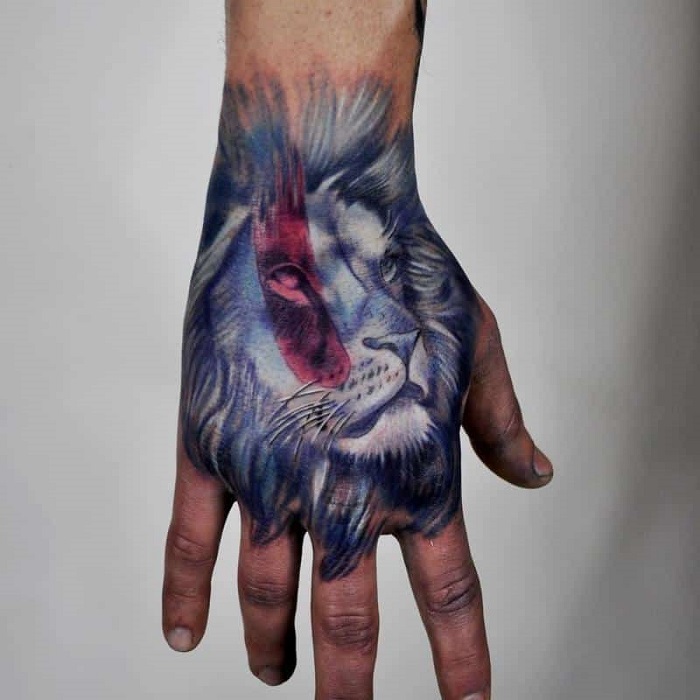 #21: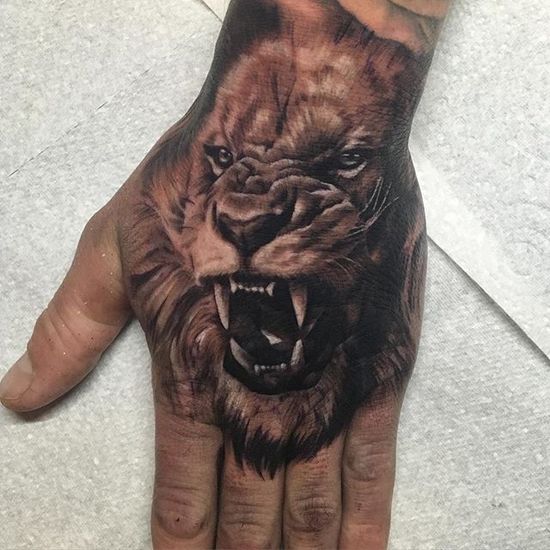 #22: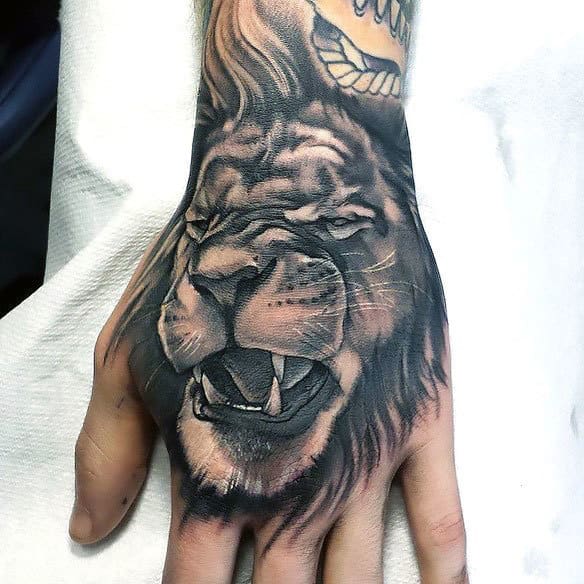 #23: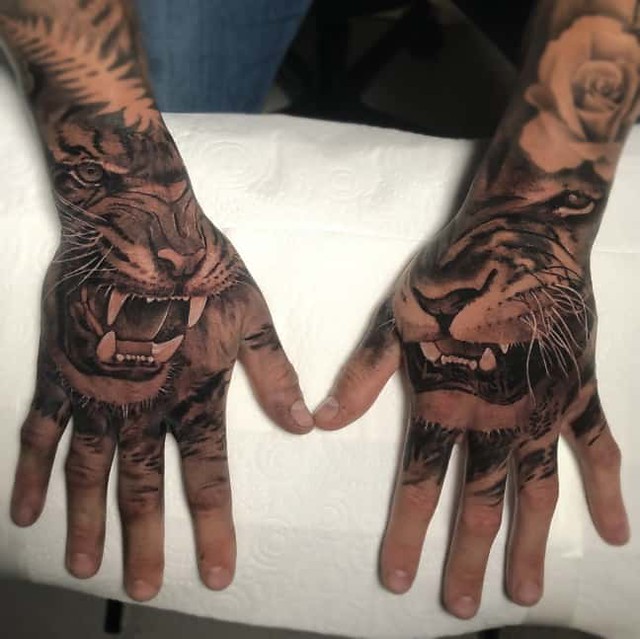 #24: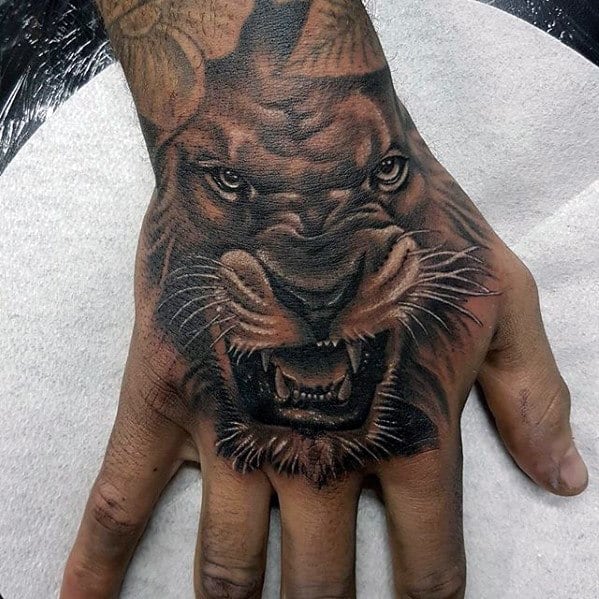 #25: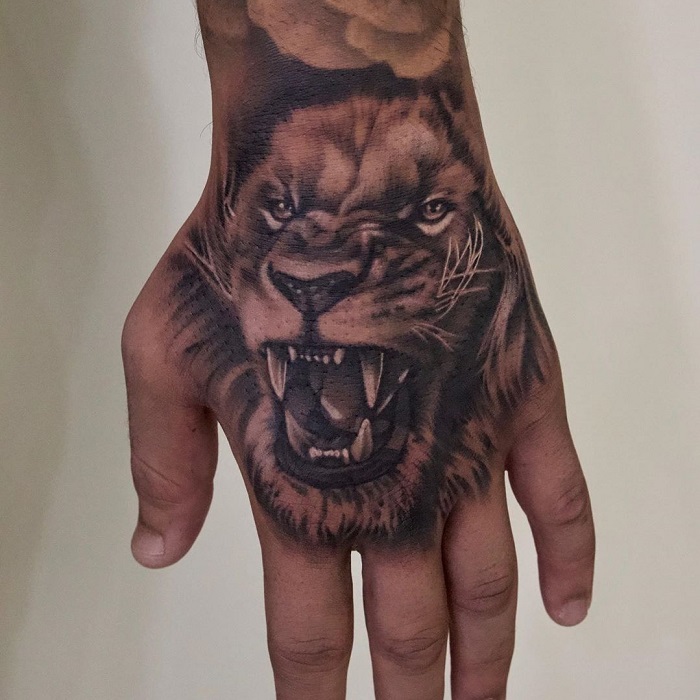 #26:
#27: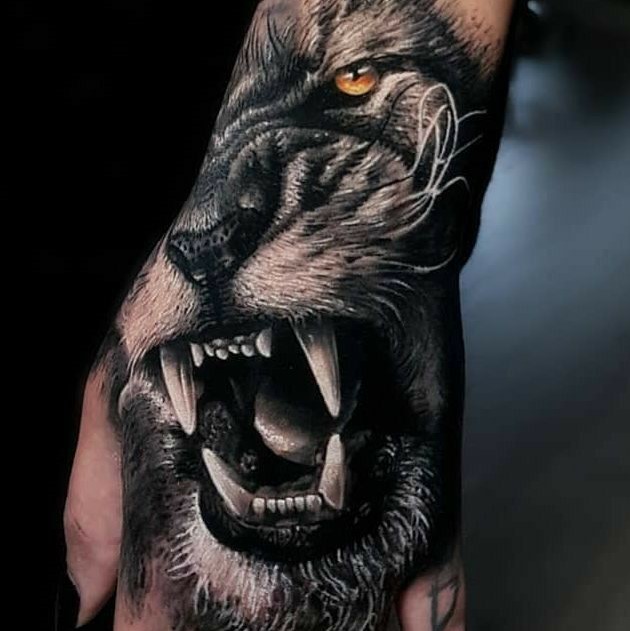 #28: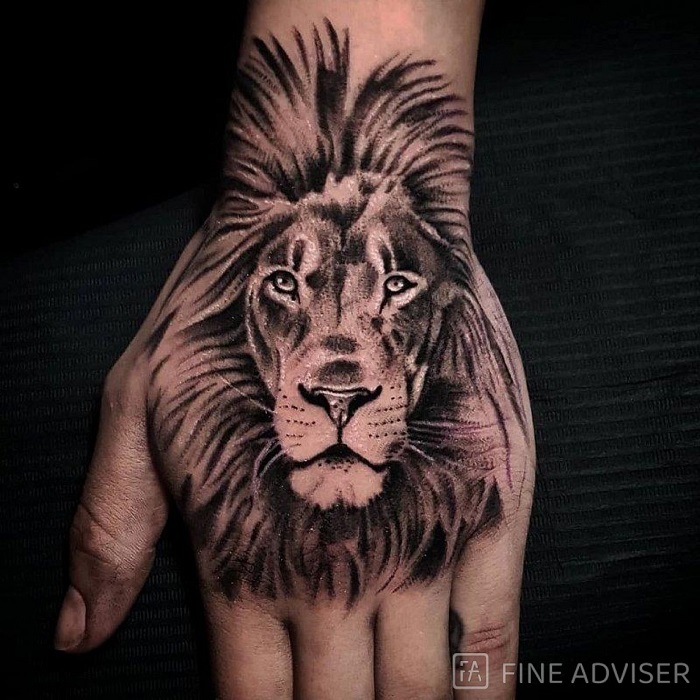 #29: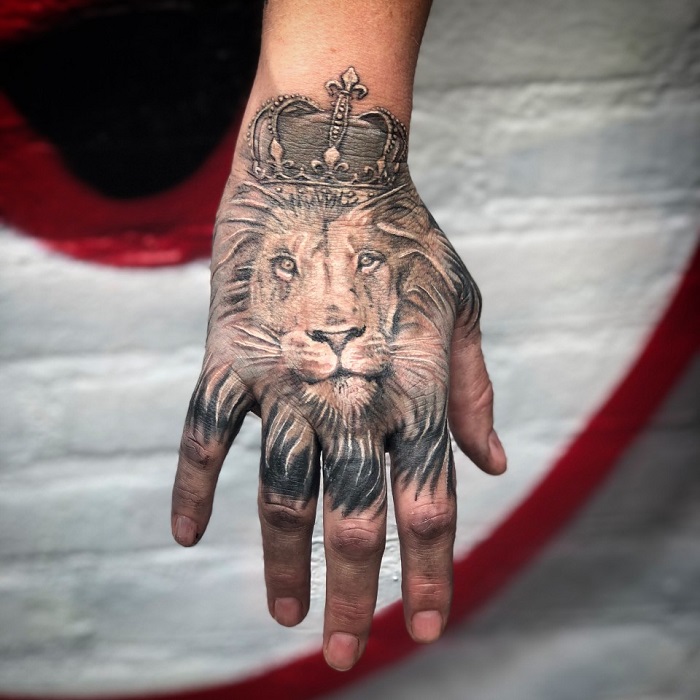 #30: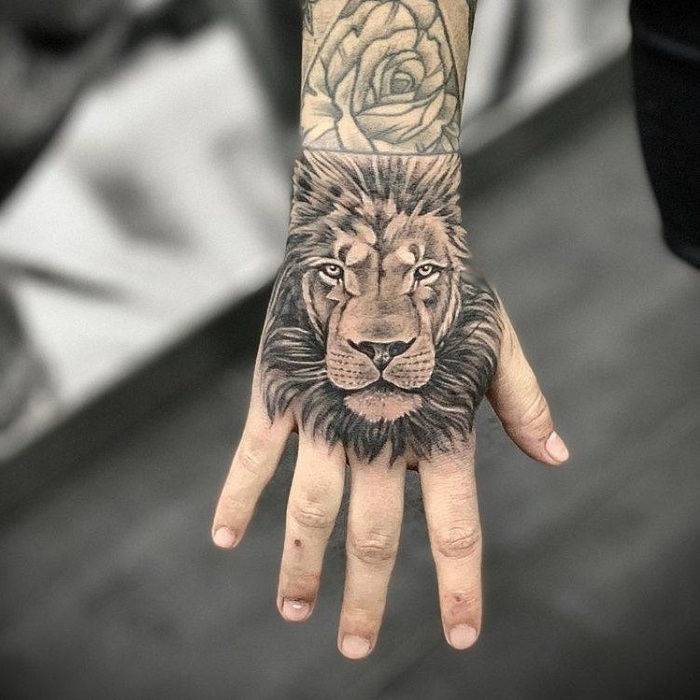 #31: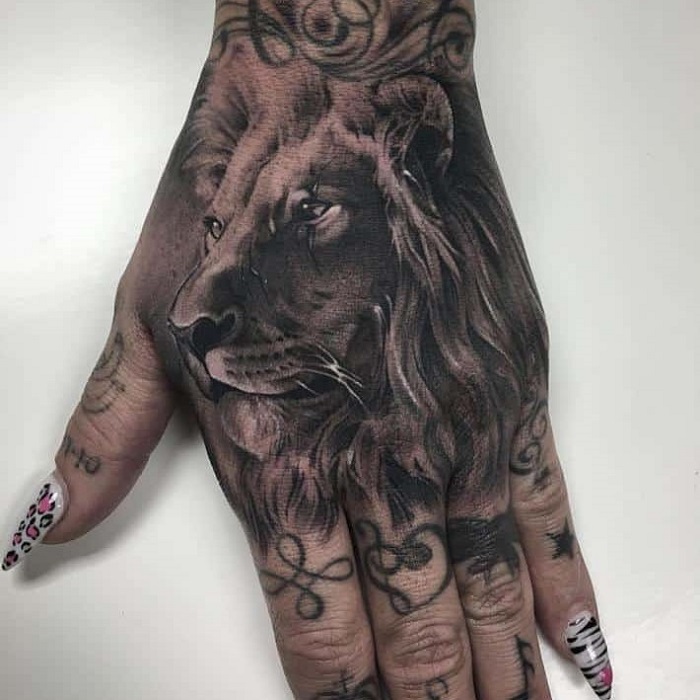 #32: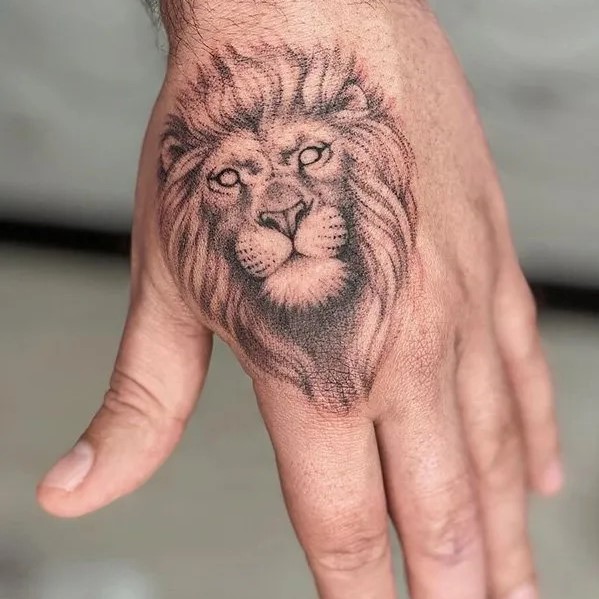 History Of The Lion Hand Tattoo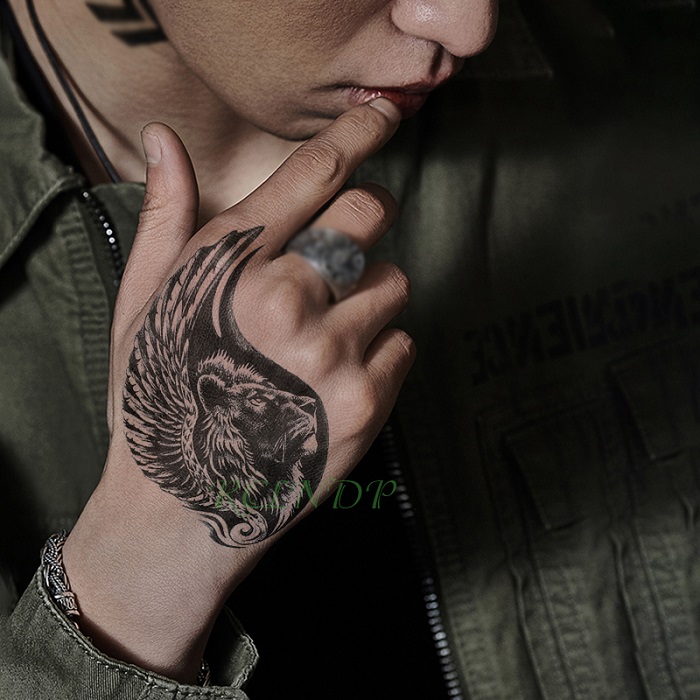 Big cat tattoos, like lion tattoos, have always been a popular tattoo choice and are very often placed in areas with high visibility like the hand, so the design is on full display.
Historical references to the lion can be found in almost every culture. There are myths about lions being owned by kings of the ancient world and the animal is often linked to religion and the spiritual world.
Lion hand tattoos are a popular choice among men, women, and anyone who loves tattoos because the designs are really cool and versatile. Plus, the tattoo tends to look good on everyone.
Which Celebrities Have A Lion Hand Tattoo?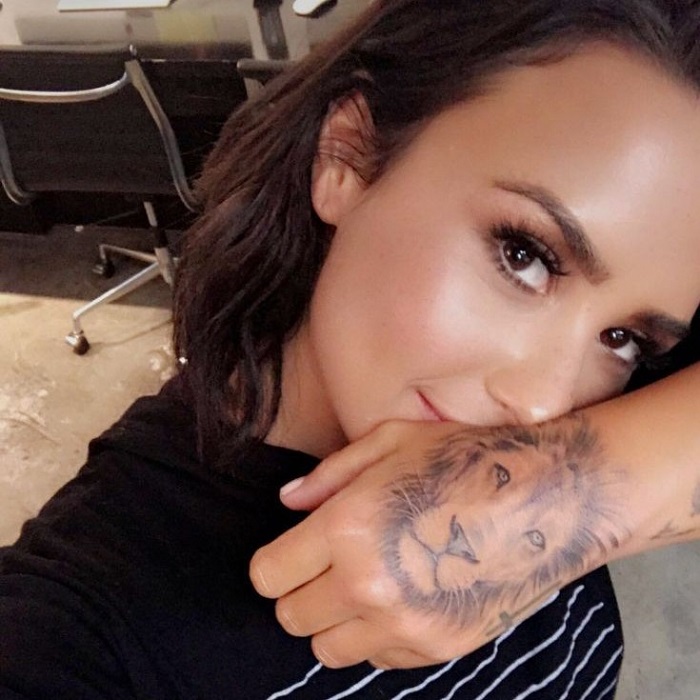 The lion hand tattoo is popular among celebs as well but, of course, it signifies something different for each person.
For example, Demi Lovato has a tattoo of a lion's face on the back of her hand. For Demi, the lion symbolizes her astrology sign and is also a reference to one of her bops called "Lionhead." 
Ella Mai has a lion tattoo on the upper side of her right hand and it features a large face of a lion. The meaning of her tattoo has to do with strength, victory, and royalty. She also believes she has the spirit of a lion.
---
Loking for more inkspiration? Say no more:
The Best Bull Skull Tattoo Ideas
The Best Teddy Bear Tattoo Ideas
The Best Blue Lotus Tattoo Ideas
Get Access to Exclusive Deals
Subscribe for free to get exclusive deals in your inbox. 100% privacy