30 Best Smiley Face Tattoo Ideas
About Smiley Face Tattoos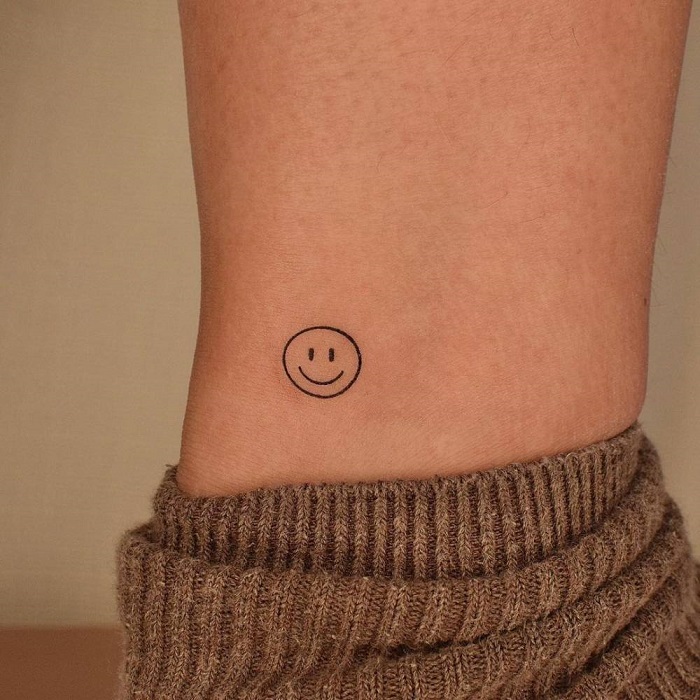 From drawing on your skin with a collection of colored pens in middle school to decorating your body with meaningful symbols in adulthood, tattoos are a meaningful part of life and representative of who you are.
Whether they have a deeper meaning or not, they are each a part of you—literally and figuratively—and are born from your interests.
Whether you use the emoticon daily or want to express yourself through the classic design, there are plenty of smiley face tattoo ideas to achieve your preferred look.
From sweet and simple to bold and eccentric, smiley face tattoos come in all shapes and sizes; it's really all up to you to find your personal style.
In saying that, we're here to help you narrow down your choices with some of the best smiley face tattoo ideas. We'll also outline everything you need to know, from meanings to costs to the history and even a list of celebs who rock the look.
What Do Smiley Face Tattoos Mean and Symbolize?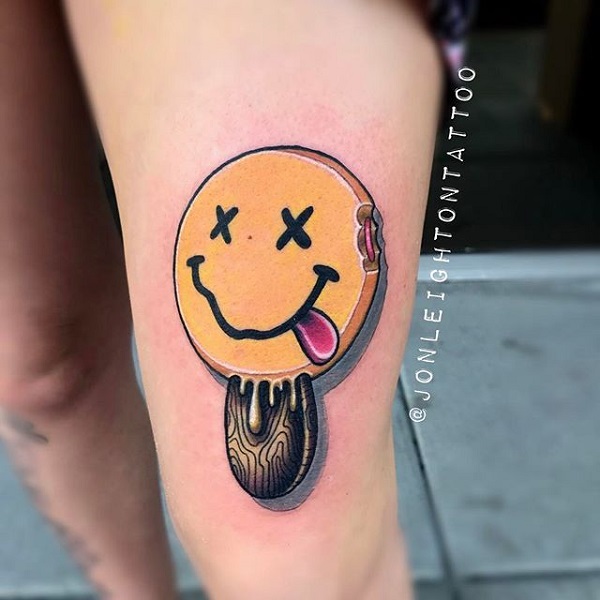 While it may be straightforward in design (or not, depending on the look you end up choosing), there can be a few meanings behind smiley face tattoos. You likely use the popular emoticon every day, after all.
We tend to use smiley faces as punctuation, expressing meaning and acting in place of the facial expressions of the real world. So, smiley face tattoos can be a symbol of happiness and joy.
They can also serve as a reminder about who you are and what you value—namely happiness and finding the good in everything you see and do.
On top of that, smiley face tattoos can represent all emotions, the highs and lows of life, and the importance of walking through the world with a smile on your face.
And when you can't find it in yourself to smile, it will be on you, forever branding you with the happiness you seek to find every single day. The design is also universal, meaning that anyone will immediately understand who you are as a person.
Like all tattoos, smiley face tattoos have plenty of different meanings depending on the person. And once you've got it, it will be a great topic of conversation as you share your tattoos with those around you.
Where to Get a Smiley Face Tattoo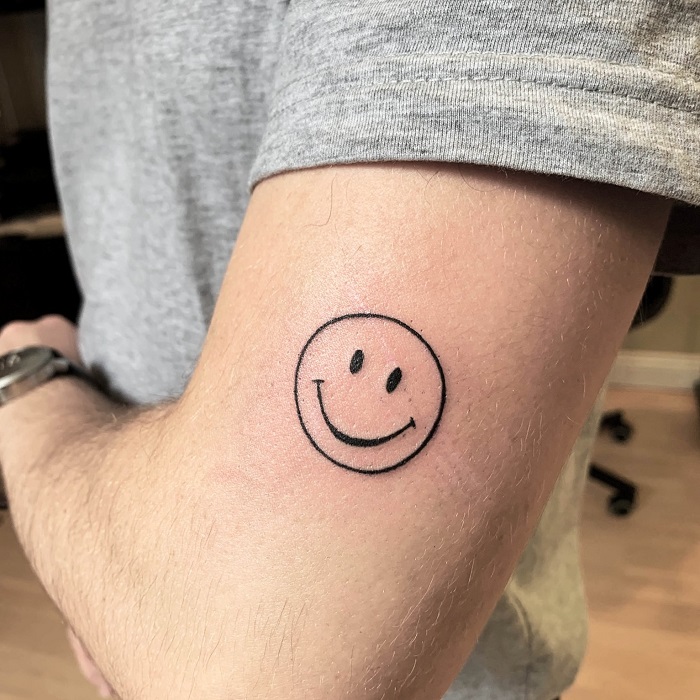 Because of the versatility in size and shape, there are plenty of places to place smiley face tattoo designs. They can be minimal and out of sight: squeezed onto fingers, ankles, behind the ear, and delicately placed on the inner arm.
But, they can also be enlarged for a bolder, more obvious look. They can be placed on the collarbone for a front and center design, on the chest, arms, legs, or back.
Add a little color for even more of a statement, or place it next to other emoticons and faces for a well-rounded collection of expressions. 
Depending on where the smiley face tattoo is placed, it may last longer. If it's placed on the inside of a finger or on the foot, friction may cause it to fade quicker.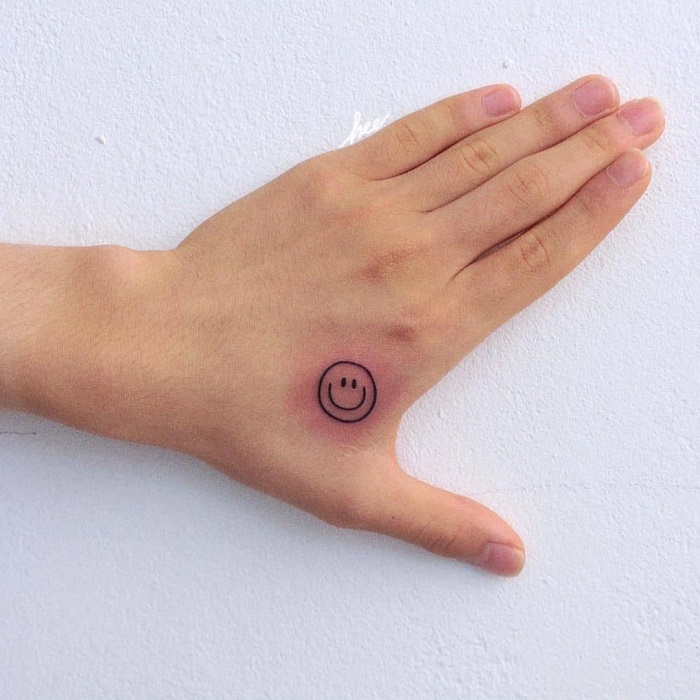 Larger sizes with thicker and bolder lines will also tend to last longer, especially if they are placed in an area that has little contact with fabrics or skin.
That being said, all tattoos fade over time, though they can last around 15 years to life if properly cared for. Here's how you can protect your tattoo:
Cover it with sunblock, just as you would all revealed areas of your body
Avoid scratching it or wearing tight clothing over it
Get it touched up when necessary
How Much Do Smiley Face Tattoos Cost?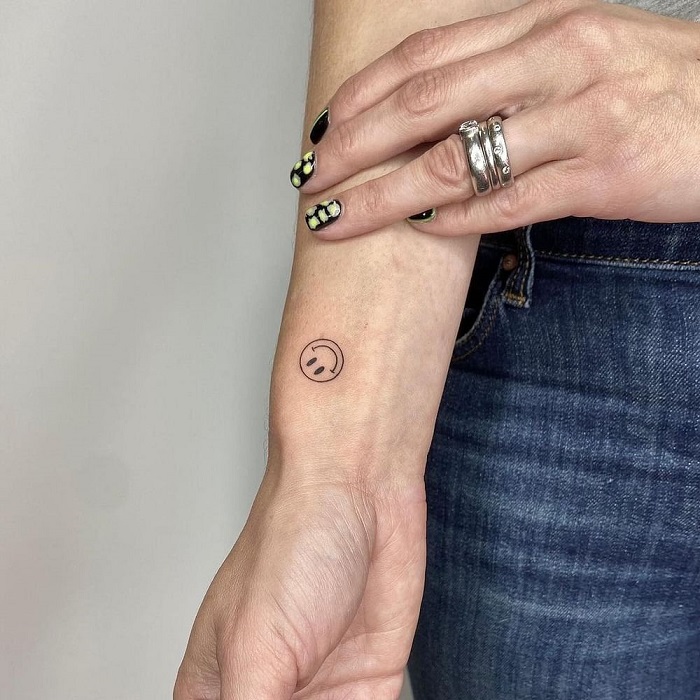 Because tattoos are a (semi) permanent addition to your body, it's important to visit a shop that is certified with staff who are well trained. This usually means you're paying for what you get, but that doesn't mean you have to break the bank.
Tattoos tend to range in price depending on the style, color, size and shape, detail work, and the store you visit. For small and simple tattoos, customers will likely have to pay the hourly rate despite the fact that the tattoo will be rather quick.
On the other hand, larger smiley face tattoos may take a little longer and be more expensive, especially if color is involved. Depending on the size and design, smiley face tattoos may range in price from $50-$250. For a more accurate estimate, be sure to contact the tattoo parlor you'd like to visit!
Interested in taking a peek at some different styles and designs? Below, we'll help you narrow down the broad selection with our top picks for the best smiley face tattoo designs.
30 Best Smiley Face Tattoo Designs
#1: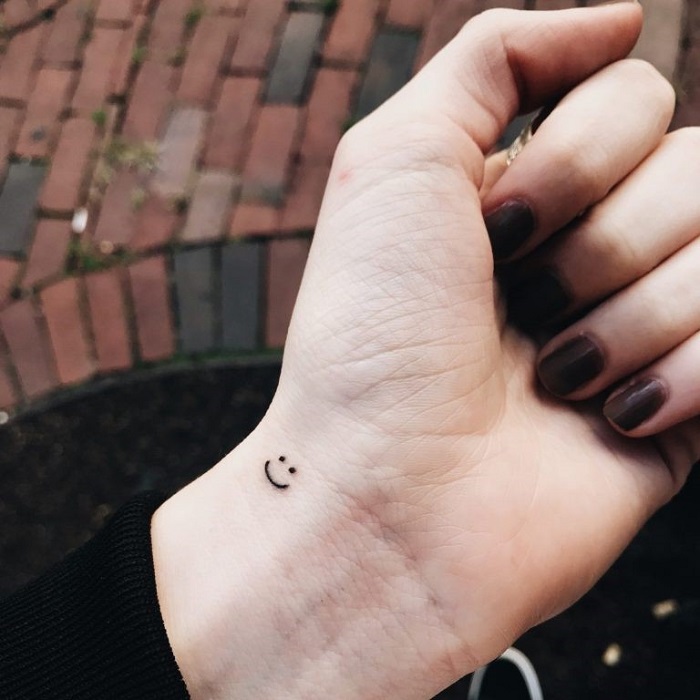 #2: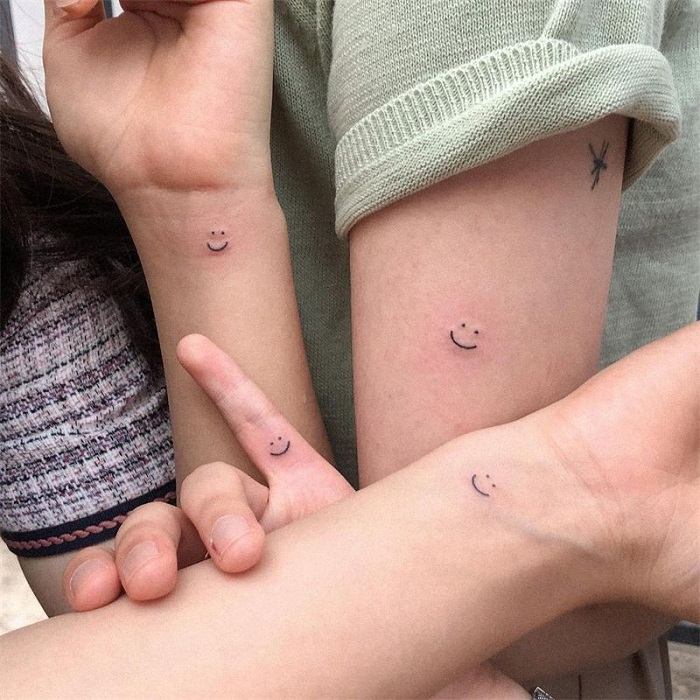 #3: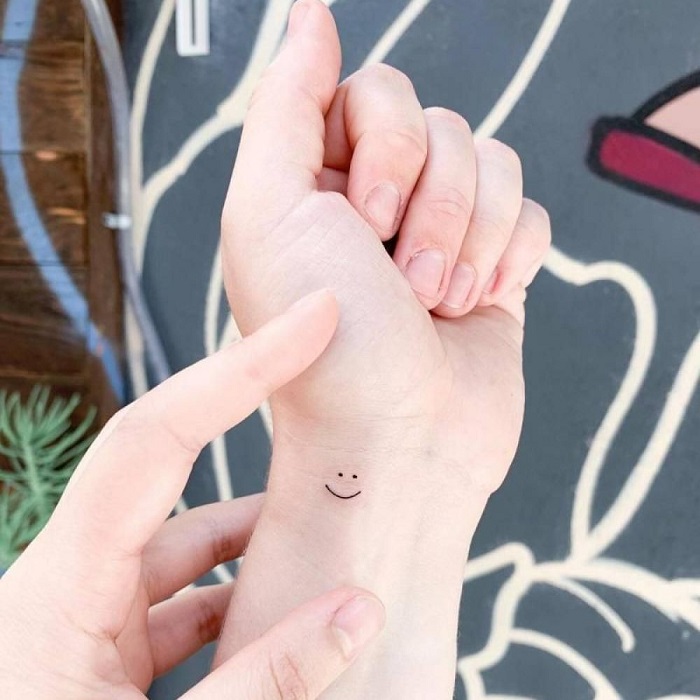 #4: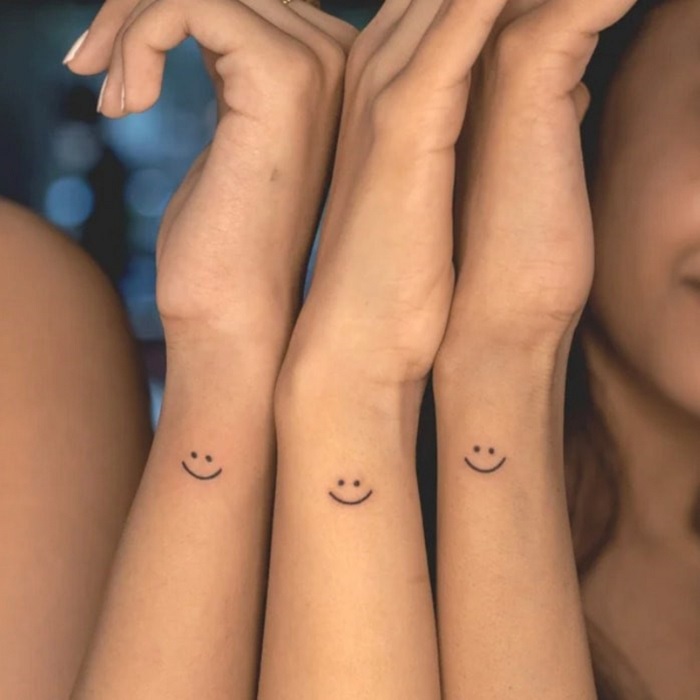 #5: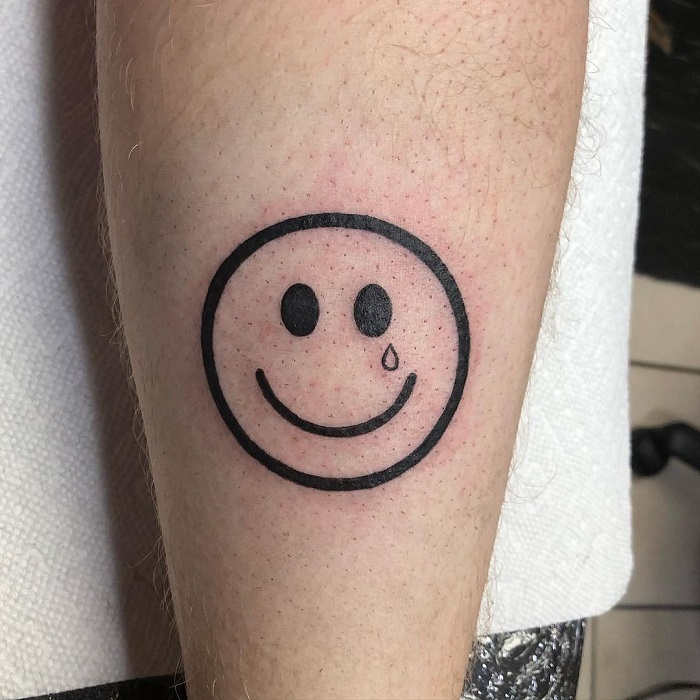 #6: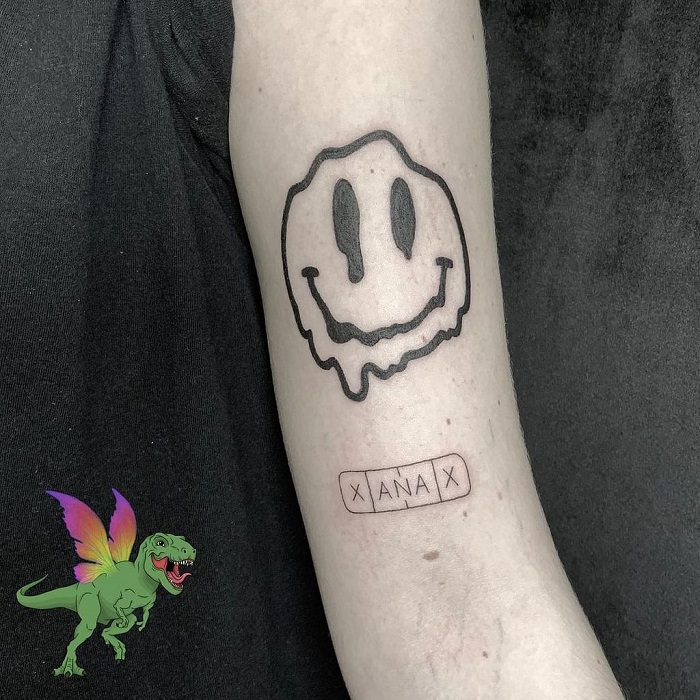 #7: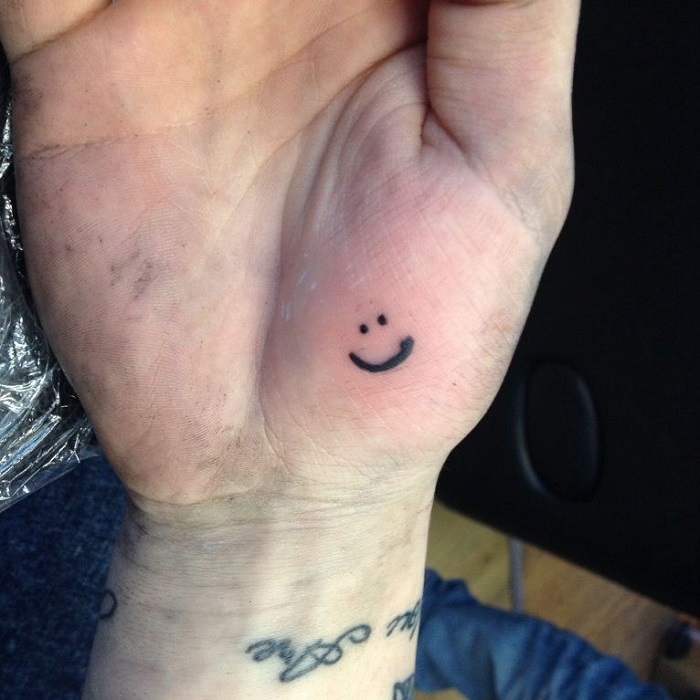 #8: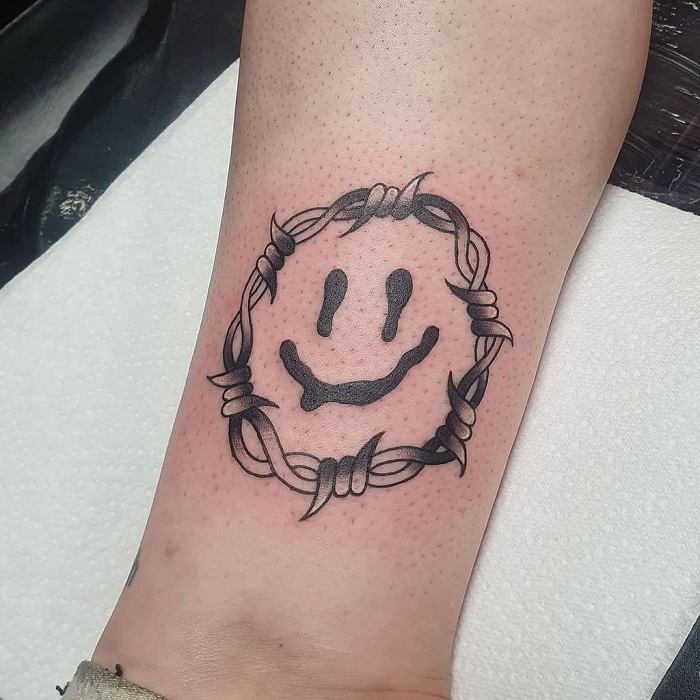 #9: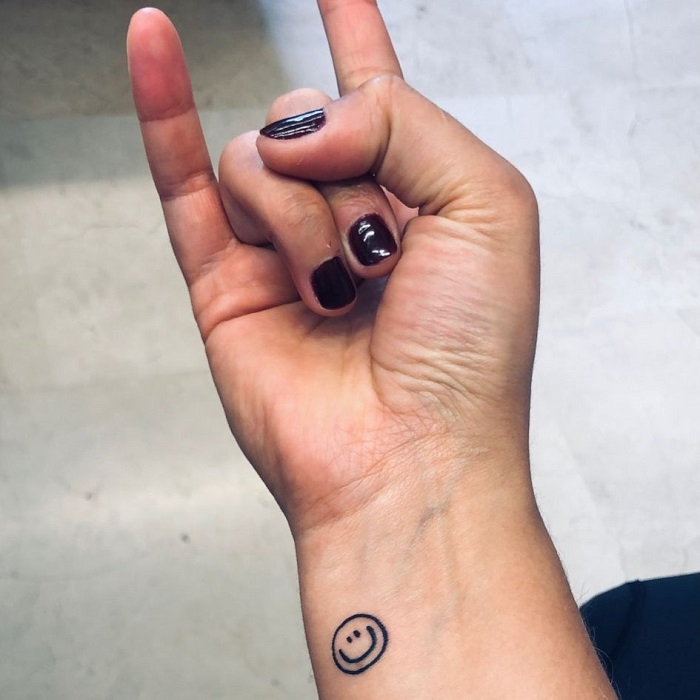 #10: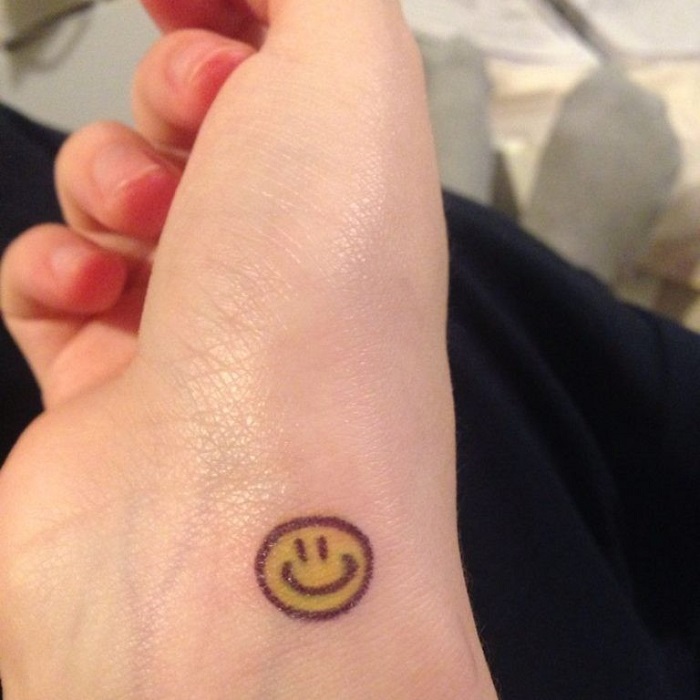 #11: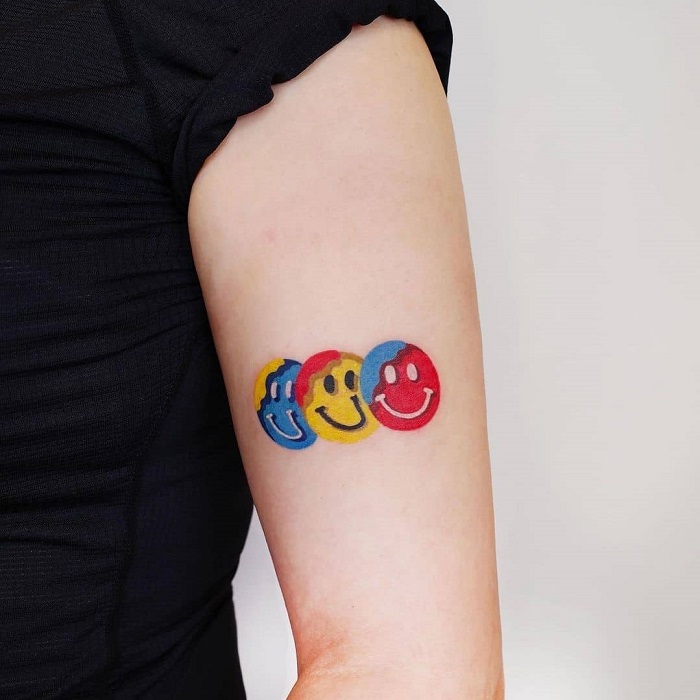 #12: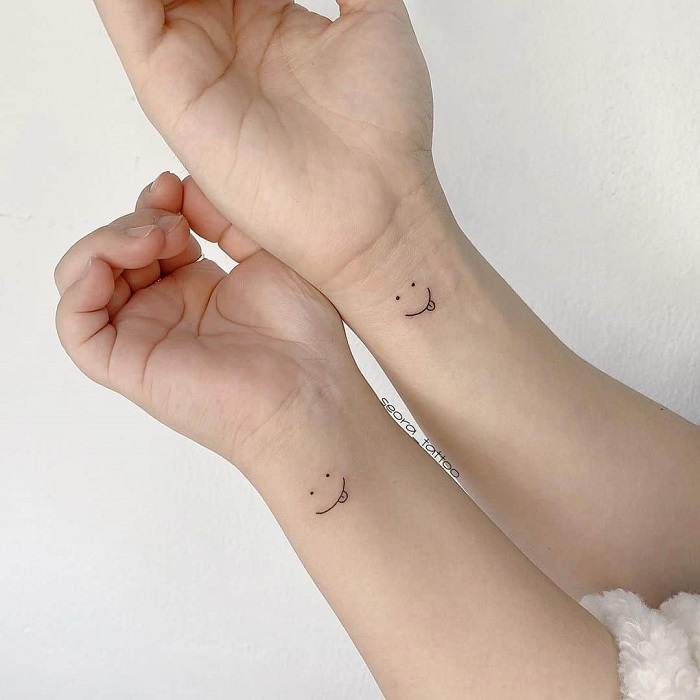 #13: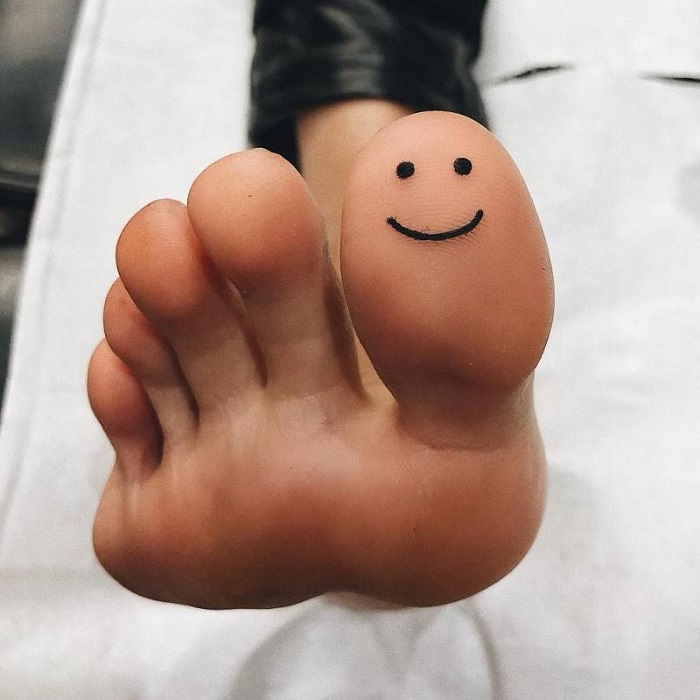 #14: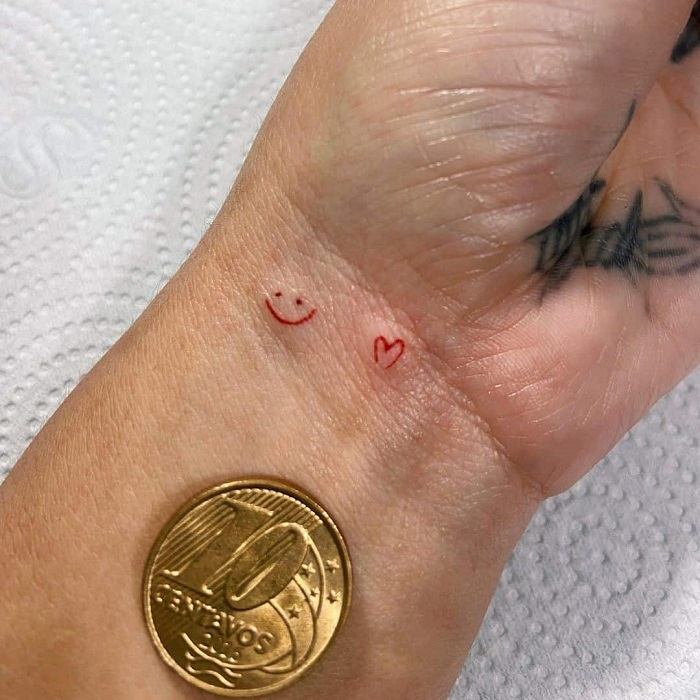 #15: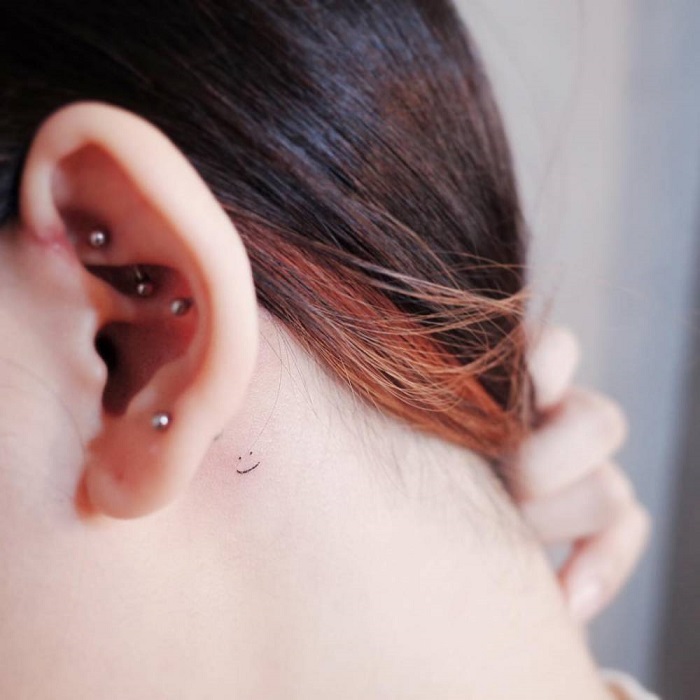 #16: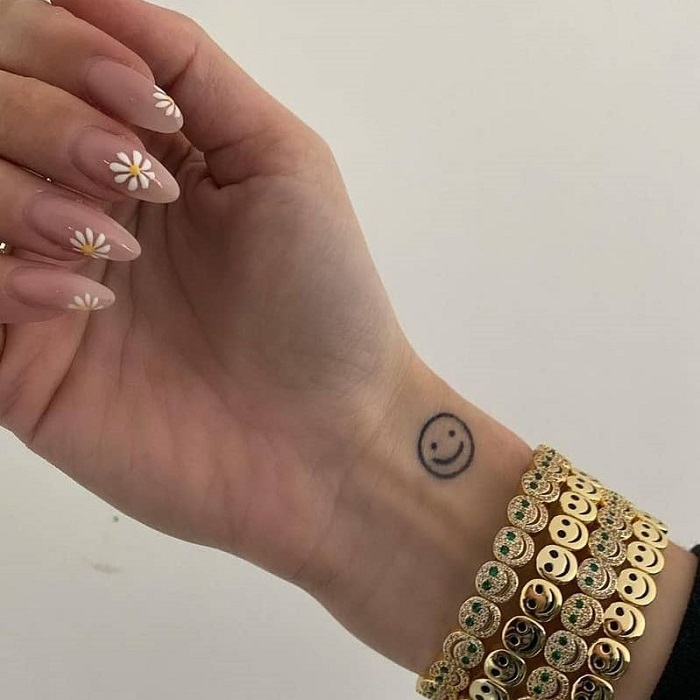 #17: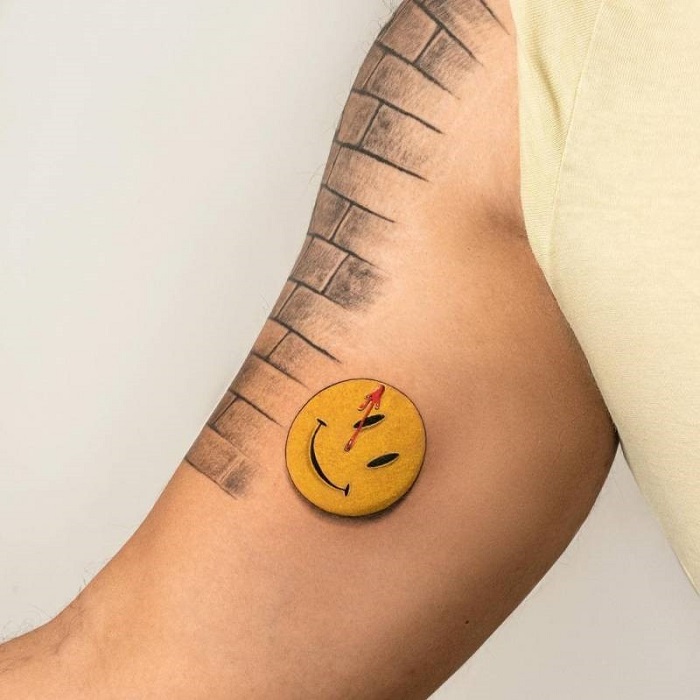 #18:
#19: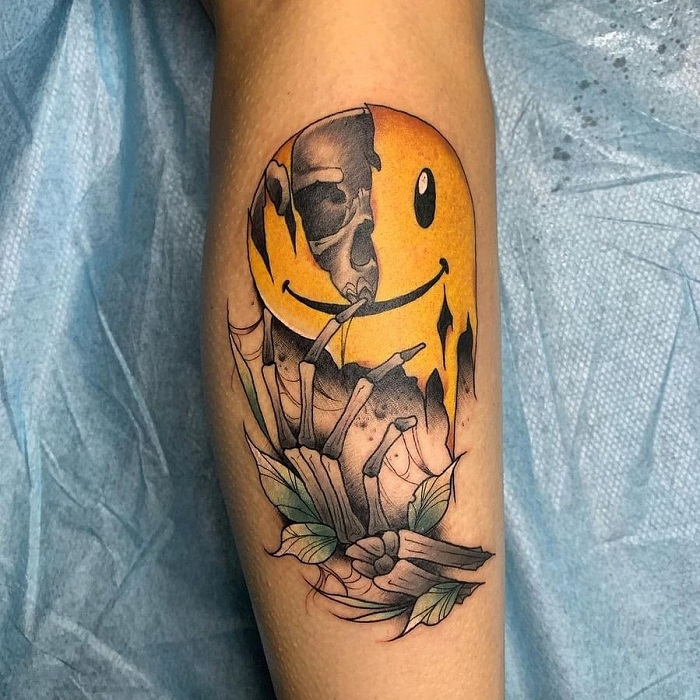 #20: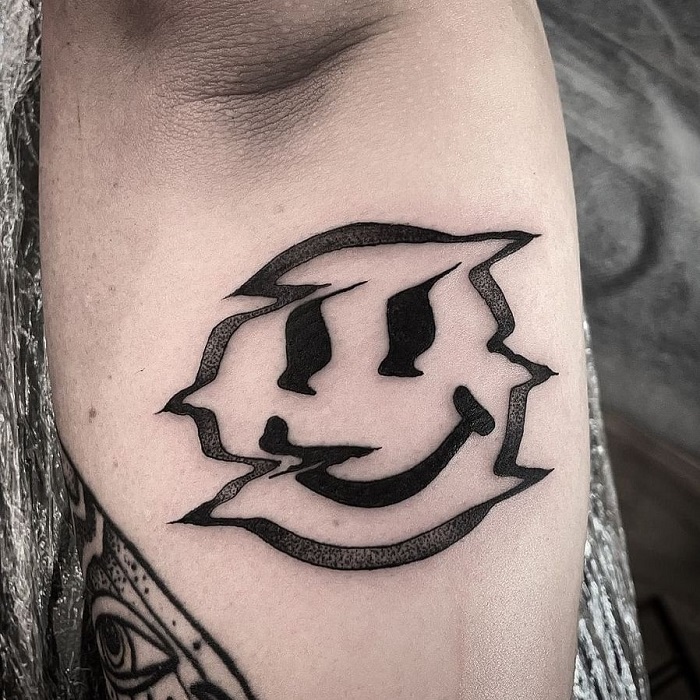 #21: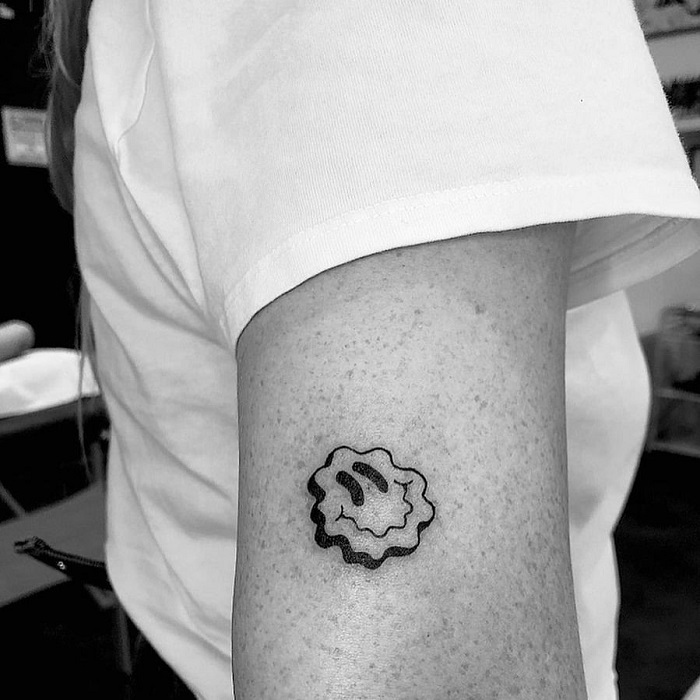 #22: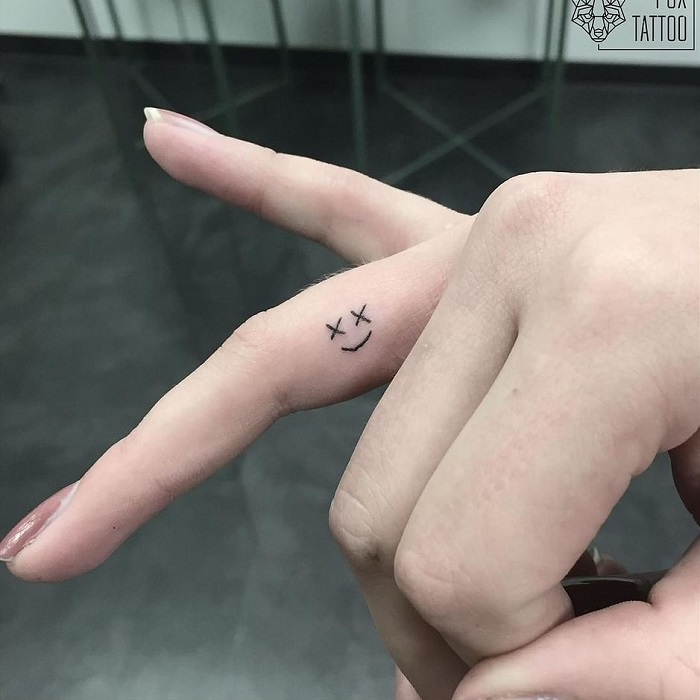 #23: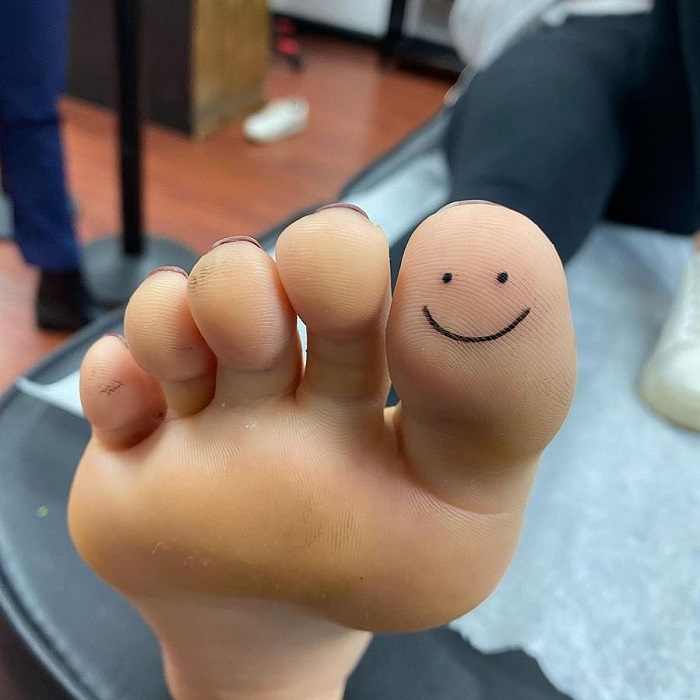 #24: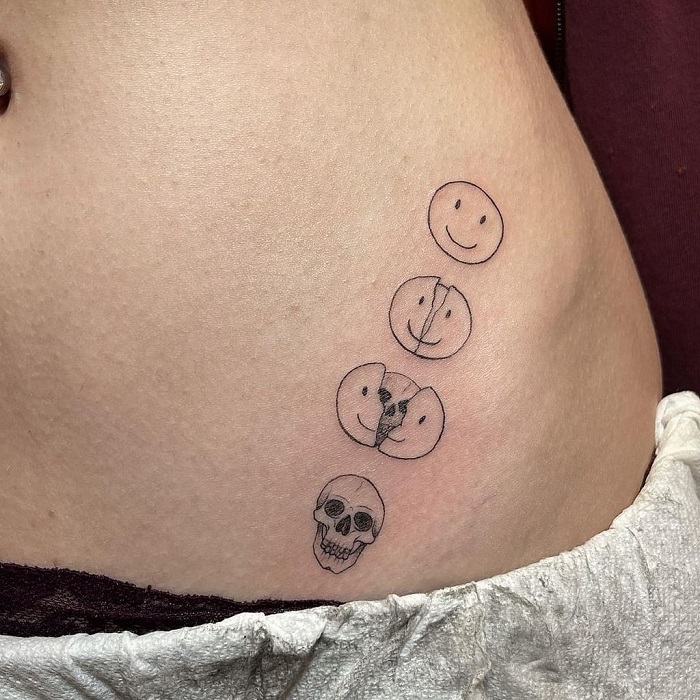 #25: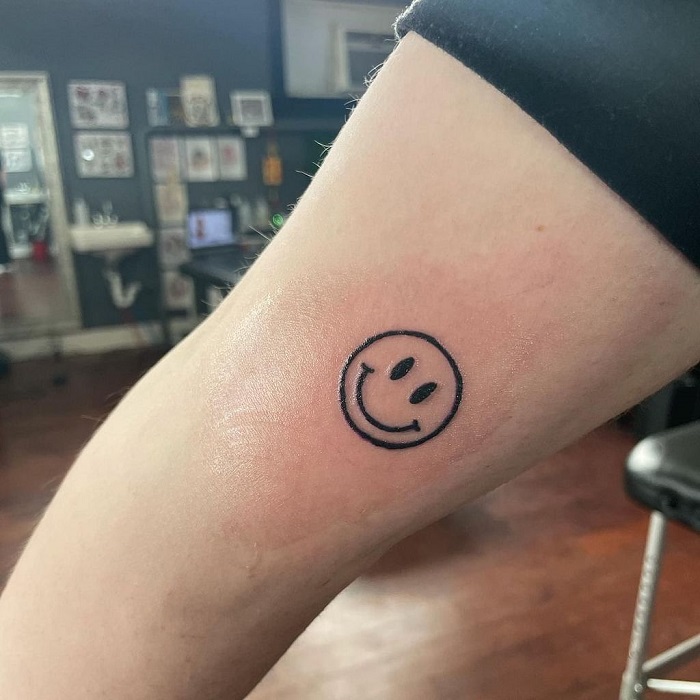 #26: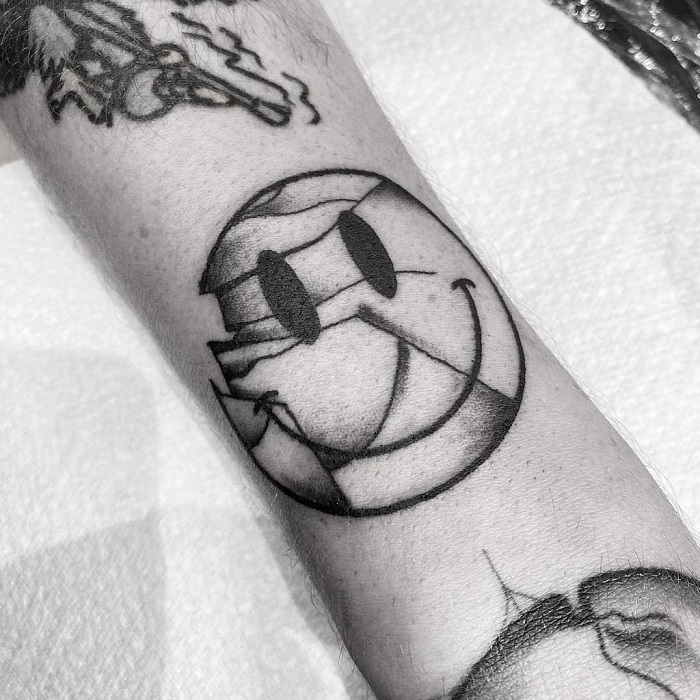 #27: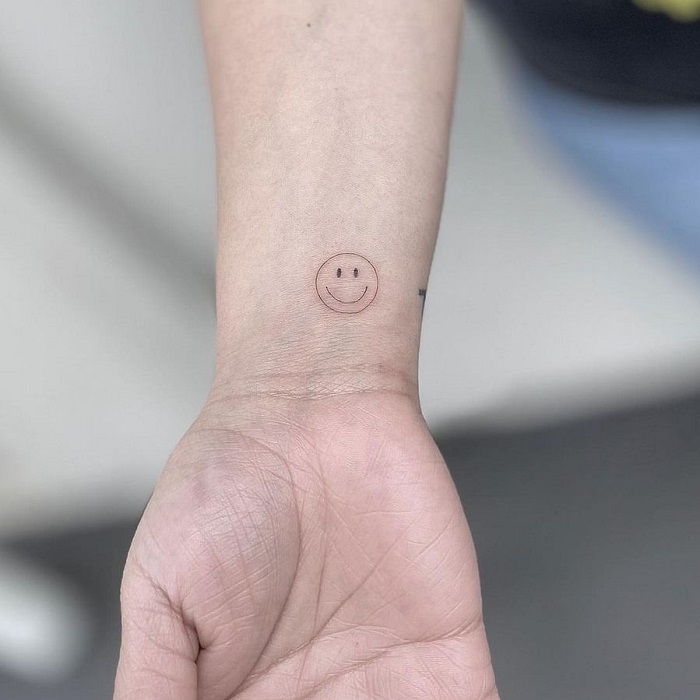 #28: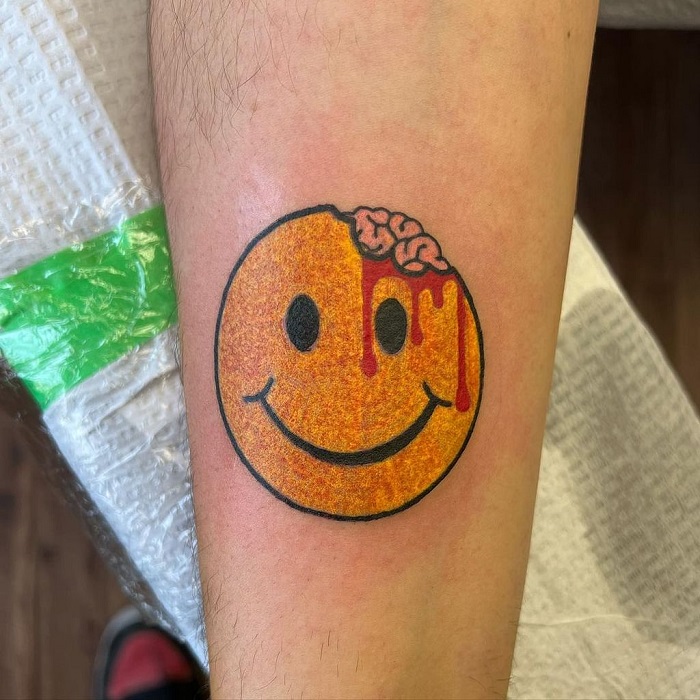 #29: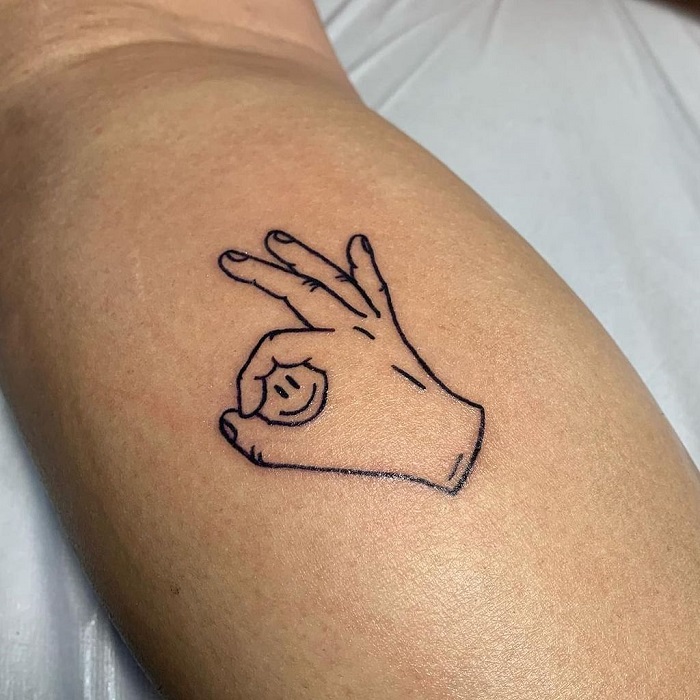 #30: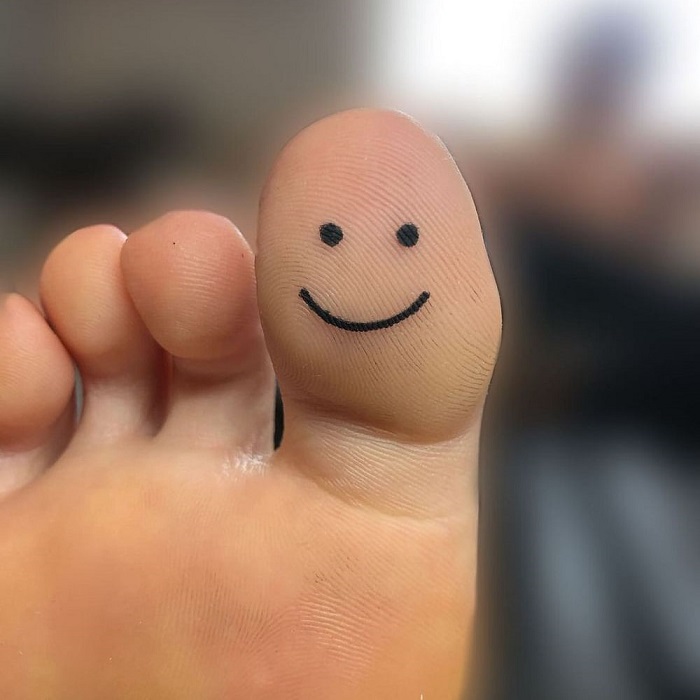 History of the Smiley Face Tattoo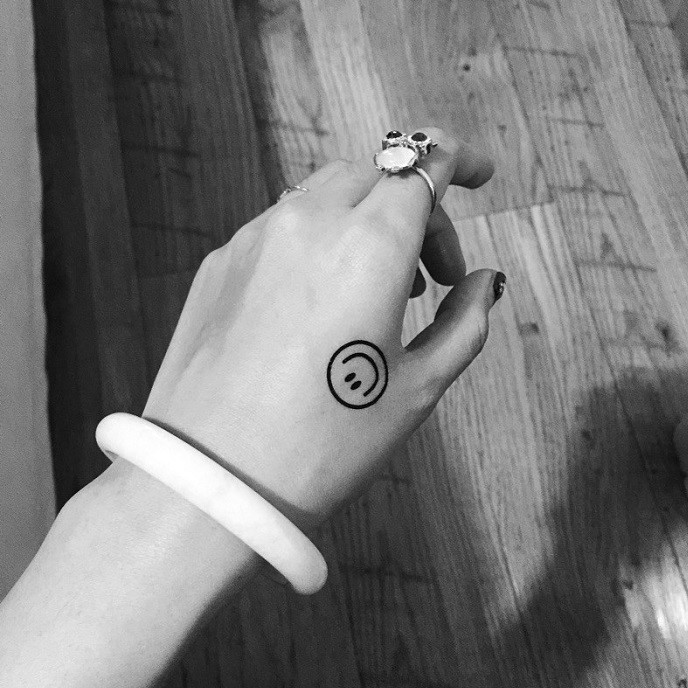 When it comes to smiley face tattoos, there's quite a broad and interesting history.
Smiley faces first came about in 1963 in Worcester, Massachusetts, when State Mutual Life Assurance sought to boost staff morale. They hired graphic designer Harvey Ball, who came up with the smiley face design.
He chose a yellow background because of the warm and refreshing color, while the face itself was quite a sensible choice. After printing a few buttons and tees, the motif took off and was quickly found everywhere.
Of course, it has evolved since then, especially with the use of emoticons and emojis, which offer a variety of different looks and shapes. That being said, the classic smiley face with two large eyes and a wide smile is always a popular choice and has been the top choice for many.
When it comes to tattoos, the smiley face had its first notable appearance after being featured as the logo of the Nirvana album Nevermind. Of course, fans quickly began to decorate their bodies with the iconic symbol as an ode to their love of the band and Kurt Cobain himself.
Since then, and perhaps even before, people have been decorating themselves with the minimal yet meaningful smiley face tattoo. And on that note, it only makes sense to talk about a few celebs who have represented the classic face.
Below, we'll give you the details on some of the most famous people with the tat, as well as the meaning behind it.
Which Celebrities Have a Smiley Face Tattoo?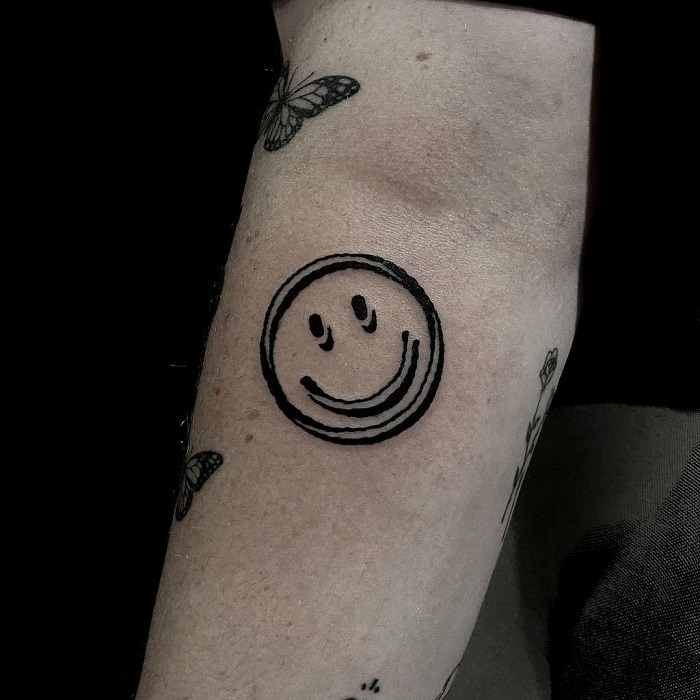 Now that you've got all the details about smiley face tattoos, what they look like, and what they cost, we'll guide you through the styles celebs have opted for and what they mean.
The Cyrus sisters
First up on our list is Miley and Noah Cyrus. Noah has a super tiny black smiley face with X eyes on her wrist, which she actually did herself (though we don't recommend it). 
Miley replaced the eyes on her smiley face tattoo as well, which is placed on her inner elbow, though she opted for H's. Miley's tat represents her non-profit, the Happy Hippie Foundation, which supports LGBTQ youth.
Ashley Benson
This PLL star has a winking smiley face on her right middle finger. This cheeky design is super simple, with a thin black outline and a minimalist touch.
Margot Robbie
During the filming of Suicide Squad, Margot and most of her castmates got matching tattoos to commemorate the iconic movie. But, Margot also got a smiley face tattoo on her big toe, of course, synonymous with the Joker's winning grin.
Kesha
The glitter queen herself has a smiley face tattoo on her middle finger. The symbolism is quite clear with this one: it's a reminder to forget the haters (to put it nicely) and always maintain her happy demeanor.
Demi Lovato
Lovatics fans, this one's for you. Demi has a smiley face tattoo on the tip of their pinky finger, and it really doesn't have too much meaning other than being a simple and fun reminder!
All that being said, we hope that our list of the best smiley face tattoo ideas has given you some inspo for your next visit! Perhaps you'll even find yourself matching with one of the celebs who also have a classic smiley tat.
---
Looking for more inkspiration? Say no more:
30 Best Gladiolus Tattoo Ideas
30 Best Pinky Promise Tattoo Ideas
Get Access to Exclusive Deals
Subscribe for free to get exclusive deals in your inbox. 100% privacy