30 Best Tokyo Ghoul Tattoo Ideas 
About Tokyo Ghoul Tattoos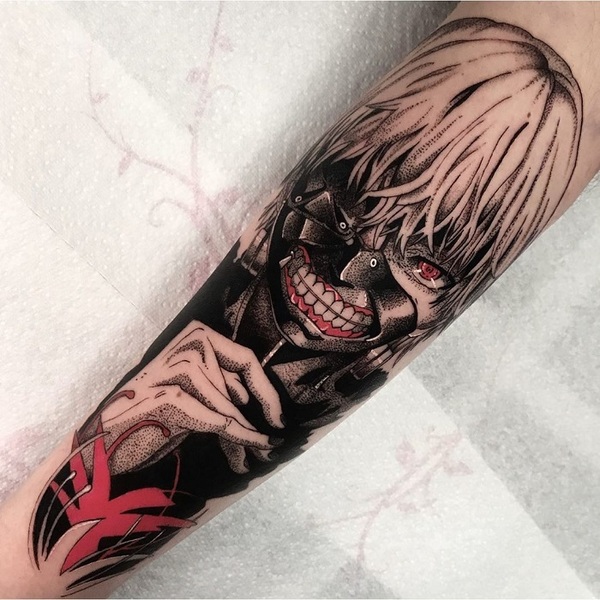 Whether you've grown up watching anime or are still watching it as a way to add some fun to your adult life, you know that these anime plot lines and characters can leave a big impression on you. 
One of these impressive anime shows is Tokyo Ghoul. Many fans of this show have gotten a Tokyo Ghoul tattoo to show their fascination and appreciation for the series.
Essentially, Tokyo Ghoul's plot is based on the challenges faced by the half-human/half-ghoul protagonist, Ken Kaneki. The series documents his life journey as he attempts to balance his two states.
Lots of people feel connected to the underlying struggles of Ken Kaneki and other aspects of the show.
And in order to showcase their love and adoration for the series, many fans began to ink themselves with the half-human/half-demon Tokyo Ghoul tattoo.
To understand the Tokyo Ghoul tattoo better, we will be exploring the following in this guide:
Tokyo Ghoul tattoo meanings
Tokyo Ghoul tattoo ideas
Tokyo Ghoul tattoo designs
Areas of the body to get this tattoo
Reasons for the popularity of the Tokyo Ghoul tattoo
History of the tattoo
Of course, like every other show, fans connect to different aspects of Tokyo Ghoul based on their own interpretations and unique experiences. And as a result, they associate different meanings and symbols with the Tokyo Ghoul tattoo.
So, let's take a closer look at a few different meanings of this tattoo to see which one you feel most connected to.
What Do Tokyo Ghoul Tattoos Mean And Symbolize?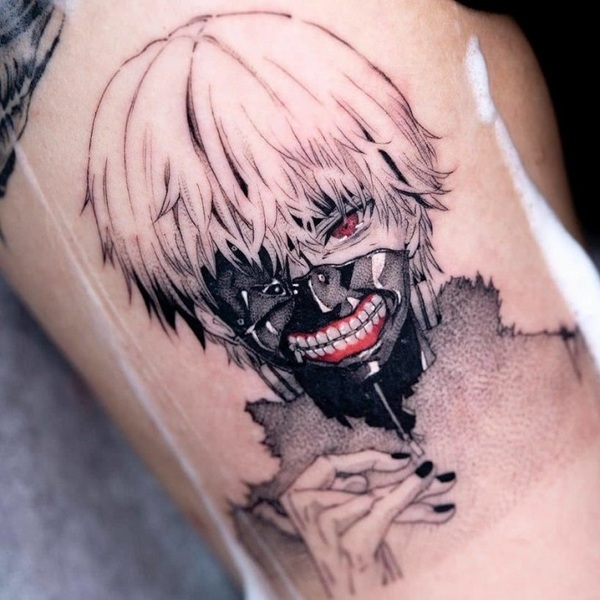 Different Tokyo Ghoul tattoos mean different things depending on their design. Also, the meaning will change based on how the wearer interprets the design.
Here are a few popular meanings of the Tokyo Ghoul tattoo: 
Tokyo Ghoul tattoo for Humanity: The symbolism of this tattoo is based on the more human characteristics of Ken Kaneki—with just a bit of his ghoul side (i.e. a red-eye with a human face)—to symbolize his constant fight to keep his humanity alive.
It's a perfect tattoo for those who are looking for a way to showcase their faith in the perseverance of humanity.
Tokyo Ghoul tattoo for Hope: If you'd like your tattoo to symbolize hope, then you should go for designs that portray Ken's control over his ghoul side. Ken's ability to keep his inner ghoul within his control showcases his strength of will and his ability to survive anything.
And that's why this Tokyo Ghoul tattoo meaning is a symbol of hope for those that resonate with this message.
Tokyo Ghoul tattoo for the Balance of Good/Bad: Just as the yin-yang symbol can symbolize a balance of good and evil, the half-human/half-monster Ken Kaneki demonstrates the perfect harmony between both of his sides. In other words, he portrays that there is some humanity in every monster, and the potential for evil in every human.
Tokyo Ghoul tattoo for Death: The symbol of the Spider Lily flower from Tokyo Ghoul is the perfect reminder that death is the only truth in life. These flowers also symbolize reincarnation, so you could get this tattoo if you feel like you've been born anew after a particularly tragic loss and/or life-changing event.
Tokyo Ghoul tattoo for Loss & Longing: The Spider Lily is also a symbol of loss and longing for something or someone. If you feel like you've lost a loved one to death, or have lost a piece of yourself after a tragic incident, then a Spider Lily tattoo could be the perfect choice for you.
Where To Get A Tokyo Ghoul Tattoo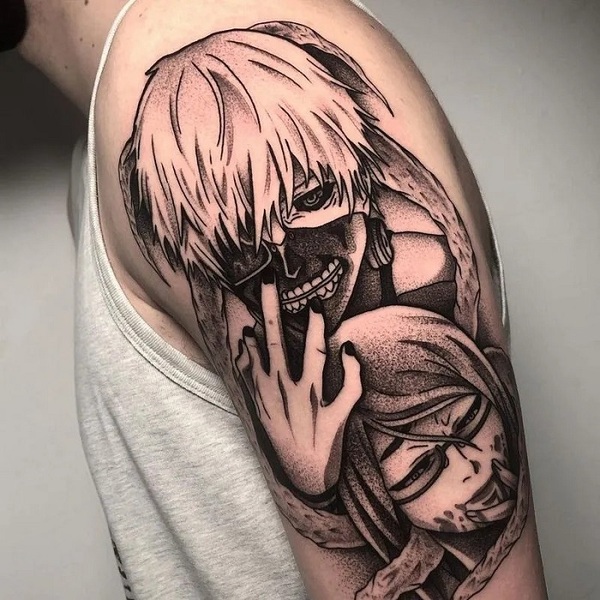 Of course, where you choose to get the Tokyo Ghoul tattoo is important. So we've compiled a list of the most popular places to get this tattoo inked along with the associated meanings below:
Shoulder: In order to showcase your Tokyo Ghoul tattoo for humanity, get the overpowering human characteristics of Ken Kaneki tattooed on your shoulder.
The shoulder is known to be associated with certain phrases, such as "a shoulder to rely on" and "a shoulder to cry on." So this tattoo would showcase your love for and reliance on humanity.
Arm: If you'd like your Tokyo Ghoul tattoo to symbolize hope, then getting it on your arm would be the perfect place for it. This would also serve as a great reminder to keep holding onto hope in even the most difficult situations. 
Hand/Wrist: To portray a balance of good and evil, getting a Tokyo Ghoul tattoo on your hand would display the symbolism perfectly. Since hands are associated with doing things, they symbolize the control we have to maintain a balance between our good and bad intentions (and developing those intentions into actions).
Leg: Specifically, the back of the leg with a Spider Lily tattoo from Tokyo Ghoul is used as a constant reminder about death. This is because no matter where you are in life, death will always be there—forever following you as the ultimate truth of life.
Chest: You could also get your tattoo inked on your chest, close to your heart, to symbolize the loss and longing for loved ones that have passed. This will be a reminder to keep your loved ones close, even if they're no longer here with you in life. 
How Much Do Tokyo Ghoul Tattoos Cost?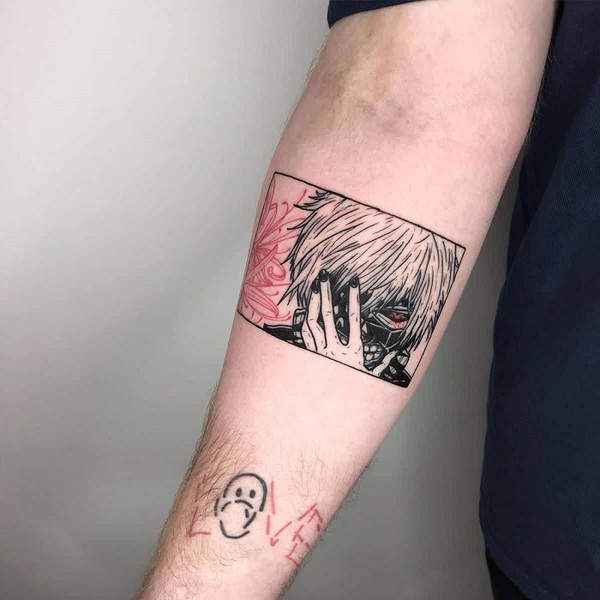 The cost of a Tokyo Ghoul tattoo depends on three things: where you get it from, the complexity of the design, and the size of the tattoo.
Most tattoo parlors charge a base rate of somewhere around $100/hour. Keep in mind that the cost could be higher if you're going to a parlor that's famous and a bit more pricey.
And then they charge additionally based on the complexity of the design, and how big you want the tattoo to be. 
Basically, you want to make sure you're aware of these three factors listed above before heading to your tattooing appointment. That way there will be no surprises after you finish getting your desired Tokyo Ghoul tattoo.
30 Best Tokyo Ghoul Tattoo Designs
#1: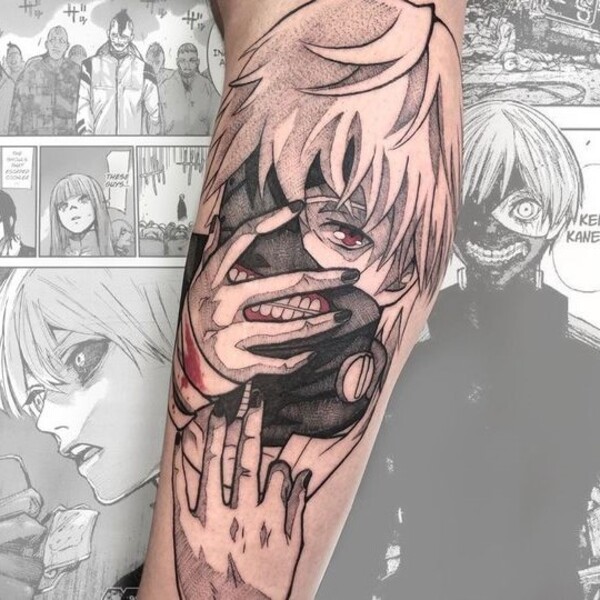 #2: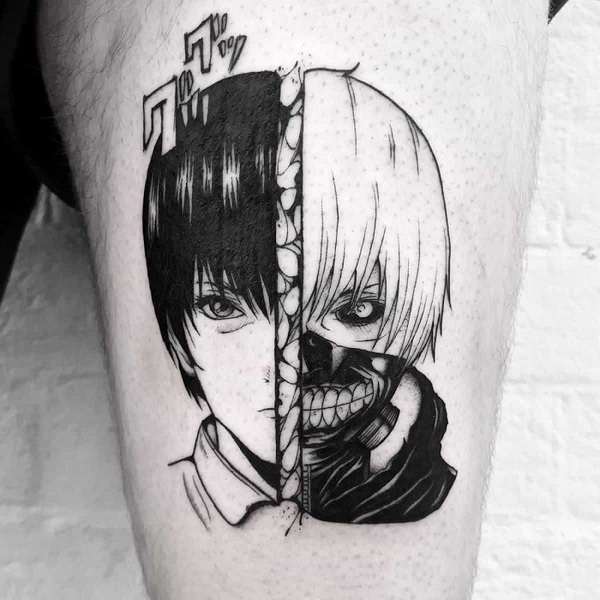 #3: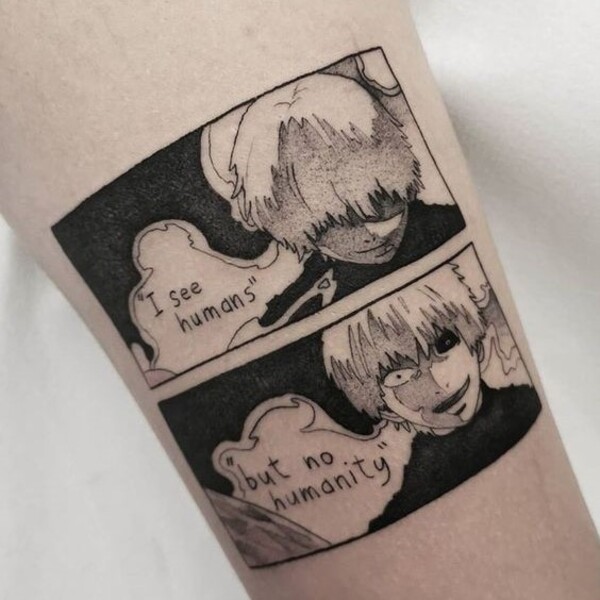 #4: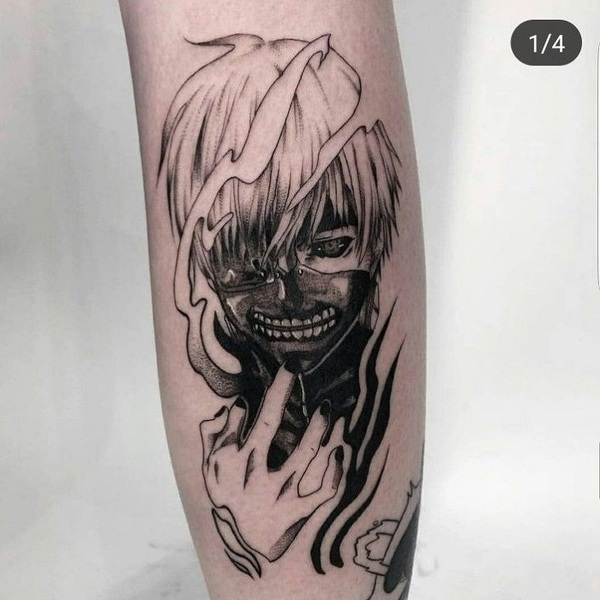 #5: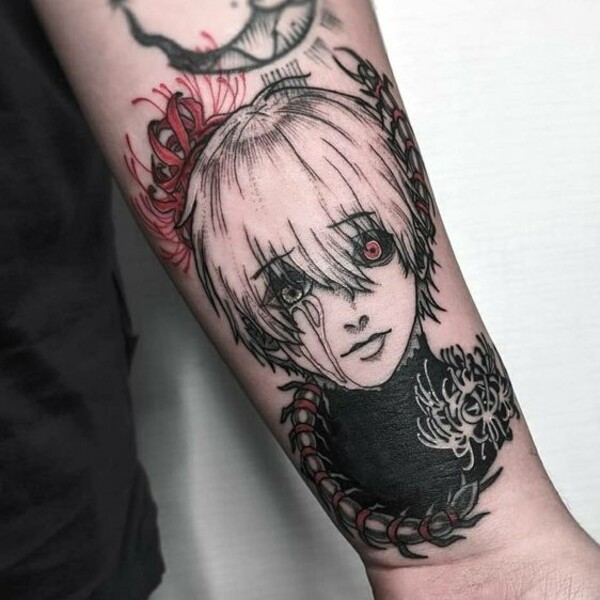 #6: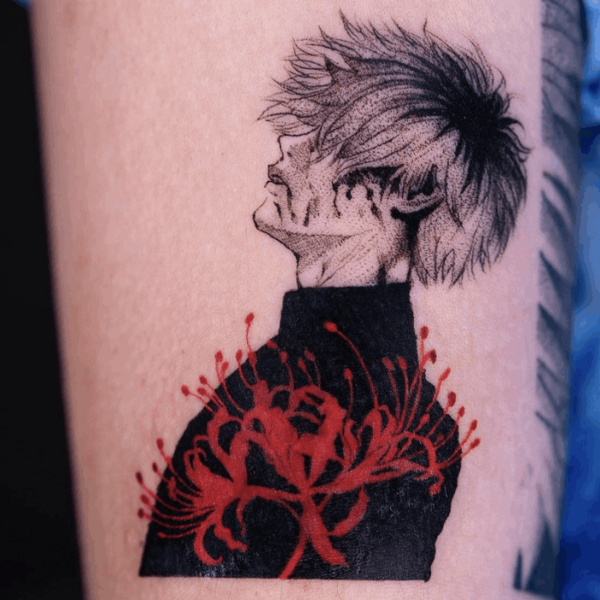 #7: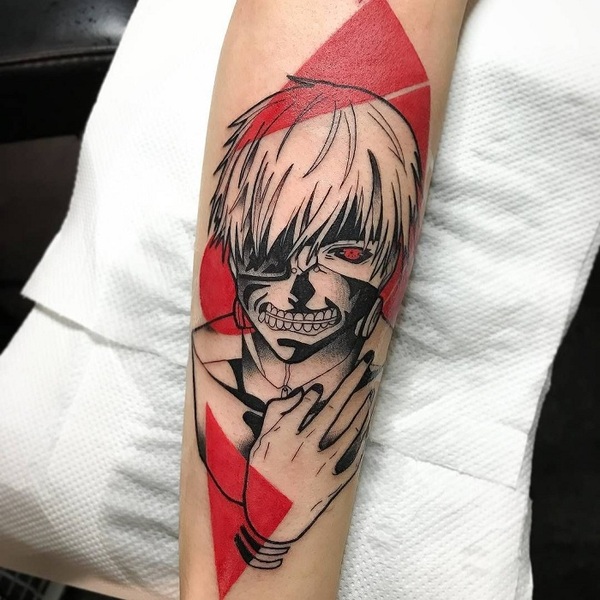 #8: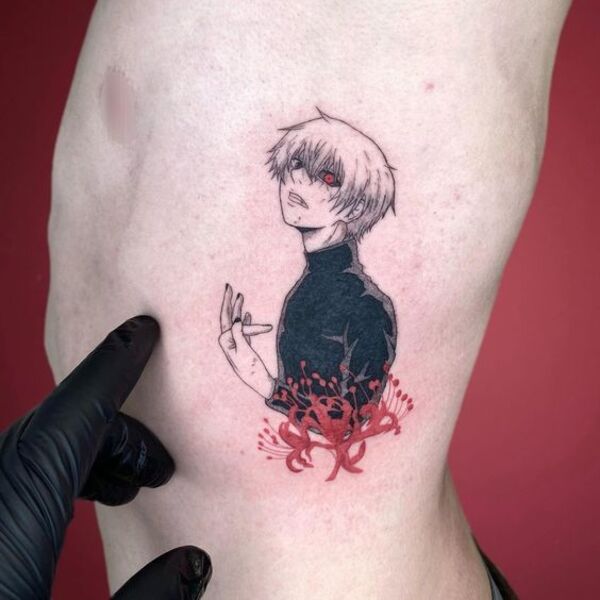 #9: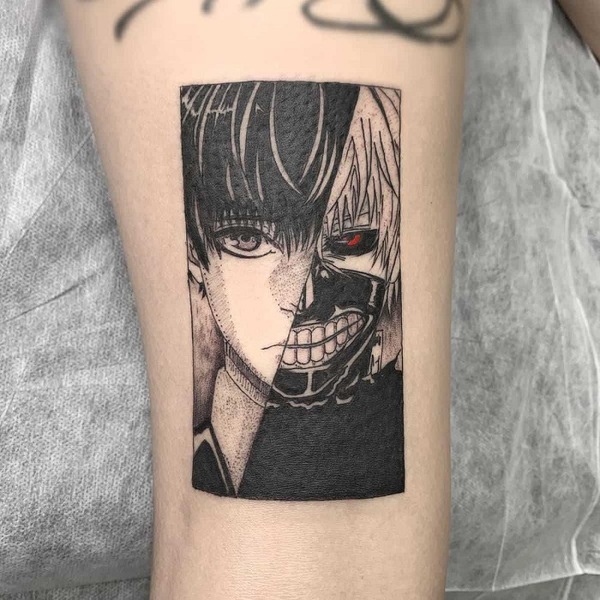 #10: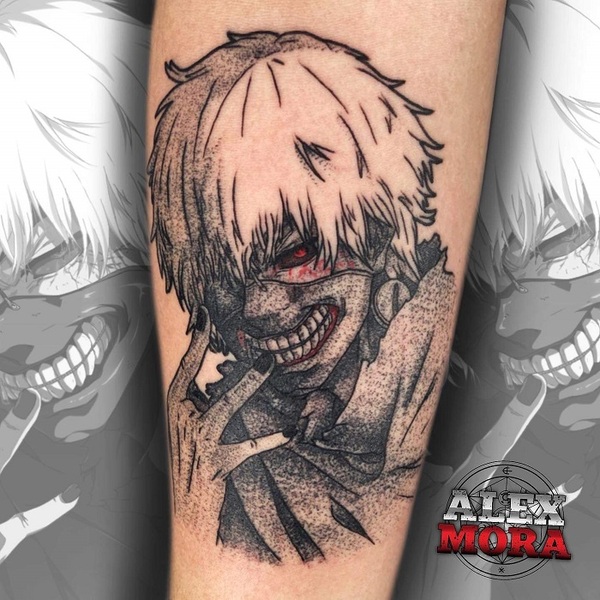 #11: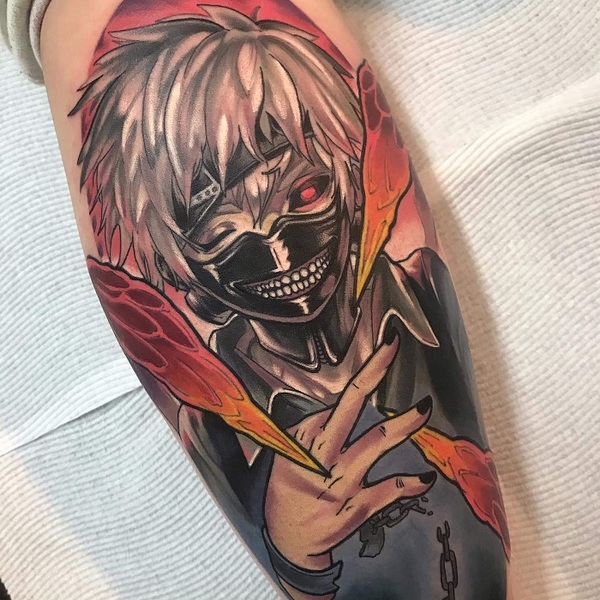 #12: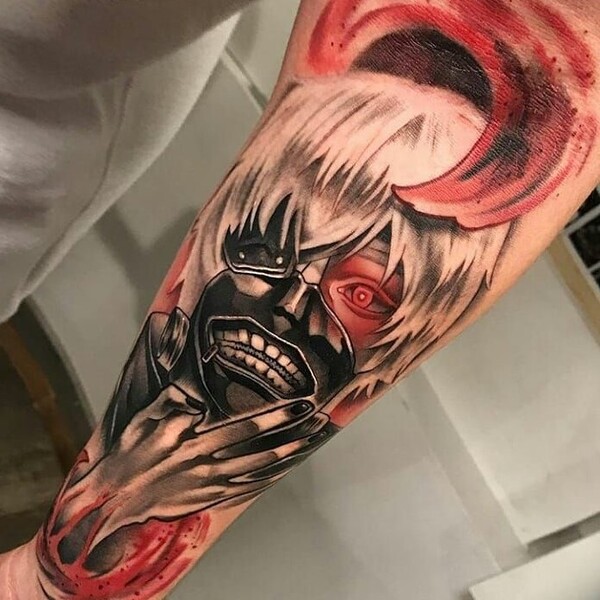 #13: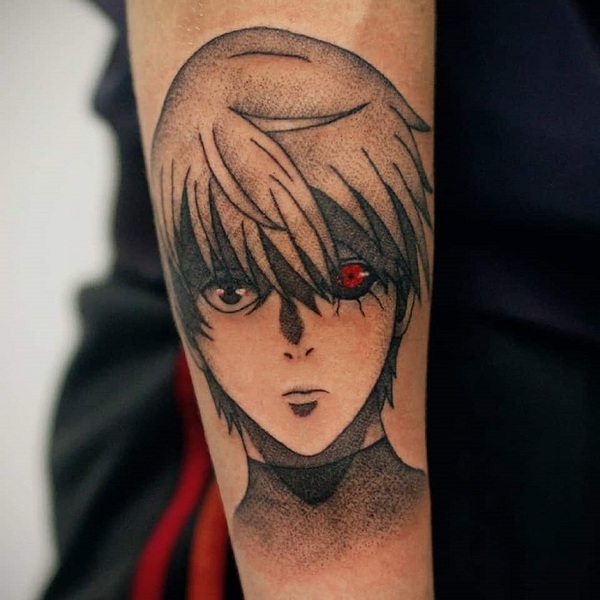 #14: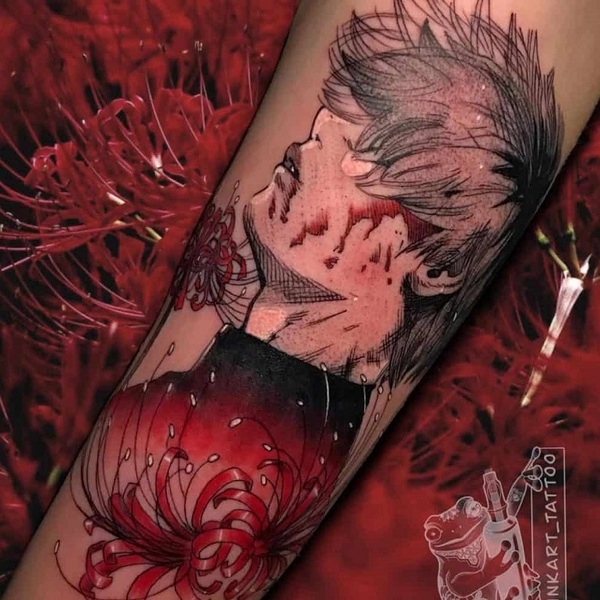 #15:
#16: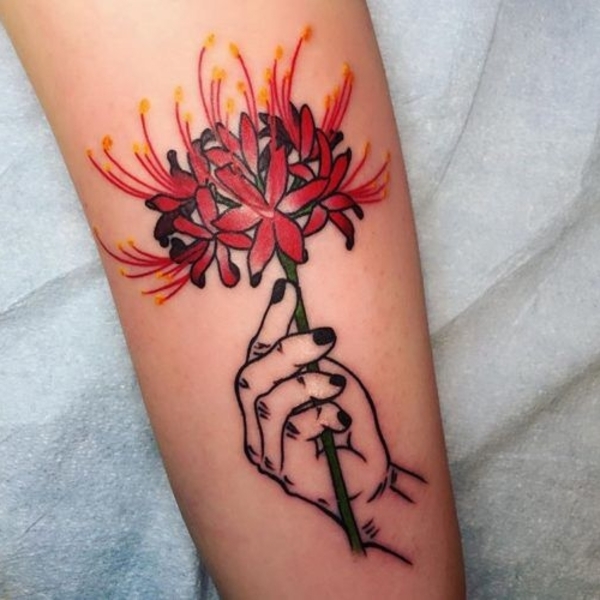 #17: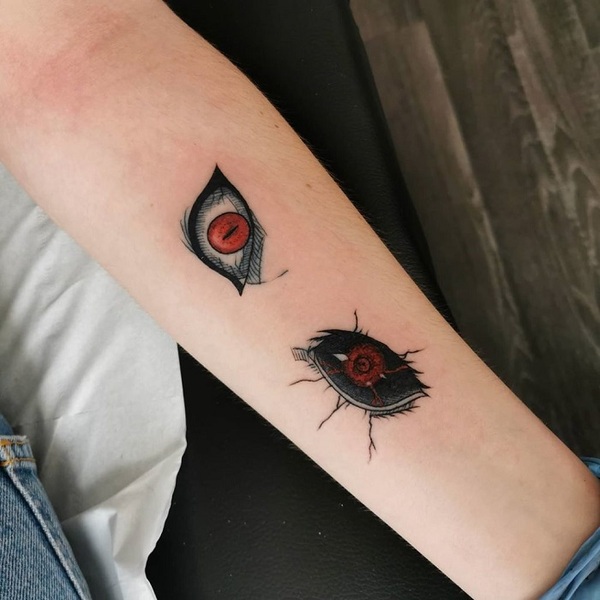 #18: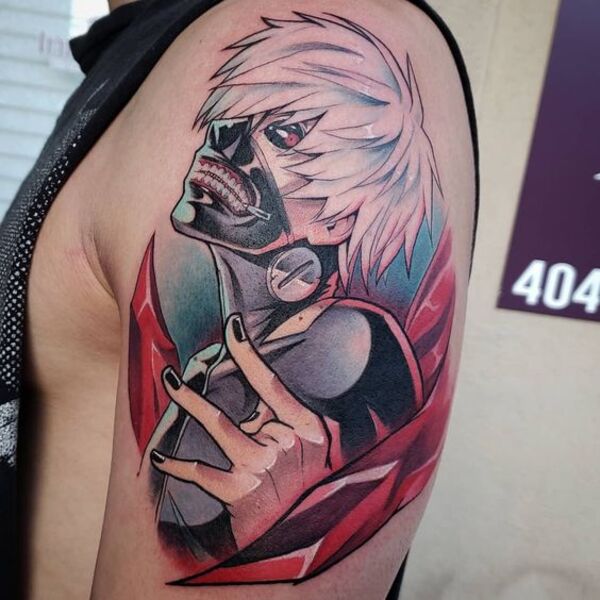 #19: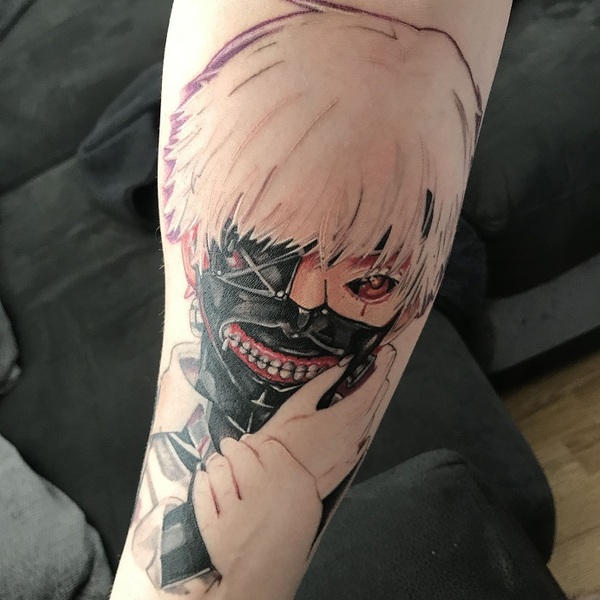 #20: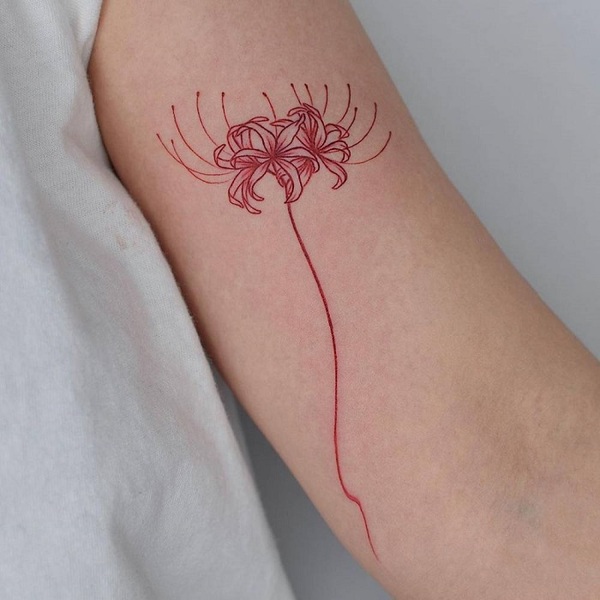 #21:
#22: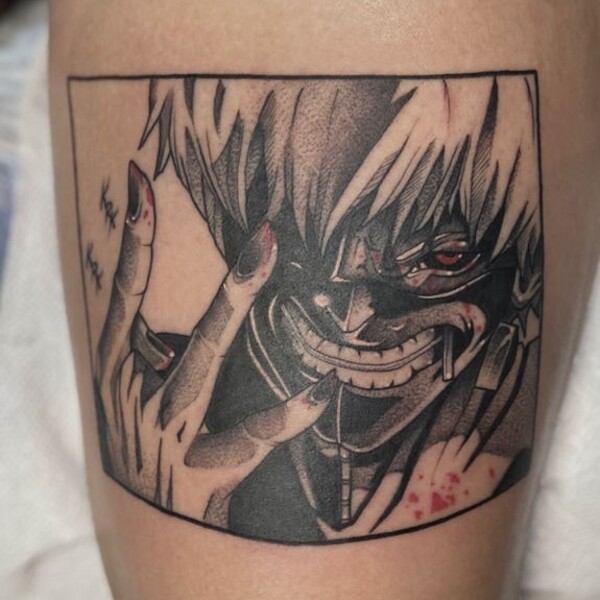 #23: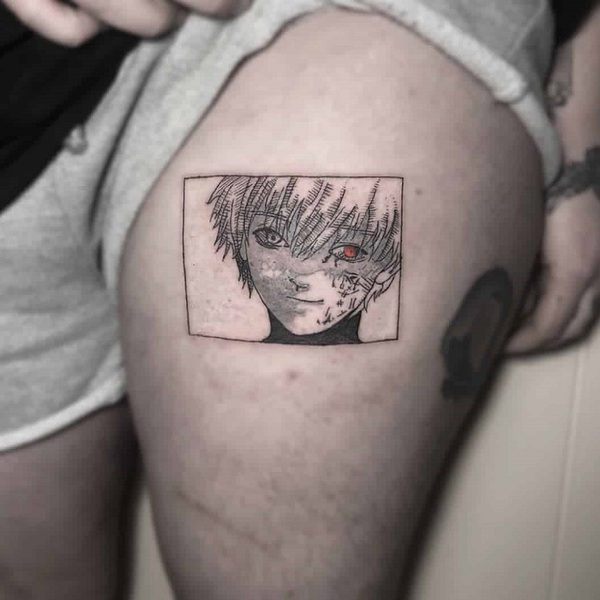 #24: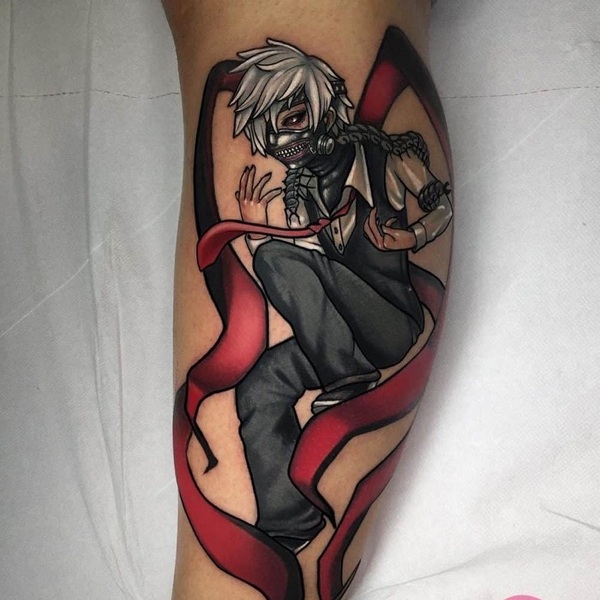 #25: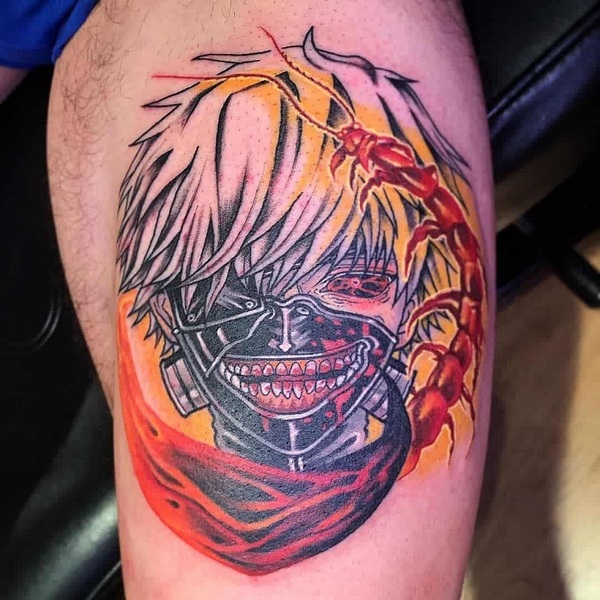 #26:
#27: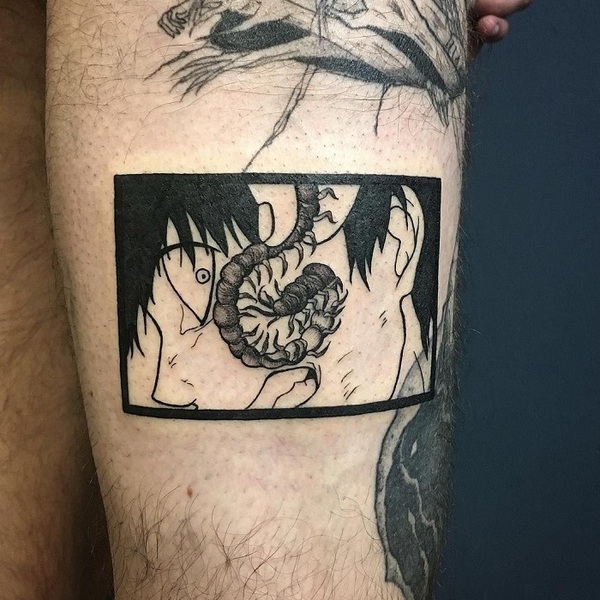 #28: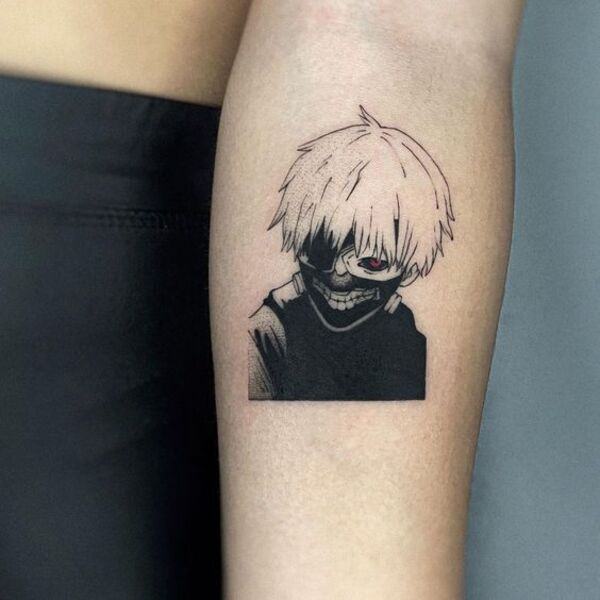 #29: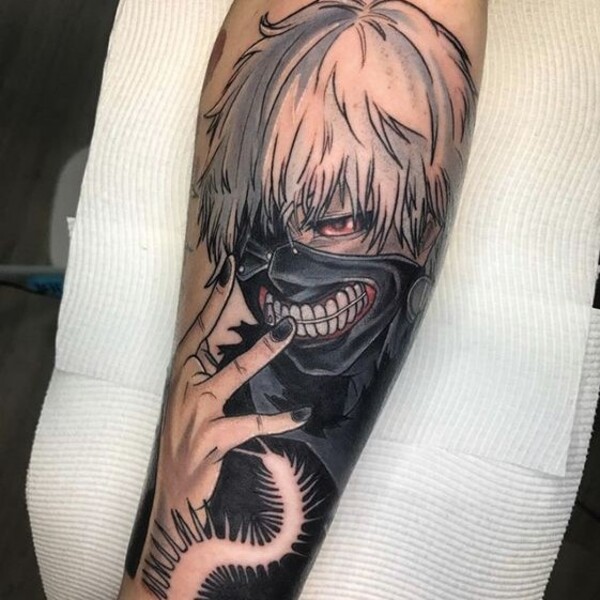 #30: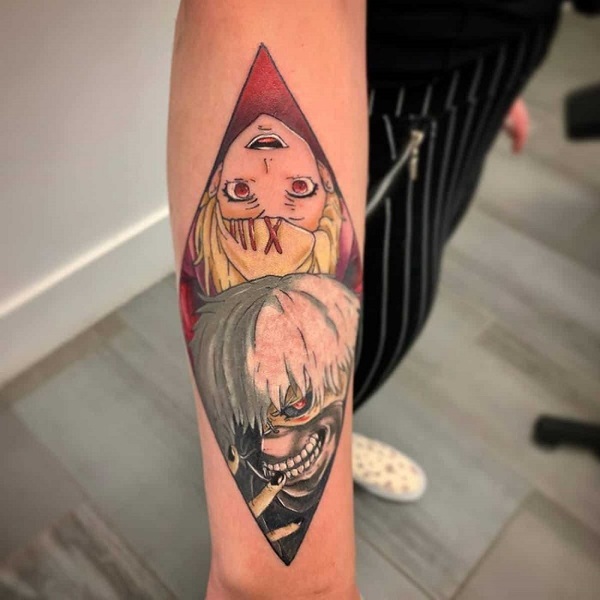 History Of The Tokyo Ghoul Tattoo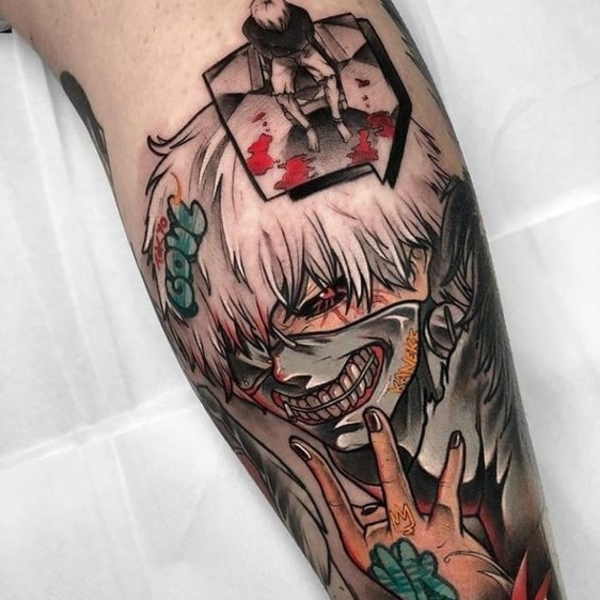 Tokyo Ghoul is an anime show that first aired on July 4, 2014, and ran for about four seasons.
The plot revolves around a college student named Ken Kaneki, who becomes half-human and half-ghoul (a demon that eats human flesh) after the night of an accident that leaves him with life-threatening injuries. 
In order to be saved, the doctors transplant the organs of his date—Rize Kamishiro (a.k.a a ghoul who was going to eat him for her dinner that same night)—into him leaving him in a complex hybrid condition. 
Ken Kaneki, then, has to figure out how to live with the new challenges of his half-human and half-ghoul condition (and of course, the 'eating your fellow humans' part as well).
He gains superhuman powers like other ghouls who have increased strength and regenerative abilities, and his iris turns red whenever he's hungry or excited.
With all of these new characteristics, Ken Kaneki also has to undertake the challenge of preserving his humanity when trying to fight off enemies (other monsters and humans who hunt them).
This storyline, the characters, the plot, the challenges, and of course the symbolism depicted throughout the series are what make this such a popular and meaningful show for the viewers today.
In fact, fans all over the world have shown their loyalty and fascination with this anime by not only buying merchandise related to the show but also getting tattoos of important characters and parts of the show permanently inked onto their body as a symbol of remembrance.
Which Celebrities Have A Tokyo Ghoul Tattoo?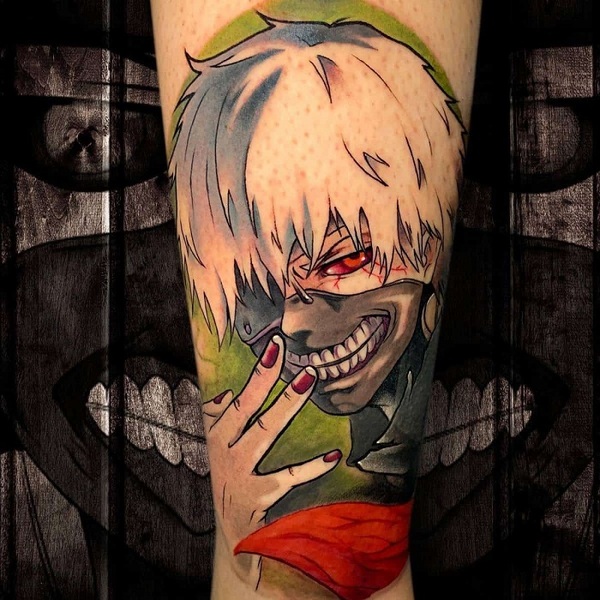 There aren't any celebrities rumored to have a Tokyo Ghoul tattoo inked on their body, despite the popularity of anime amongst the celebrity population.
With all of the craze in the general public over this series, it's surprising that this fan-fever hasn't reached the world of Hollywood yet. 
But, it's safe to assume that some of them may have the Spider Lily tattoo inked on their body. This may not be for the sole sake of honoring the characters and plot of Tokyo Ghoul but could be related to the symbolism and meaning of this flower in Japanese culture. 
After all, the meanings associated with the Tokyo Ghoul tattoo are universal and could be applied to any individual—whether they're crazy for Tokyo Ghoul's characters and plot, or simply inspired by the imagery in the show.
In other words, the life challenges that are showcased in the anime make it possible for people from all walks of life to feel connected with the show.
So, whether you feel like getting a tattoo to showcase your fascination with the Tokyo Ghoul anime, or you're looking for ways to remind yourself about life's duality and preciousness, getting a Tokyo Ghoul tattoo is a way to permanently ink a constant reminder onto your body that you'll never forget.
---
Looking for more inkspiration? Say no more:
The Best Phantom Troupe Tattoo Ideas
Get Access to Exclusive Deals
Subscribe for free to get exclusive deals in your inbox. 100% privacy