What To Wear To A Quinceanera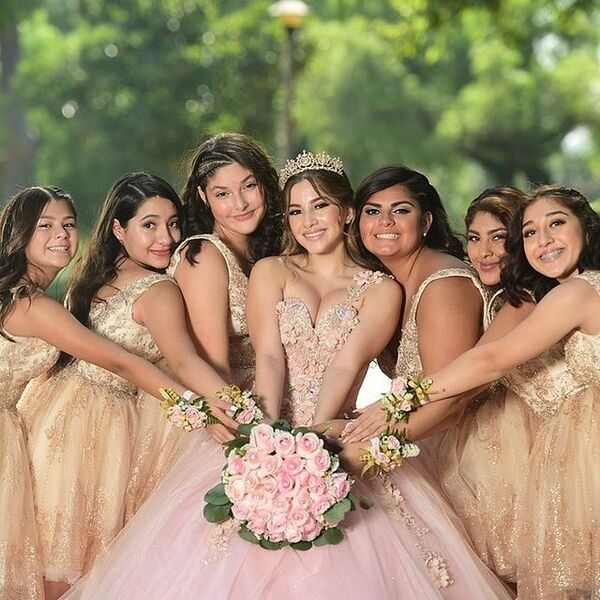 Forget Sweet 16s, quinceaneras are where it's at. Intended for 15-year-olds, this rite of passage is commonly celebrated amongst Latinos.
While it's considered a momentous occasion to mark the start of adulthood, it's usually treated as a lavish birthday party. Think of tiered cakes, custom ballgowns, and an impressive venue.
Quinceaneras are a once-in-a-lifetime opportunity to go balls-to-the-walls, especially when it comes to fashion.
This isn't the time to pick out simplistic fits, as birthday celebrants will want to consider the most extravagant options when finding the perfect fit. If you're wondering what to wear to a quinceanera, I'll provide some trendy looks to consider.
Attending as a guest? If so, there's no need to click out of this article. I'll also show you what to wear to a quinceanera if this is your first time attending one as well. This comprehensive style guide may or may not include looks such as:
what to wear as a guest to a quinceanera
what to wear to a quinceanera male
what to wear to a quinceanera female
What Is A Quinceanera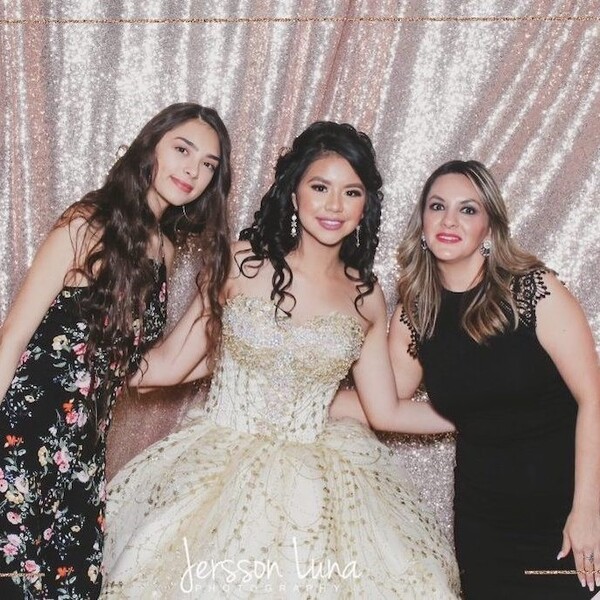 A quinceanera is a rite of passage that marks the start of womanhood for 15-year-old girls. Although the event is traditionally meant for young females, it's extended to involve teenage boys as well.
They're typically celebrated amongst the Latino community, such as those in Mexico, the Caribbean, and the United States.
It's a formal occasion that can last for several hours, considering the number of events that take place. This involves elements such as the la última muñeca, el primer ramo de flores, and the 15 piñatas. 
History Of The Quinceanera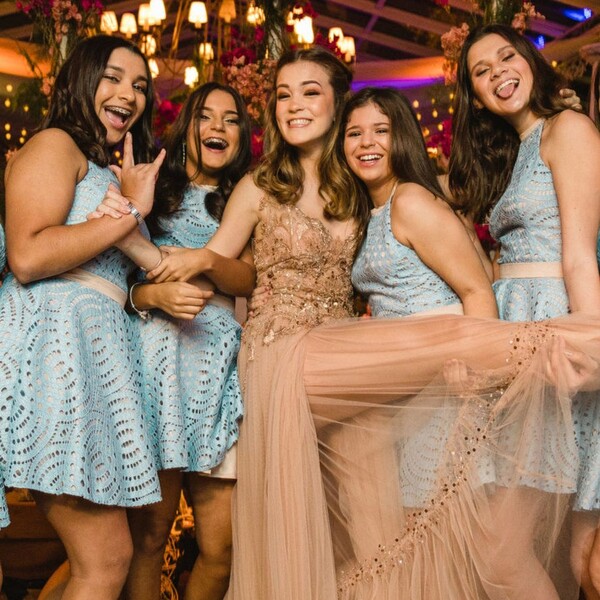 The exact history behind the quinceanera is shrouded in mystery, but most experts agree that it originated from Aztec and Mayan traditions. Some historians say you can trace the celebration back to the 5th century BCE.
By the 16th century, Spanish forces overtook Central America and ruled for several centuries. During this period, the event drew influences from Spanish culture and religion, as well as other colonist nations.
It's worth mentioning that some countries have their own versions of the quinceanera, such as the debut, which is another rite of passage celebrated in the Philippines.
13 Outfit Ideas For A Quinceanera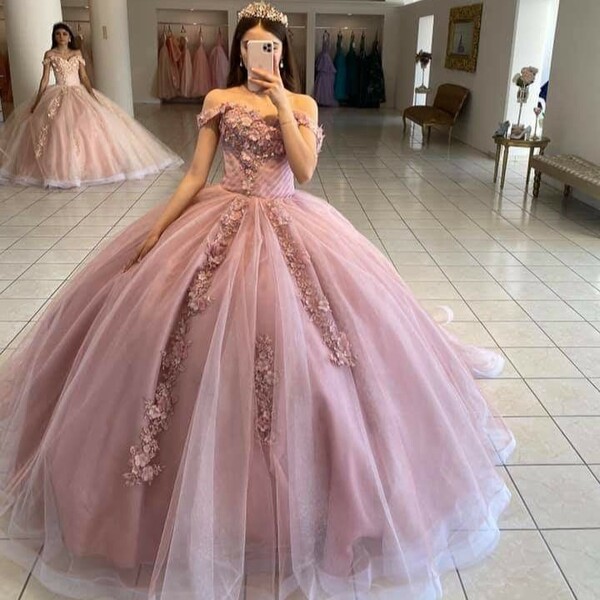 Poofy ballgowns are taken seriously when it comes to finding the perfect quinceanera dress. This bold contender is made out of pink chiffon and tulle, which does wonders in encouraging volume and drama. 
Complimented with a cascading array of fabric roses, it's definitely a more romantic look compared to other Sweet 15 ensembles out there. If you really want to get the princess treatment, a flower crown or tiara is a must. Don't forget to top the look off with a pair of matching heels!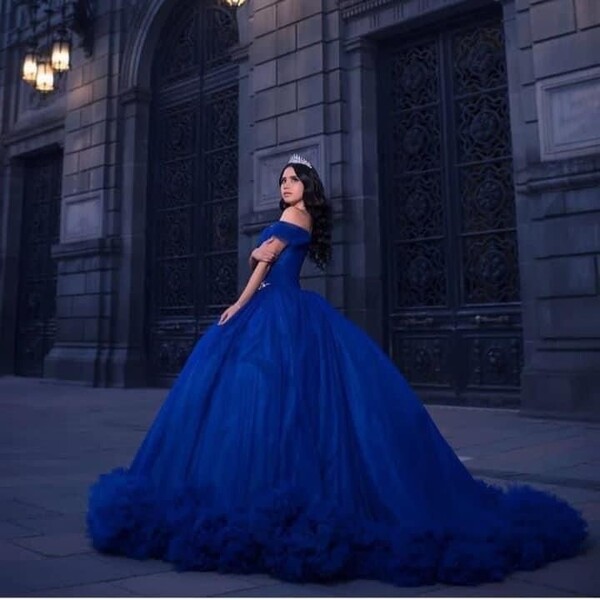 Forget the Kardashians; Disney princesses are role models to follow if you're wondering what to wear to a quinceanera.
For instance, this Cinderella-inspired ballgown consists of multiple layers of blue chiffon and silk. Assumably worn with a hoop skirt and a petticoat for more volume, this vibrant number will certainly ensure a grand entrance.
Admittedly, the hue is darker compared to what Cinderella wore in the movies, but you can always opt for a lighter shade if you want an exact copy.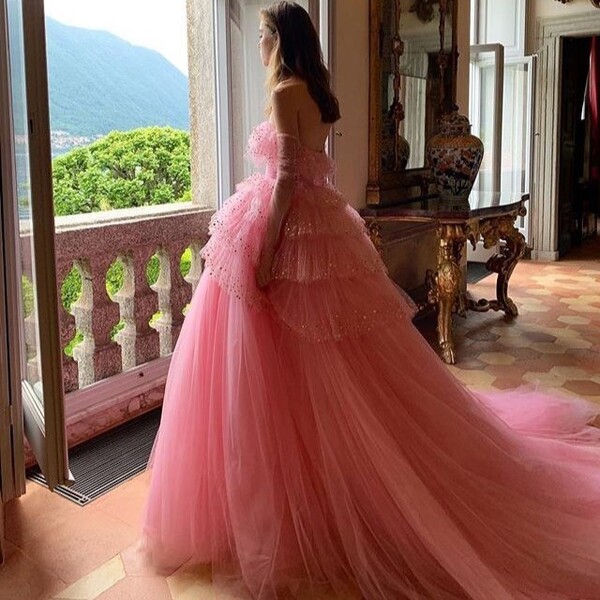 It's giving Princess Bubblegum vibes but in a more contemporary manner.
Featuring layered tulle and gathered ruffles, this gorgeous dress manages to look both soft and bold, which is ideal for those who want that 50/50 mix. It's relatively free of floral accents and bedazzled gems, but the integrated sparkles help make up for the lack of accouterments.
Considering the bold nature of this option for what to wear to a quinceanera, I recommend accessorizing with a dainty necklace and a pair of matching Manolo Blahnik heels.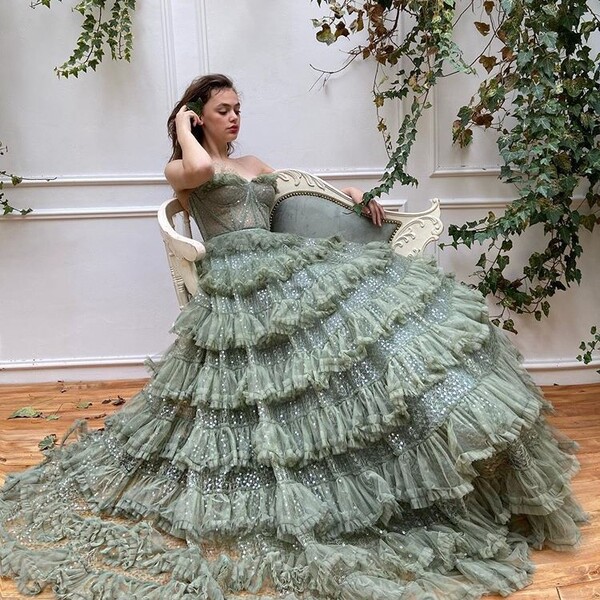 When you think of designer princess dresses, Teuta Matoshi usually comes to mind. This Kosovo-based brand is known for its whimsical selection of fairytale-inspired gowns, such as this jaw-dropping example. 
With multiple layers of structured tulle, this dreamy outfit consists of a fitted bustier, sage green ruffles, and interwoven sparkles for some added glitz. It comes with a slight train, which is a valuable component in most quinceanera dresses. To help accentuate the final look, an array of diamond-studded jewelry is a must.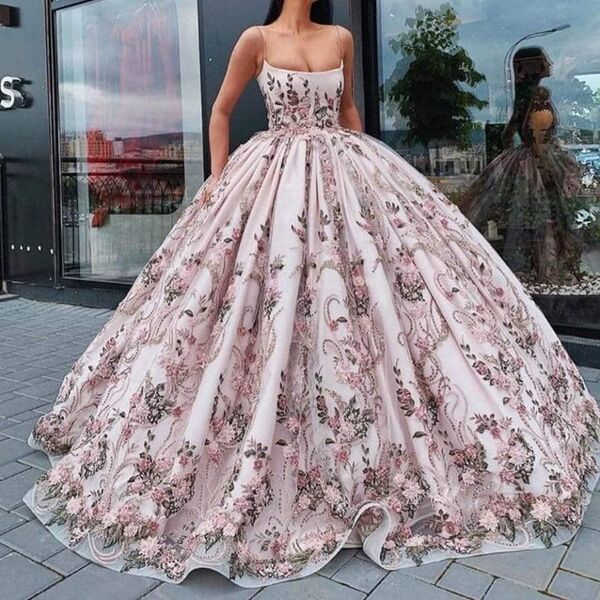 Simplicity and embellishment are often seen as polar opposites, but that doesn't mean you can't use them together. This jaw-dropping dress is the perfect example of combining the two. 
The minimalistic silhouette of the bodice and skirt allows the floral embroidery and beadery to shine through. Additionally, the clean cut of the neckline posits the perfect opportunity for accessorization without going overboard.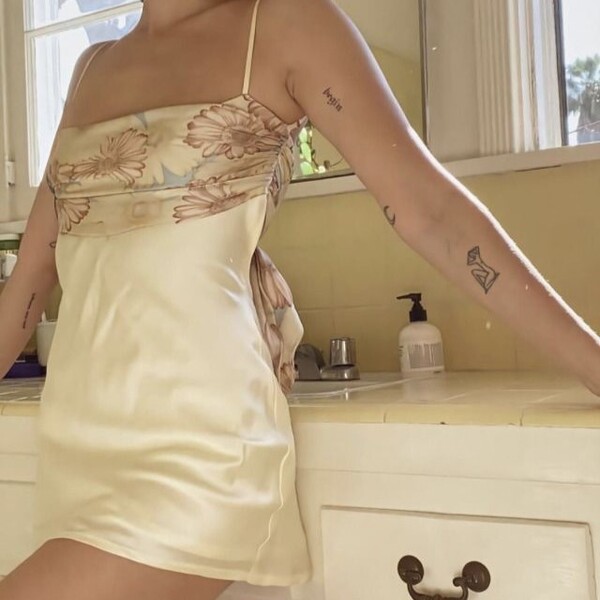 Like weddings, it's never a good idea to outshine the bride. The same goes for quinceaneras, as it's always advisable to stick to simplistic outfits unless the celebrant specifies otherwise. If you're wondering what to wear to a quinceanera as a guest, I recommend this stunning ensemble.
This dress from Mirror Palais features a quarter silk circle skirt and a floral bandeau attached to the underbust. Designed to be knotted in the back, it's considered a tasteful look for extravagant events.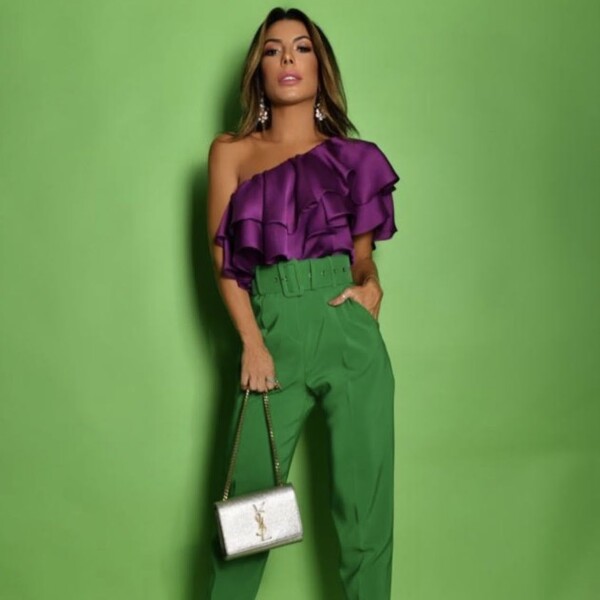 Not a fan of cocktail dresses or midi skirts? If so, a nice pair of trousers and an off-shoulder blouse can be your go-to outfit as a guest. This stunning ensemble features a ruffled top constructed out of royal purple fabric.
Complemented with emerald green pants, this bright and bold look definitely matches the celebratory spirit of quinceaneras.
To help balance out the vibrant tones of the OOTD, I suggest wearing a pair of diamond earrings. Additionally, you can never go wrong with a designer handbag.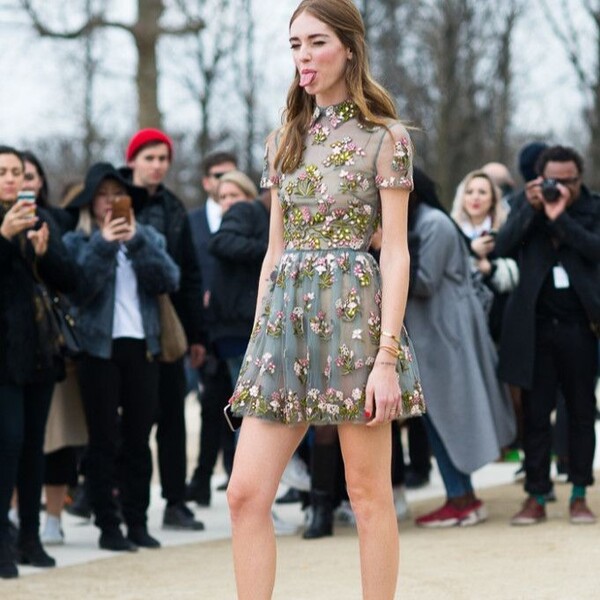 Bedazzled dresses can be a risky move if you're attending as a guest. That said, it's fair game if it's a simple cocktail number. This adorable "what to wear to a quinceanera" contender is a perfect example, as it features a series of embroidered flowers on sheer chiffon. 
Made with a nude underlayer for modesty, this is definitely something to consider if you're prepping for an extravagant event. While the ensemble is quite bold in design, wearing a pair of equally bright shoes is a must.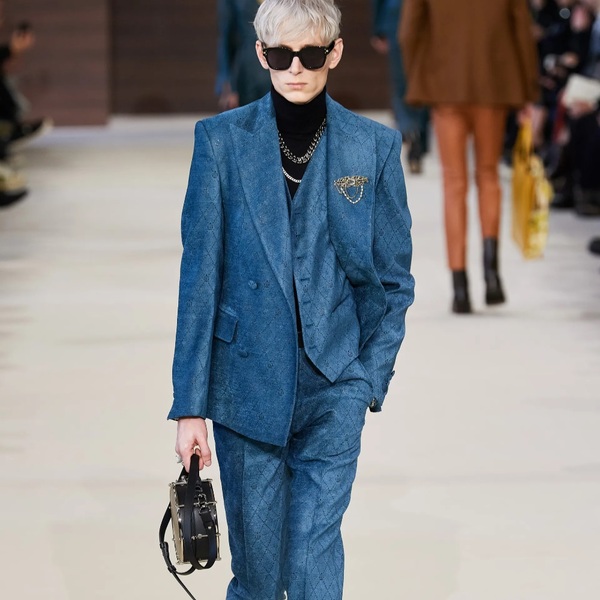 Nowadays, it's fairly common for teenage boys to host quinceaneras. If you require an appropriate outfit, I recommend going for the good ol' pantsuit. 
This stylish ensemble is considered a more extravagant version of traditional black-on-black, as it's made out of blue jacquard. Complemented with a black turtleneck, silver jewelry, and a matching broach, this modern outfit will help guarantee that all eyes stay on you.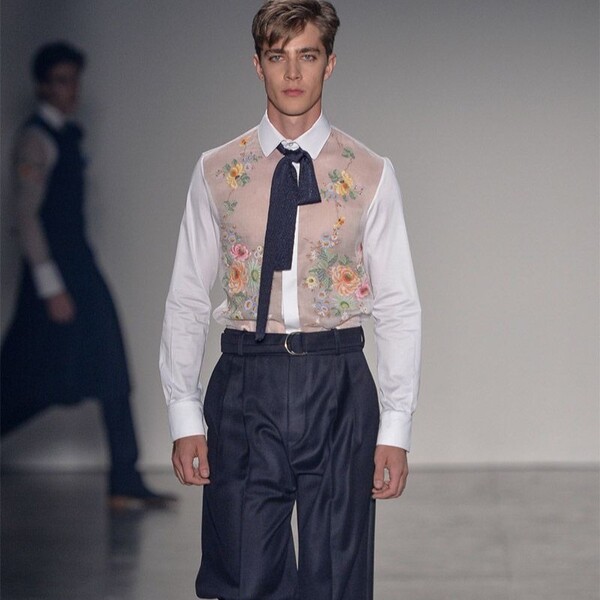 Feminine menswear should definitely be on your list of potential quinceanera outfits. This spring-inspired ensemble is comprised of a floral waistcoat, a tailored button-up shirt, a black necktie, and a pair of straight-legged pants.
Considered the perfect combo between April romance and strict formalwear, I highly recommend donning this fit if you want to exude a friendly vibe. For accessories, a pair of diamond studs and a matching collar pin can help accentuate your final look.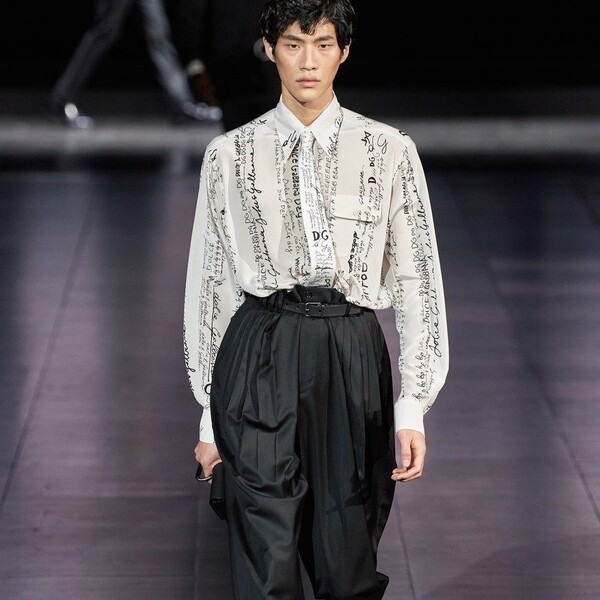 With a roomy silhouette, this stylish outfit allows for breathability, which is important if you're keen on dancing the night away.
The semi-sheer button-up features an intricate pattern of black text, which pairs beautifully with the dark undertones of the pleated trousers.
To help accentuate the waist, I recommend adding a leather belt for added definition. It's worth mentioning that this ensemble is from Dolce & Gabanna, which can be the perfect flex for celebrants. If this fit is too casual for your liking, you can always jazz it up by adding a matching blazer.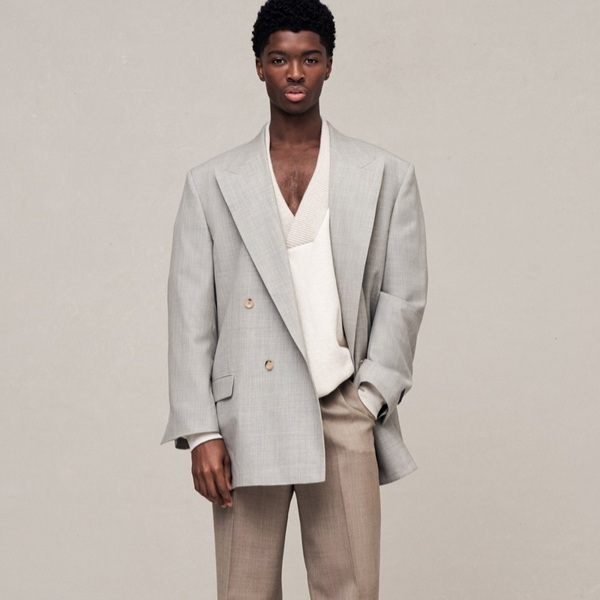 Clean lines, neutral tones, and traditional silhouettes are timeless in the fashion world. Case in point, minimalism is an acceptable style if you're invited to a quinceanera. 
This subtle but bold ensemble features a grey blazer, a white v-neck sweater, and a pair of beige trousers for a touch of softness. It's sophisticated enough for formal events, but it's simple enough to prevent any outfit competition between you and the celebrant. To top the look off, a set of brown loafers is an absolute must.
This ensemble may be a bit too casual for quinceaneras, but it's always a good idea to check in with the celebrant just in case. Who knows? Maybe it's a more casual event than what you had in mind.
This snazzy outfit features a white tee, a short-sleeve blazer, and a pair of matching trousers with loose tie-up detail.
Paired with brown loafers, this relaxed look is perfect for dancing, given its wide degree of flexibility and breathability. If you prefer to jazz things up, you can easily swap the tee for a button-up shirt instead.
What Type Of Quinceanera Outfits Can You Get?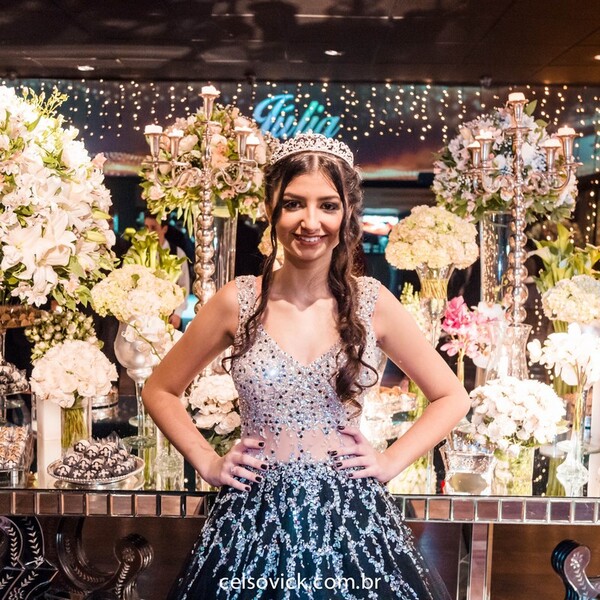 Quinceaneras can be a stressful event, especially if you're the one planning it. This rite of passage involves a lot of prep work, including making cake orders, arranging decorations, and finding the perfect venue.
Fashion should not be ignored, as extravagant ball gowns and tuxes typically come with long shipping times and tailoring.
For those in need of recommendations, I'll share some trendy outfit styles if you're wondering what to wear to a quinceanera:
The Cinderella Ball Gown: Meant for celebrants, this is the typical go-to for quinceaneras. Think of wide hoop skirts and fitted bustiers.
Tuxes: You can never go wrong with a tailored pantsuit or a fitted blazer. This outfit applies to both celebrants and guests.
Cocktail Dresses: Cropped skirts and body-con fits are considered appropriate for quinceaneras. That said, I recommend opting for more extravagant designs instead of simplistic prints if you're the center of attention.
Midi Dresses: Forgot leg day? If so, a midi dress can act as a good option. I suggest going for thigh-slit gowns to help ensure movement and breathability.
One-Pieces: If you prefer something more comfortable, you can always choose the good ol' jumpsuit. Velvet, silk, or satin one-pieces should be considered over denim coveralls.
How To Choose The Best Quinceanera Outfit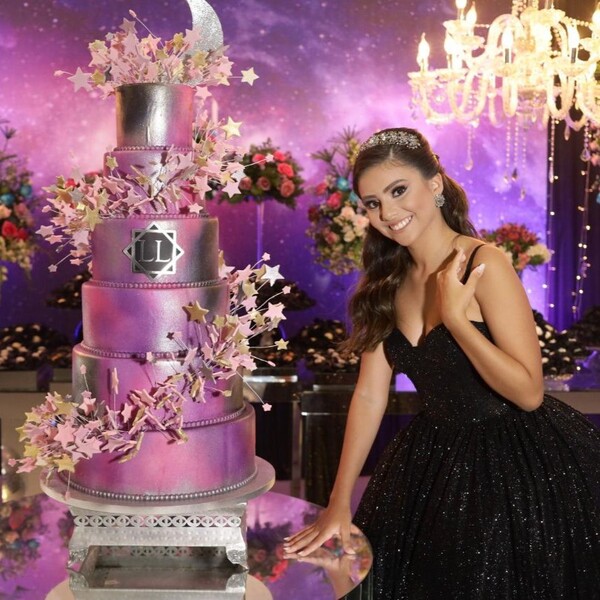 There's a reason why most of us go for brand-name dresses instead of fast fashion websites.
Extravagant ballgowns, especially the ones used for quinceaneras, require the best materials and intricate craftsmanship. This also applies to tuxes, as we typically trust companies like Indochino and Giorgio Armani to make a first-class pantsuit.
If you're not keen on pinching your pennies when it comes to finding the perfect outfit, I'll discuss a few specs to consider when clothes shopping.
Responsible shoppers will typically consider material quality, practicality, design, and price when buying new clothes. Quinceanera dresses are usually made out of lightweight, luxurious fabrics, such as chiffon, tulle, silk, and satin.
For tuxes, you should consider textiles like wool, tweed, twill, and herringbone. It's worth mentioning that the type of material you choose will influence the silhouette of the garment.
Airy alternatives will typically encourage drama, while sturdier weaves are best used in defining your natural body shape.
Design heavily depends on your personal preferences. Quinceanera dresses and tuxes come in a wide variety of colors, prints, and patterns. Considering that it's a once-in-a-lifetime type of event, I highly suggest you opt for the brightest and the boldest.
Of course, this may not apply to guests, as more simplistic fits are encouraged. If you have difficulty settling on a design, it's always a good idea to double-check the theme of the occasion.
Compared to everyday clothing, you don't need to worry about practicality. A quinceanera is only a one-day affair. With that in mind, you can probably get by with a little bit of discomfort.
However, those looking forward to dancing may find their movements limited, given the heavy and restrictive nature of ballgowns and tuxes. 
It's no secret that high-quality formalwear retails for a hefty cost. Prices can range anywhere from $400 to $1,000 or more, depending on the brand and the design you choose. If you can't afford to pay the full amount, I suggest looking for rental services as a more budget-friendly alternative.
How To Style Quinceanera Outfits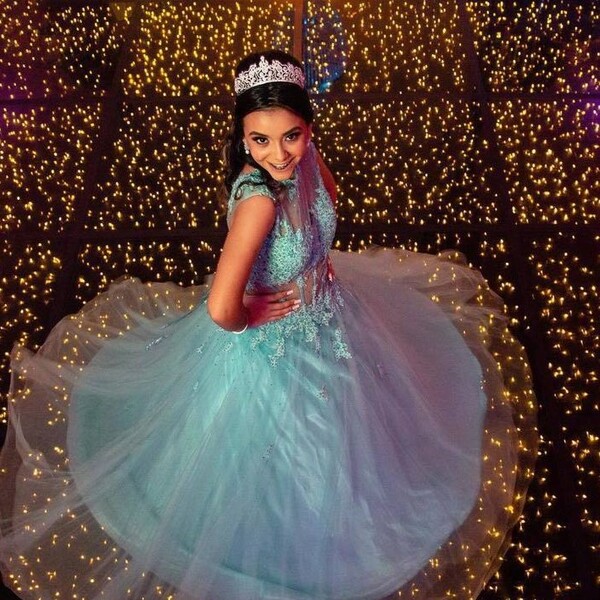 Quinceaneras aren't known for subtly. Case in point, properly accessorizing your final fit is a must. For those who've spent the last of their creative energy on decorating and event planning, I'll provide some styling tips to help ensure Instagramability.
Jewelry: This isn't the time to wear dainty necklaces and studs. Instead, you should consider chandelier earrings and bangles.
Bold Makeup: Unsure of what to wear to a quinceanera? If so, why not match your outfit with your makeup? I suggest opting for rosy pinks, dramatic smoky eyes, and bright lipstick.
Tiaras and Flower Crowns: To help balance out the dramatic nature of your ballgown, wearing a tiara or flower crown can do just the trick.
Matching Shoes: It's time to pull out those coveted Manolo Blahniks or those adorable Jimmy Choos. You can also choose a classic pair of Italian loafers if that's more your style.
Hair Accessories: If you aren't keen on wearing a tiara, you can easily make do with a stunning array of embellished hair barrettes.
Fashion Tips To Avoid With Quinceanera Outfits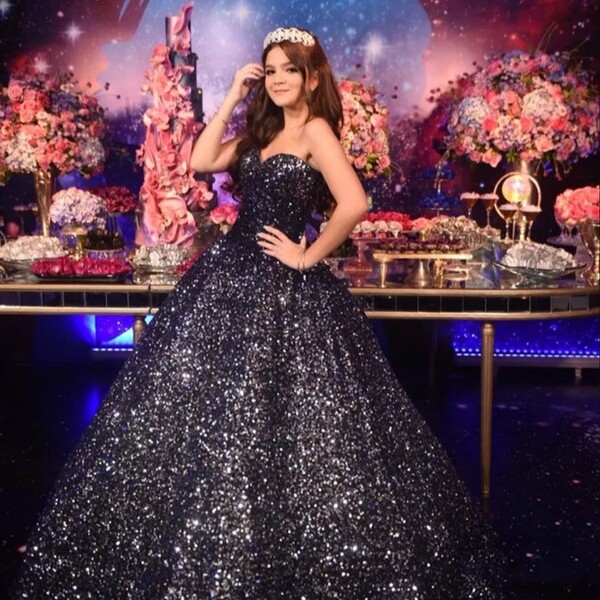 If this is your first time attending a quinceanera, then you're probably unfamiliar with the dos and don'ts. As always, it's a good idea to double-check with the celebrant if you have any questions about appropriate attire.
But if they have yet to respond to your text (which is possible, given the amount of planning needed for such an event), I'll discuss some fashion tips to avoid with quinceanera outfits:
Your Everyday Outfit: Quinceaneras are a celebratory event. With that in mind, it's considered poor taste to show up wearing shorts, sandals, and a regular t-shirt.
Modesty is the Best Policy: As a general rule of thumb, you shouldn't wear a super skimpy dress to a quinceanera. If you're worried about showing too much skin, tights can help provide some modesty.
Color-Clashing: Like weddings, it's considered inappropriate to wear the same colors as the celebrant.
Hypebeast: Repping brands like Supreme, Off-White, and Gucci is best saved for Instagram photo-ops.
A Second Pair of Shoes: Quinceaneras involve a lot of dancing. If you intend on busting a move, I recommend bringing flats or a pair of sneakers with your heels or Italian loafers.
How To Take Care Of Quinceanera Outfits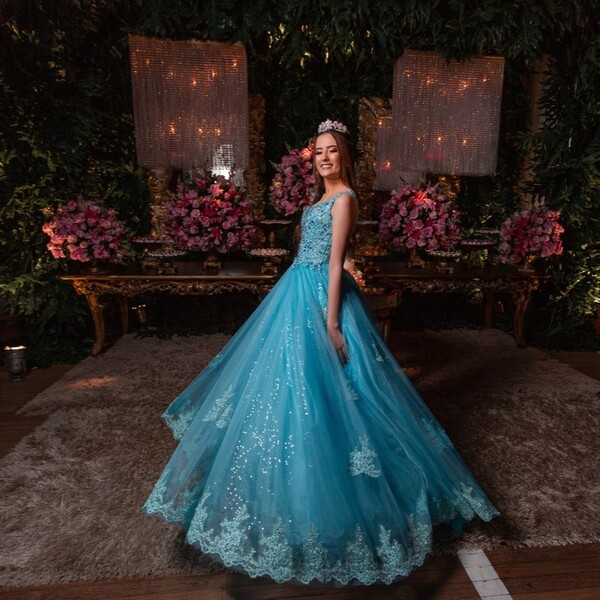 Ballgowns and tuxes typically need dry cleaning. In most cases, you can easily store them in a garment bag if they're relatively free of wrinkles and stains.
I don't recommend using any homemade remedies if they show visible signs of wear and tear, as select fabrics like silk and velvet require professional help.
Best Places To Buy Quinceanera Outfits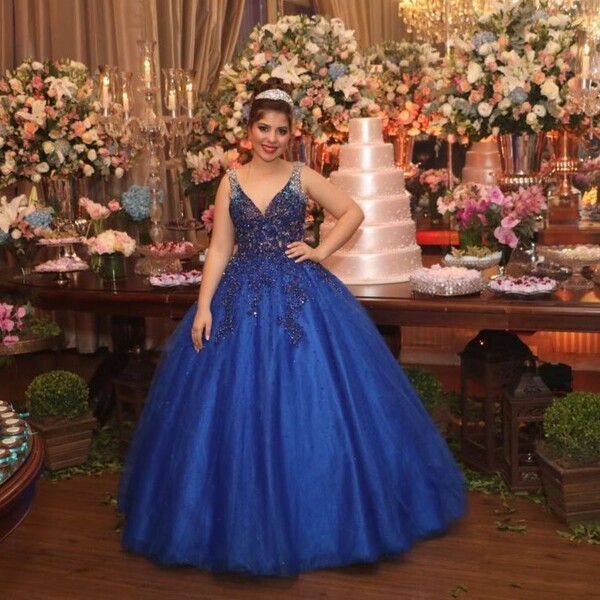 Here's hoping that you now know what to wear to a quinceanera. If you're full on ideas, I'll provide some store recommendations that are worth checking out so you can get shopping:
Moda Operandi 
Teuta Matoshi 
Elle Couture 
Indochino 
Final Thoughts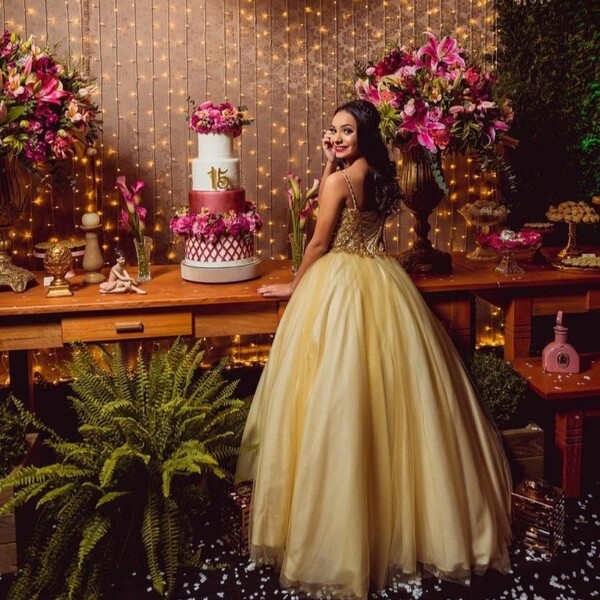 When it comes to quinceaneras, fashion is arguably the most important part. Choosing the perfect ballgown or tux is absolutely crucial, given that it's usually the main highlight of the event.
Whether you opt for an original Teuta Matoshi or a custom-made Giorgio Armani, your final fit should make a grand entrance. Money is no object here. After all, you are the star of the show, and you only turn 15 once. 
Of course, guests are recommended a different wardrobe to make sure they don't receive any spiteful glares from the celebrant or their family.
Simple, tasteful, and bright ensembles are encouraged. This isn't the time to don your usual set of sweatpants. Of the 13 outfits I've featured, I'm fairly confident that you know what to wear to a quinceanera.
---
Check out some of our other style guides:
What To Wear For Engagement Photos
Get Access to Exclusive Deals
Subscribe for free to get exclusive deals in your inbox. 100% privacy