What To Wear With Corduroy Pants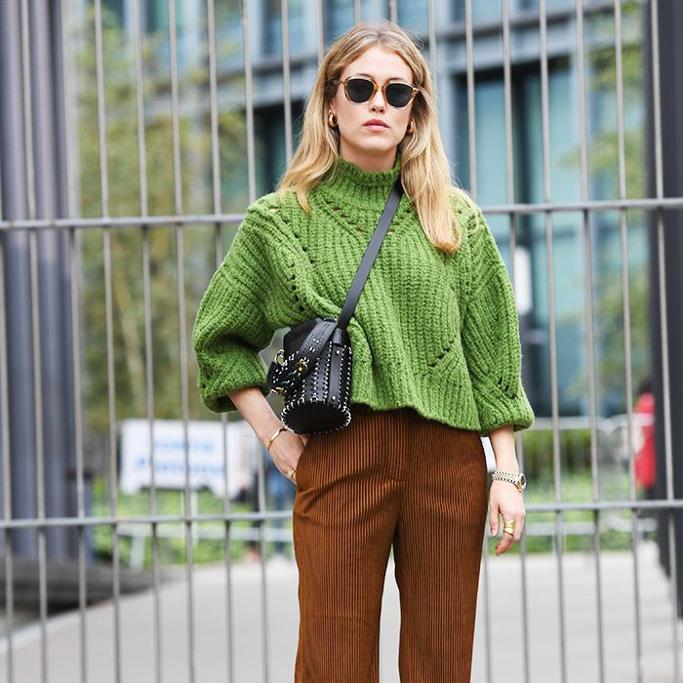 Don Freeman's 1968 bestselling book was probably our first introduction to the word 'corduroy.' The adorable story of a bear trying to find the right button for his overalls is practically ingrained in our cultural DNA.
Consequently, the fabric itself has a nostalgic connotation. Velvety and soft, corduroy has a unique charming quality that no other materials seem to possess. 
In fashion, this particular material is commonly associated with vintage styles, such as academia, cottagecore, and '90s-wave. If you haven't jumped on the proverbial bandwagon yet, you're probably wondering what to wear with corduroy pants.
Don't worry—it doesn't take a high level of fashionista-ing to pull them off. Instead, it requires creativity and a bit of confidence. 
In this comprehensive style guide, I'll show you what to wear with corduroy pants using 12 outfits. I'll be sure to cover multiple topics, which may or may not include:
What to wear with corduroy pants men's
Women's corduroy pants
Brown corduroy pants outfits
Green corduroy pants outfits
What Are Corduroy Pants?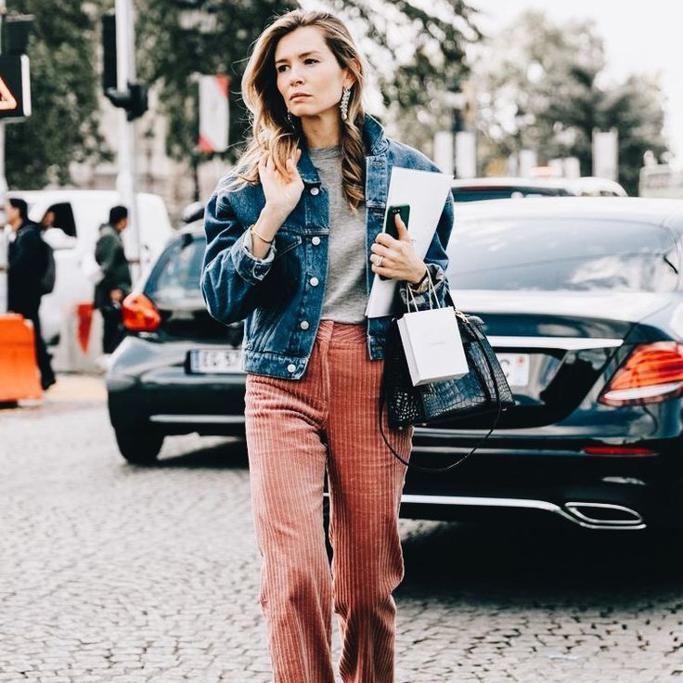 Given that 99.9% of the population wears pants, I won't insult your intelligence by explaining what they are. Instead, let's focus on the material itself. Corduroy is a thick textile typically made out of twill, cotton, polyester, and velvet. Distinct in texture, this material comes with tufted, raised cords that results in a ribbed effect.
History Of Corduroy Pants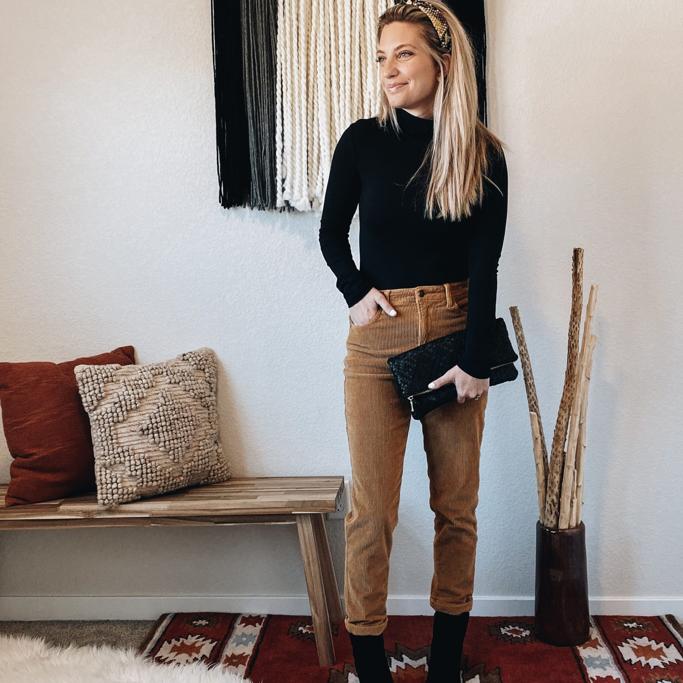 Like most fabrics, corduroy originated in ancient Egypt. In fact, the fabric itself was named after a capital located in Al-Fustat. Given the territory's troublesome history concerning the rise of Cairo, it's relatively unknown how corduroy was introduced to European and Western civilizations—other than via trading routes. 
Jumping ahead in time, this particular fabric was considered a staple within Catholicism and amongst the old-English nobility during the medieval period.
And the fabric experienced a boom during the industrial age when workers opted for corduroy pants because of their durable construction. Also, they were worn by the military during WWII. Over the years, this iconic garment has loosened its affiliation with its regal past. Nowadays, it's commonly linked to the working class.
When To Wear Corduroy Pants 
Most affiliate corduroy with casual wear. Formal events typically call for more extravagant fabrics such as cotton, silk, twill, and herringbone.
This particular material is commonly associated with street fashion and with garments such as high-waisted pants, overalls, jumpsuits, and jackets. 
Corduroy is relatively thick in construction, which is why it's highly sought after during the cold season. Durable and resilient under stress, it can provide a decent level of insulation against biting winds.
Corduroy clothing is considered a staple in winter and autumn fashion. Plus, it's typically paired with other matching garments, such as graphic tees and cardigans. 
12 Outfit Ideas With Corduroy Pants
Corduroy suits have a sense of charm that regular tuxes will never possess. It's probably due to their velvety-ribbed texture, which is slightly reminiscent of vintage fashion. The washed-out hue of this matching set has a beautiful, antique glow. 
Tailored at the top and oversized at the bottom, this two-in-one combo strikes the perfect balance between modern contemporary and '70s glam.
For the rest of the outfit, this 'what to wear with corduroy pants' contender is best complemented with heeled booties and a band tee.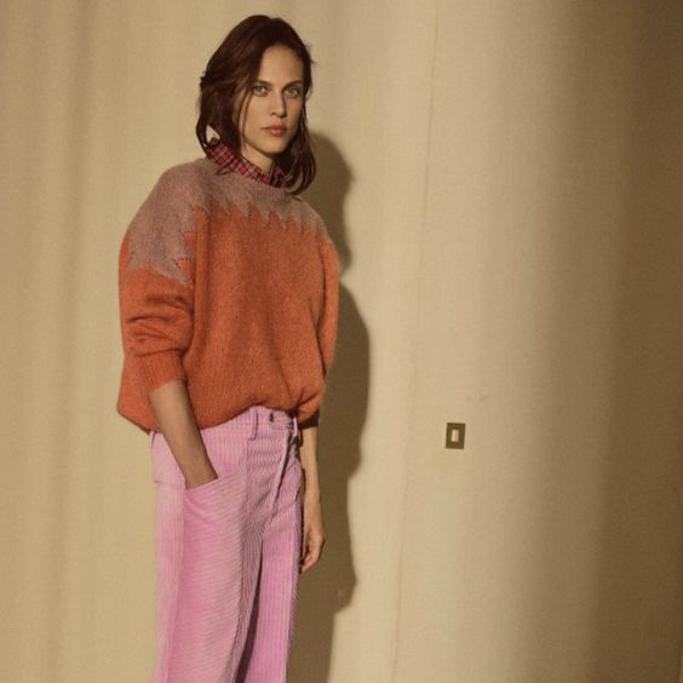 Abstract funk is one way to describe this outfit. Composed of an orange sweater, a red plaid button-up shirt, pink corduroy pants, and a pair of pointed-toe booties, the mesmerizing mix of colors is probably enough to stop traffic. 
The silhouette itself is relatively simple, as it features the classic 'boxy on top, straight at the bottom' body shape. If anything, this 'what to wear with corduroy pants' contender is considered a softer version of all–out maximalism.
Compared to other fabrics, corduroy has a very distinct texture. While most prefer the matching suit approach, I encourage you to experiment with other unique materials. 
Sheer, embellished blouses work very well with this textile, as they provide a light, airy feel to an otherwise stark-looking fabric.
Plus, the polka-dot blouse and the beige bottoms emit a romantic vibe, which is ideal for first dates. Instead of wearing heels, I suggest donning a pair of platform Doc Martens for a hint of edginess.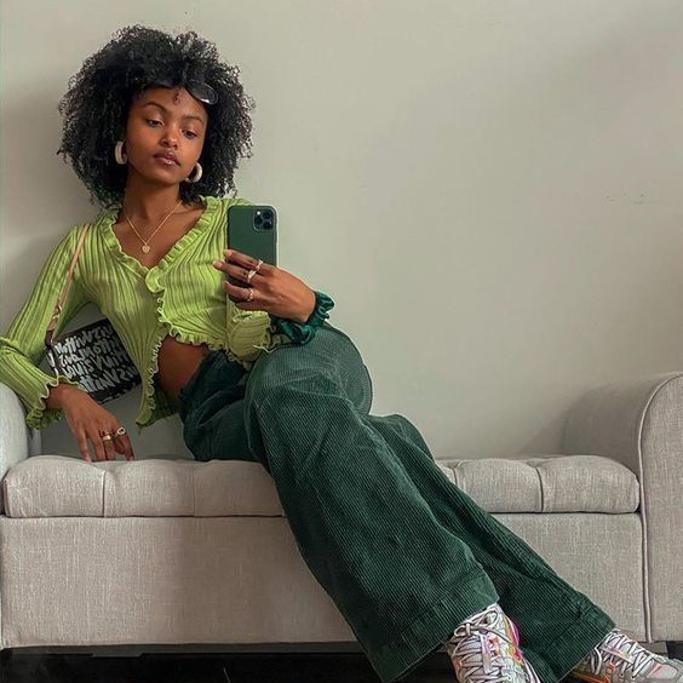 Beige and black are usually the go-to hues for corduroy pants. Green, on the other hand, is considered a wild card. If you intend on dominating the streets, this bold OOTD makes use of dark emeralds and bright lime. 
Slightly emblematic of Y2K fashion, this outfit is considered an amalgamation between early 2000s finesse and city librarian. I'll admit that the dad-core running shoes are a bit much—which is why I recommend swapping them out for chunky black loafers instead.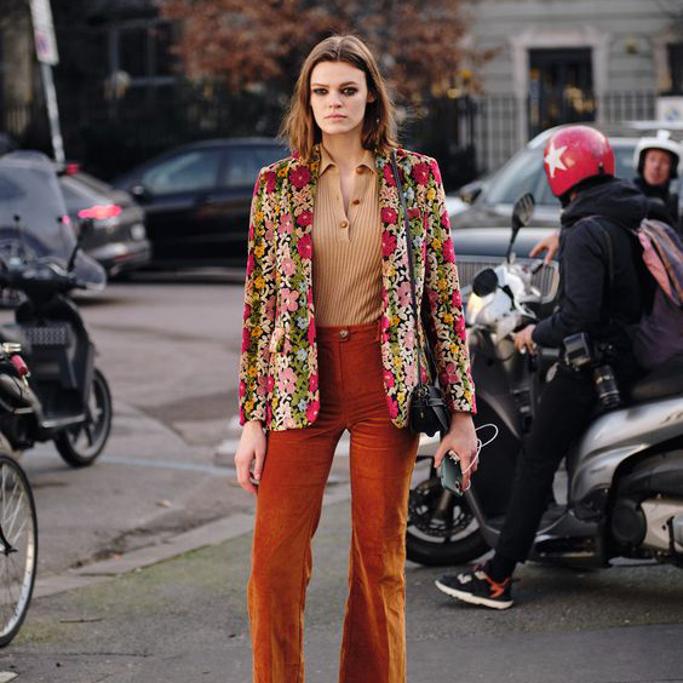 Hippie-inspired, this 'what to wear with corduroy pants' contender is definitely a throwback to the 1970s. It features a knitted beige top, a flower power blazer, a pair of rust-colored bottoms, and some black-heeled booties to finish the look off. 
Bold in design, it's the kind of outfit you'd associate with Jefferson Airplane, The Who, and other psychedelic rock bands. If you really want to exude those counterculture vibes, a pair of rounded sunglasses are a must.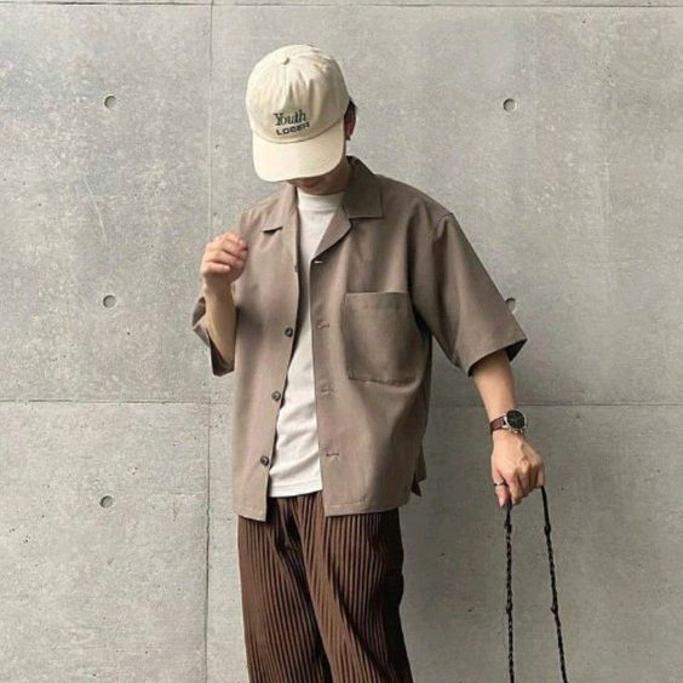 Take this as a sign to retire your joggers—at least, for now. Corduroy pants can act as a more fashionable substitute, as they offer the illusion of a put–together outfit. Their ribbed texture coupled with their durable structure is slightly emblematic of officewear. 
The rest of the OOTD can include a simple white crewneck, a beige button-down top, and a baseball cap. And since this ensemble is relatively casual, a pair of chunky sneakers can help complete the final look.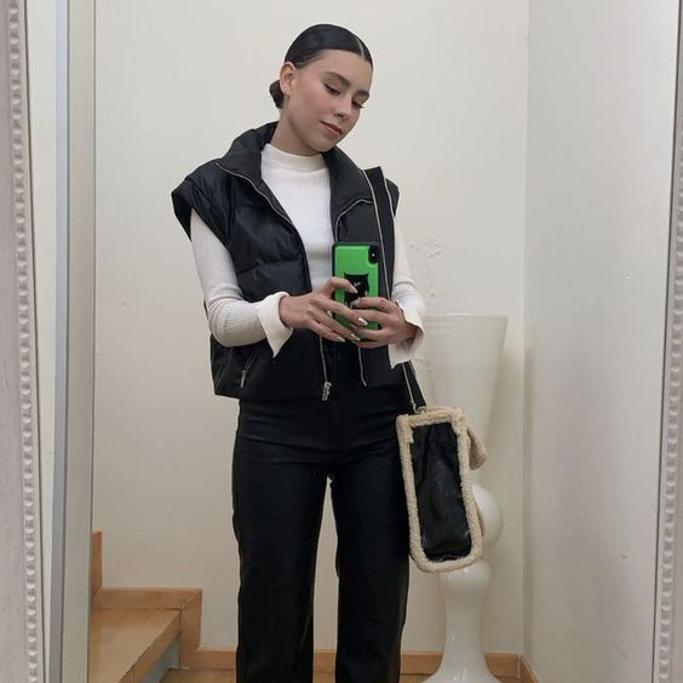 Black corduroy is typically paired with a contrasting top. This outfit is considered the perfect example, as it features a pair of dark-wash pants and a white turtleneck. The puffer vest helps to marry the two garments together, as, without it, the OOTD may look incomplete. 
The chunky boots and the Marc Jacobs tote bag are also a nice touch, as they provide a more interesting silhouette as opposed to a straight rectangle. If you're wondering how to wear black corduroy pants, this is the ensemble to copy.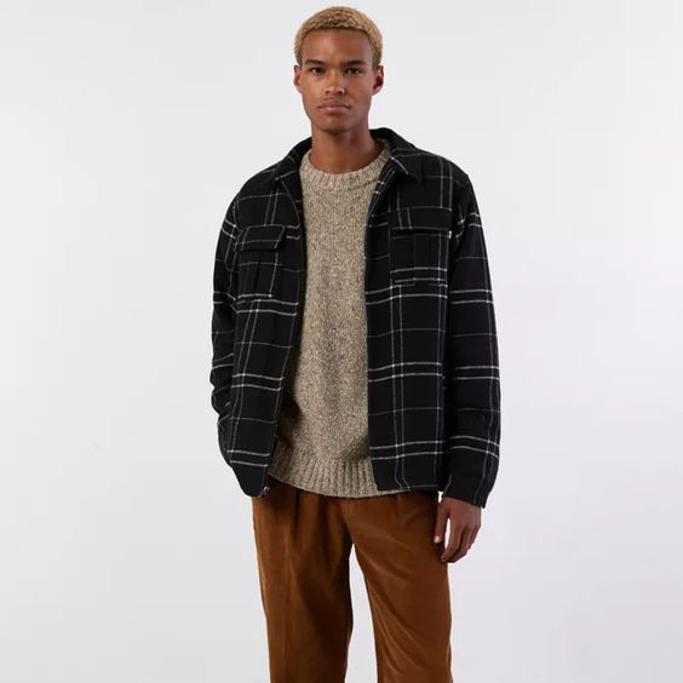 In need of some more men's corduroy pants outfit ideas? If so, I've got you covered. This city–chic look is comprised of brown trousers, a tweed-like cable knit sweater, and a black and white flannel jacket to help tie the look together. 
Complemented with original Chuck Taylors, it's considered the perfect example of 'business casual'—that is if you work in the entertainment industry. If you're prepping for winter, I suggest layering up with a puffer jacket for warmth and added dimension.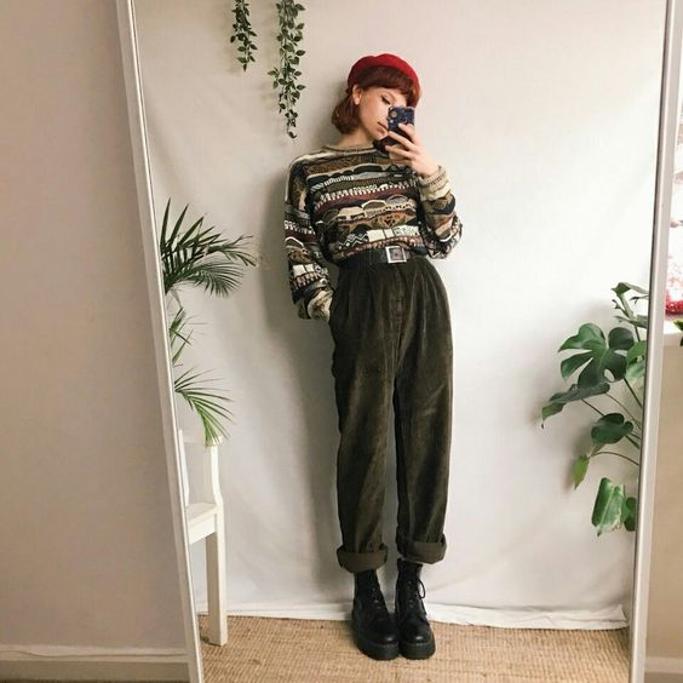 Corduroy pants are considered a staple in several aesthetics. Art core, vintage fashion, and dark academia are three of many dress senses that commonly feature this specific garment. 
If you want to channel some 'main character' energy, I suggest giving this outfit a go.
Composed of dark green trousers, a knitted sweater, a red beret, and a pair of platform Doc Martens, it's the kind of look you'd associate with animation students and Seattle hipsters.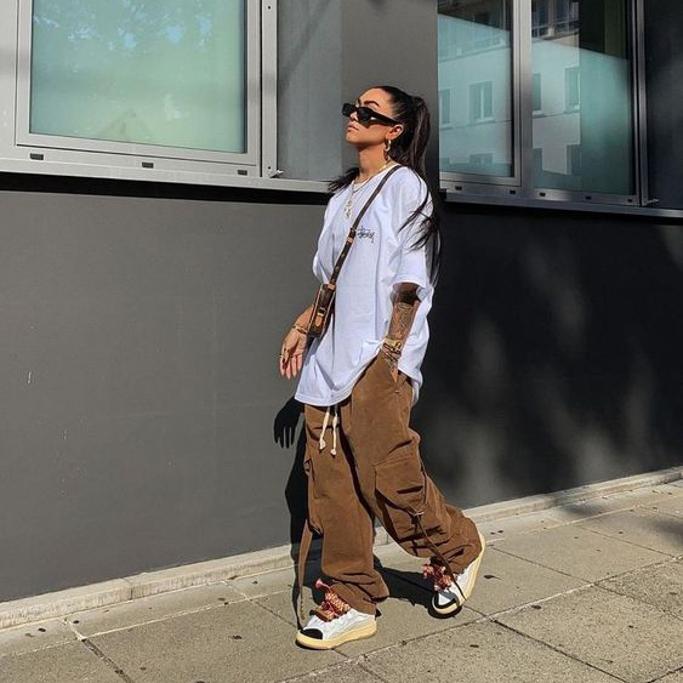 Ever heard of corduroy cargo pants? Me neither, but apparently, they're a thing. Given the rise of Y2K fashion in recent years, I'm honestly not surprised. If you vibe with the early 2000s, this MTV-inspired look is definitely right up your alley. 
Featuring an oversized white tee, bulky brown trousers, sneakers, and a crossbody bag, it's certainly reminiscent of the hip hop/crunk phase of the era. Don't forget to top this 'what to wear with corduroy pants' contender off with a pair of sunglasses.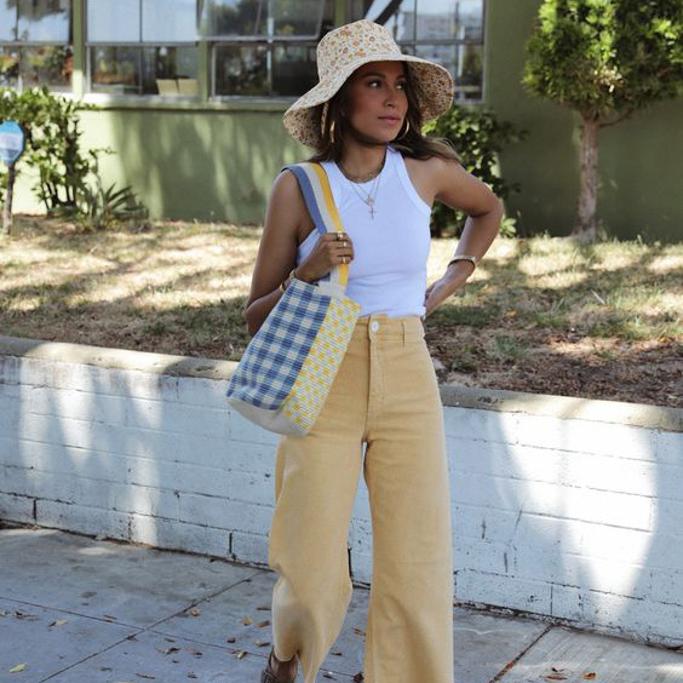 Ideal for the summertime, this is the 'what to wear with corduroy pants' option if you're prepping for the warm season. 
Composed of a white tank top, yellow trousers, a gingham tote bag, and an adorable floppy hat, it provides a decent amount of coverage in case of chilly weather.
While it's easy to opt for sneakers, a pair of brown Birkenstocks can help emit that late spring vibe you're looking for.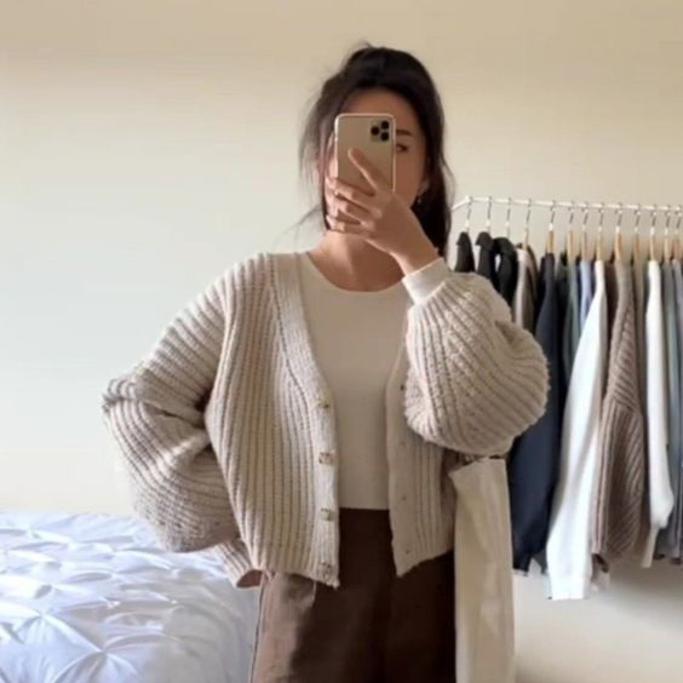 This wouldn't be a complete 'what to wear with corduroy pants' style guide if I excluded the iconic cardigan. Considered a staple for fall, the plush texture of comfy cable knits pairs intrinsically well with corduroy. 
The rest of the outfit features a simple white tee, sneakers, and a cute tote bag as the final cherry on top. In my opinion, it's slightly reminiscent of light academia, considering the garments and the neutral tones. 
What Type Of Corduroy Pants Outfits Can You Get?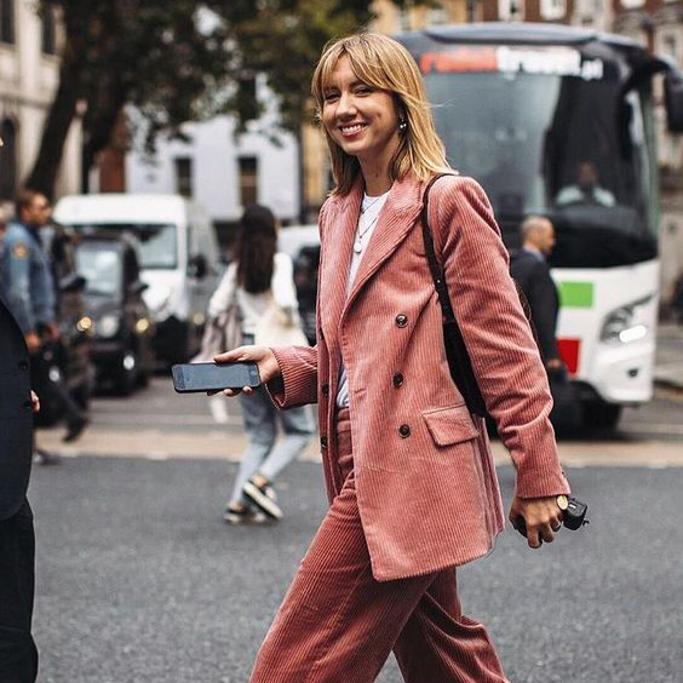 Corduroy has yet to receive its glow-up, but I've witnessed a fair amount of TikTokers, and Instagram influencers try to revive this particular garment.
And from the outfits I've featured, you can get especially creative when it comes to styling these trousers. Oversized sweaters, loafers, and cardigans are just a few items that pair well with corduroy pants. 
For those in need of additional styling tips, here are some trendy corduroy pants outfits worth considering.
The academia look: This particular aesthetic typically revolves around earthy tones and neutral hues. Given that most corduroy pants come in black, beige, and cream, I highly recommend trying out this fashion trend for yourself.
Classic streetwear: Those wondering what to wear with corduroy pants might prefer urban fashion. Graphic tees, crop tops, sneakers, and baseball caps go well with these specific pants.
The matching set: Head-to-toe corduroy is a bold look to pull off. That said, it does have a quaint, nostalgic feel that you can't get with an ordinary tux.
The color-blocked look: This unique outfit borrows heavily from maximalism. Bright colors, interesting textures, and wild patterns are welcome here.
Blouses: Sheer tops and dramatic poofy sleeves blend well with corduroy pants.
The autumn look: This category mainly includes cardigans, sweaters, boots, and other garments that remind you of fall.
How To Choose The Best Corduroy Pants Outfits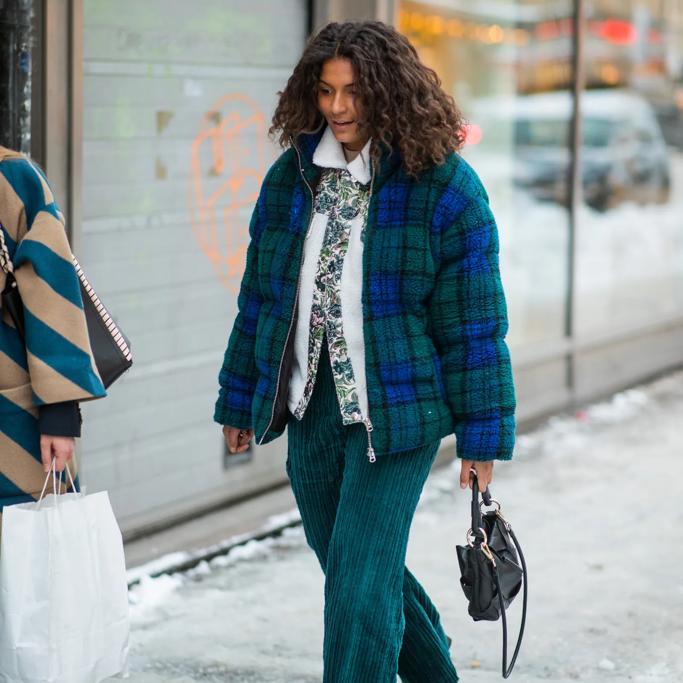 You can find a pair of corduroy pants on AliExpress for an astounding $20. Despite their affordability, I can't really trust their construction.
Fast fashion brands have a knack for skimping on quality control. That said, I'm not avidly endorsing the designer route. Customers can easily find reasonably priced garments on the market if they look hard enough. 
Finding the perfect pair of corduroy pants requires some forethought. Responsible shoppers will typically consider four things when buying new clothes: material quality, practicality, design, and price.
Corduroy, in itself, is known to be quite durable. With that in mind, you shouldn't be worried about rips and holes.
Instead, customers should look out for clean hems, intricate stitching, and integrated features such as pockets and belt loops.
Practicality and design go hand in hand. Ultimately, trendsetters should settle for a pair of pants that are functional, comfortable, and align with their current aesthetic.
I suggest opting for neutral colors such as black, cream, and beige. Brighter hues and embellished fabric are relatively difficult to style, but again, it all depends on your taste in fashion. 
Price-wise, a good pair of corduroy pants can retail for $60 to $200, depending on the design and the brand. And, as I've stated in several Soxy articles, it's always a good idea to set a limited budget to prevent overspending. 
How To Style Corduroy Pants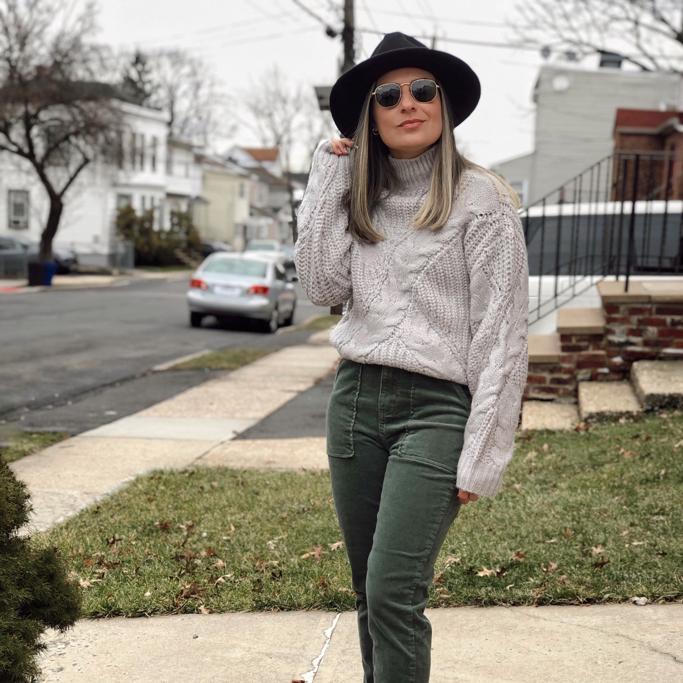 Don't worry—you don't have to search far and wide like Corduroy the bear to create the perfect outfit. Corduroy pants are relatively easy to style, as they only require a decent level of creativity and innovation to pull off.
That said, I totally understand if you've hit an artistic block—it happens to the best of us. So, I'll share some fashion tips for those who are still wondering what to wear with corduroy pants.
A well-insulated coat: Leather, sherpa, black denim, and even corduroy work well with these types of pants. They help add some texture to the final look.
Chunky footwear: Boots, loafers, and sneakers are usually the go-to shoe for corduroy pants women wear. Most trendsetters opt for exaggerated shapes for added dimension.
Leather purses and tote bags: Simple carry-ons can work wonders by complementing your corduroy look. If anything, they add a bookish sort of vibe to your outfit.
Graphic tees: Corduroy pants often have a vintage feel. As a result, pairing them with an old-school graphic tee can help elevate your final look.
Dainty jewelry: Simple necklaces and stacked rings can add a hint of glam to any outfit. Corduroy ensembles are no exception.
Fashion Tips To Avoid With Corduroy Pants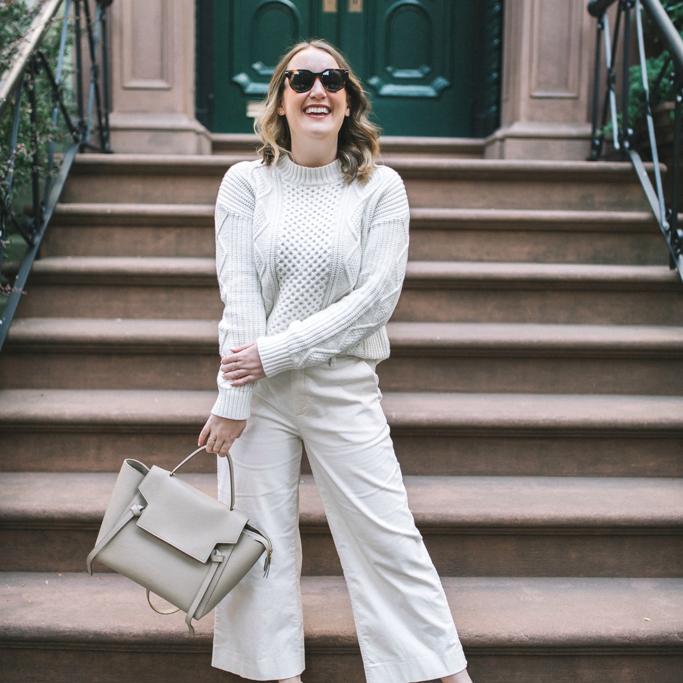 There's a reason why we label certain fashion trends as outdated fads. Some garments don't emit that essential timeless vibe. Plus, overwear is partially responsible for killing certain trends.
When it comes to corduroy pants, I think it's safe to say that the fashion world is a bit divided. Some love the look, while others can't understand the mania behind it. 
If you intend on wearing your coveted pair forever, I'll discuss some fashion tips to avoid with corduroy pants outfits.
Open-toed heels: This specific style of footwear is usually worn with dresses, skirts, and other flirty numbers. Corduroy pants are best worn with sneakers, boots, and loafers. 
Crocs and sandals: Corduroy pants are intrinsic to fall and winter fashion. With that in mind, it seems bizarre to pair them with summer footwear. 
Bold jewelry: Heavily-studded gemstones and chunky accessories often clash with fabrics such as corduroy. 
Ill-fitting pants: To help avoid any misunderstandings, I'm not talking about baggy trousers. Instead, I'm referring to bottoms that are supposed to hug your waist but don't. 
Ripped corduroy: Distressed jeans are a thing; holey corduroy is not. If you want to achieve that worn-in look, you can always opt for washed-out hues instead. 
How To Take Care Of Corduroy Pants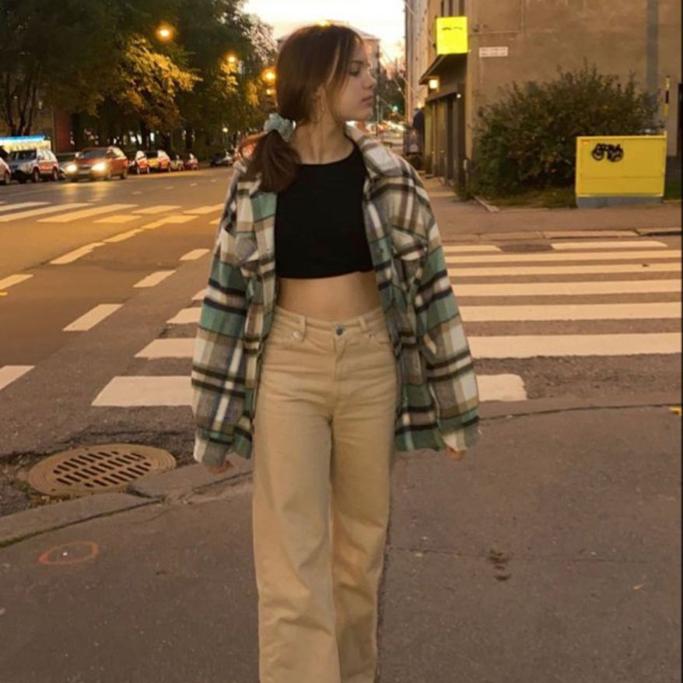 Thankfully, corduroy is one of the least fussy fabrics to maintain. It doesn't require any special attention. That said, it's obviously not a good idea to toss in bleach or piping hot water during the laundry cycle.
If your coveted pair is in need of some TLC, this 'what to wear with corduroy pants' style guide will share some tips and tricks. 
Separate your laundry pile: Trust me, you do not want your precious cream corduroy pants to turn gray.
Cold/warm water with gentle detergent: This is usually the go-to solution for several garments.
Line-dry or set your dryer to its lower setting: Excessive heat may encourage shrinking.
Iron if needed: This is to remove any unwanted bunching, wrinkles, and creases.
Best Places To Buy Corduroy Pants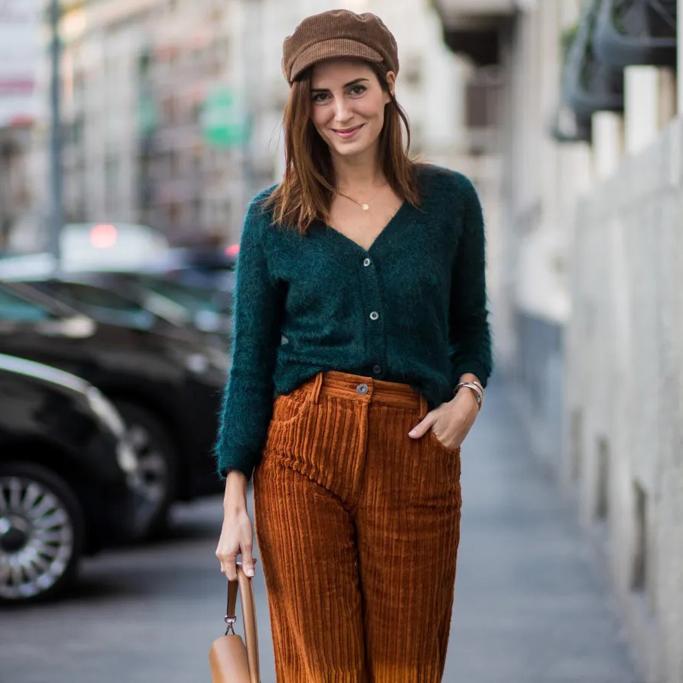 Before this 'what to wear with corduroy pants' guide comes to a close, I'd like to leave readers with some store recommendations:
Nordstrom 
Urban Outfitters 
Uniqlo
Reformation 
SSENSE
Final Thoughts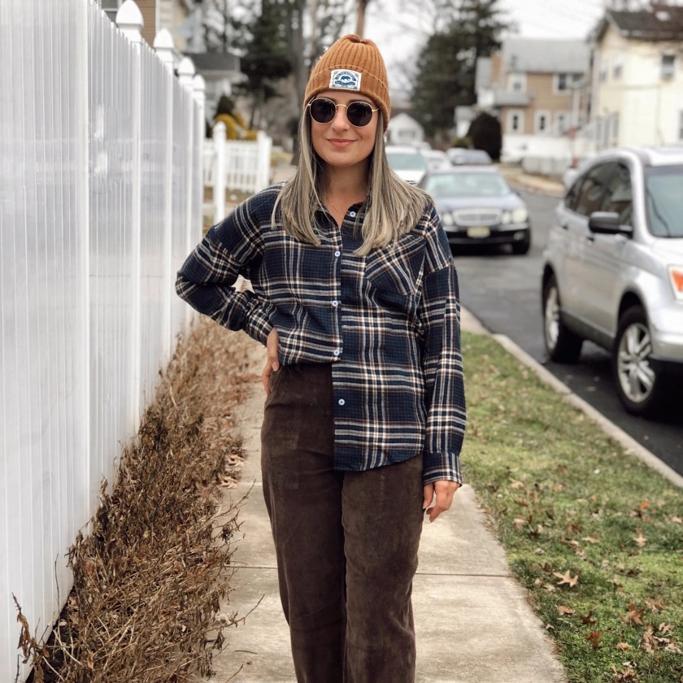 Deciding what to wear with corduroy pants should never be a frustrating process. Fashion, at the end of the day, is all about experimentation.
This is especially true for trendsetters who are trying to find their personal style. If you're skeptical about this particular garment, take this as a sign to at least try them on. Who knows? Maybe they'll become your newest go-to. 
Out of the 12 looks I've featured, here's to hoping that at least one outfit sticks out for you. If anything, I'm fairly confident that you know what to wear with corduroy pants now. 
---
Looking to up your fashion game? We've got you covered:
Get Access to Exclusive Deals
Subscribe for free to get exclusive deals in your inbox. 100% privacy