What To Wear With Grey Jeans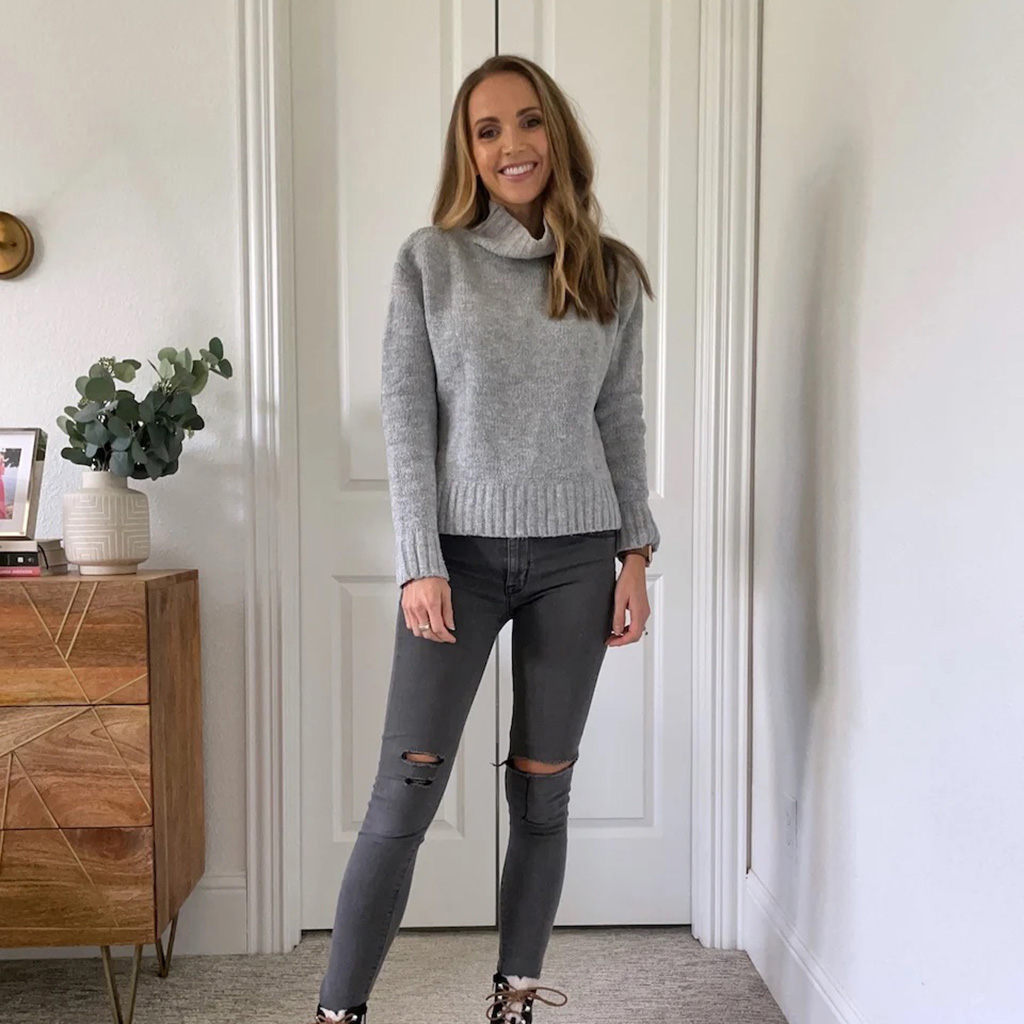 Grey jeans are a bit of a wardrobe oddity. In most cases, they're relatively free of a 'wow' factor, given their dull hue. Typically offered in a faded wash, this particular garment is often stuffed in the back of our closet in hopes of mega outfit inspiration. 
It's a sad story—especially if you bought these on a shopping whim. Before you decide to donate them to your local thrift store, I suggest holding on to your denim pair. I'll show you what to wear with grey jeans, so you can finally rock them with confidence.
Considered a wardrobe basic, grey jeans can easily blend with your existing closet. Since grey is known as a hue that's in between black and white, trendsetters can pair this garment with virtually any color.
Plus, the jean's faded design makes them perfect for streetwear, especially for those who can't commit to dark tones or white pants. 
Care for some outfit inspiration? If so, I'll show you what to wear with grey jeans using 10 outfit ideas. Hopefully, by the end of this article, you'll know:
What to wear with grey jeans men
What to wear with grey jeans female
What color shirt to wear with grey jeans
What to wear with light grey jeans male
What Are Grey Jeans?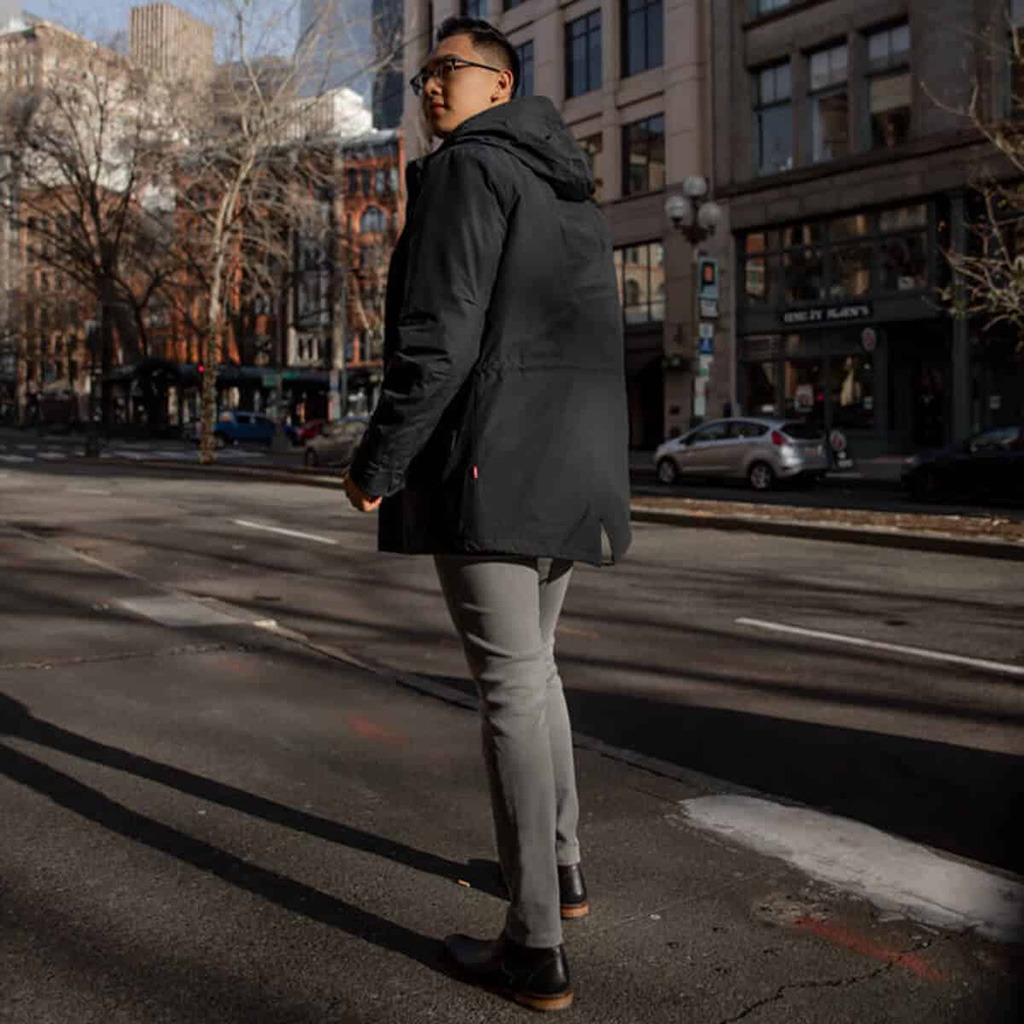 Grey jeans are pants that feature a faded black wash. They come in a variety of different silhouettes, ranging from high-rise, and low-cut, to bell bottoms.
Considered a casualwear closet staple, trendsetters usually wear grey jeans for running errands, hanging out with friends, and other mundane activities.
As previously mentioned, this particular garment is known as the perfect compromise between black and white. 
History Of Grey Jeans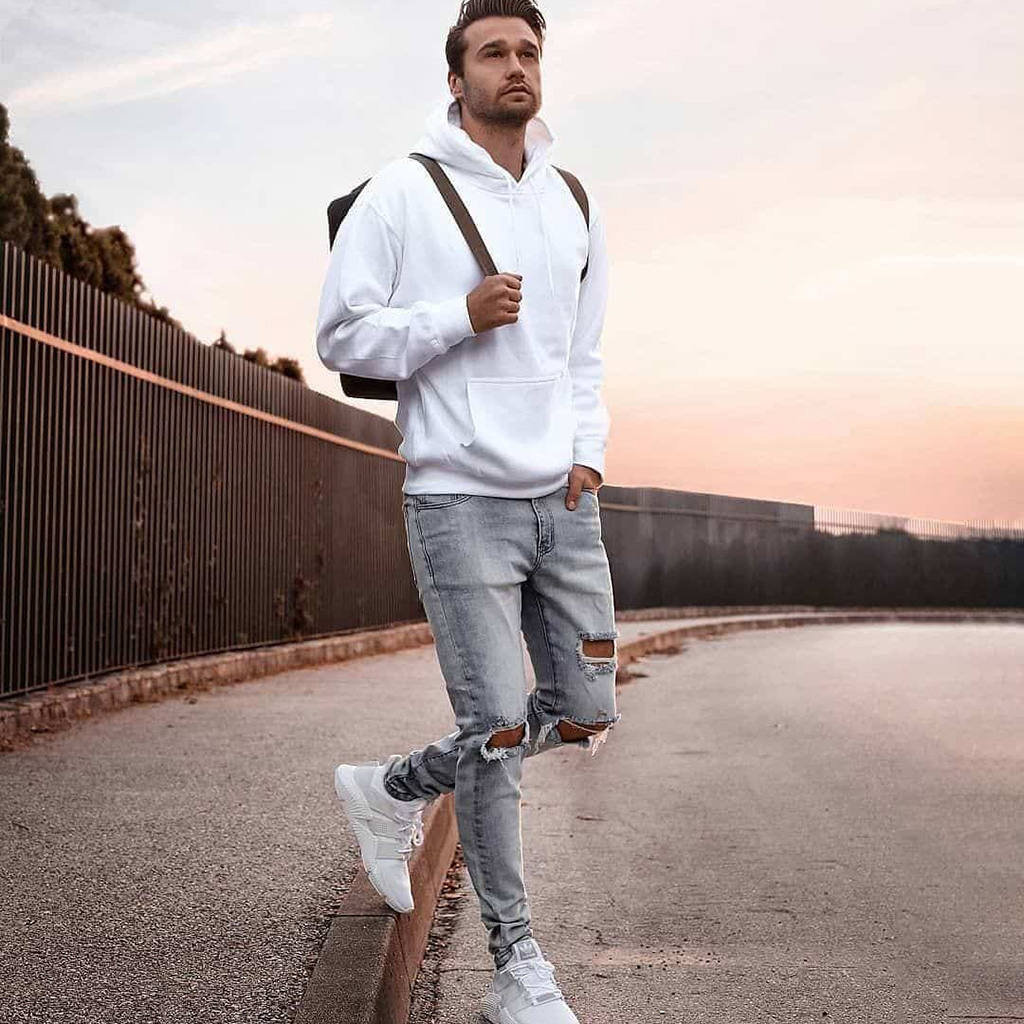 Contrary to popular belief, jeans weren't designed for the catwalk. In fact, they were solely used for functional purposes back in the mid-1800s. Tailor Jacob Davis was assigned by gold rush miners to develop pants that could withstand the turmoils of work.
Through careful engineering, he created the first-ever pair of jeans. It revolutionized the labor wear industry, which soon led to Davis' patent with acclaimed businessman Levi Strauss. 
Jeans didn't hit the red carpet until the 1920s when they became synonymous with early Spaghetti Western films. The 1950s marked a pivotal point for denim, given that multiple celebrities—such as James Dean and Marlon Brando—were all caught wearing a pair.
Over the years, this particular garment continued to peak in popularity, and with it, fashion saw multiple re–takes of the classic pair of jeans. They weren't exclusively blue anymore, as trendsetters could pick from several colors and designs, ranging from grey to pink.
When To Wear Grey Jeans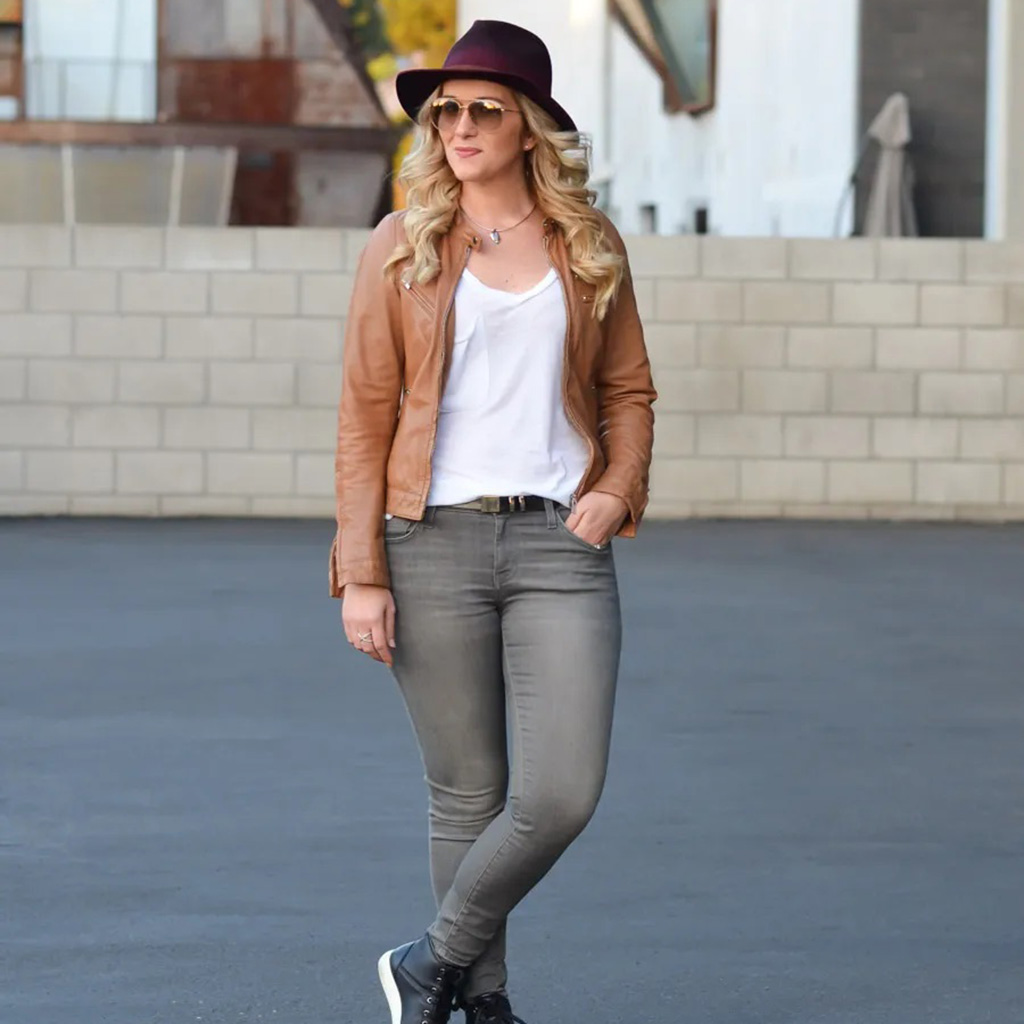 Grey jeans are strictly made for casual use. You can't wear these for formal events, such as weddings and funerals. Since they're designed to offer full coverage, this particular garment is commonly donned during cooler weather. 
Winter, autumn, and early spring are the best times to wear grey jeans. I don't recommend throwing a pair on during the summer unless you have a high sweat tolerance. 
What To Wear With Grey Jeans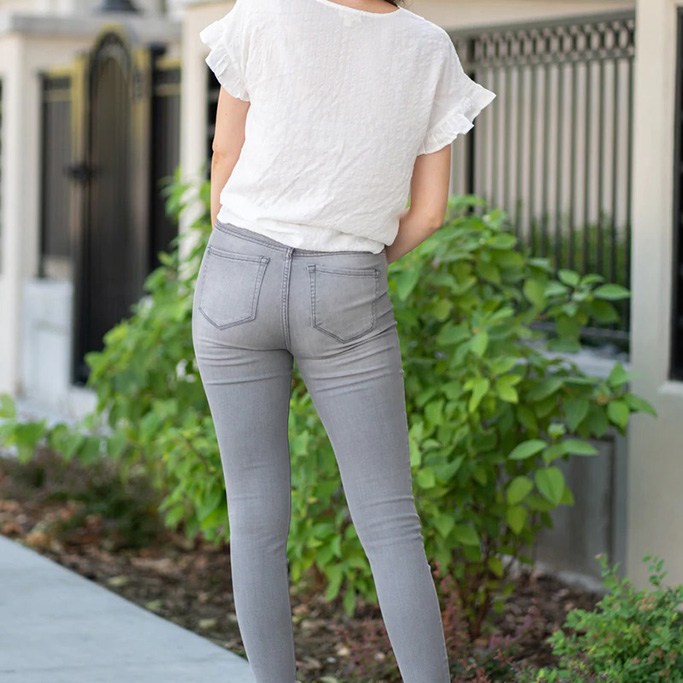 Low on outfit ideas? Fortunately, grey jeans are one the easiest garments to style. Compared to cow-print pants and patchwork bottoms, this clothing piece is generally very forgiving when it comes to OOTD coordination.
Obviously, there are a few fashion no-no's to look out for, but for now, I'll focus on some trendy ensembles to consider. 
Up next, this guide will show you what to wear with grey jeans with 10 OOTDs. I'll be sure to include outfits for every event, season, and aesthetic. 
10 Outfit Ideas With Grey Jeans
Dark grey jeans are usually paired with other neutral shades. While it's easy to throw on a black tee and a matching jacket, I recommend adding a pop of color to help brighten things up.
Take, for instance, this stylish OOTD, which features a pair of grey jeans, a red sweater, and some rouge slip-on shoes. 
Accentuated with a white collared shirt, this look borders on business casual without resorting to stiff blazers and pencil skirts.
This 'what to wear with grey jeans' guide heavily recommends finishing the outfit off with a cute crossbody bag.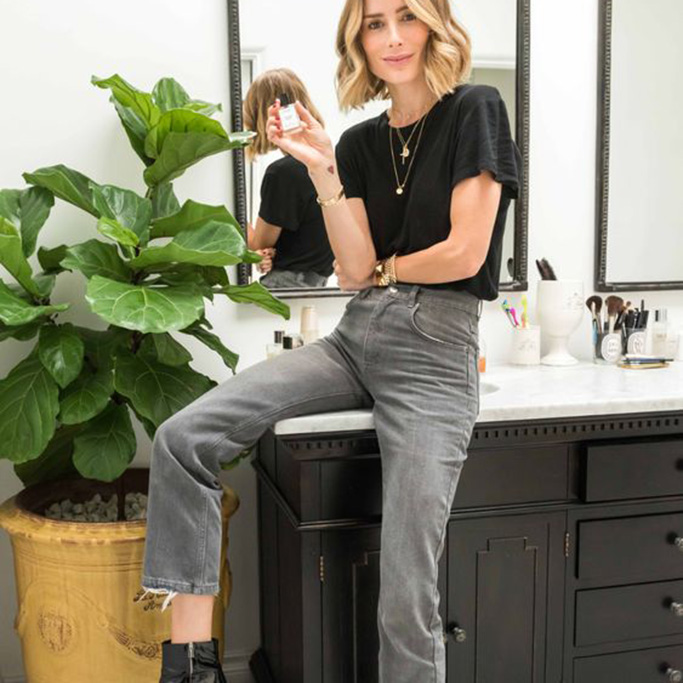 It's comfy, chic, and oh-so-casual. Perfect for Tuesdays, this ensemble keeps things simple and fresh for everyday wear. It features a pair of grey jeans women's, a simple black tee, and leather boots. 
Uncomplicated in aesthetic, this outfit can easily fall in your backup roster of 'outfits to wear when I don't care' category.
Since this OOTD is quite plain in color, this 'what to wear with grey jeans' guide recommends wearing some jewelry for extra bling.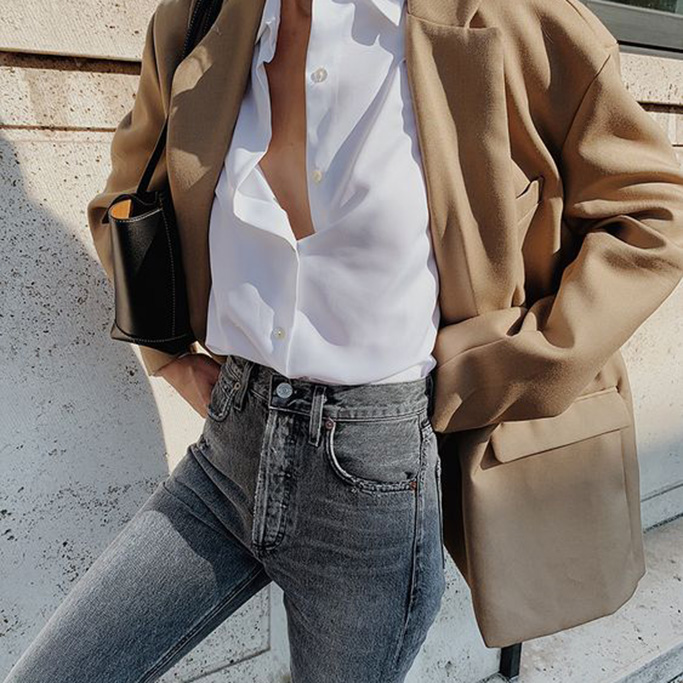 There's more to life than just the simple graphic T-shirt. Don't get me wrong, it's still considered a major closet staple, but its grunge-esque aesthetic leaves something to be desired.
If you're in the mood for something romantic, I'd suggest this neutral outfit. 
Composed of grey jeans, a white button-up shirt, and a beige trench coat, this is the perfect ensemble to don for casual coffee dates and brunches.
For the pants, I'd recommend opting for a cigarette cut to help elongate your legs. 
For those wondering what matches with grey, black is typically the go–to shade. If you're looking for something quick, simple, and easy, you can never go wrong with a pair of distressed jeans, a white crop top, and a dark flannel for added visual interest. 
Considered a classic example of streetwear, this ensemble keeps things uncomplicated for novice trendsetters. While you're free to wear black sneakers, this 'what to wear with grey jeans' guide advises switching to white sneakers for a fresher alternative.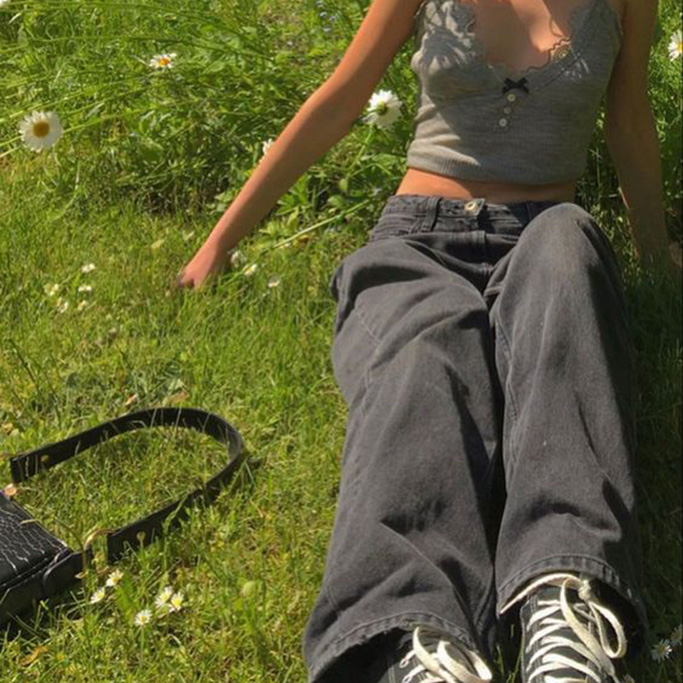 So, what colors match with grey? Given that it's a mix between black and white, I think it's safe to say that this shade can be worn with various hues, such as green. This chic outfit includes a sage tank top, baggy grey jeans, and a pair of classic Chuck Taylors. 
Accentuated with a handbag, this ensemble is considered a blend between Y2K romance and soft grunge. If it starts to get chilly, I recommend layering up with a chunky cable-knit cardigan.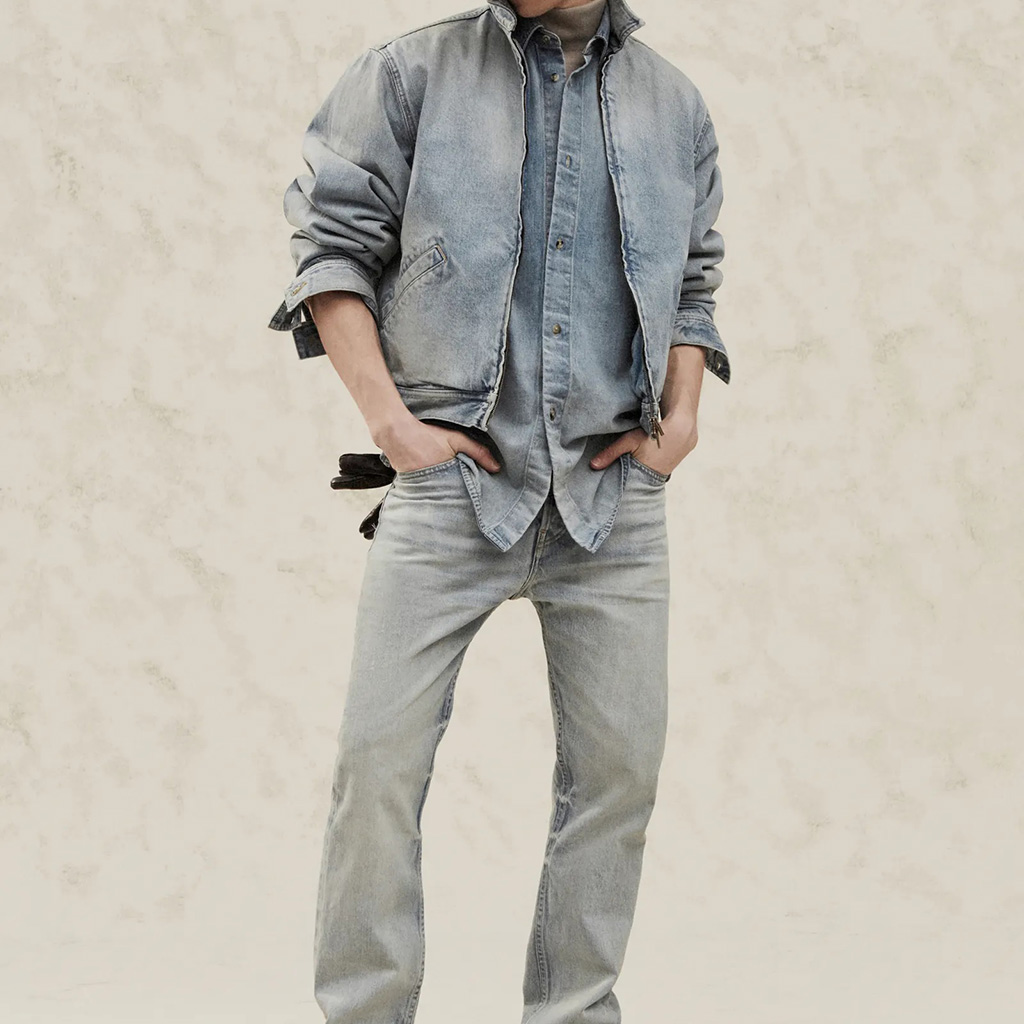 Considered a refreshing take on the classic 'Canadian tuxedo' look, this rustic outfit features a pair of light grey jeans, a faded denim jacket, and a matching button-up shirt underneath. 
The accompanying turtleneck and black leather shoes help give the ensemble more dimension.
Given its casual aesthetic, this 'what to wear with grey jeans' guide recommends wearing this outfit to laidback events, including neighborly barbeques, hangouts, and outdoor picnics.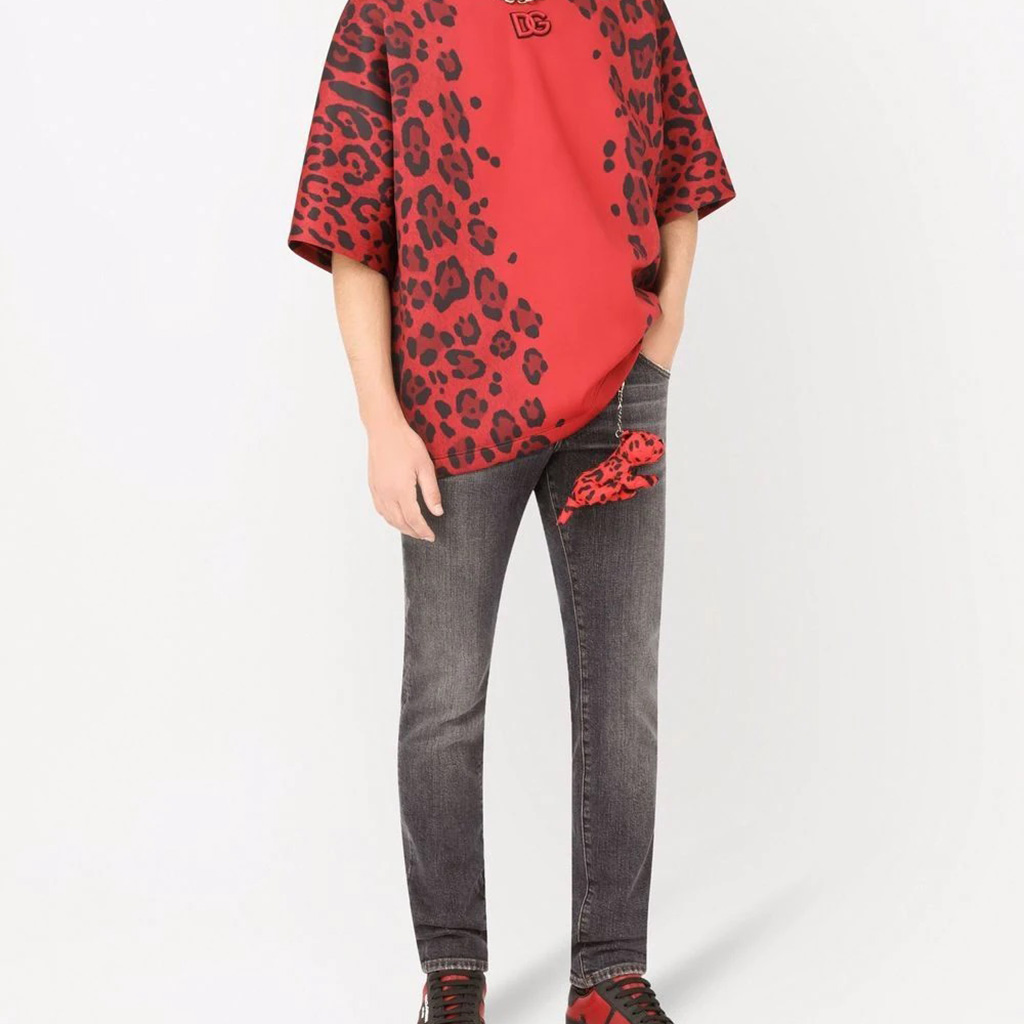 Need a simple way to style grey jeans for men? If so, why not opt for a classic designer tee? Obviously, not all of us can afford a $200 crewneck, but it's an effortless way to look fashionable without the unnecessary hassle. 
For instance, this chic ensemble features a bright red Dolce & Gabanna T-shirt paired with grey pants and some matching sneaks.
If you can justify spending $1,000 of your total savings, I highly recommend investing in this fit—especially if you're looking to dress to impress.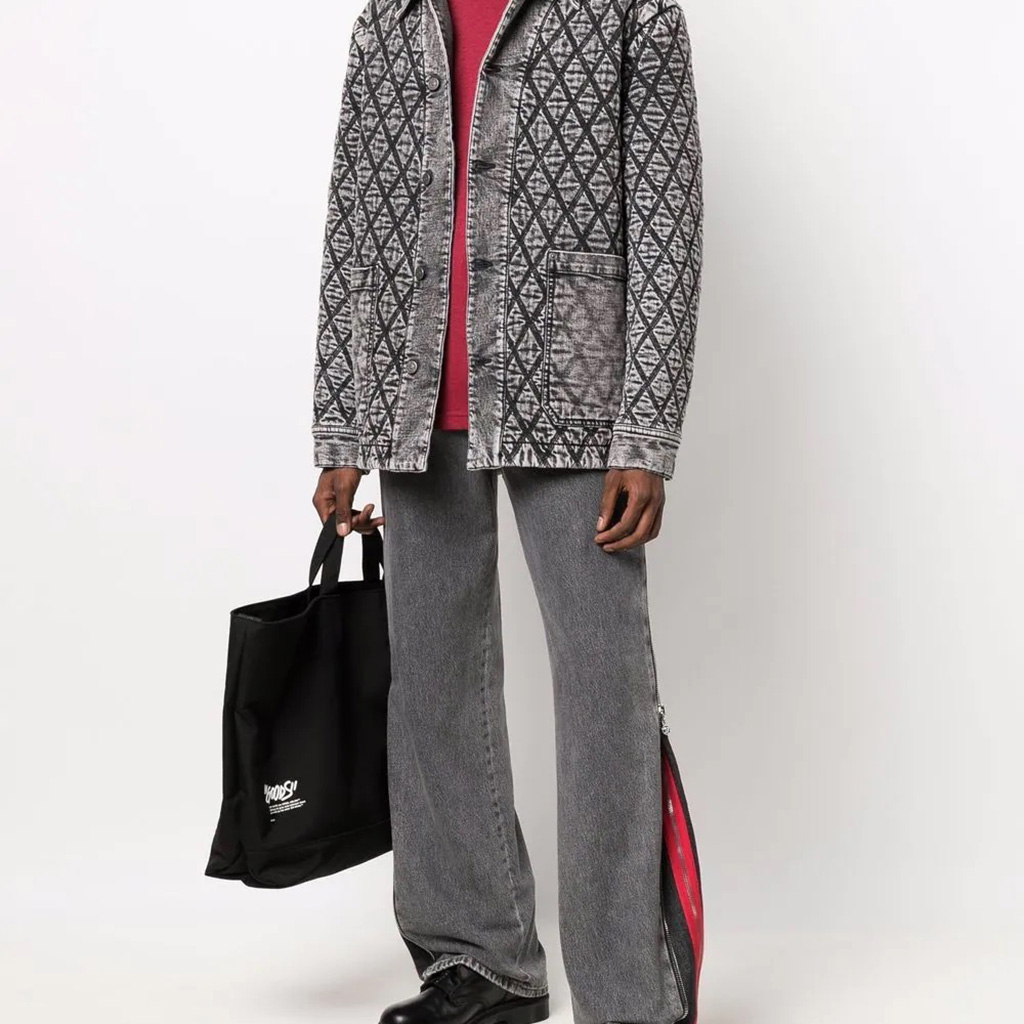 Out of the gray pants outfits I've featured so far, this ensemble is definitely the boldest out of the bunch. The hatch pattern jacket paired with the red shirt is a daring look to pull off, but it's not the main star of the show. 
Instead, the jeans hog most of the spotlight, as they feature an interesting color-blocked zip-up detail on the side. Designed to accentuate the dull tones of the OOTD, this Instagrammable fit is undoubtedly on–point with current streetwear trends.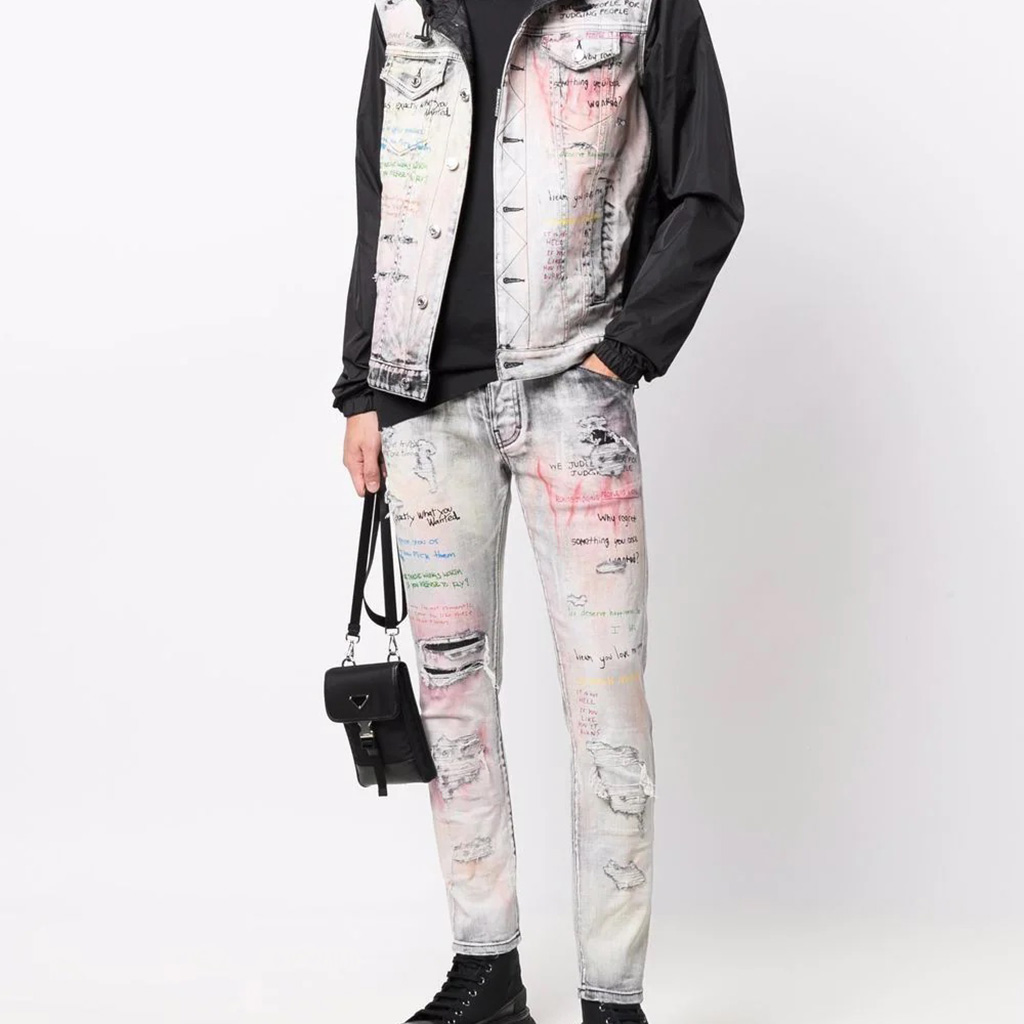 Let's be honest. Grey isn't the most exciting hue on the color wheel. Typically considered the go-to color for rainy days, there's got to be a more fun alternative out there.
Case in point, this playful ensemble features a pair of grey jeans decorated with rainbow text and faded dyes. 
The matching vest acts as a necessary piece to help soften the bold nature of the pants. The black hoodie, on the other hand, works wonders by accentuating the final look.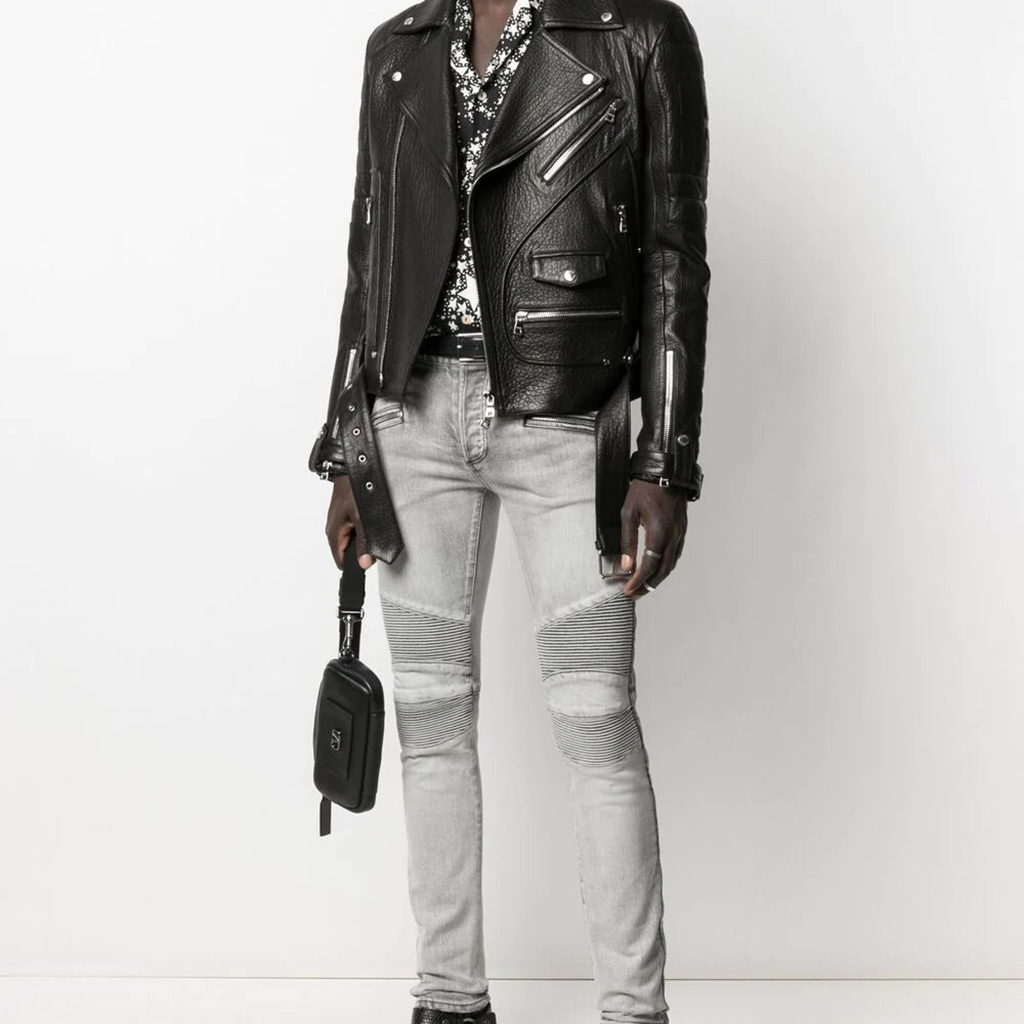 Outfitted with a black leather jacket, a printed button-up shirt, and a pair of polished ankle boots, this is what to wear with grey jeans if you want to look intimidating. To be honest, this outfit is considered a softer version of the hard-core greaser aesthetic. 
It's relatively devoid of studs and distressing, but it's still a notable option for rebellious spirits. Instead of rips and holes, the pants feature an interesting ribbed detail for added texture.
In my opinion, it acts as a great alternative for those who hate the impracticality of ripped jeans. 
What Type Of Grey Jeans Can You Get?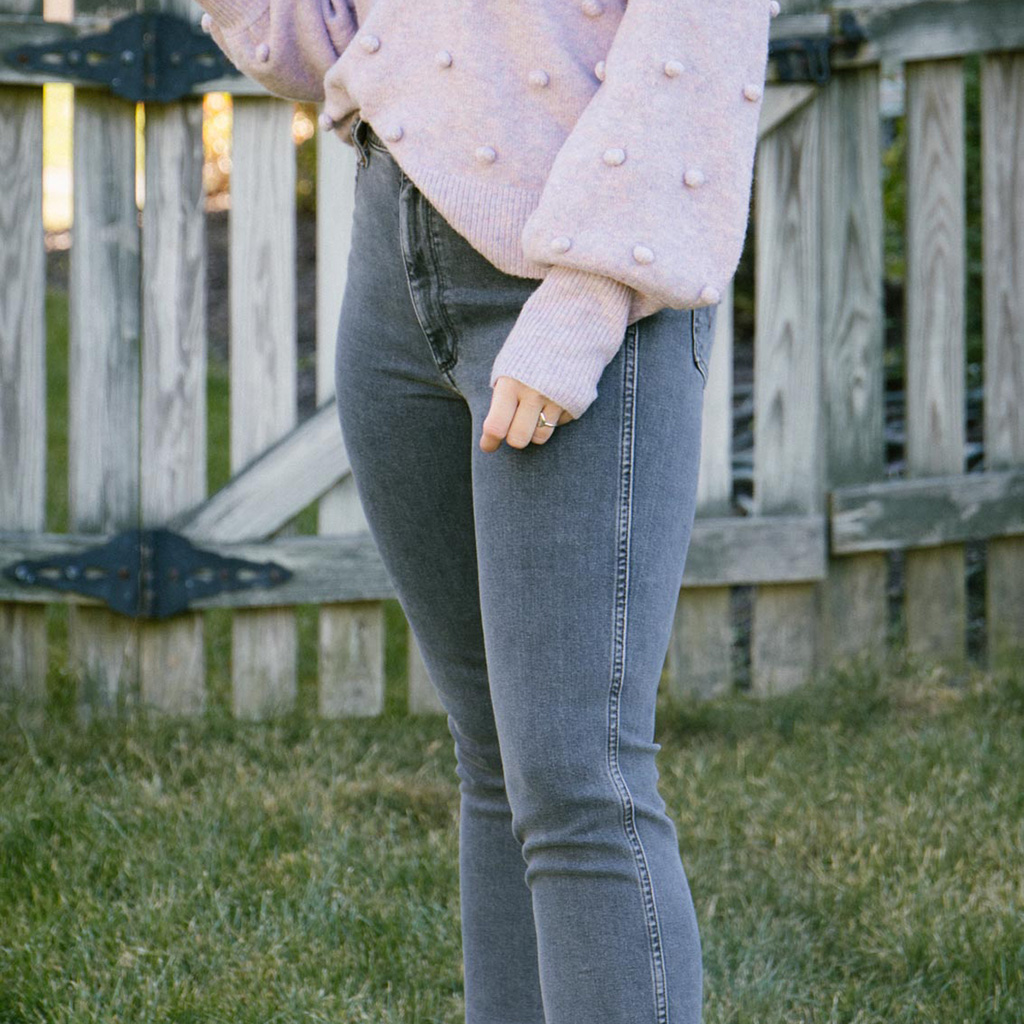 The 'what to wear with grey jeans' dilemma can easily be resolved by considering your options. Fashion is rarely simple, given the gigantic list of unique designs on the market. 
Being faced with so many options can be overwhelming for many novice dressers, which is why it's important to assess your current aesthetic. For instance, are you into grunge clothing? If not, how about minimalism? 
To help simplify the shopping process, this 'what to wear with grey jeans' guide will discuss a few notable trends that are worth considering.
The high-waisted cigarette jean: Tailored to perfection, this particular cut can help provide the illusion of a short torso and long legs. 
The fit and flare silhouette: This category includes fitted bell-bottoms and baggy jeans. It's considered a great go-to if you hate the stiff nature of skinnies. 
Distressed jeans: Looking to gain some street cred? If so, ripped denim is the easiest way to achieve that urban look. 
The faded wash: If you're not a fan of complete grey, I'd suggest opting for something 'dimmer.' Worn-out hues have that vintage look that most trendsetters are after. 
Printed denim: This includes jeans that feature color-blocking, interesting textures, graphics, or additional embellishments. 
How To Choose The Best Grey Jeans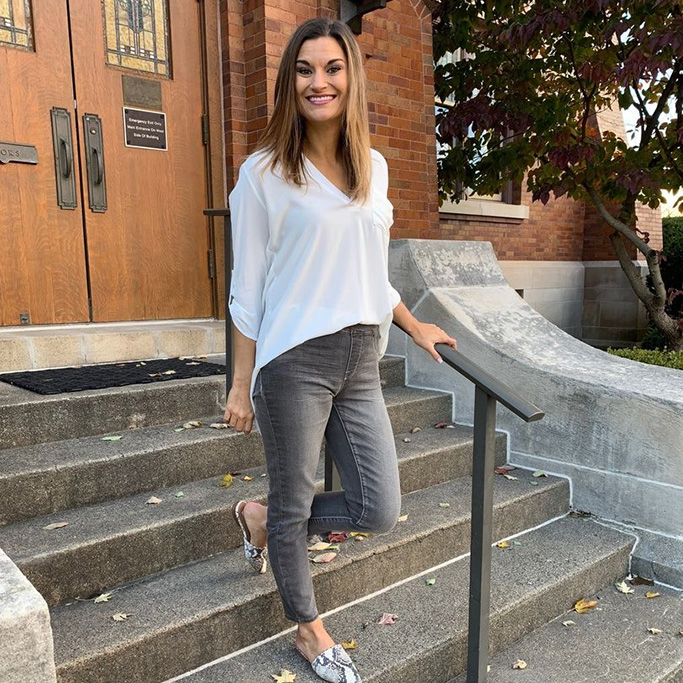 I don't know about you, but I hate shopping for jeans. It's a never-ending nightmare that requires lots of focus, consideration, and product testing.
There are thousands of different brands and designs to choose from, which makes finding the perfect pair all the more difficult. 
If this is your first time buying denim pants, I recommend evaluating your purchase based on four crucial factors: material quality, comfort, design, and price. 
A good pair of jeans should offer a 1:2 ratio of stretch and durability. This is accomplished through a specific blend of materials, as most brands typically use cotton, twill, and elastane during construction.
They should conform to your figure, offer a reasonable degree of flexibility, and should feel relatively thick in texture. 
Opting for a thin pair of pants is never a good idea since they're more prone to wrinkling. On the other hand, 100% cotton jeans are also not a recommended alternative, as they'll hinder natural movement. 
The design plays a big role in ensuring continued wearability. After all, you don't want to settle for a pair that's difficult to style. If you're not one to experiment with fashion, I'd recommend sticking to traditional silhouettes and standard washes. 
Those embellished with text, decorations, and patterns are typically difficult to style, but obviously, this may not apply to maximalist trendsetters. 
A high-quality pair of jeans is usually expensive. Reputable brands, such as Levi's and AGOLDE, take quality control seriously when it comes to construction, which is why they charge a hefty price. 
While you're free to opt for fast fashion alternatives, these jeans will usually only last for a couple of months. Price-wise, I'd recommend staying within a $200 ballpark to ensure you get a well-made pair without breaking the bank.
How To Style Grey Jeans
Most rainstorms involve a strike of lightning if you catch my drift. Due to their gloomy tone, grey jeans require additional styling in order to brighten up the outfit.
Thankfully, you don't need to be an experienced trendsetter to accessorize successfully. In fact, you can make do with select accouterments that you already own in your closet. 
Care for some recommendations? If so, this 'what to wear with grey jeans' guide will tell you how to style your coveted pants.
Black leather: This includes jackets, shoes, and bags. The gloomy shade of grey jeans pairs wonderfully with this specific material. 
Red: As you've probably already noticed, this particular color blends well with grey. I'd recommend using outfits #1 and #7 as styling inspiration. 
Converses & boots: Since grey jeans are intrinsic to alternative fashion, I don't recommend wearing strappy heels for shoes. I'd suggest sneakers and wellingtons as a better alternative. 
Oversized clothing: As previously mentioned, grey jeans are considered a streetwear essential. If you're keen on following this aesthetic, then an extra-large tee is a must. 
Silver jewelry: Grey works best with cold tones. So, I advise trading your gold necklace for a silver Cuban chain. 
Fashion Tips To Avoid With Grey Jeans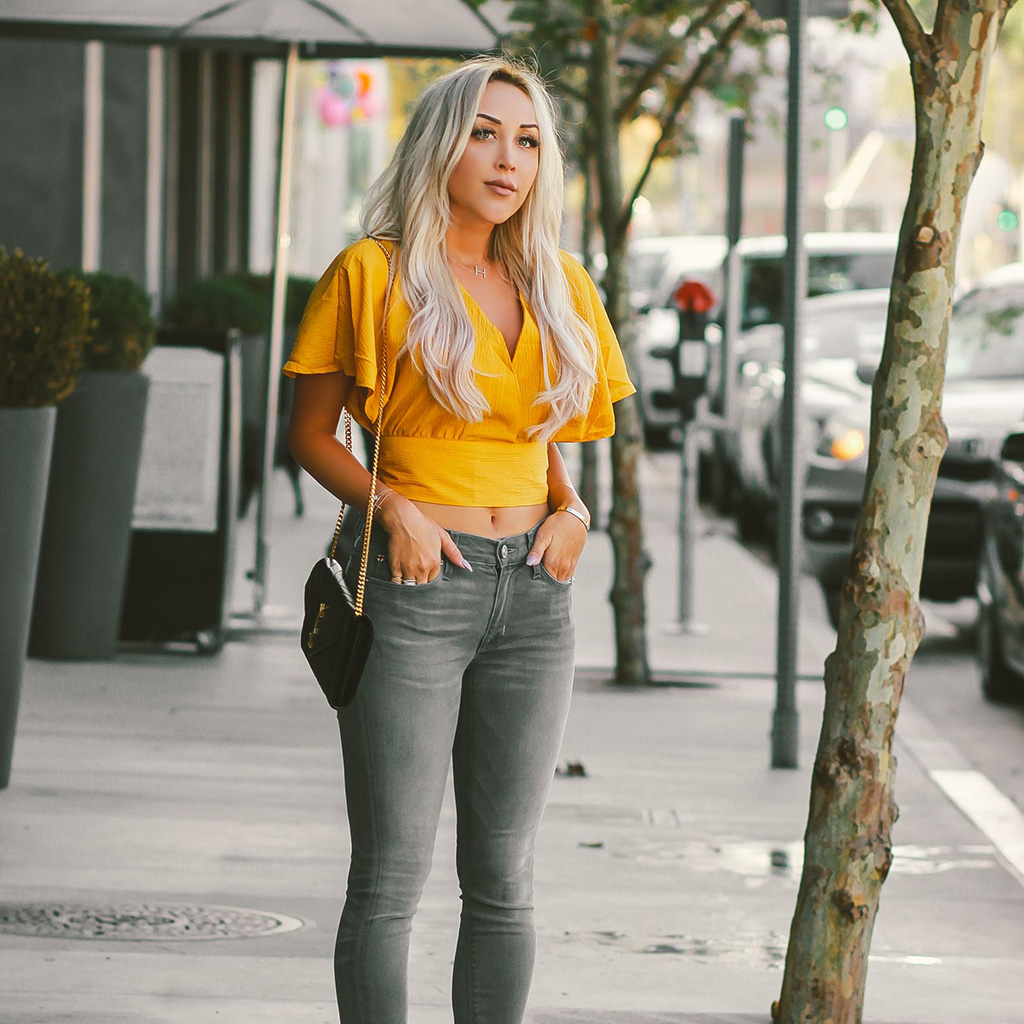 Color clashing is considered a number one risk in fashion. Other concerns entail unflattering silhouettes, busy outfits, and outdated trends. If you're keen on wearing your coveted greys today, I'll share some fashion tips to avoid to help prevent future regret. 
Super skinny jeans: It's time to say goodbye to the mid-2000s. Sure, they were great for accentuating your legs, but most of us prefer looser alternatives to ensure comfort. 
Low-waisted jeans: Considered a Y2K must-have, this particular cut provides the illusion of short legs and a longer torso. 
Jeggings: They were ugly then, and they're still ugly now. You've got to commit to either or: jeans or leggings. 
Extreme distressing: Excessive rips and holes can sully the practicality of your jeans. Plus, they'll have a short life span if you regularly wash them. 
Skinny belts: Known as another 2000s trend, I implore you to stick with traditional leather straps instead of petite skinnies. 
Neon colors: The dull nature of grey clashes with the 'party-centric' nature of neon. 
How To Take Care Of Grey Jeans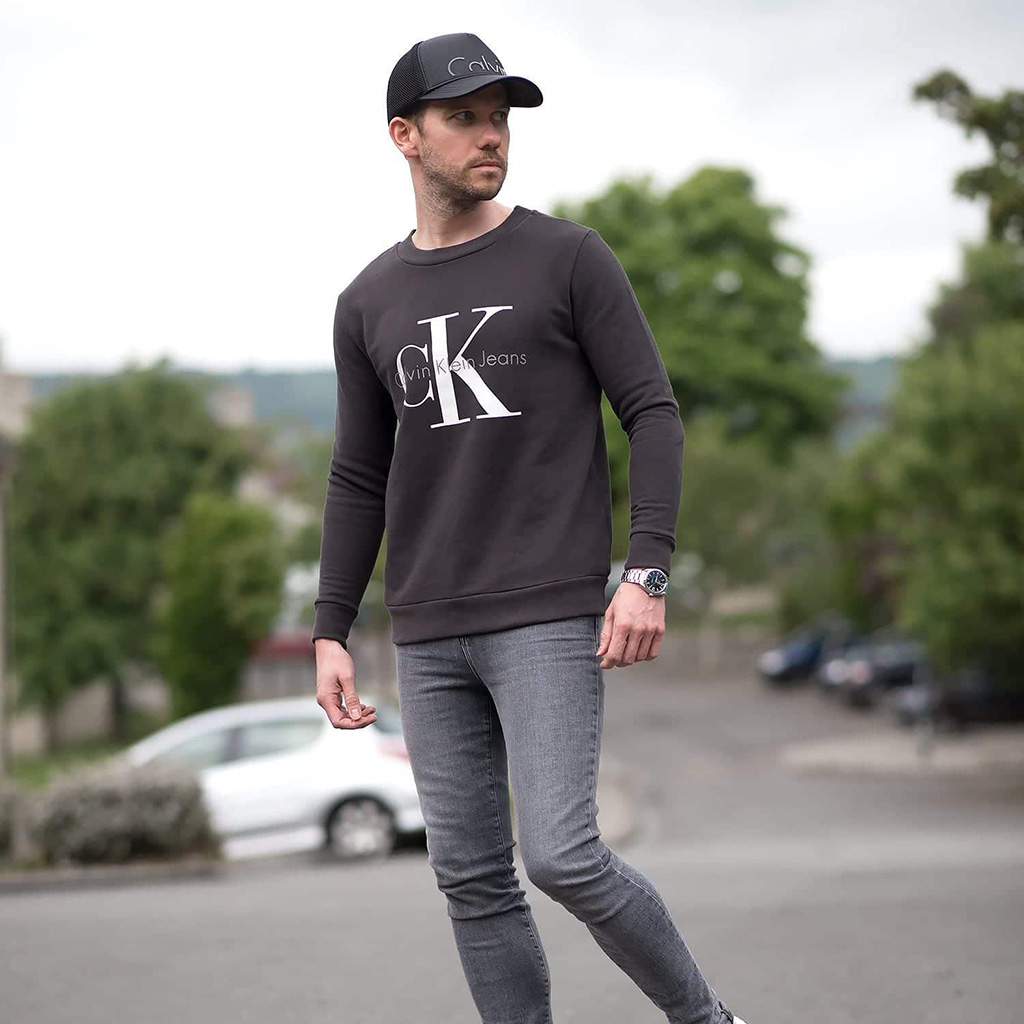 Contrary to popular belief, jeans aren't meant to be washed regularly. Doing so will ruin their silhouette and material quality. If you're in need of some cleaning tips, I'll provide a few suggestions on how to take care of them properly. 
Use the freezer method: Instead of chucking your jeans into the laundry, I recommend tossing them in the fridge to help eliminate bad odors and bacteria. 
Implement a twice-a-month laundry routine: Jeans should be washed sparingly to help maintain their structural integrity. 
Wash in cold water with gentle detergent: You should never use hot water and bleach when washing jeans. 
Air-dry: Machine-drying your jeans is a big no-no. Doing so will encourage shrinking and wrinkling. 
Best Places To Buy Grey Jeans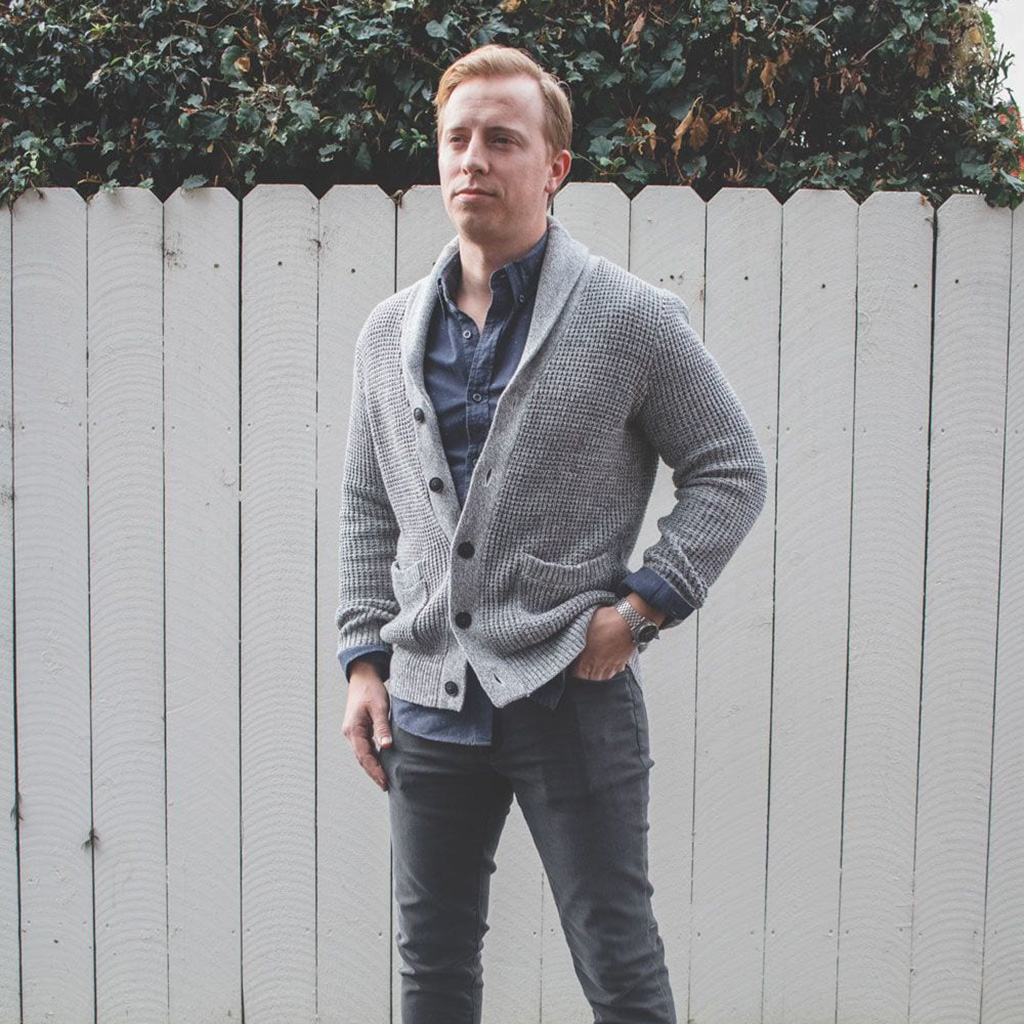 Consider yourself briefed on what to wear with grey jeans. Before this guide concludes, I'll leave you with a few store recommendations. You can rest assured that these featured shops offer only the trendiest designs. 
SSENSE 
FarFetch 
Nordstrom 
Levi's 
AGOLDE
Final Thoughts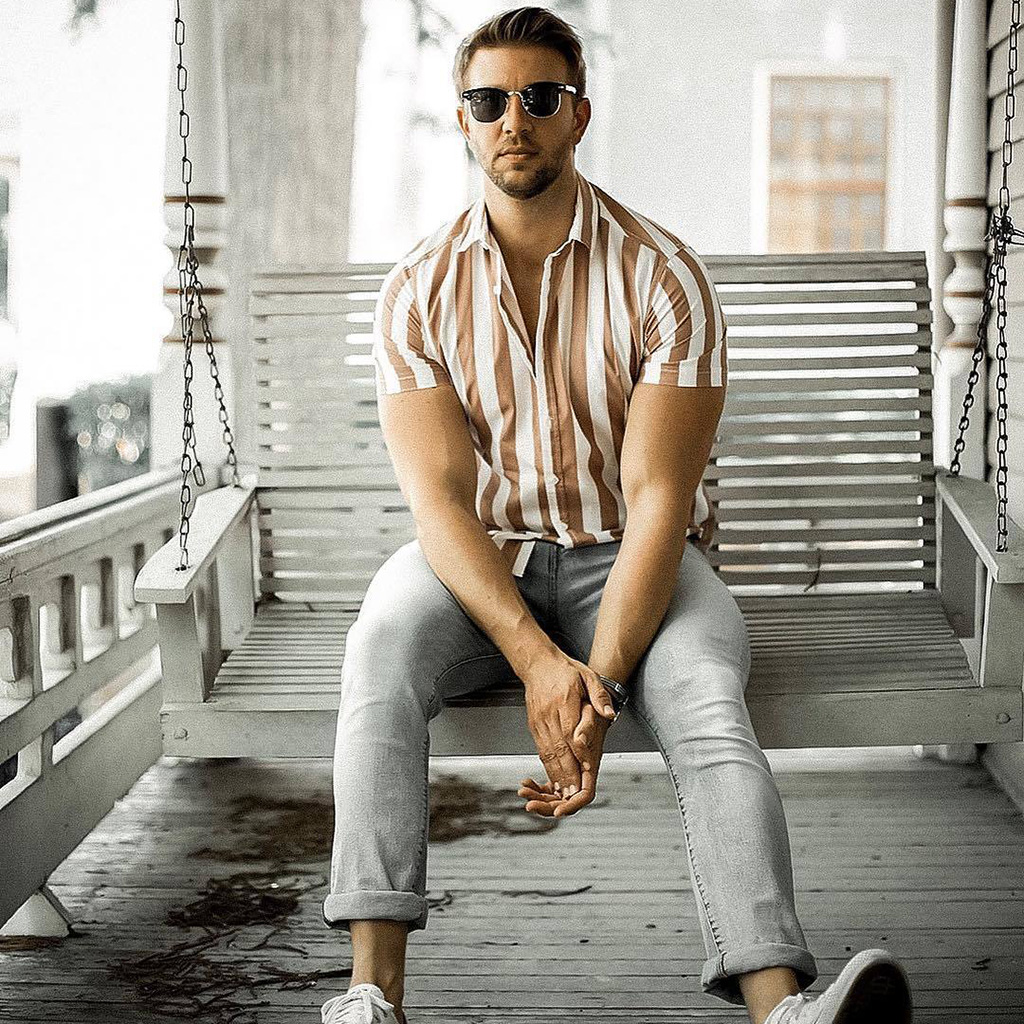 Styling grey jeans shouldn't be met with difficulty. Given their neutral tone, they can easily be paired with several different outfits.
Available in various washes, silhouettes, and cuts, you should have absolutely zero excuses when it comes to finding the perfect ensemble. I've supplied enough OOTD inspiration—now is the time to start thinking creatively. 
From designer red shirts to black leather jackets, here's to hoping that you know what to wear with grey jeans. 
---
Looking to up your fashion game? We've got you covered:
What To Wear To A Rock Concert
What To Wear With Dark Blue Jeans
What To Wear With Black Shorts
Get Access to Exclusive Deals
Subscribe for free to get exclusive deals in your inbox. 100% privacy