What To Wear With Linen Pants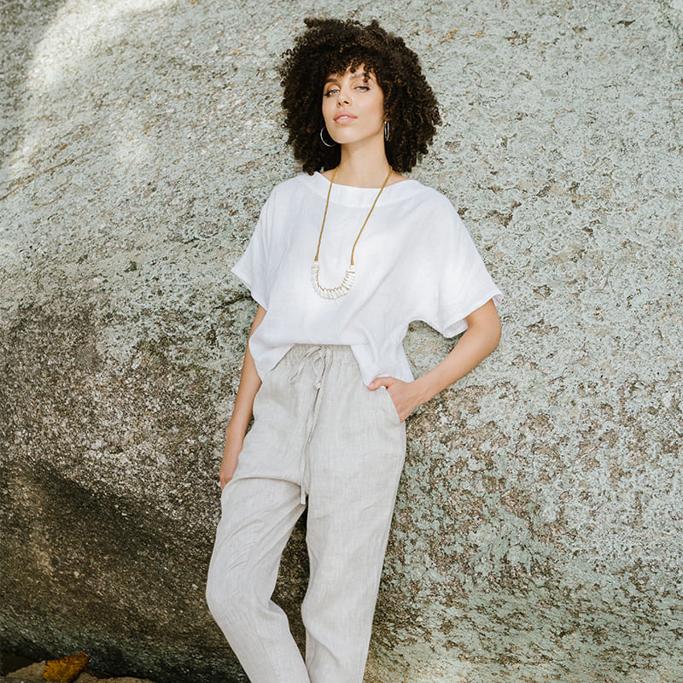 The go-to clothing move during the hot season is to swap your jeans for shorts instead. While others opt for skirts or loose dresses, jorts, daisy dukes, and Bermuda shorts can help ensure decent coverage in case of passing winds.
Obviously, not all of us are keen on showing some leg after spending three months in hibernation. So, how about wearing a pair of linen pants?
Breathable, comfortable, and ideal for beating the humidity, linen pants are considered a more modest alternative for some trendsetters.
Plus, they come in a variety of different designs, silhouettes, and colors. Ultimately, you may be wondering what to wear with linen pants when spring/summer approaches.
Not to fear! I've developed a handy style guide to show you what to wear with linen pants. I'll be sure to tackle multiple topics, which may or may not include:
What to wear with linen pants men's
What to wear with linen pants ladies
Old Navy linen pants
Plus-size linen pants
Wide-leg linen pants
What Are Linen Pants?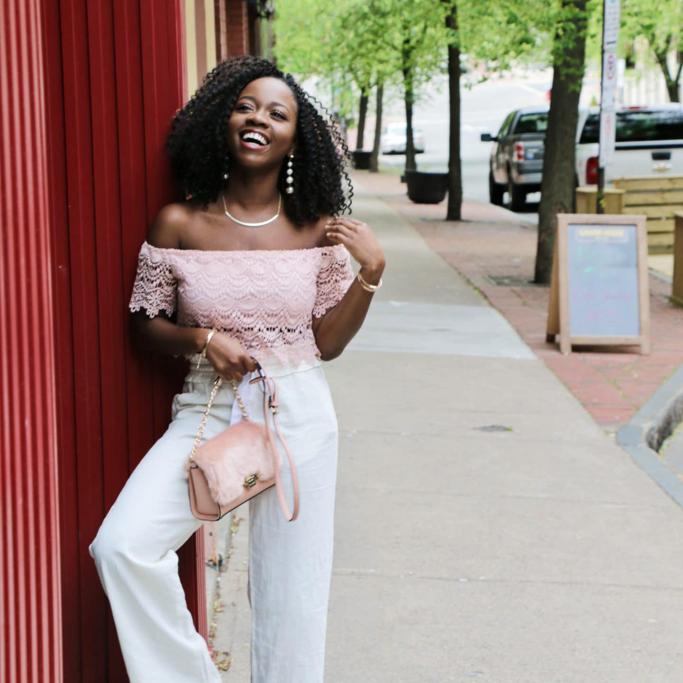 I won't insult your intelligence by explaining what pants are. Linen, on the other hand, may require some debriefing. This particular fabric is constructed out of flax seed fibers.
Known to be durable and absorbent, this material is preferred by many due to its level of breathability. It's also worth mentioning that it's entirely sustainable, given that the textile is derived from plants.
History Of Linen Pants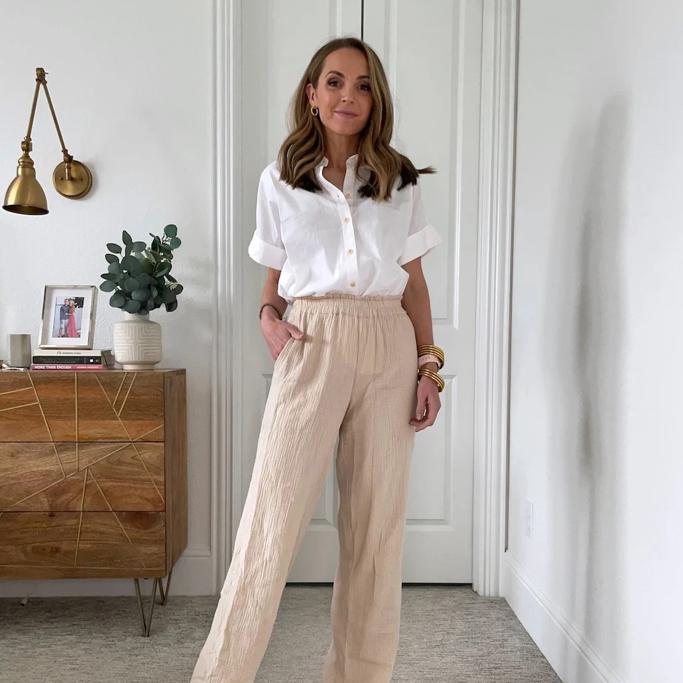 When you type the 'history of linen pants' into the Google search bar, expect to hear crickets. There's not much historical background surrounding this particular garment, but there's a lot of information regarding the textile itself.
The discovery of linen is up for debate, but most experts agree that ancient Egypt was responsible for pioneering its weave and functionality. Used to wrap mummies and dress the nobility, flax seed fabric was the go-to choice in 3100 BCE.
Bounding past the Middle East, linen production hit an all-time high in Greece and Ireland.
Later on, linen became a staple in Western countries. In fact, this specific material became a household fabric.
When To Wear Linen Pants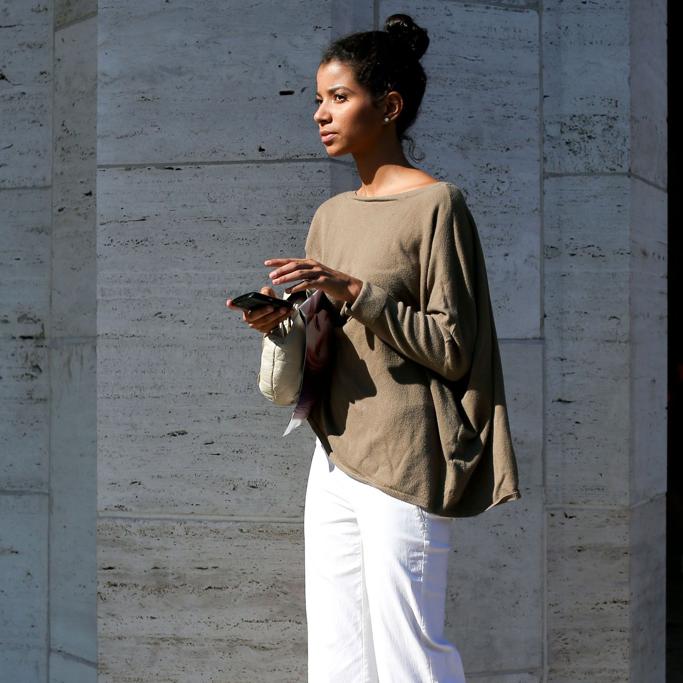 As previously mentioned, linen pants are considered a must-have during spring and summer. Their loose weave allows for breathability. Plus, this particular material is known to dry fairly quickly.
In addition, linen pants are an excellent alternative for those who prefer a bit of coverage. So if you're planning a trip to Dubai or Saudi Arabia, this specific garment should definitely be in your suitcase.
It's worth mentioning that linen pants are meant to be worn casually. But obviously, this depends on the occasion at hand, as there are some ensembles that can be worn at formal events.
Nearing the end of summer? Don't worry! If you're wondering what to wear with linen pants during fall or winter, you can easily layer up with tights or leggings underneath. Given linen's thin construction, you don't have to worry about stiff mobility here.
11 Outfit Ideas With Linen Pants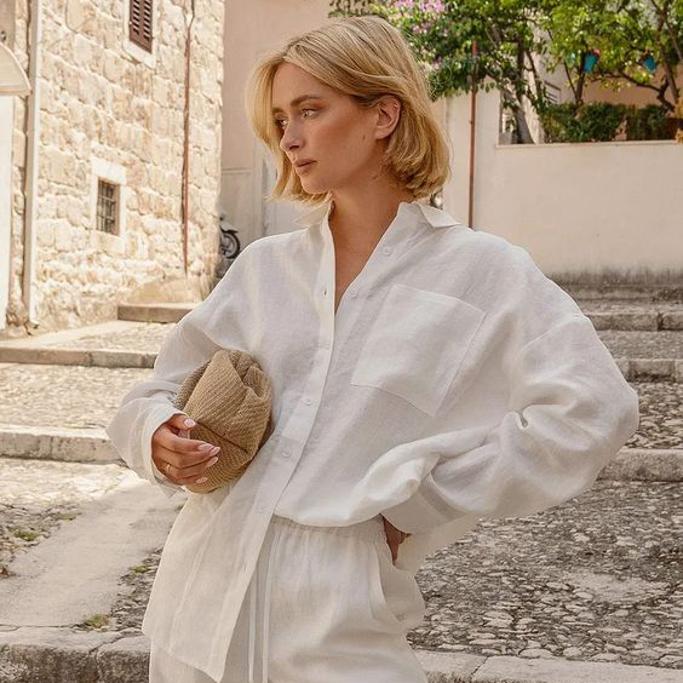 Loose, monochrome sets have a tendency to look like pajamas. However, for some trendsetters, that's their preferred look.
I totally understand if it's not your vibe, which is why it's important to experiment with different silhouettes and accessories.
For instance, this pearly-white outfit provides a bit of visual interest thanks to the half-French tuck. Slightly oversized in fit, the extra room in the sleeves offers a hint of drama.
Also, the beige clutch works to counterbalance the brightness of the OOTD. For shoes, this 'what to wear with linen pants' contender is best paired with strappy heels for a touch of elegance.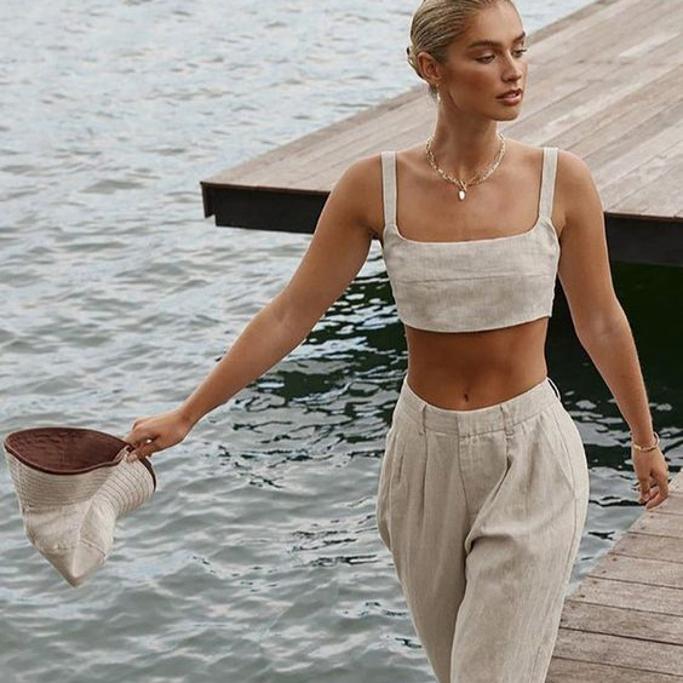 The French prefer casual minimalism to ensure 24/7 elegance. Meant to look effortless, those aspiring to achieve that Parisian glow may find value in more simple OOTDs.
This 'what to wear with linen pants' option is no exception, as the outfit draws power from its 'plain Jane' silhouette.
Featuring a square neck crop top, pleated pants, and dainty gold jewelry, it's the kind of look that you'd associate with million-dollar housewives and Wednesday yacht parties.
If you'd prefer a more tone-downed approach, you can always swap your heels for white sneakers instead.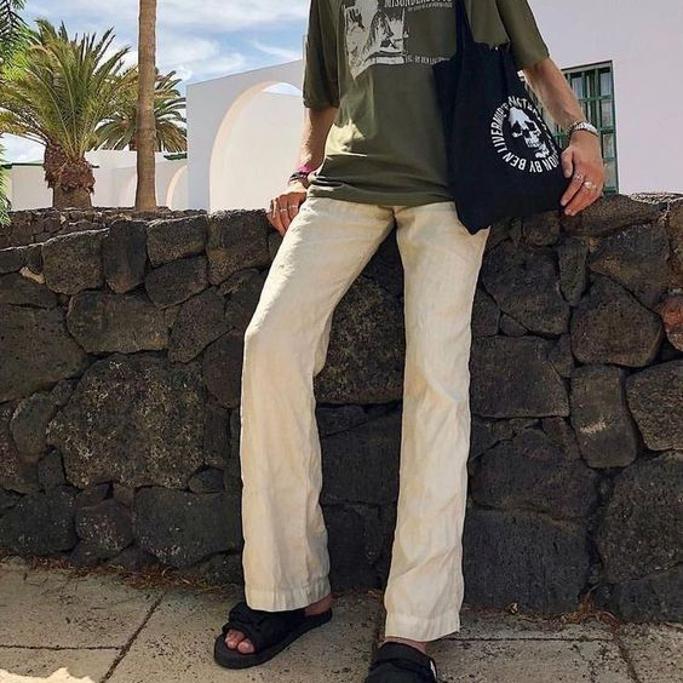 Contrary to popular belief, linen pants aren't exclusive to the cottagecore aesthetic. In fact, they can act as an excellent substitute for cargos and jeans.
This streetwear-inspired look is comprised of a green graphic tee, cream trousers, a tote bag, and a stylish pair of chunky sandals. Loose in silhouette, it definitely exudes a carefree attitude for days when you can't be bothered.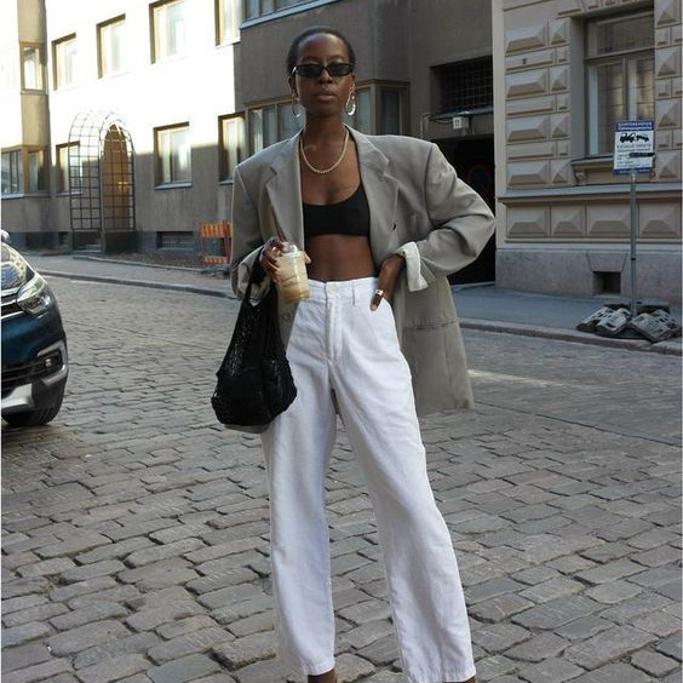 Blazers and linen pants are the Romeo and Juliet of semi-formalwear—minus the deaths, of course. Meant to look effortlessly chic, the rest of the outfit features a mini bralette, a mesh bag, and a pair of peep-toe heels for some added spice.
It's a relatively simple ensemble, which is great for those who aren't sure what to wear with linen pants. While the blazer is intrinsic to corporate fashion, I don't recommend wearing this number to the office—unless you work at Vogue or Harper's Bazaar.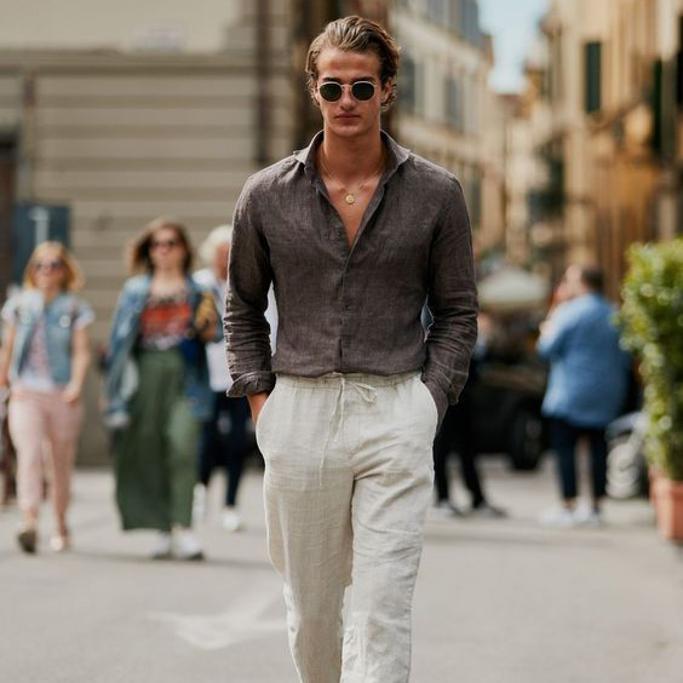 Care for some men's linen pants outfit ideas? If so, you can never go wrong with a plain button-up shirt. Preferably made from the same type of fabric, this breathable ensemble exudes a level of European class thanks to its simplicity.
And the gray tones of the collared shirt paired with the creamy hue of the bottoms are considered the perfect example of 'neutral sophistication.'
In terms of accessories, I highly recommend wearing a pair of sunnies, a dainty necklace, and boat shoes for an added touch of old-money elegance.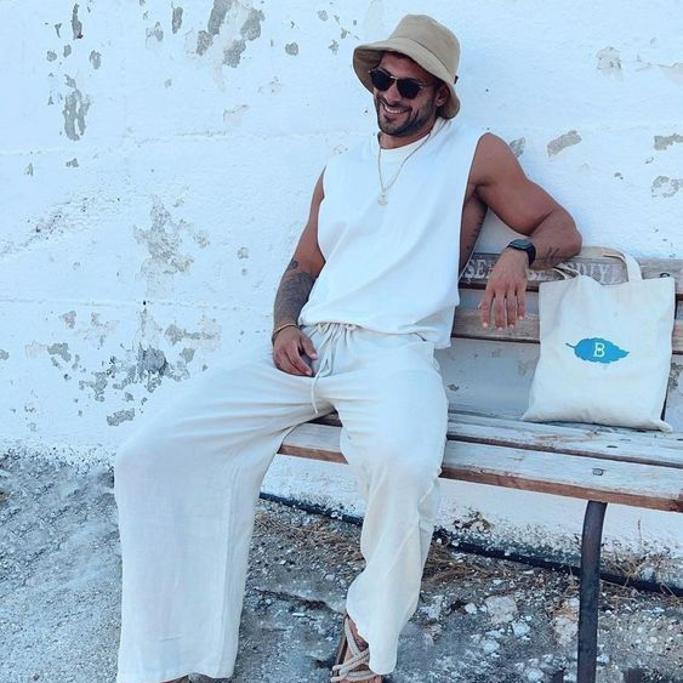 Composed of white linen pants, a matching sleeveless top, and a quaint bucket hat for a hint of '90s edge, this casual OOTD strikes the perfect balance between comfort and fashion.
It's considered a great go–to for beach days, as it keeps things breathable and lightweight. In my opinion, the Jesus sandals are a bit much. If you prefer a more modernized approach, you can always swap them for Birkenstocks or sneakers instead.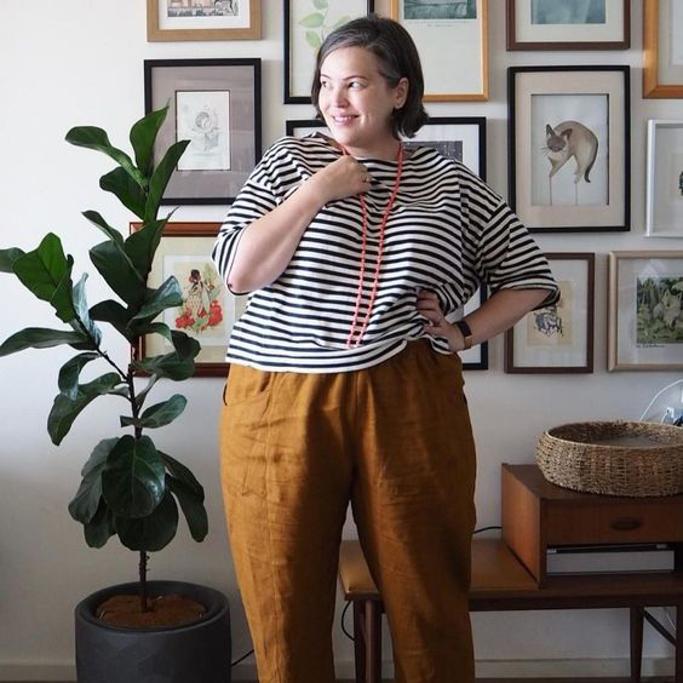 While linen pants are commonly available in cream or white, I encourage you to experiment with different colors. Hues like clay beige can have a more earthy tone if you vibe with bohemian fashion.
It's relatively easy to pair this shade with other organic swatches, but for added juxtaposition, I recommend playing around with contrasting designs.
For instance, black and white stripes can do wonders by breaking up the monotony of monochrome clothing. And you don't really need to add accessories, given the vibrancy of the OOTD.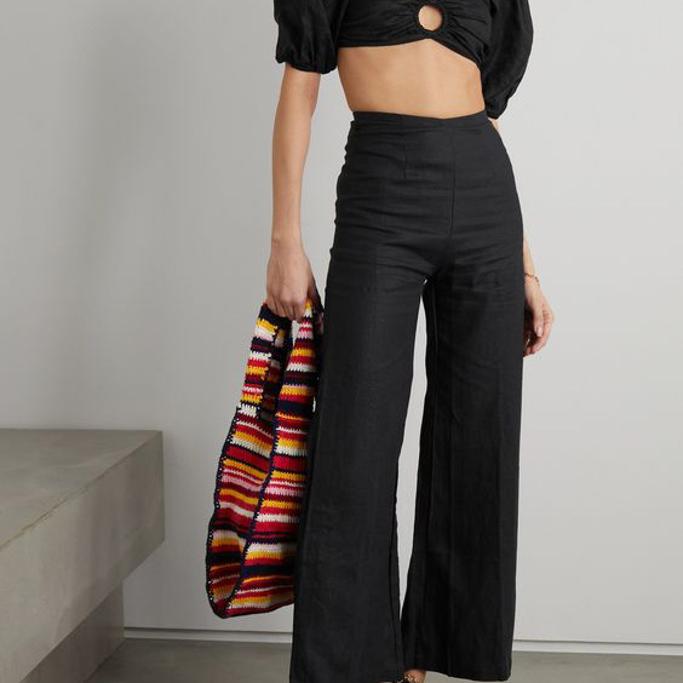 Black linen pants aren't typically the go-to bottoms for sunny days, but they're definitely more breathable than dark-wash jeans are. Instead of opting for the usual graphic tee, a cute cropped blouse can act as the final cherry on top.
Meant to look dainty and sweet, this 'what to wear with linen pants' contender is ideal for brunch dates, Instagram photo ops, or casual hangouts with friends. If you're prepping for a long day out, I recommend swapping your heels for platform sandals instead.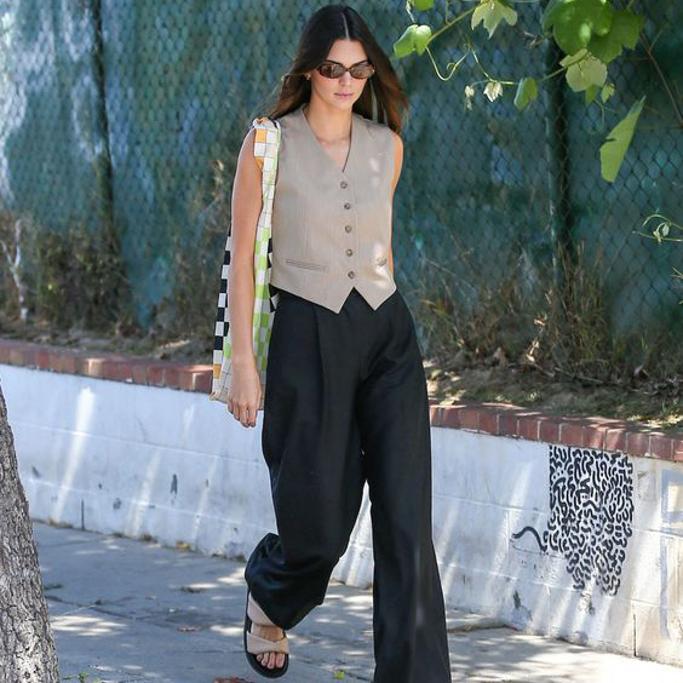 I don't know if you've heard, but blazer vests have returned with a vengeance. Considered a trend in the early 2000s, it seems that this sleeveless button-up top has managed to steal the spotlight once again.
If you're a sucker for fashion fads, take this as an opportunity to style this garment with linen pants. The resulting look is slightly reminiscent of officewear, but the oversized silhouette makes it appropriate for casual use.
For accessories, I recommend taking a page out of Kendall Jenner's style book by wearing strappy sandals and a pair of sunnies.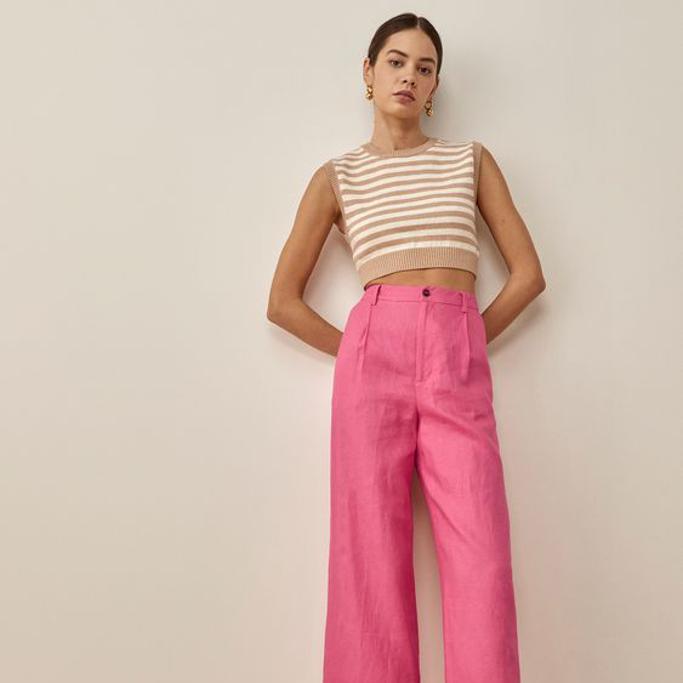 Flirty and fun, this cute OOTD makes use of color to ensure a playful vibe. It's comprised of a striped sweater vest, a pair of high-waisted pink linen pants, and some strappy heels.
I fully agree that the hues in the outfit are key to achieving that 'spark,' but let's not forget about the silhouette. The boxy nature of the top paired with the cut of the bottoms results in an hourglass shape.
It also gives the illusion of a shorter torso and long legs. For those in need of accessories, you can never go wrong with hoops and a set of stacked necklaces.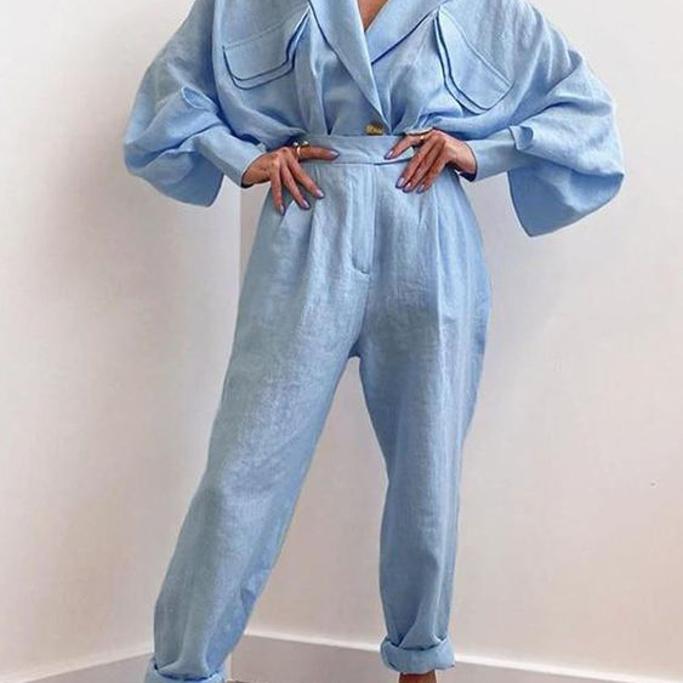 Designed to look like a suit, this 'what to wear with linen pants' contender plays around with dramatic silhouettes for added drama. Plus, the monochrome blue works to ensure a cohesive outfit.
In addition, the oversized cut of the collared top paired with the semi-tailored nature of the trousers provides an hourglass shape—which is great for those not fond of shapewear and corsets.
It's worth mentioning that trendsetters will need to French tuck the front of their shirt to achieve that coveted silhouette.
What Type Of Linen Pants Outfits Can You Get?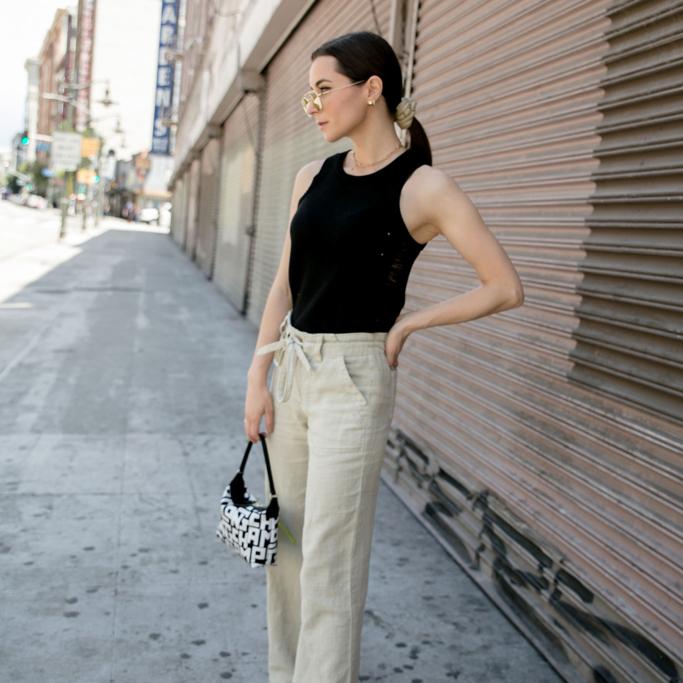 As you've probably already noticed, linen pants are considered a highly versatile garment.
They can be paired with multiple different clothes, ranging from blouses to basic graphic tees. Naturally, the outfit you choose will exude a unique mood and aesthetic.
To help keep things straightforward, I'll discuss some trendy OOTDs for those wondering what to wear with linen pants.
The monochrome beachy set: Often loose in silhouette and white in hue, this is the kind of outfit you'd associate with European vacations.
Streetwear: This mainly entails band tees, sneakers, racerback tops, and anything Y2K-inspired.
The half-autumn look: Those transitioning between summer and fall may find value in pairing their linen pants with warmer garments, such as long-sleeve tops.
The makeshift suit: Some brands try to utilize non-traditional fabrics for certain garments in order to achieve a different look. I recommend taking a second glance at the last outfit I featured for reference.
Hippie boho: Linen pants are considered a staple in Bohemian fashion. You'll typically find wide-legged bottoms or drop crotch silhouettes within this core aesthetic.
How To Choose The Best Linen Pants Outfits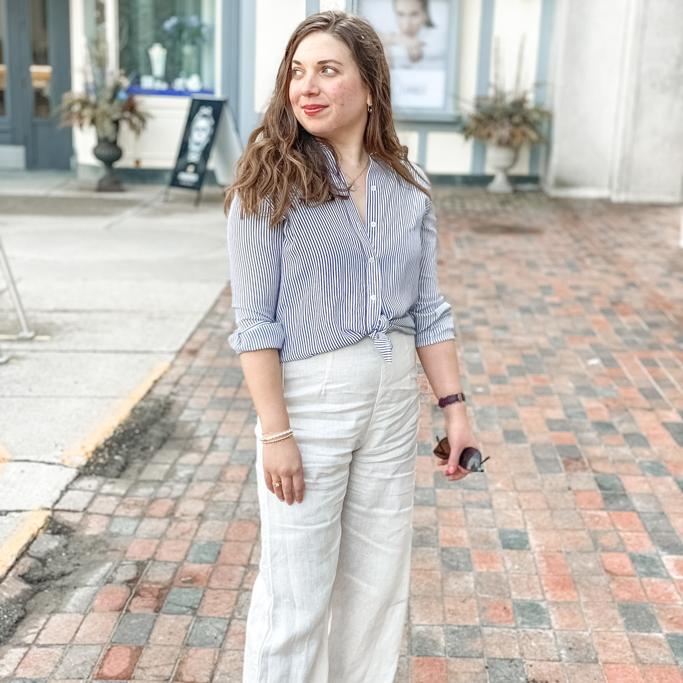 Linen, in itself, is a highly durable textile. There's a reason why reputable brands opt for this material when making summer clothes. Breathable, comfortable, and resilient, linen pants are just one of the various garments on the market.
Of course, not all companies implement a strict level of quality control when it comes to manufacturing.
Finding the perfect pair of linen pants requires an eye for detail. Those who prefer in-store shopping can test out the flexibility and strength of the fabric via a quick try-on.
However, those who prefer the online shopping approach may need to look through customer reviews for validation. Keep in mind that linen should feel soft. Itchy or rough linen should never be considered, as we typically value comfort when buying new clothes.
Quality construction also applies to any integrated features, such as pockets, elasticated waistbands, and drawstring enclosures. You should always look for these assets when buying new pants.
Additionally, the design plays a pivotal role in the decision-making process. Ultimately, you should opt for a pair of pants that's both practical and aligns with your current aesthetic.
Considering that most trousers are available in traditional silhouettes and monochrome colors, you shouldn't worry too much about functionality.
Price-wise, linen pants can retail for anywhere from $20 to $200, depending on the design and the brand. As always, it's a good idea to stick to a limited budget to prevent overspending.
How To Style Linen Pants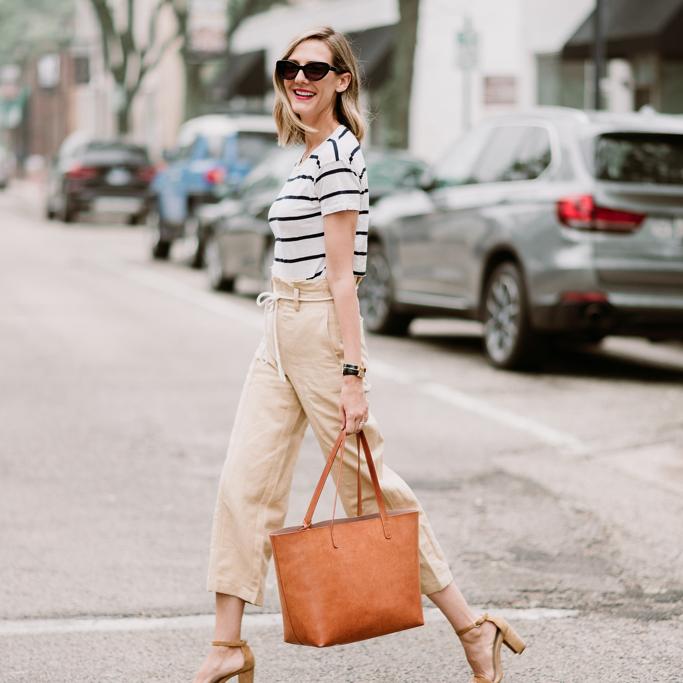 Take this as a sign to lower your expectations. Styling linen pants is considered a walk in the park.
Regarded as one of the easiest garments to style, it's no wonder why these specific trousers have been in fashion for so long. But for those in need of additional tips, I'll tell you how to style linen pants outfits.
A matching linen top: This can include crop tops, sleeveless numbers, and blouses. Linen sets have a tendency to look cool and composed if you just focus on one central fabric.
Graphic tees: Whether it's oversized or cropped, wearing a vintage graphic tee can emit those skater vibes.
Crochet knits and loose weaves: Those looking to achieve a boho beach glam look should definitely consider adding some vintage crochet to their shopping cart.
Dainty jewelry: Due to the simple nature of linen pants, they pair well with minimalist accessories. This can apply to necklaces, earrings, and rings.
Sandals, sneakers, and heels: These three shoes pair well with linen pants. I encourage you to experiment with different silhouettes, colors, and designs.
Fashion Tips To Avoid With Linen Pants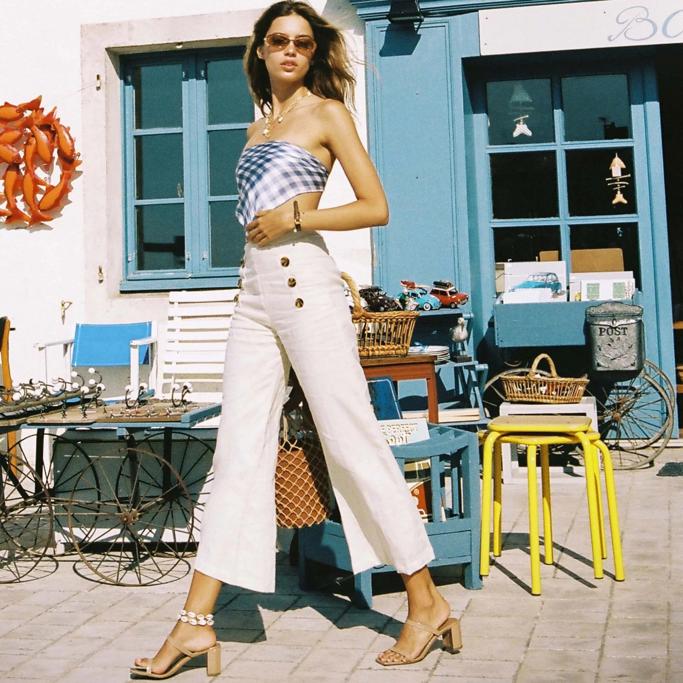 Here's to hoping that you know what to wear with linen pants. Now it's time to address some fashion faux pas. Given their level of versatility, it's pretty difficult to put together an ugly outfit.
That said, there are a few specific garments that clash with linen bottoms. Care for some specifics? If so, I'll list some no-nos to keep in mind.
Boots: This mainly applies to knee-highs, thigh-highs, and exaggerated platforms. As much as I champion fashion juxtaposition, this duo is too controversial for my liking.
Leather jackets: As previously stated, linen pants are considered a staple in summer fashion. So, it seems a bit ironic to pair them with something as stifling as a leather coat.
Athleisure tops: Hoodies, sporty bralettes, and branded jerseys are best worn with other bottoms.
The see-through peek-a-boo: You should be wary of cheaply-made linen. Poorly constructed fabrics are typically sheer in nature.
Belts without belt loops: It's worth mentioning that most linen pants come with drawstrings and an elasticated waistband. With that in mind, it seems counterintuitive to wear a belt if your pants don't come with supportive loops.
How To Take Care Of Linen Pants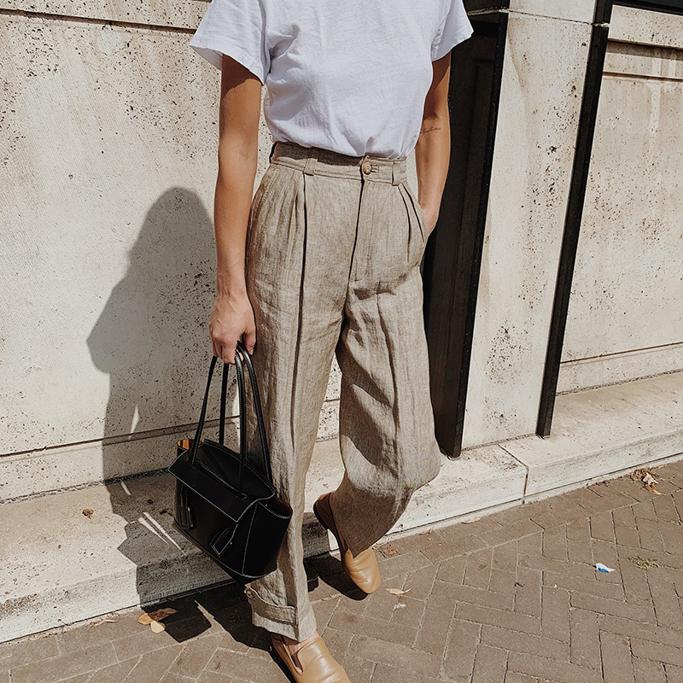 Those who own linen clothing know the frustrations of maintaining them. This particular fabric is known to wrinkle quite easily, which may be annoying for those who hate ironing.
Aside from this, I'll share some tips and tricks on how to take care of your linen set.
Hang, don't fold: Given their ability to easily wrinkle, I recommend hanging up your linen pants to prevent unwanted creasing.
Separate your colors: To help prevent unwanted dyes, it's always a good idea to organize your laundry based on color.
Use lukewarm water with gentle detergent: This is typically the go-to solution for many garments. You should know that linen gets softer after each wash.
Throw them into the dryer: If you're not fond of air-drying, you can program your machine to its lowest setting for a more convenient alternative
Best Places To Buy Linen Pants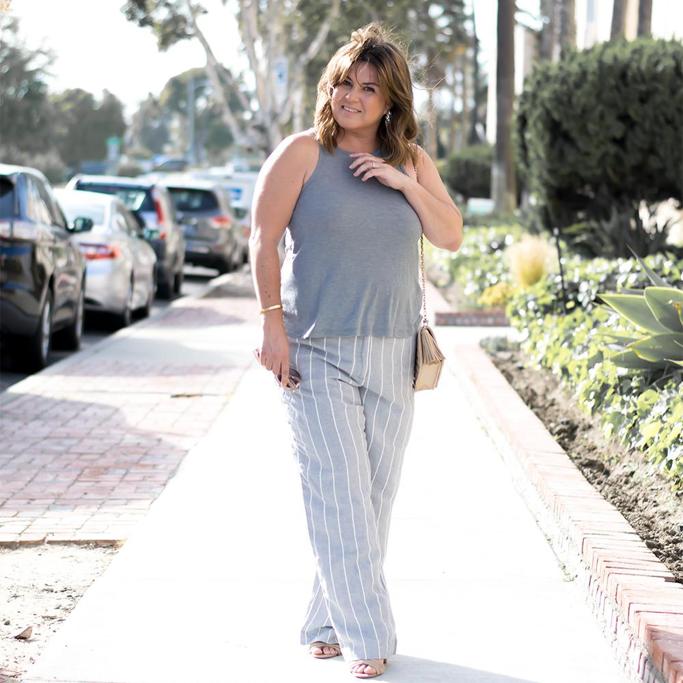 Before I conclude this 'what to wear with linen pants' guide, I'll share some recommended shops below.
Everlane
Reformation
Nordstrom
SSENSE
Eileen Fisher
Final Thoughts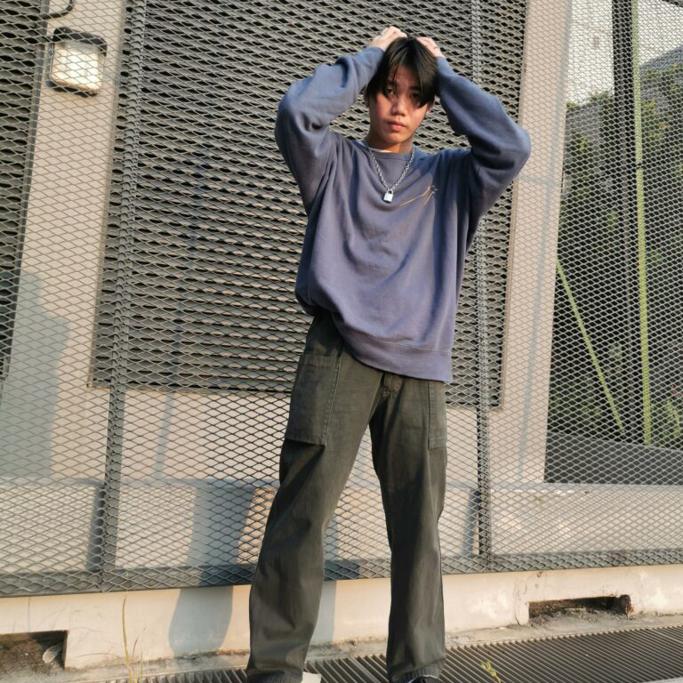 We often forget that beauty can be found in simplicity. Linen pants are, by definition, the literal epitome of 'plain jane' fashion.
Typically stereotyped as lazy and unstimulating, I'd like to remind you that there's a clear difference between effortlessly chic and lazy.
This particular garment definitely falls in the latter category, as it continues to be a staple in multiple core aesthetics.
From suit-inspired fits to Parisian elegance, I'm fairly confident that you know what to wear with linen pants now. If not, there's no harm in re-reading this style guide.
---
Looking to up your fashion game? We've got you covered:
What To Wear To An Engagement Party
Get Access to Exclusive Deals
Subscribe for free to get exclusive deals in your inbox. 100% privacy