30 Best Trust No One Tattoo Ideas 
About Trust No One Tattoos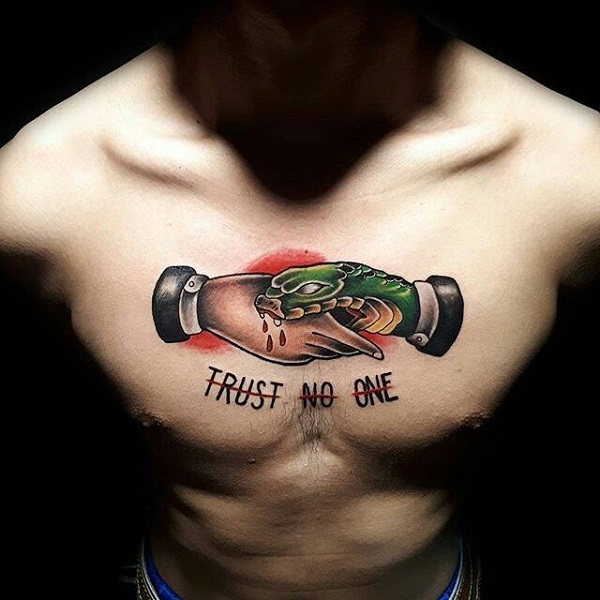 Ah, trust… It's the key factor in any relationship, whether it be romantic, platonic, or professional.
Some people have issues with trust, and they question the idea that anyone should be trusted. This could be a general belief they have, or it could be a mantra they live by.
If that's the case, they may want this belief to be the first thing people know about them. For those people, a trust no one tattoo might be a unique tattoo idea that'll pique their interest. 
Whether you're inking up for the first time, last time, or millionth time, this guide is here to inspire and educate you about trust no one tattoos.
So read on to learn all about the trust no one tattoo. This guide will cover these topics and so much more:
Trust no one tattoo ideas
The trust no one tattoo meaning
The best trust no one tattoo designs
What Do Trust No One Tattoos Mean and Symbolize?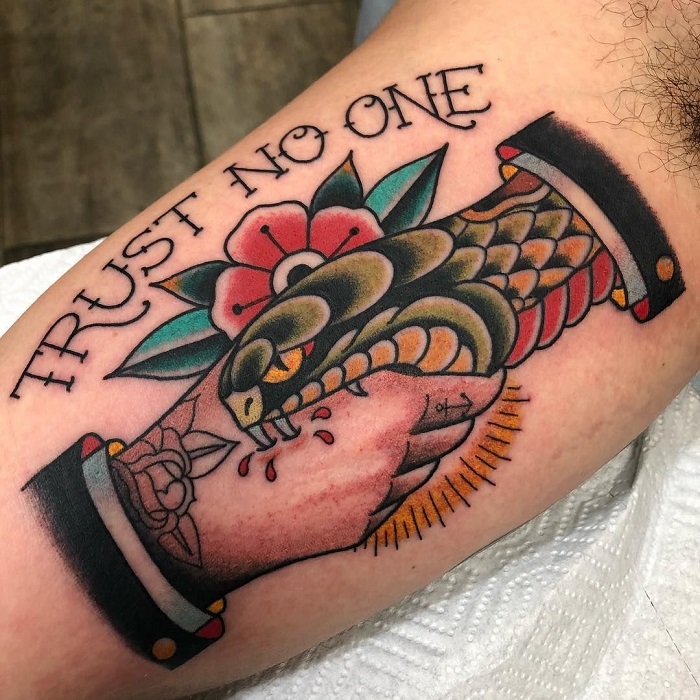 The trust no one tattoo isn't your usual proverbial or metaphorical script tattoo, like some you may have seen. This particular tattoo is a symbol of loyalty to one's self and one's self only.
Ink addicts with a trust no one tattoo may consider themselves to be a lone wolf. They might also have a past history of being taken advantage of one too many times. While others may have gotten the tattoo because 'trust no one' was something they were raised to believe.
While there is no one-size-fits-all reason for getting this tattoo on one's body, you can rest assured that regardless of why someone may have this tattoo, it lets onlookers know that, while trust is something earned, you won't be receiving it from them no matter how hard you try.
Where to get a Trust No One Tattoo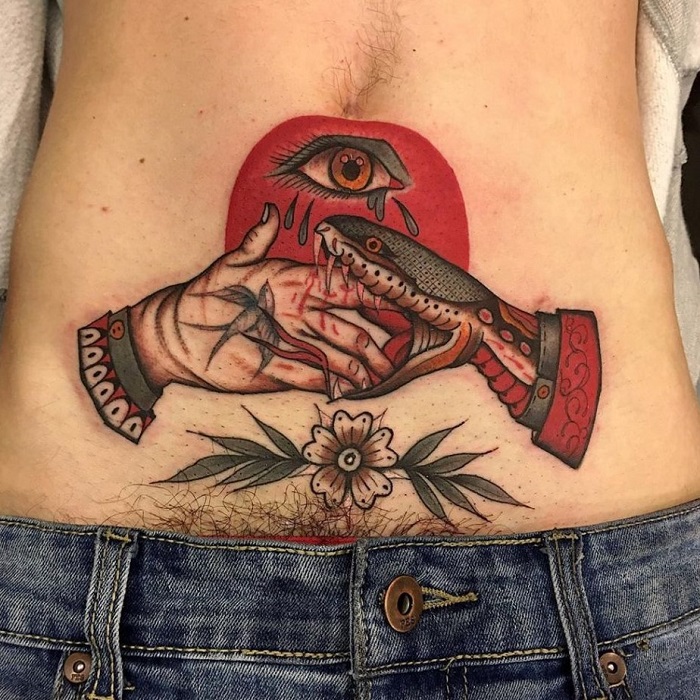 If you want to let people know right out the gate that they won't be earning your trust, the chest is the perfect placement for this tattoo. Other regions of the body a trust no one tattoo can be placed are: 
Neck nuzzling may be a favorite pastime of yours but with a trust no one tattoo, you may be sending the message that this act of intimacy won't be a recurring thing. 
You've heard of wearing your heart on your sleeve but what about your bold opinions? The trust no one tattoo is a prime script tattoo for the shoulder, or it could be the main message in a super sick sleeve of body art.
Brushing your shoulders off has been a statement-making action since Jay-Z's '03 hit "Dirt Off Your Shoulder." However, you're more likely to show off your shoulder with a trust no one tattoo beautifully written across it. Whether the front of the shoulder or the back, the shoulder is prime real estate for this bold tattoo.
Scaled large and wide or micro and in the middle, the back makes a great canvas for any tattoo. Since the back has the most canvas space— whether you're an ink addict or not— the tattoo artist will have a plethora of space to get creative with your tattoo. 
The wrist isn't reserved for small and dainty tattoos anymore. This bare space that unites your arm and hand is a great place for this tattoo since you can raise your arm at any moment so others can catch a glimpse of your awesome tat. 
The face is probably the boldest place for a tattoo placement. However, when you've got a message to tell and a pain tolerance through the roof, why not?
Properly caring for your tattoo will keep it looking good and extend the life of your body art. It's commonly understood that tattoos are pieces that stay with you for life.
Yet it's not widespread knowledge that any tattoo can fade or start to look different over time, as a result of our physical growth. 
So to keep any tattoo looking great for as long as you live— not just the direct messaging ones— you're going to have to diligently upkeep your tattoo.
Follow these steps to get the most out of your body art: 
Follow the after-care instructions provided by your tattoo artist 
Listening to your artist is the most important part of caring for your tattoo. The artist is the expert and is equipped with vast knowledge about skin, ink, and equipment.
Pay attention to everything they expect of you, including their after-care instructions, after you finish your appointment. 
Be diligent about your touch ups
In an ideal world, a tattoo would last a lifetime and look good forever with little to no returning appointments.
Unfortunately, this just isn't the reality. Tattoos begin to fade as our skin continues to grow, and so they require touch-up appointments to keep the tattoo looking vibrant for a long time. This is especially true for colored tattoos. 
Layer on the SPF sunscreen
SPF sunscreen isn't just a defense against sunburns and skin cancer, it also aids with tattoo upkeep. The sun is a prime culprit for causing tattoo fading, so ensure your tattoo is lathered in quality sunscreen before heading out.
Also, note that this practice isn't exclusively for the summertime. Keep your SPF on hand all year round. The sun peeking through the overcast clouds is still shining on your tat, just like it does on a clear day. 
You've heard it before for a number of reasons but, when it comes to tattoo care, hydrating your skin is key. Not only does this practice promote healthy skin, but it also increases the life of your tattoo.
Like most things worth having, a tattoo should be kept clean. The skin is our largest organ and it undergoes a multitude of attacks on the daily.
So, keep your skin clean, especially the area where your tattoo is placed, to protect you from any infections that could ruin your body art. 
How Much Do Trust No One Tattoos Cost?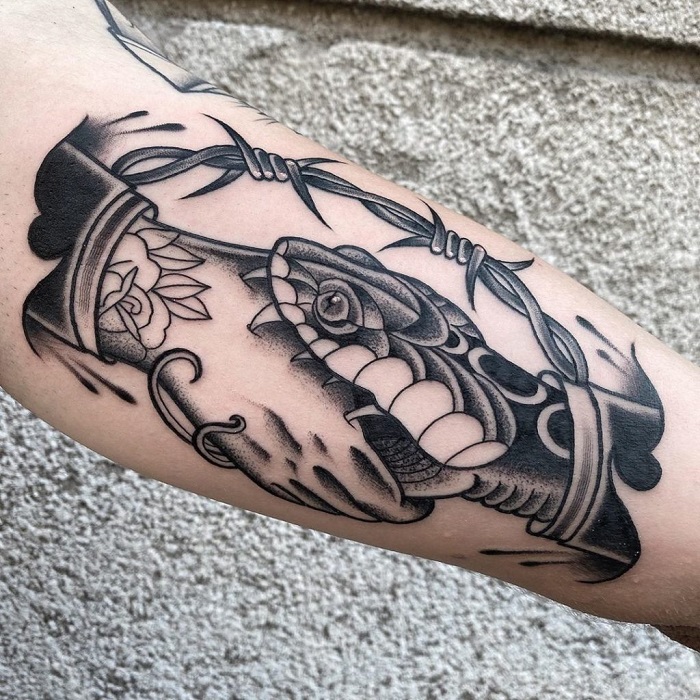 A trust no one tattoo, although unique, isn't a piece that a tattoo artist can specialize in. While some artists are highly skilled in script and text tattoos, there isn't one cost for a trust no one design.
Like any tattoo, this design is dependent on a variety of things. Of course, the cost will depend on how the artist runs their business or charges for their work.
When researching an artist for your own trust no one tattoo, consider the following factors that can and will affect the final price of your tattoo:
The artist: Tattoo artists often create their own rates based on their skill level. You may need to shop around to find an artist whose rates align with your budget, but know that there are a plethora of artists working within a number of budgets. If you're considering traveling out of state or country for your tattoo, also factor in your commuting costs. 

The size: Tattoos take time and artists definitely consider that when determining the cost. The bigger and more detailed your tattoo is, the more appointments it will require to complete it. 

Color: A splash of color is bound to make any design more fun and interesting, but understand that coloring your body art is an additional charge for most artists.

Also note that some tattoo artists specialize in colored work, and a subcategory of artists specialize in specific colored work such as water color or bande dessinée. If you'd like to incorporate color into your design, budget extra for this. Also, be diligent when researching artists since you'll most likely want to find someone with a more diverse set of skills. 
Deposit: It'll be hard to source a tattoo artist that does not require a deposit before the work begins. So be mindful of this charge and look out for it when browsing through potential artists' websites and/or portfolios.
30 Best Trust No One Tattoo Designs
#1: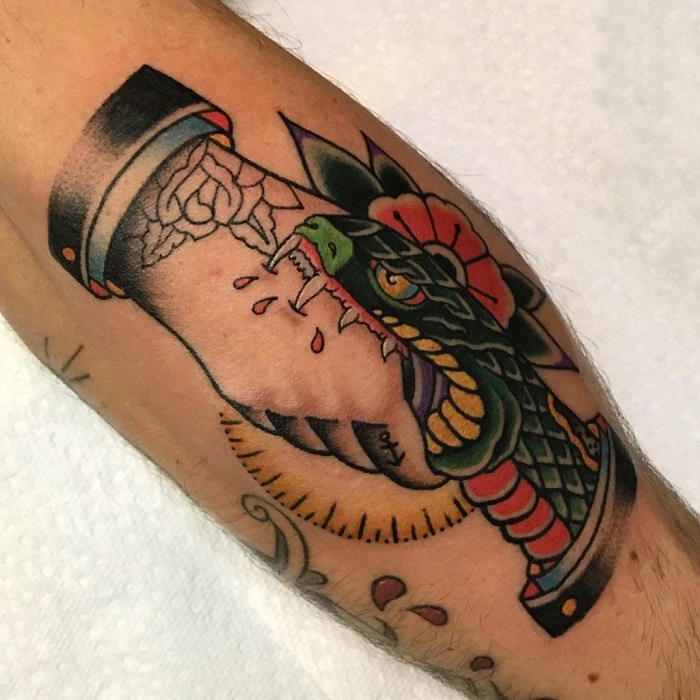 #2: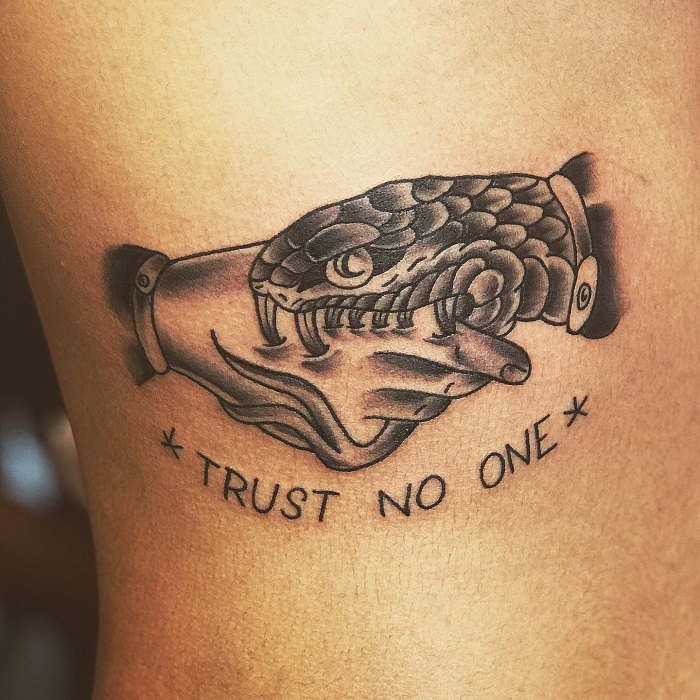 #3: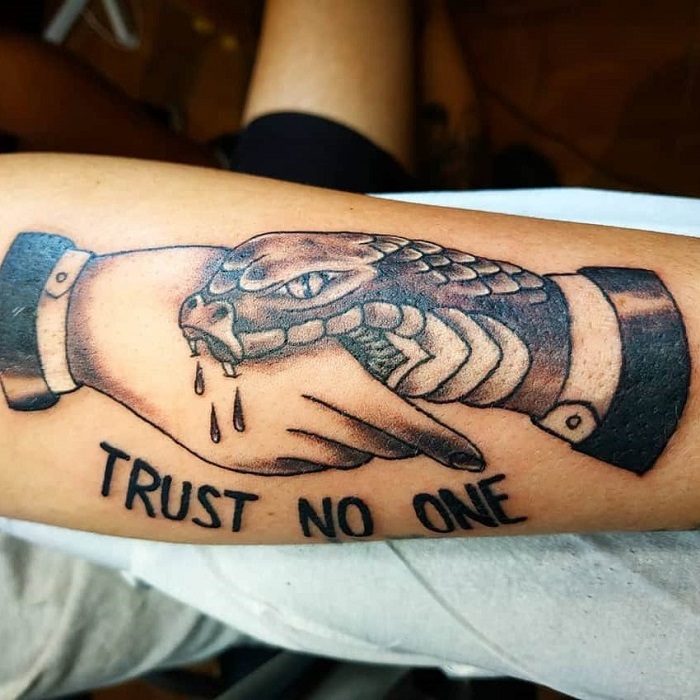 #4: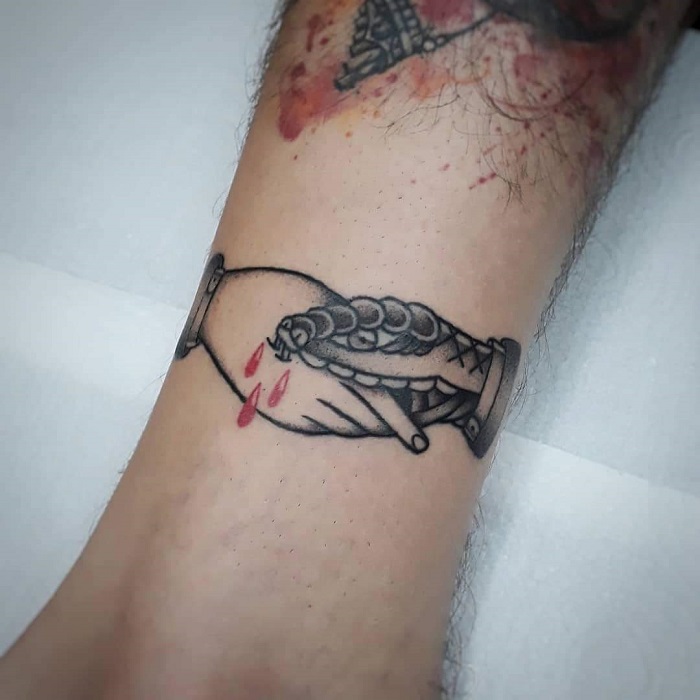 #5: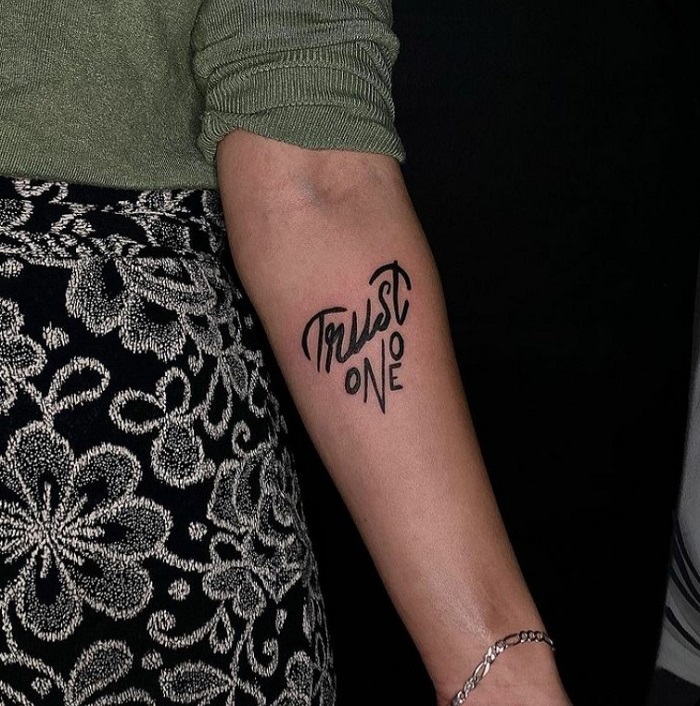 #6: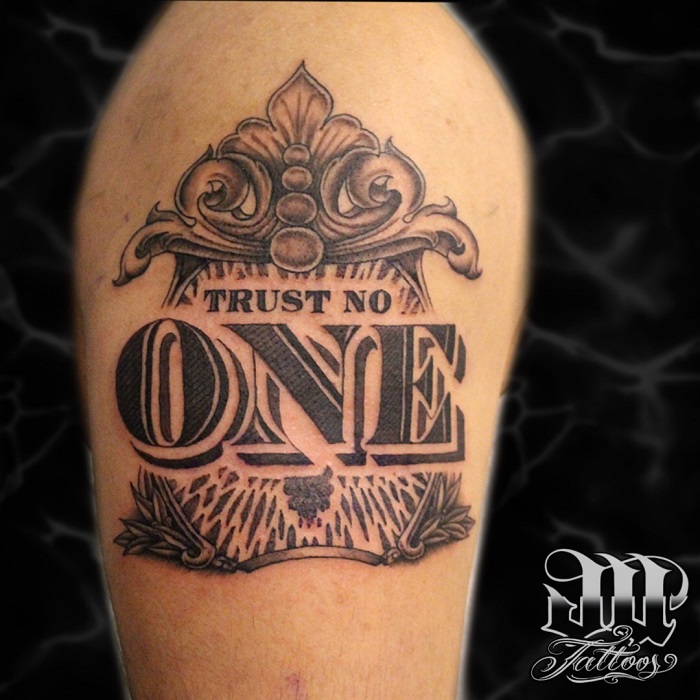 #7: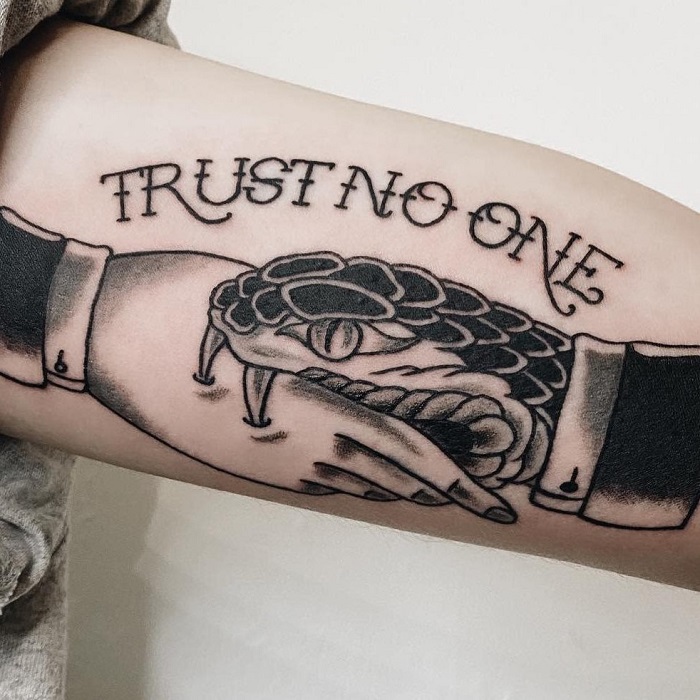 #8: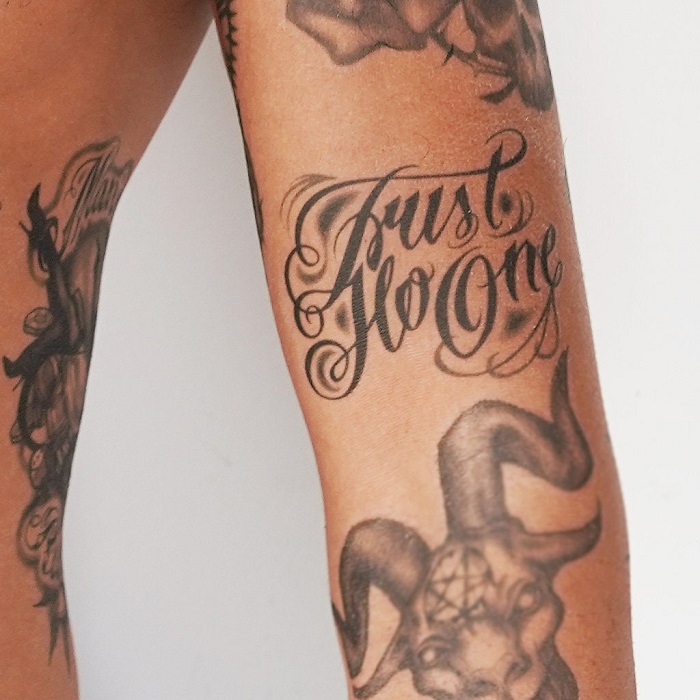 #9: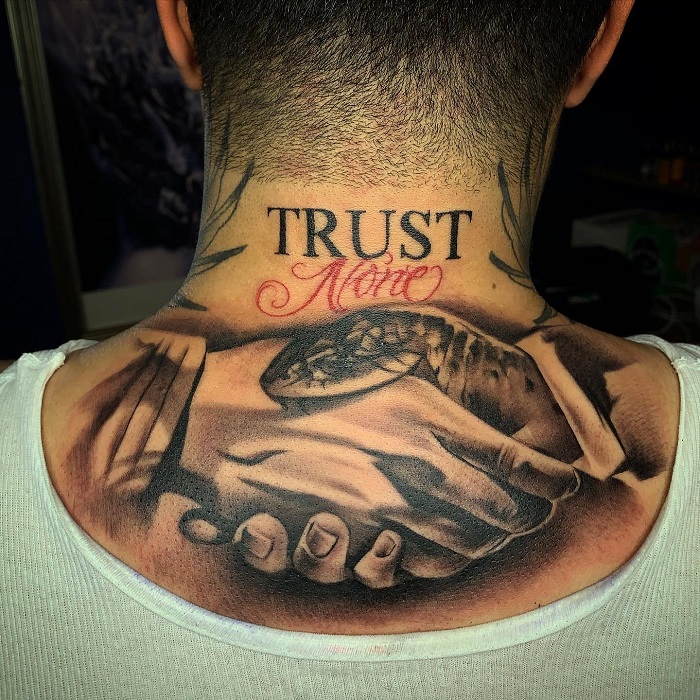 #10: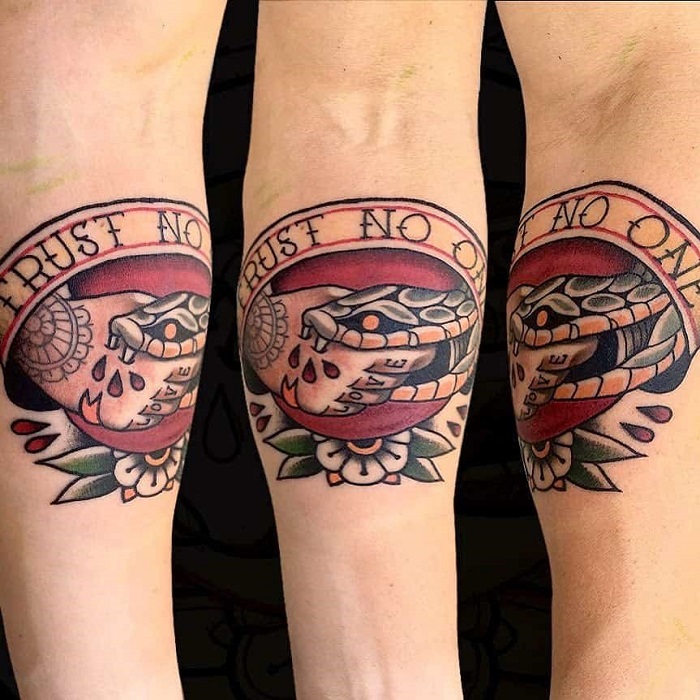 #11: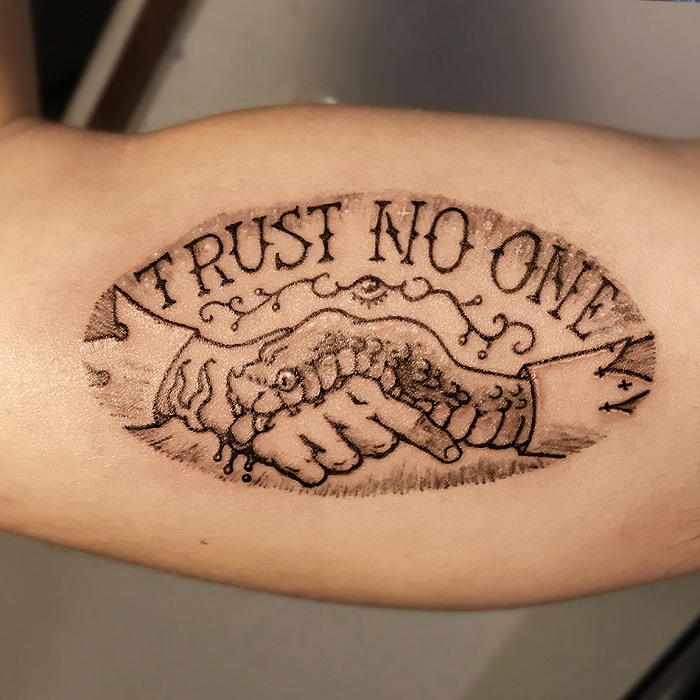 #12: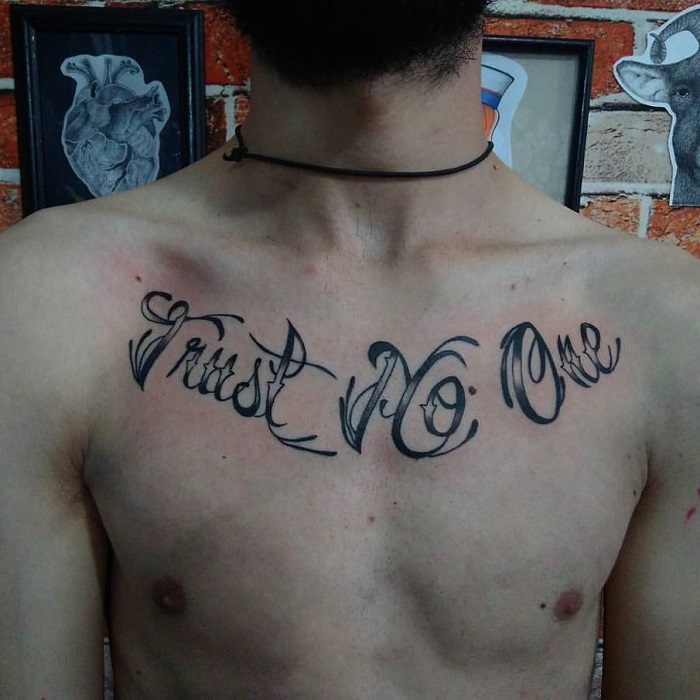 #13: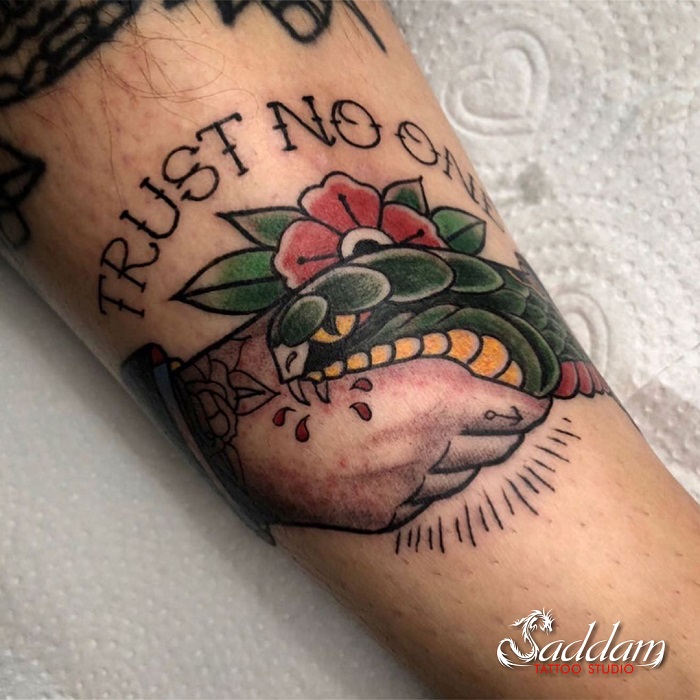 #14: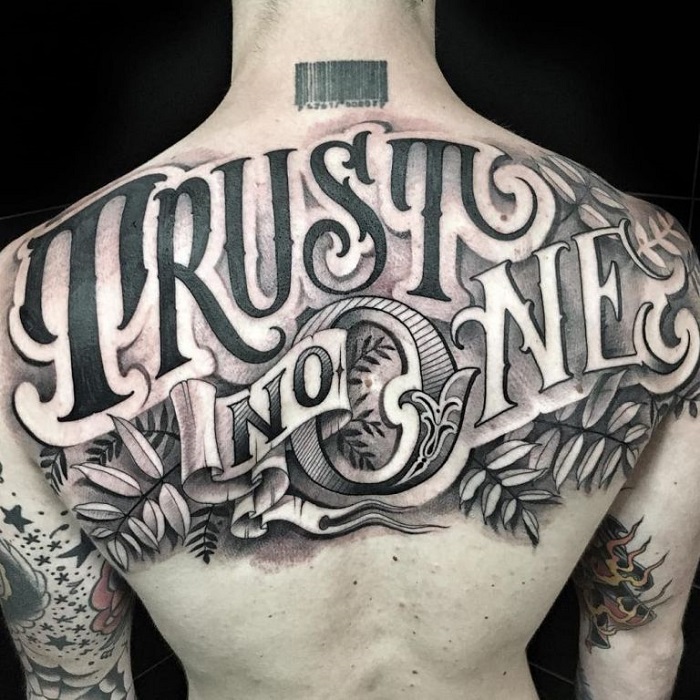 #15: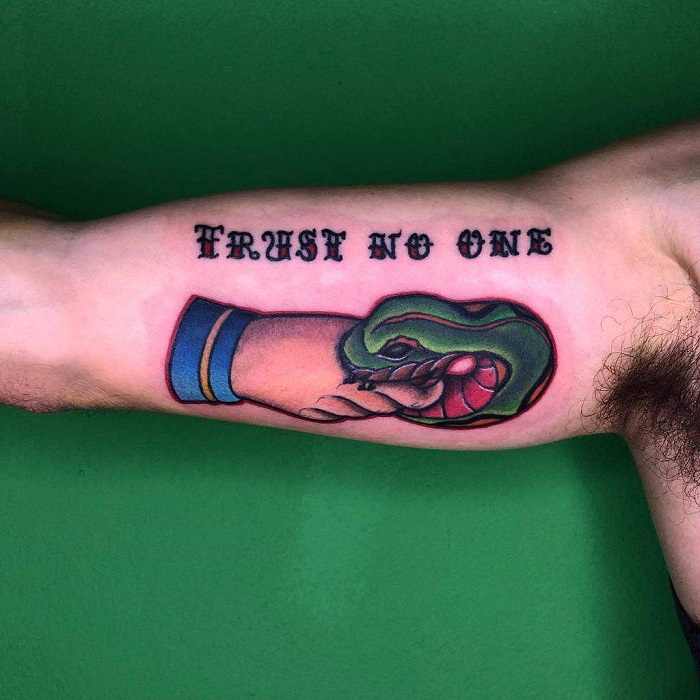 #16: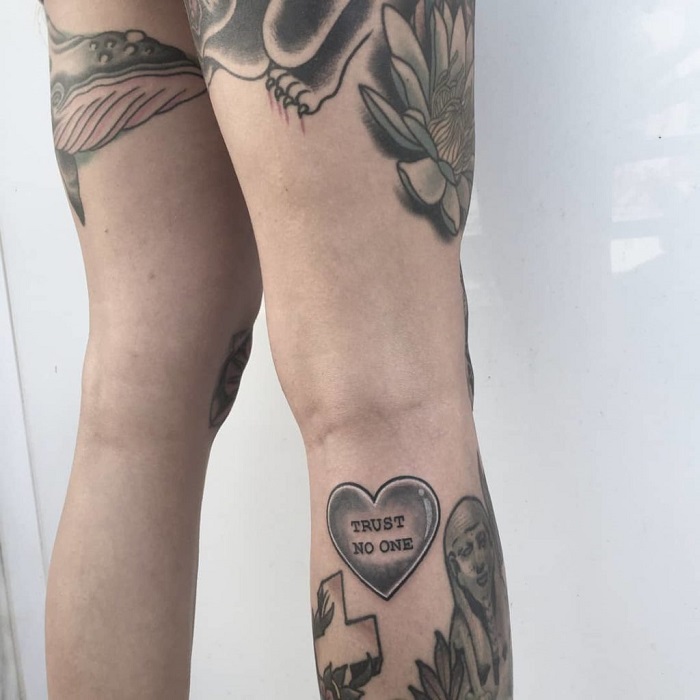 #17: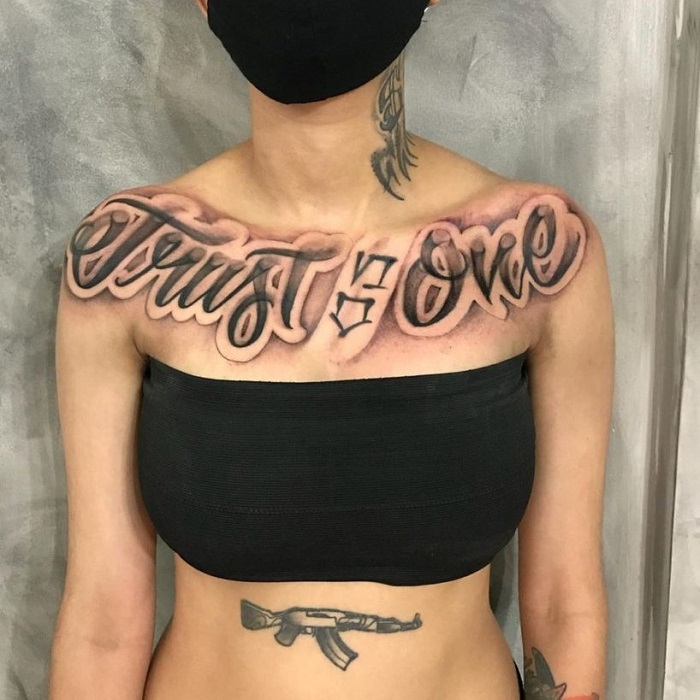 #18: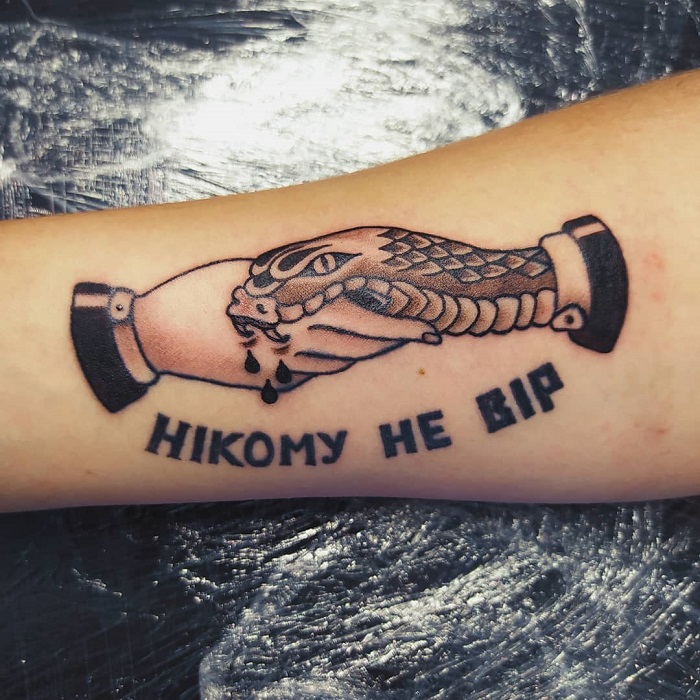 #19: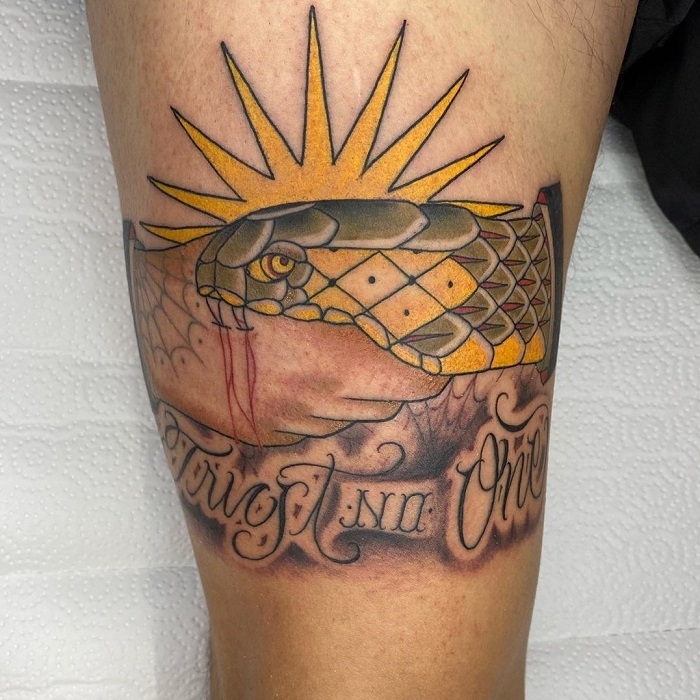 #20: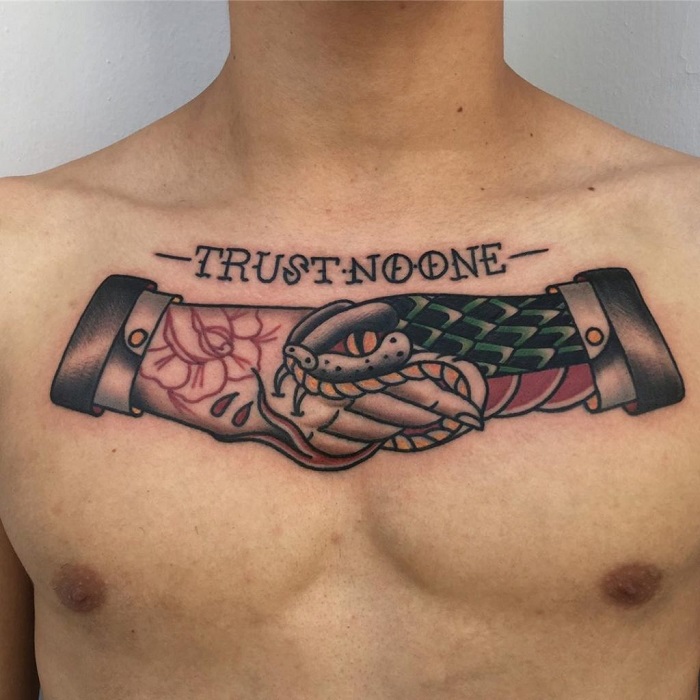 #21: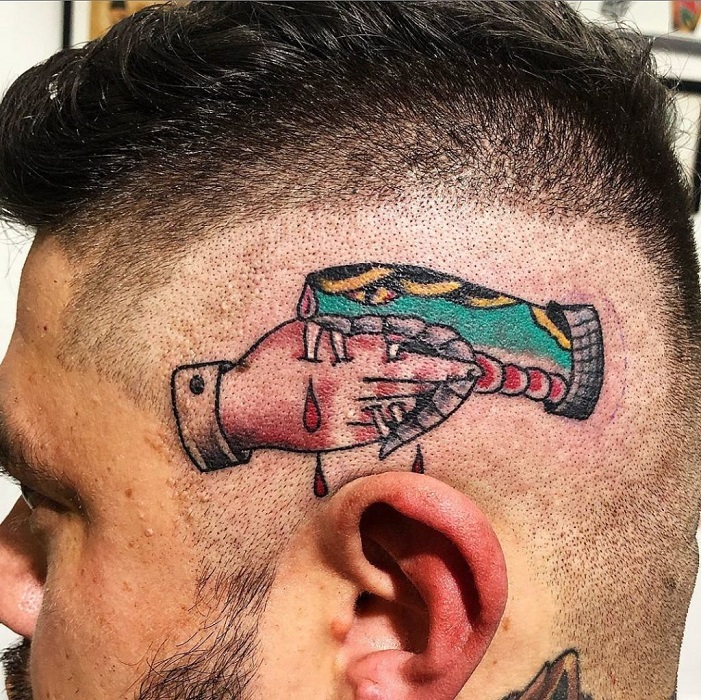 #22: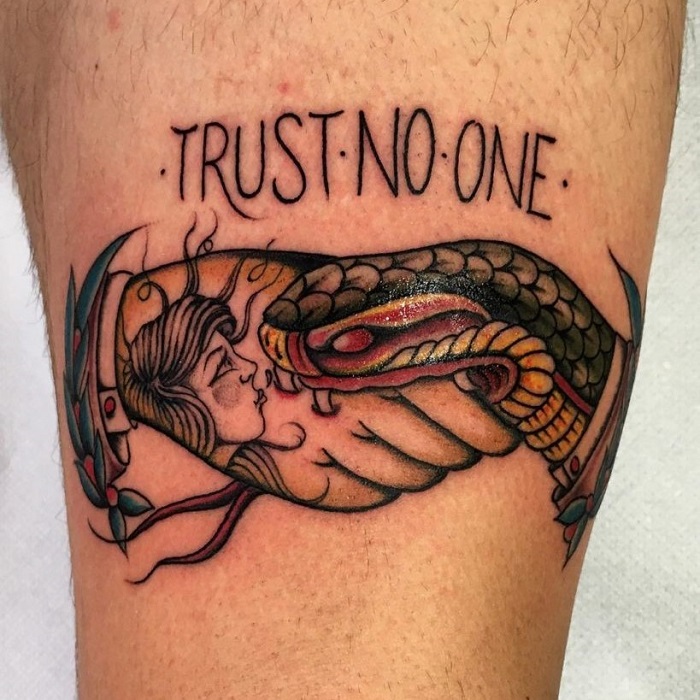 #23: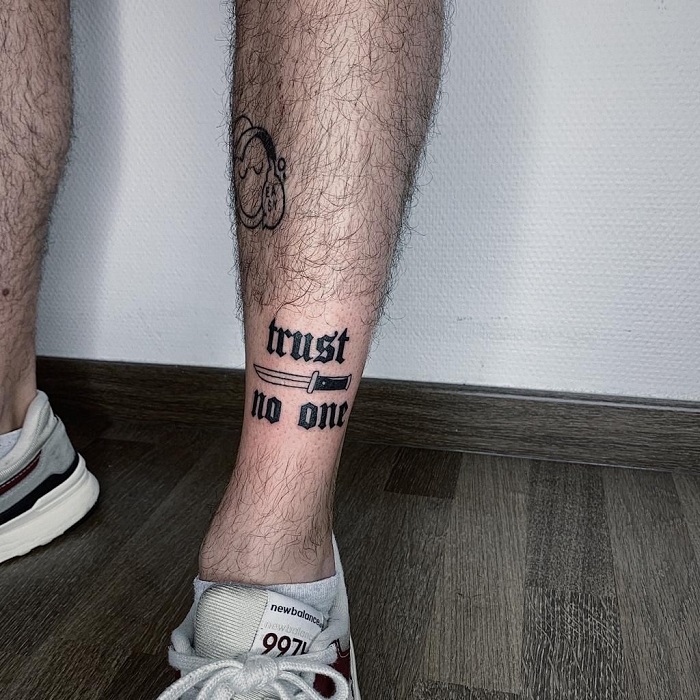 #24: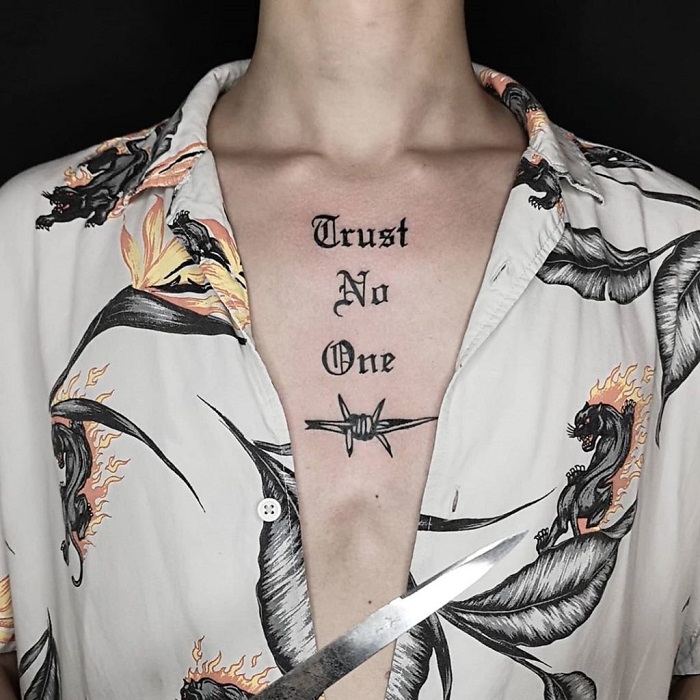 #25:
#26: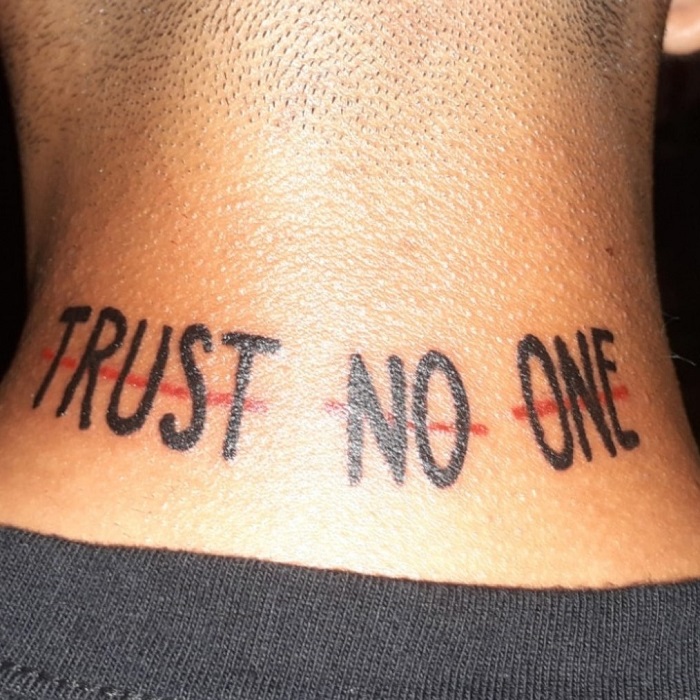 #27: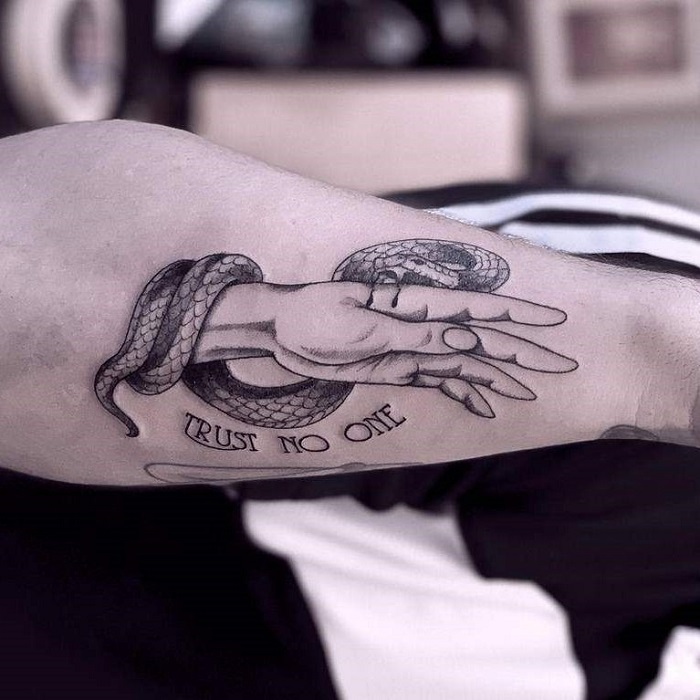 #28: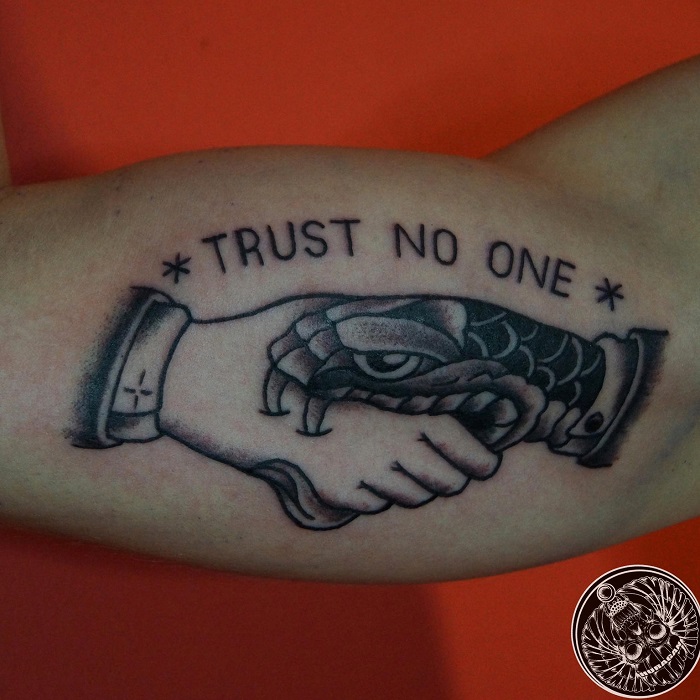 #29: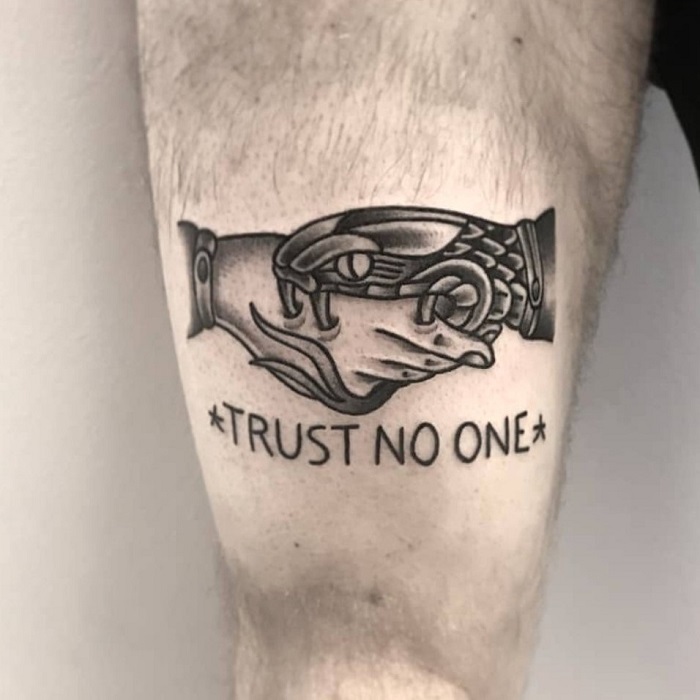 #30:
History of the Trust No One Tattoo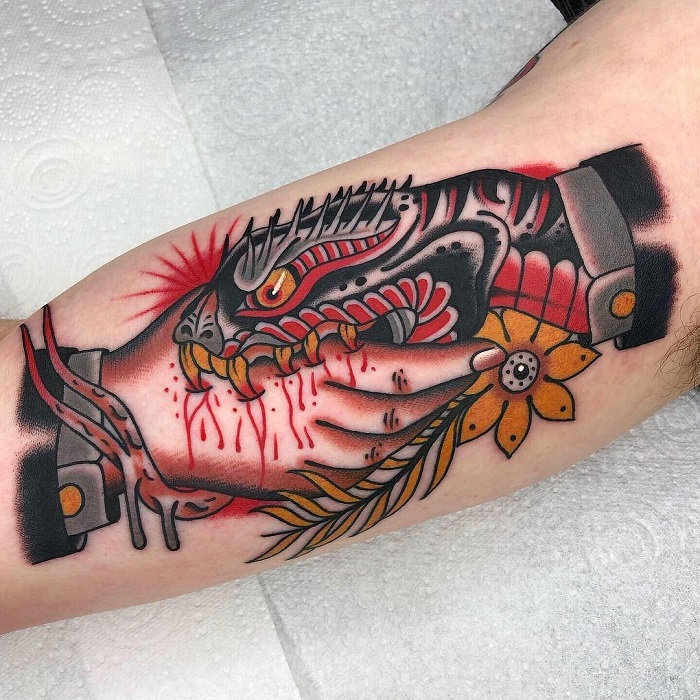 The trust no one tattoo has no clear history. However, the imagery of the snake is a symbolic portrayal of what transpired in the Garden of Eden. Many believers and non-believers alike are familiar with the origin story of human existence.
Here's a synopsis of this story: a man named Adam and his partner Eve are created then placed in the Garden of Eden and they're told they have the whole world to themselves, so long as they stay away from the forbidden fruit.
But it wasn't long until a snake convinced Eve to eat the fruit, which then led to the couple's downfall and expulsion from the Garden of Eden. As such, the snake became a symbol of dishonesty and betrayal, which is why you may see it included in many trust no one tattoo designs.
Which Celebrities Have a Trust No One Tattoo?
The trust no one tattoo is not a new concept or trend. While we cannot exactly pinpoint when this tattoo rose in popularity, we do know it's a common script design amongst a plethora of social groups. 
So it's no surprise that even celebrities have this statement-making ink permanently placed on their bodies.
Rappers are amongst the most popular celebrity groups to have this tattoo. For instance, rappers like Compton's YG and southern belle Latto both have this tattoo.
Other celebrities that have this tattoo are sultry songstress Lana Del Ray and highly talked about drummer boy Travis Baker. Although none of these trust no one tattoos is alike, it's clear that the upfront message seems to resonate with all kinds of people. 
Whether you've long been considering this tattoo due to your own experiences, or you enjoy a good conversation starter in the form of blunt and bold body art, know that you won't be alone with this design.
Although the message may seem a bit harsh, that doesn't stop it from being a highly sought-after tattoo.
---
Looking for more inkspiration? Say no more:
30 Best Death Before Dishonor Tattoo Ideas
30 Best Laugh Now Cry Later Tattoo Ideas
Get Access to Exclusive Deals
Subscribe for free to get exclusive deals in your inbox. 100% privacy