30 Best Money Bag Tattoo Ideas 
About Money Bag Tattoos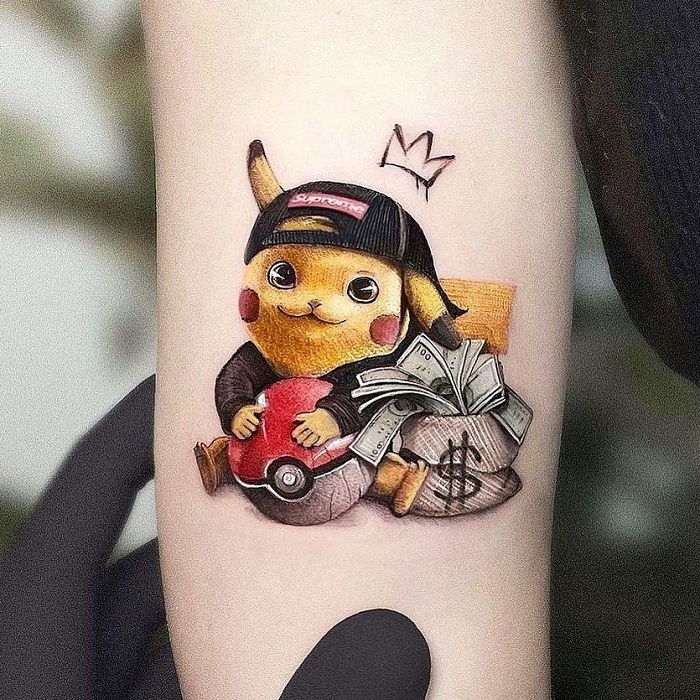 Consider the money bag tattoo a permanent financial symbol on your body. It's exactly what you think it is and nothing less—it's a literal tattoo of a money bag.
It's hard to pinpoint exactly when this tattoo style came into popularity, but there's no denying its impact and trendiness.
From celebrities to the average Joe, this tattoo has covered many bodies and many body parts. So it would be no surprise if you're thinking about getting a money bag tattoo.  
The style is often that of an animated money bag (think Scrooge McDuck) although some ink addicts have opted for a more realistic-looking cash bag. 
Whether you're debating your first, second, or last tattoo, consider for a moment a non-conventional image like the money bag. If you're still on the fence about which tattoo to get, allow this guide to be your decision-maker.
Read on to learn more about money bag tattoos:
Money bag tattoo ideas
The money bag tattoo meaning
Tattoo prices
Where to get inked
Money bag tattoo designs
History of this tattoo
What Do Money Bag Tattoos Mean and Symbolize?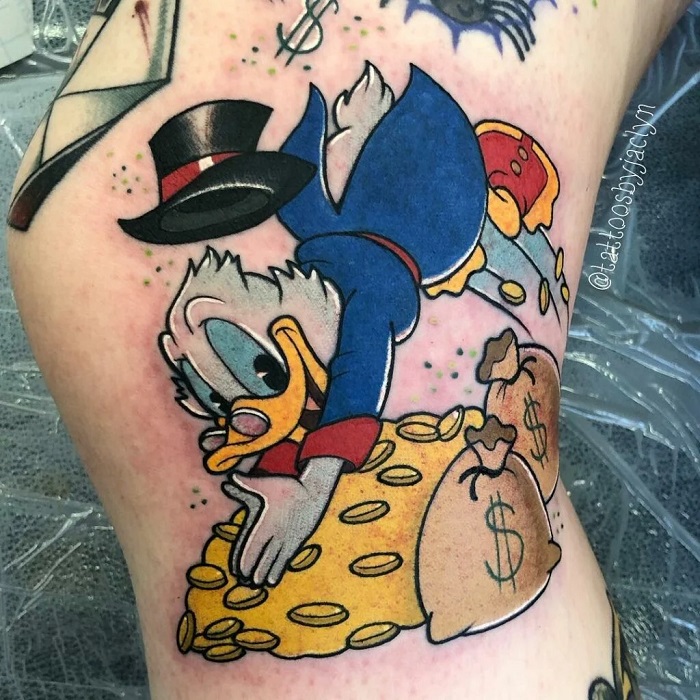 The money bag tattoo, whether done ironically or unironically, could mean a number of things depending on the wearer. In the end, this specific piece of bold body art revolves around status, worth, and, of course, the dollar dollar bills y'all. 
Anyone with a money bag tattoo understands that cash rules everything around them and whether they have a lot of zeros in their bank account, or only zeros on their bank account, money is something important to them. 
In a more ironic sense, one might get a money bag tattoo if they study or work in finance or if their favorite rapper shares a name with the cash-holding item.
It's not the most prolific or profound tattoo, but it certainly gets noticed no matter the reason why it was inked. 
Where to get a Money Bag Tattoo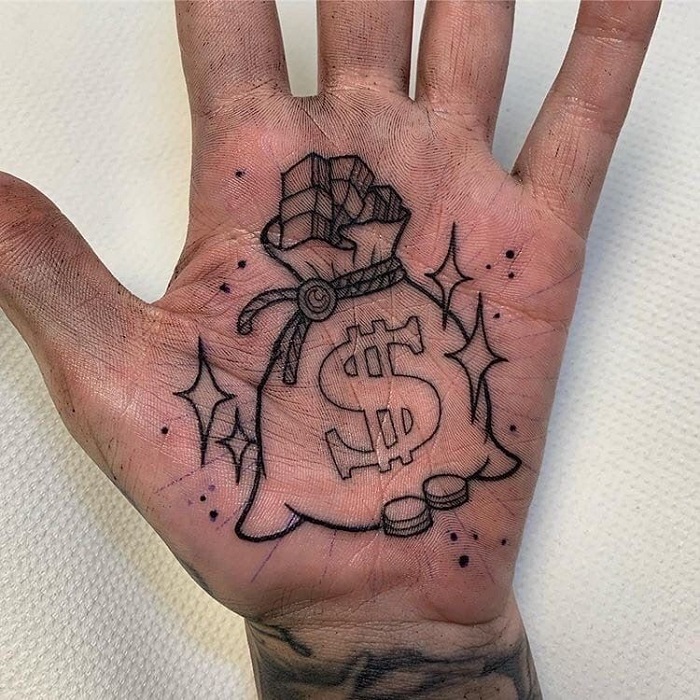 Money bag tattoo designs can be placed on a number of body parts. While some wearers might wear their love for money on a tattooed sleeve running down their arm, other places one can get a money bag tattoo are:
The hand is a common canvas for a number of tattoos and this does include the money bag tattoo. Cover the entire backhand with a money bag bursting with cash, or design it small and get it on one corner of the backhand. 
The chest is a no-brainer area for money bag tattoo ideas. Since the area is rather wide, it gives you and your tattoo artist more space to get creative with bigger design ideas. 
Popular neck tattoos seem to be a pair of lips, cursive text, or a galaxy of stars that cascade from the ear (shout out to Rihanna). But the neck can also host a beautiful money bag tattoo.

Tatt it right on the center of your neck so people know right away that you're fluent in the language of cash money. 
As noted before, a money bag tattoo would make a sick addition to a full, quarter, or half sleeve design. However, if you aren't up for a full arm of tattoos, consider getting a money bag on your biceps, wrist, or forearm.
The back and side of the shoulder are great places for most tattoos. The added room gives you space to get really creative with your design ideas, and they're also areas you can cover up in your everyday life.
The life of any tattoo, money bag or otherwise, is dependent on the wearer's commitment to upkeep. A tattoo with fine lines can last up to fifteen years while a bigger, bolder tattoo can last forty to fifty years without looking faded.
Of course, this won't be the case if the wearer is less inclined to have their tattoos touched up.
How Much Do Money Bag Tattoos Cost?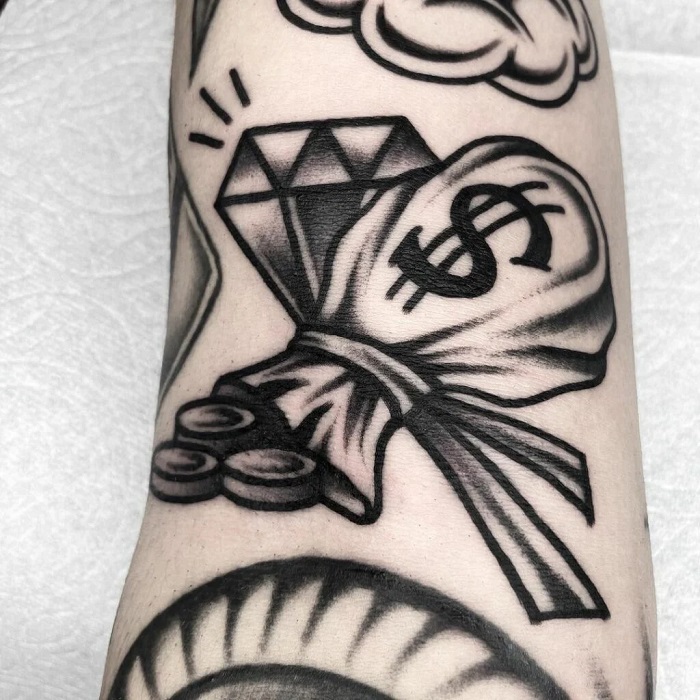 The cost of a money bag tattoo is dependent on a list of things, and all of them have to do with the kind of tattoo artist you chose.
It's also important to note that most, if not all, tattoos require a deposit before any work can begin. These deposits are determined by the artist or the owner of the salon in which the artist works.
While it's difficult to estimate the cost of the deposit since every artist is different, note that the deposit will most likely start at around $100.
In addition to the deposit, here are other things that affect the price of your tattoo: 
The artist – Every tattoo artist has a list of rates they follow, as well as an initial deposit that's required before the work begins. This number is usually determined by how skilled the artist is and what kind of work they must do.

The size – The size of the tattoo greatly affects how much it costs due to the amount of time it takes to complete the work.

While two clients could both get the same money bag design, if one gets a smaller wrist sized version and another gets a larger full back image, the smaller design would be significantly cheaper.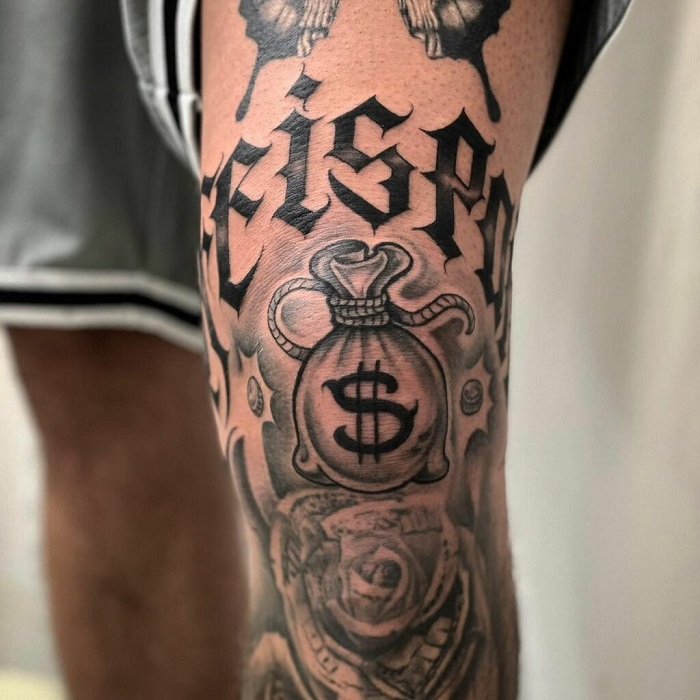 It's important to note that in most cases the tattoo deposit does not fluctuate or change based on the size of the tattoo.
Color – Some artists specialize in color tattoos and base their pricing on the design, time, and their skill level. Other artists, on the other hand, might just charge you for the time it takes to complete the tattoo.

Time – Every tattoo is booked in as a session and some tattoos require more sessions to complete than others. If your tattoo is a design that requires more than one session or a session that's extensive, know that the cost is going to go as a result.
Be diligent when doing research to find a tattoo artist. While good tattoos aren't cheap and cheap tattoos aren't good, you're bound to find an artist that can work within the budget you've set—especially if you consider all of the above factors when budgeting.
30 Best Money Bag Tattoo Designs
#1: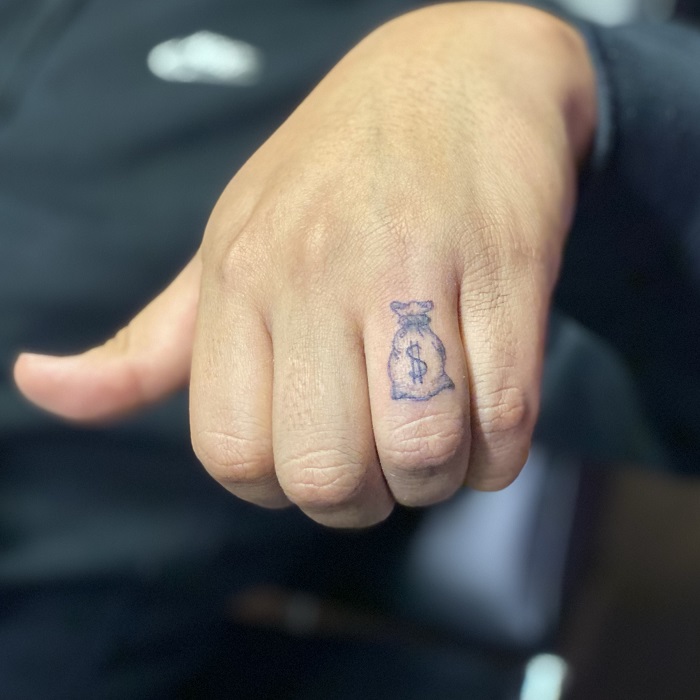 #2: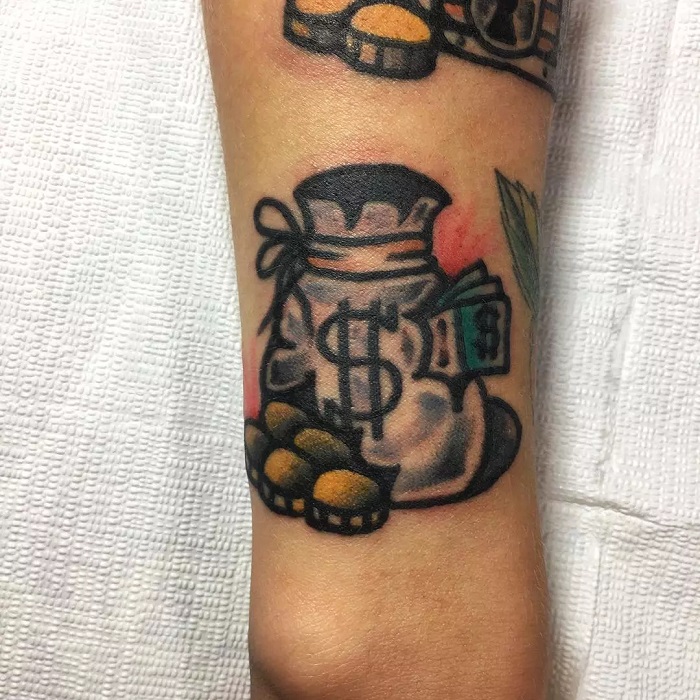 #3: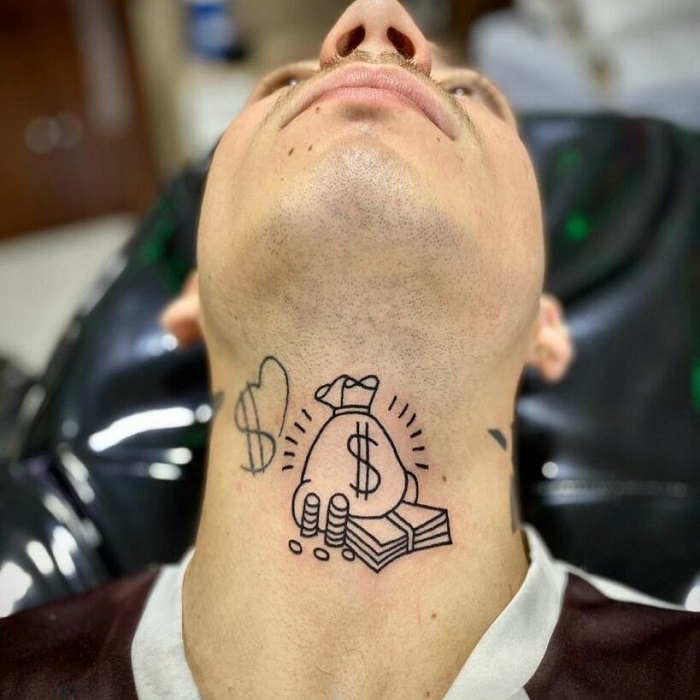 #4: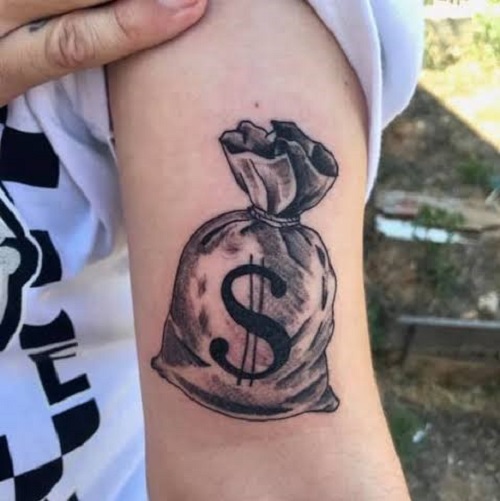 #5: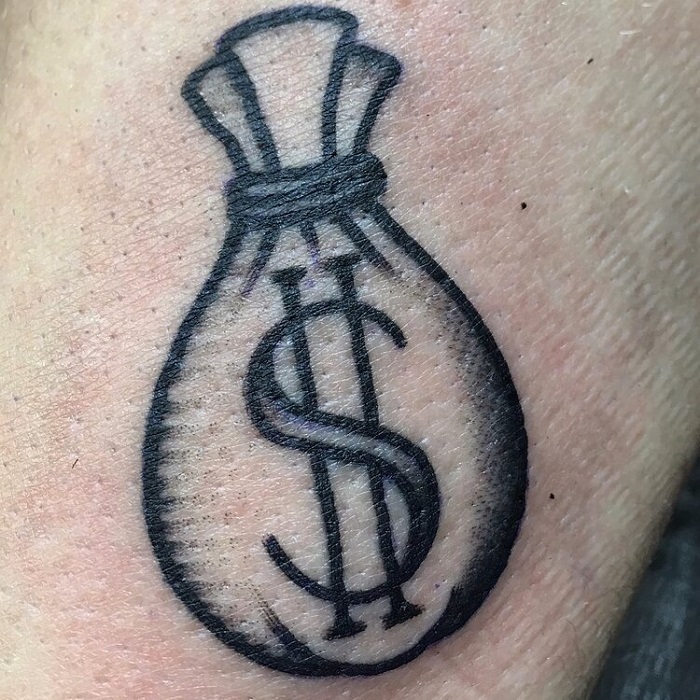 #6: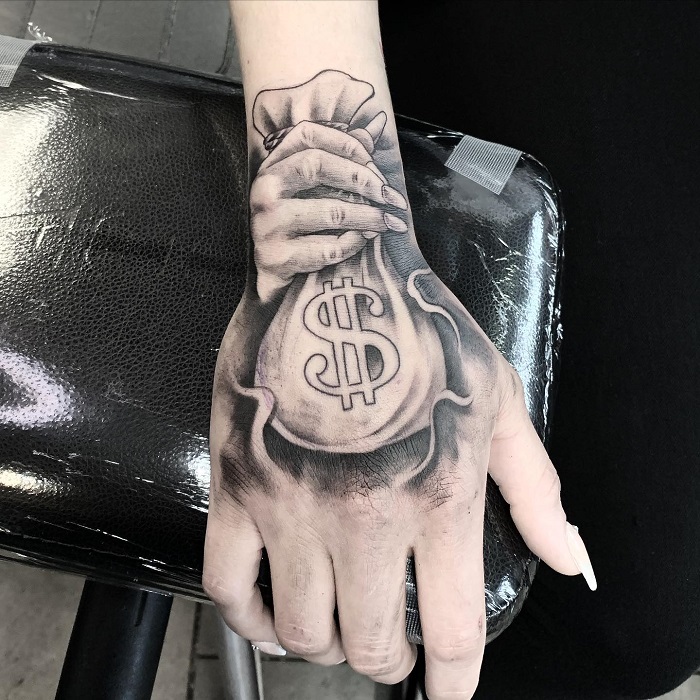 #7: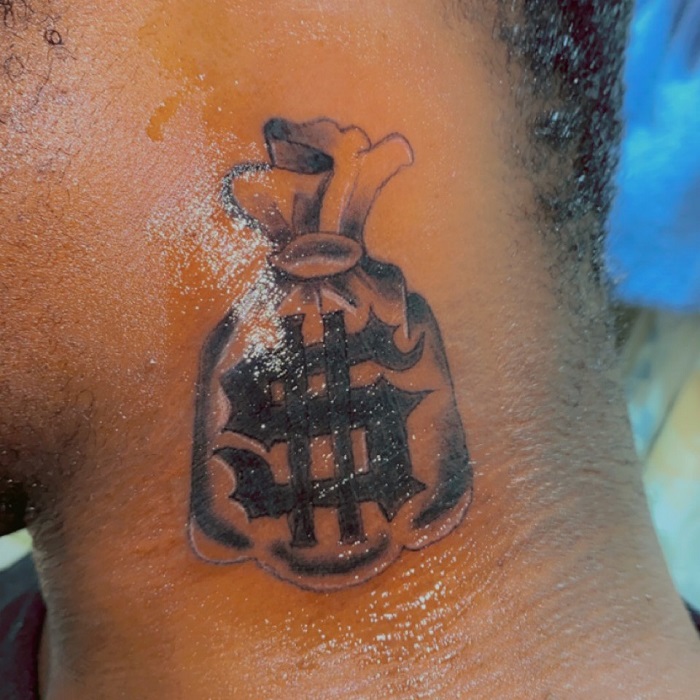 #8: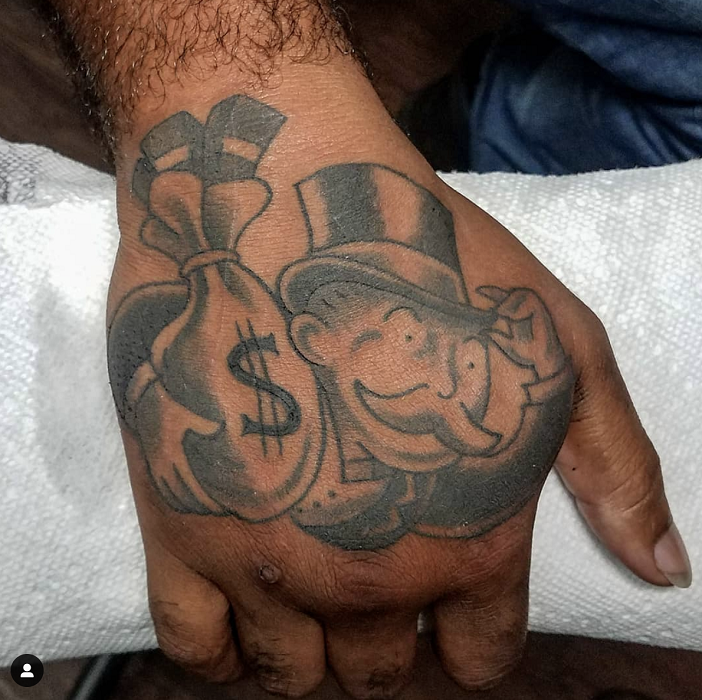 #9: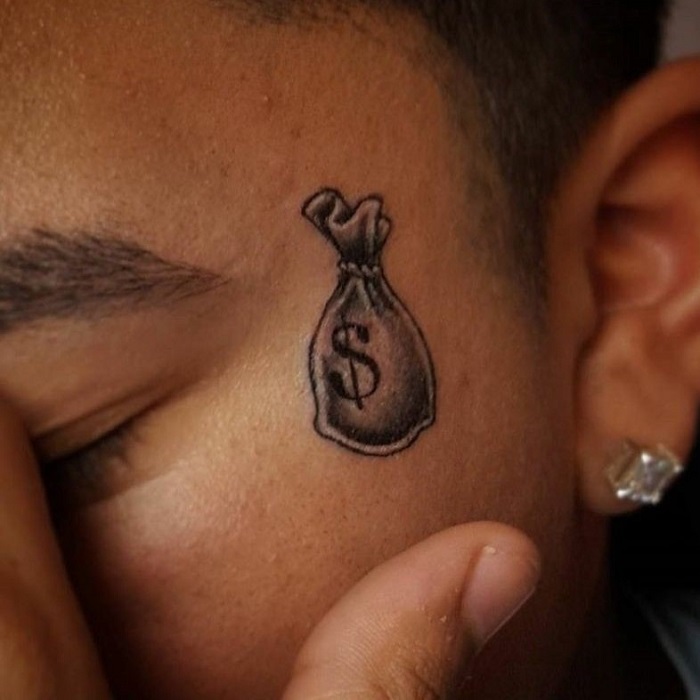 #10: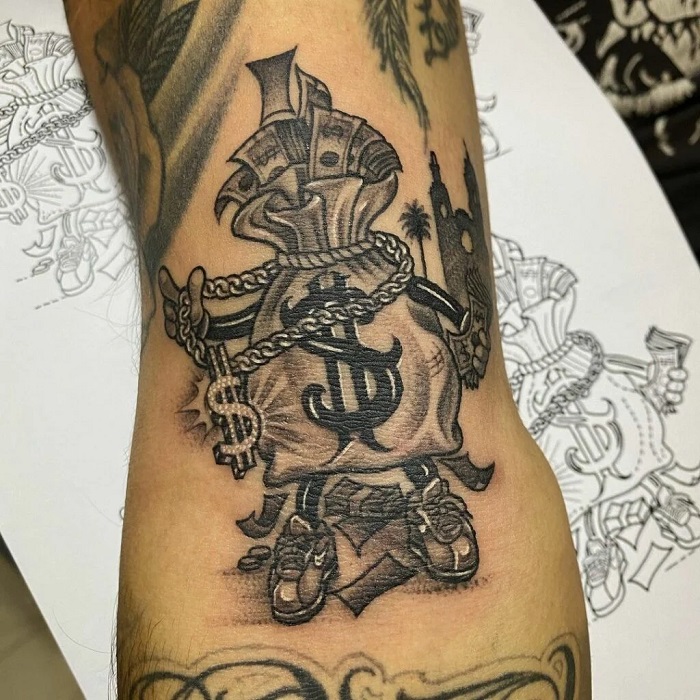 #11: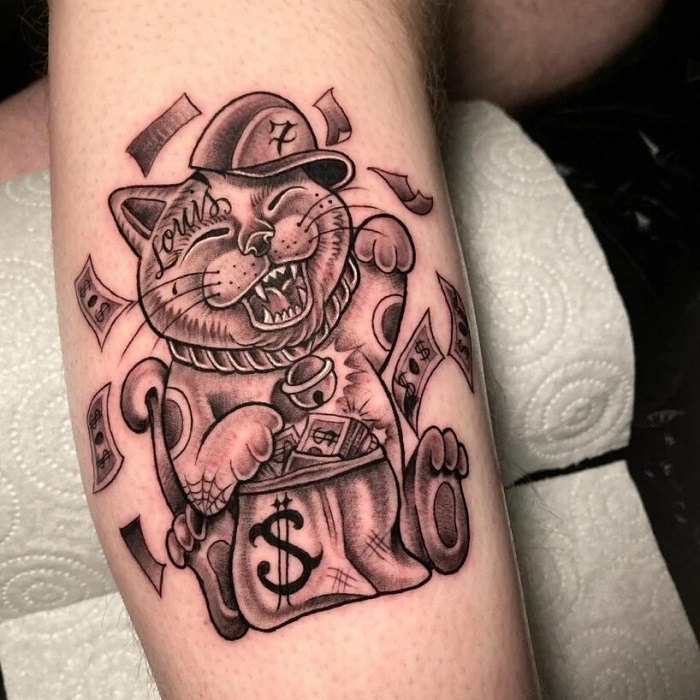 #12: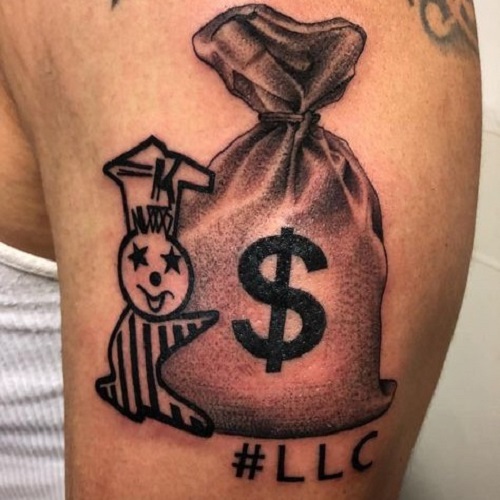 #13: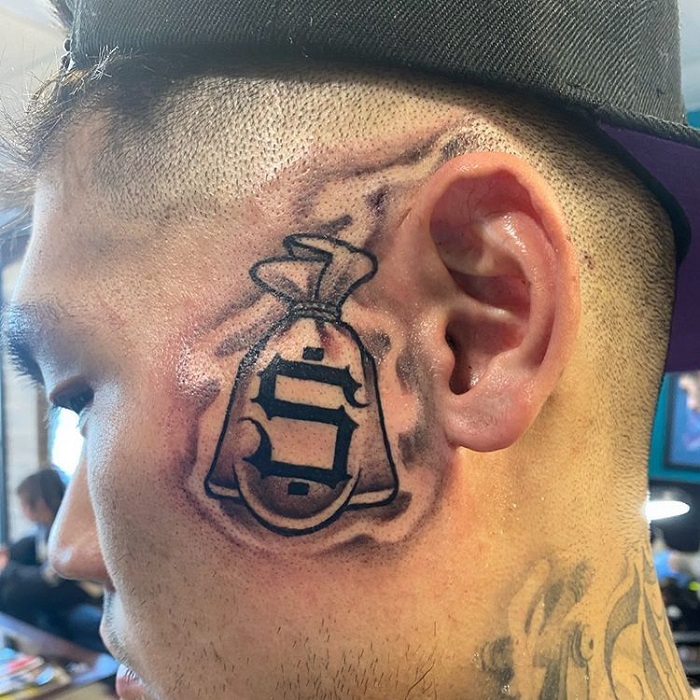 #14: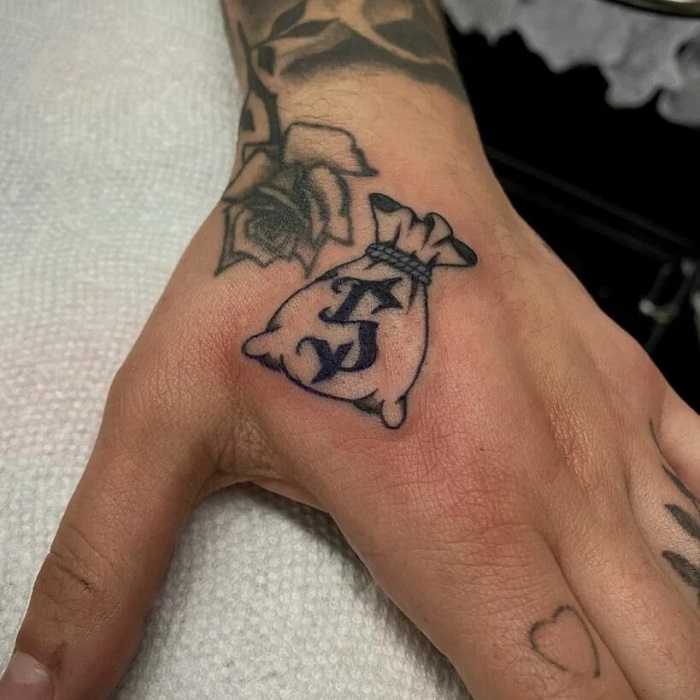 #15: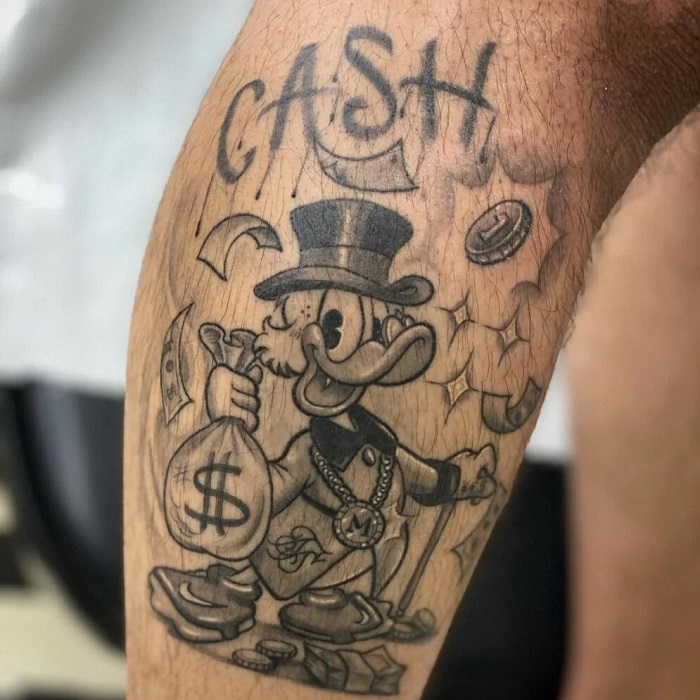 #16: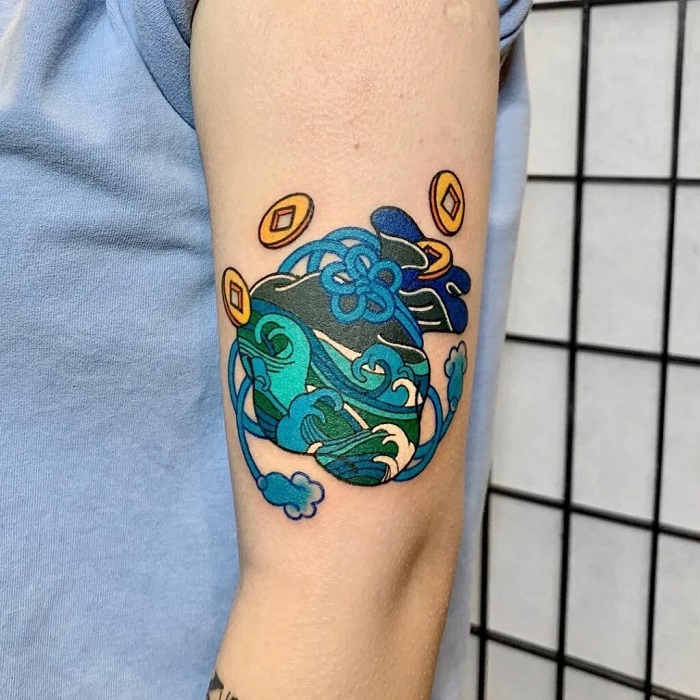 #17: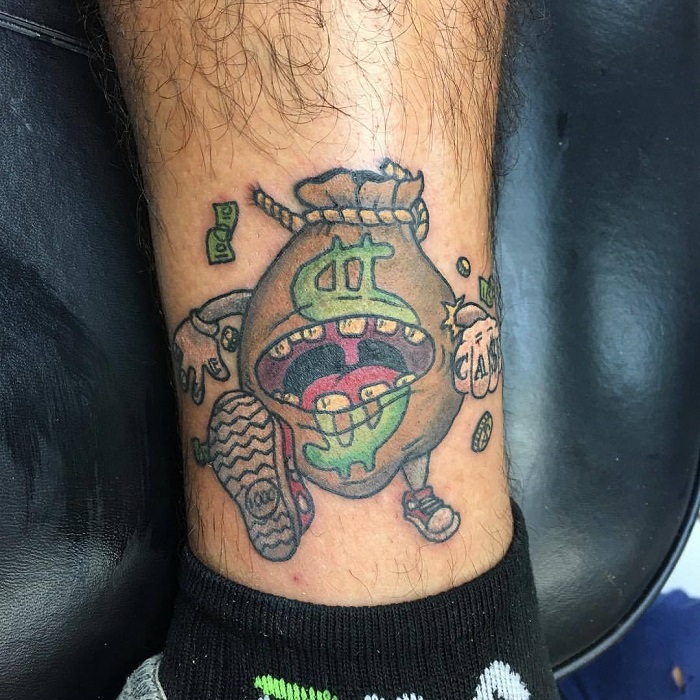 #18: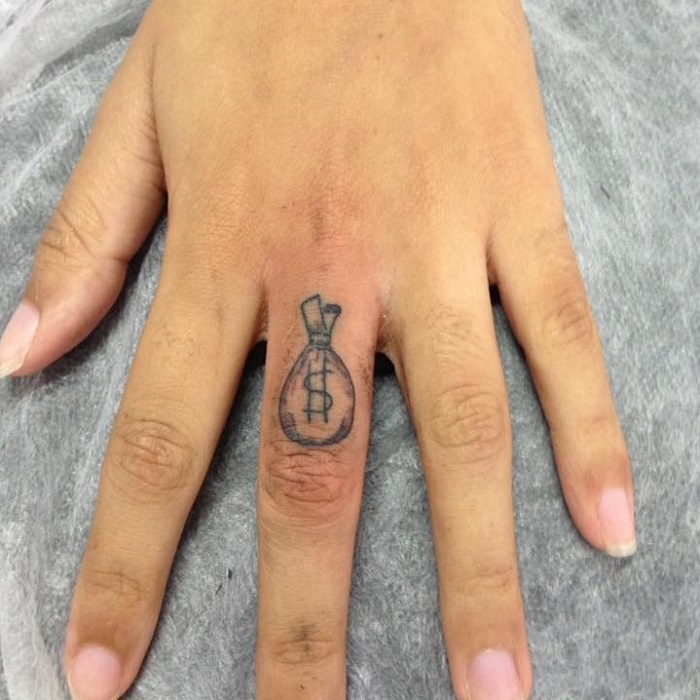 #19: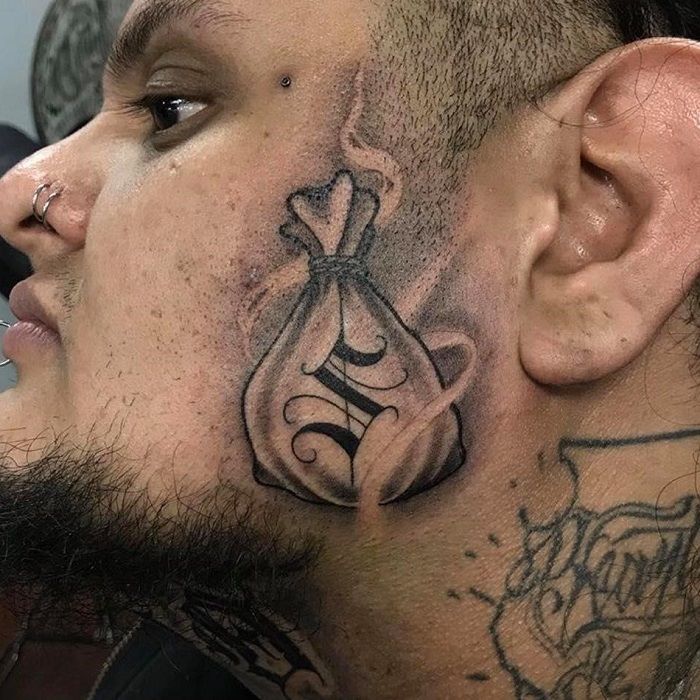 #20: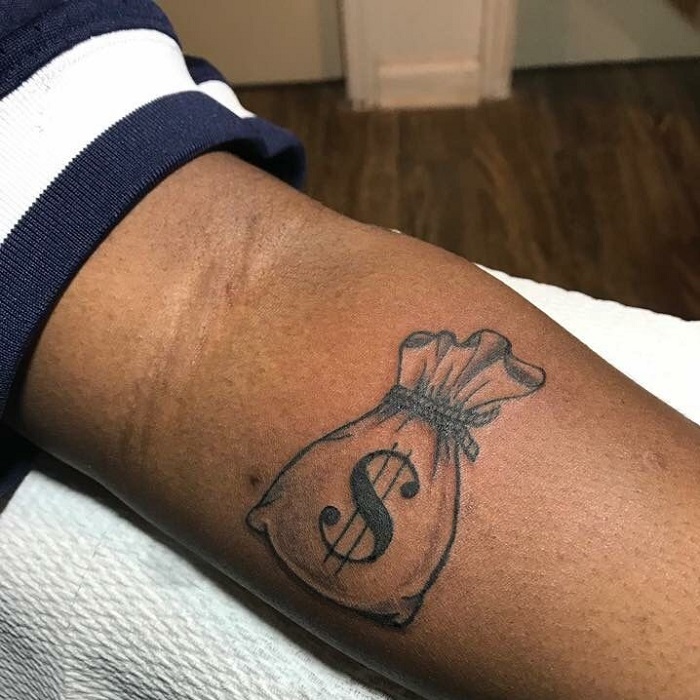 #21: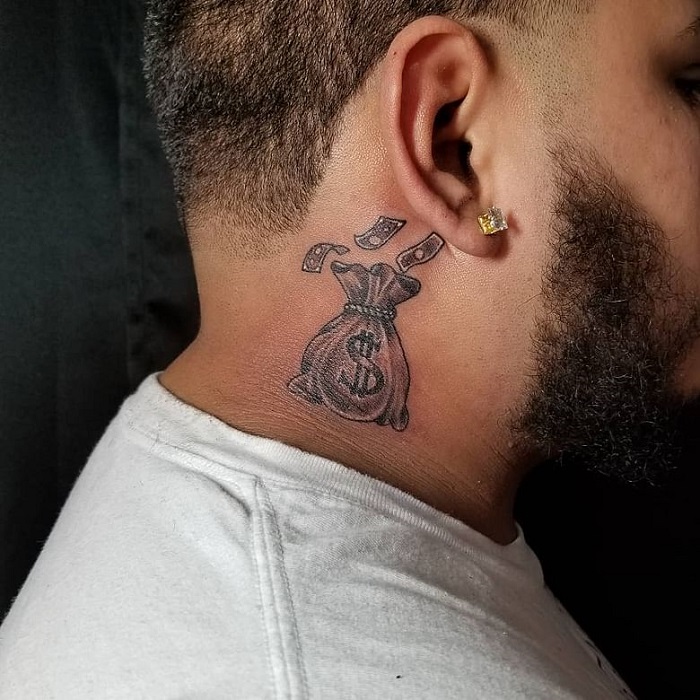 #22: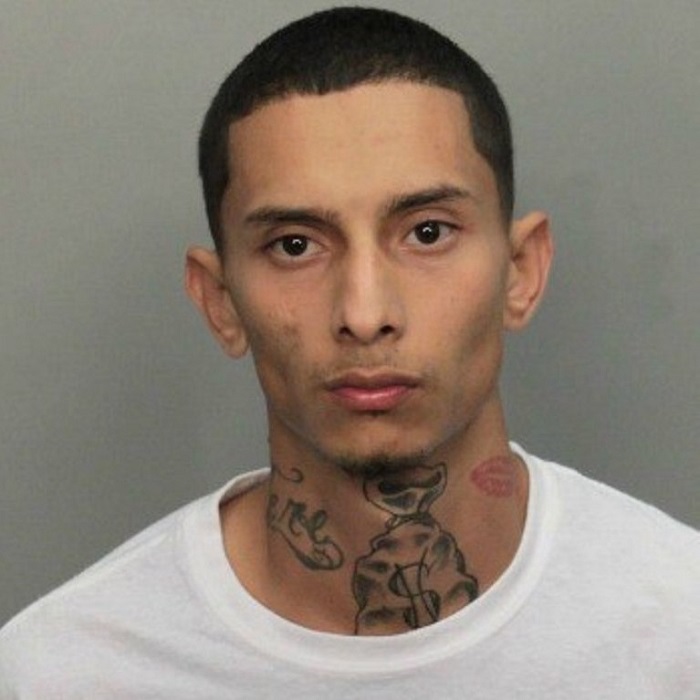 #23: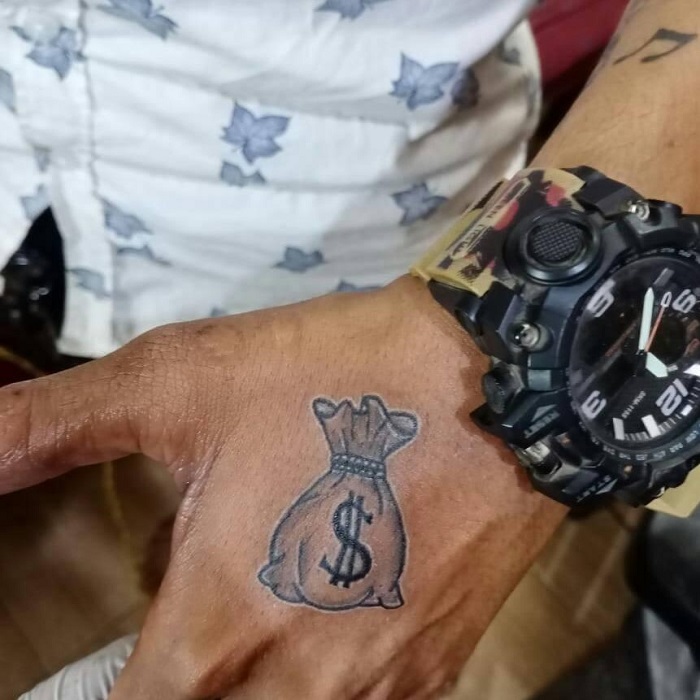 #24: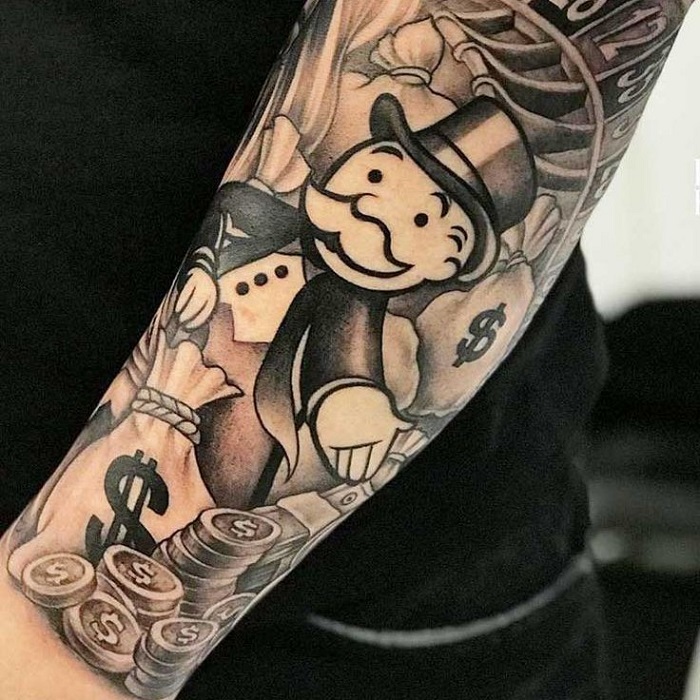 #25: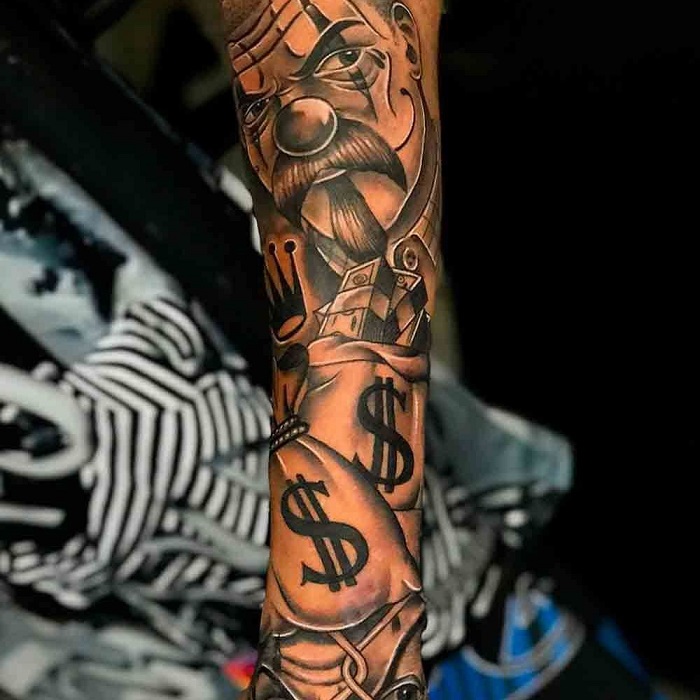 #26: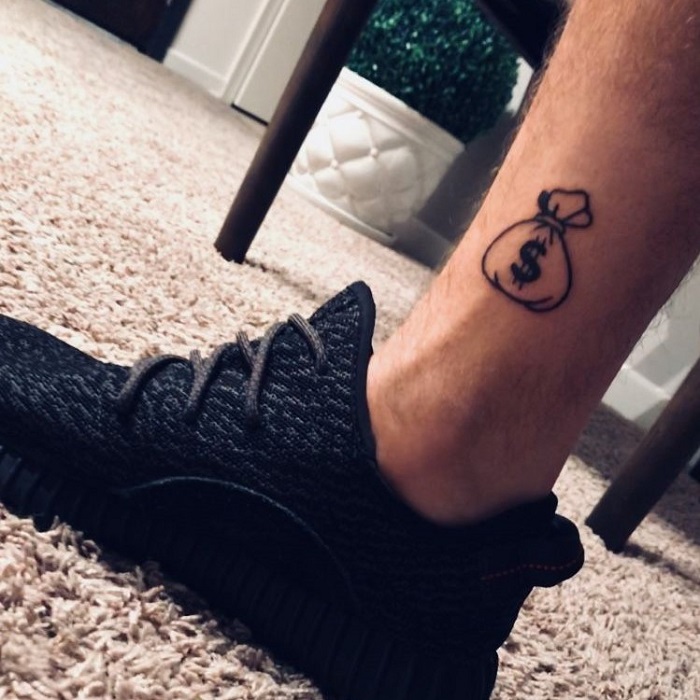 #27:
#28: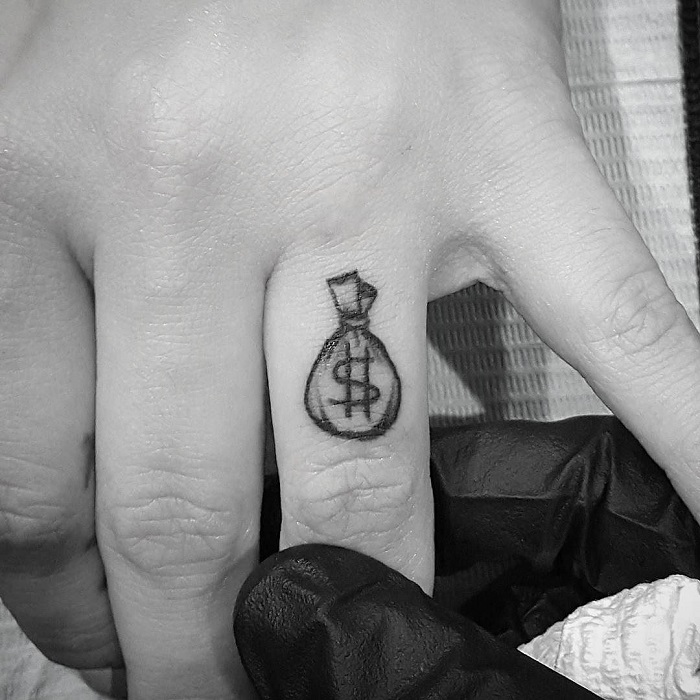 #29: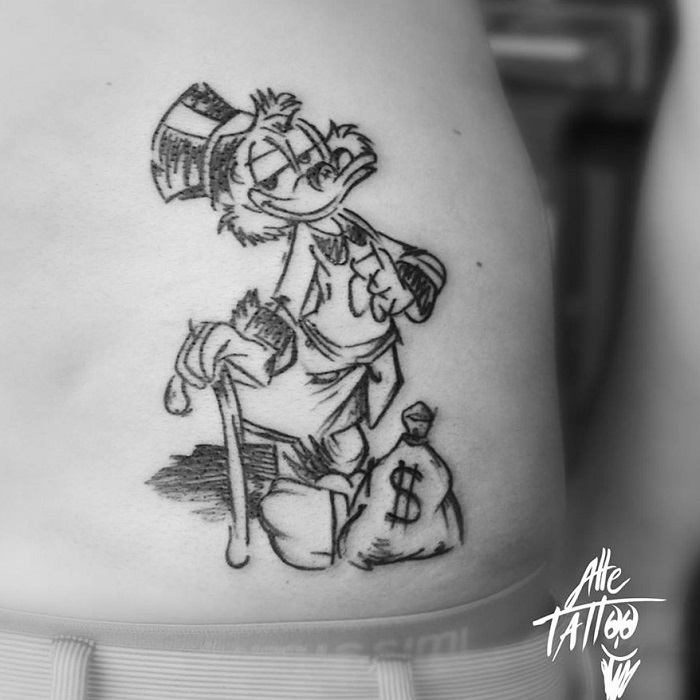 #30: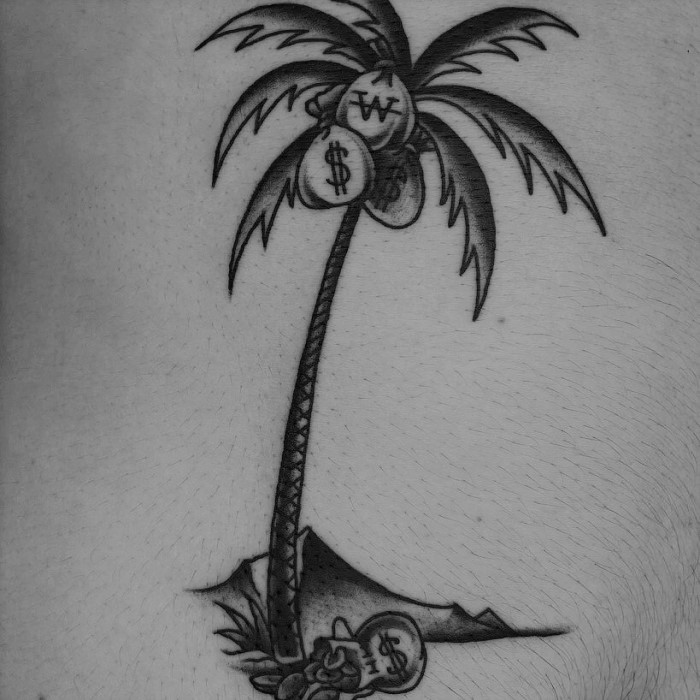 History of the Money Bag Tattoo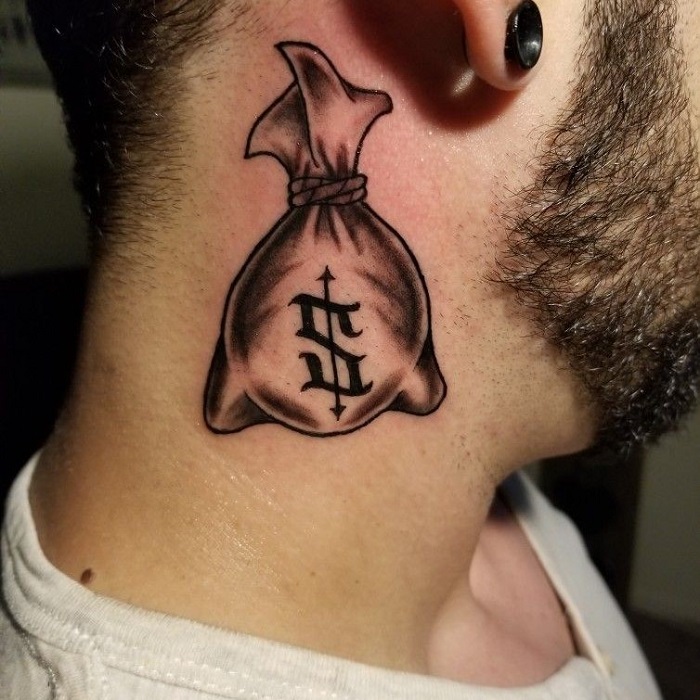 Although the art of tattooing dates back up to 10,000 years ago, it's largely unknown when money bag tattoo ideas became trendy. However, it's been proven that this tattoo style is here to stay.
Finance-forward tattoos have long been common in the entertainment industries, and a long list of rappers sport money-related tattoo designs. 
Regardless of the curious history of this tattoo design, it's been a staple in the body art community for quite some time.
It's also important to note that while money bag tattoo ideas are popular, money bag tattoos are not the only tattoo design that'll put dollar signs in your eyes. 
In addition to the money bag tattoo, here are some other finance-focused tattoos:
The dollar sign is a popular tattoo amongst money maniacs, folks in the entertainment industries, and the everyday person. It's a clean tattoo design that can be stylized in a number of ways and with different fonts.
Dainty tattoo lovers might find this style more appealing than the money bag tattoo due to its petite size. 
'Money talks' but perhaps you prefer it to speak a little quieter when it's tattooed on your body.
When a money bag tattoo design is far too maximalist for you, try a roll of $100 bills instead. This tattoo is most commonly designed to look like American currency. 
A cheeky spin on economic tattoos, the Monopoly man (Mr. Monopoly) is a cute and cartoonish portrayal of everything the money bag tattoo represents. The Monopoly man is a more nostalgic or ironic approach to finance-friendly body art. 
Whether the word 'money' or money-related text, there's nothing more straightforward than words on a page or, in this case, words on the body.
Like the money bag tattoo, these other cash-related tattoos are also popular within the entertainment industry.
Perhaps you may not see your favorite actor, influencer, or model with a money bag tattoo, but you're likely to see another money symbol tattoo on their body. 
Which Celebrities Have a Money Bag Tattoo?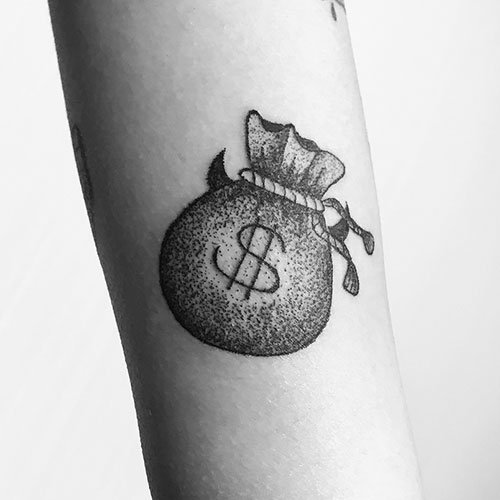 The most prominent celebrity with a money bag tattoo is most likely 'Scorpio' rapper Moneybagg Yo.
It's a no-brainer that an entertainer that goes by the name Moneybagg would have this particular tattoo, but he isn't the only one. 
Moneybagg Yo wears his pride for money and his namesake on the center of his neck, and it has been reported to be one of his most popular tattoos.
The Memphis rapper's ink addiction started at 16-years old but even his other tattoos can't steal the limelight away from his money bag tattoo. 
Other celebrities that have money bag tattoos are also rappers. Chicago native Lil Durk may have the name of his son tattooed on his body in two separate spots (one being his face), but the money bag tattoo on the back of his left hand is just as attention-grabbing. 
When it comes to the money bag tattoo, Atlanta rapper Soulja Boy would rather 'tatt that' than 'crank that.' In 2020, he made headlines for his decision to have his face tattoos removed.
While the term 'RICH GANG' is no longer cascading down the side of his face in block letters, his body tattoos appear to be in their rightful places. 
---
Looking for more inkspiration? Say no more:
30 Best Death Before Dishonor Tattoo Ideas
30 Best Laugh Now Cry Later Tattoo Ideas
Get Access to Exclusive Deals
Subscribe for free to get exclusive deals in your inbox. 100% privacy