What to Wear With Black Jeans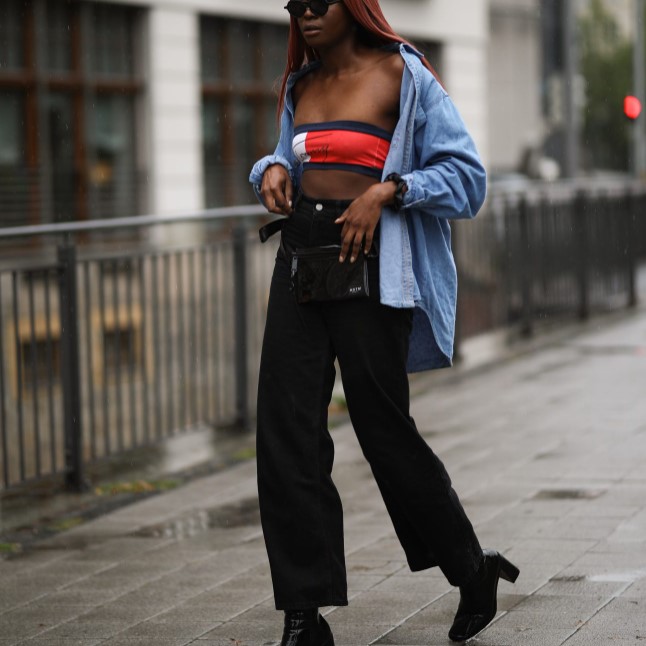 Opting for classic blue is never a bad idea, but black's a traditional closet staple. There's a reason why most of us reach for our charcoal pair. It's safe, straightforward, and relatively easy to style. 
Plus, our go-to black jean is considered a more 'dressed-up version' than the lax set of sweats. Celebrities like Hailey Bieber, Selena Gomez, Dakota Johnson, and Kendall Jenner have all been caught wearing dark washes during their off days.
Outfit inspo is an instantaneous moment—and chances are that you've clicked on this article for some styling ideas. Here, we'll offer up some ideas on what to wear with black jeans.
From runway-ready to chill athleisure, we'll touch upon a few core aesthetics to ensure we include every type of trendsetter.
20 Best Outfits That Go With Black Jeans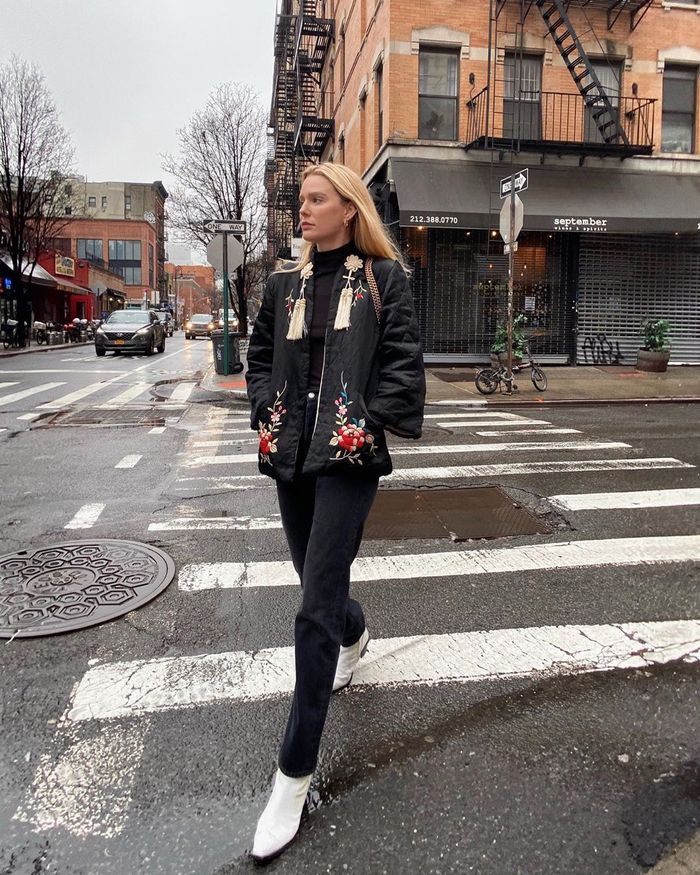 If we're going to discuss what looks good with black jeans, we need to go back to the basics.  First, choosing the type of wash and silhouette is a critical point to consider. Opting for full dark no stars usually denotes a cleaner and more conservative look. 
On the other hand, faded hues typically signify soft-grunge aesthetics and classic streetwear. Of course, these are just general observations attributed to jean washes, but it's a good starting point for novice fashionistas.
Silhouette is usually an after-thought, considering that some of us are still stuck in the 2010's skinny jeans era. But, with the rise of social media, we're seeing an influx of various cuts and shapes.
There's bell-bottoms, cigarette-style, balloon, mom jeans, boyfriend jeans, high-waist, and low-waist, to just name a few. Of course, body shape is another point to consider when choosing a distinct silhouette.
So, with these two style pointers in mind, what are some things to wear with black jeans? Consider us your temporary fairy godmother, as we'll gloss over some classic ensembles, as well as some non-traditional ones, to help stir up your fashion game. Let's get started!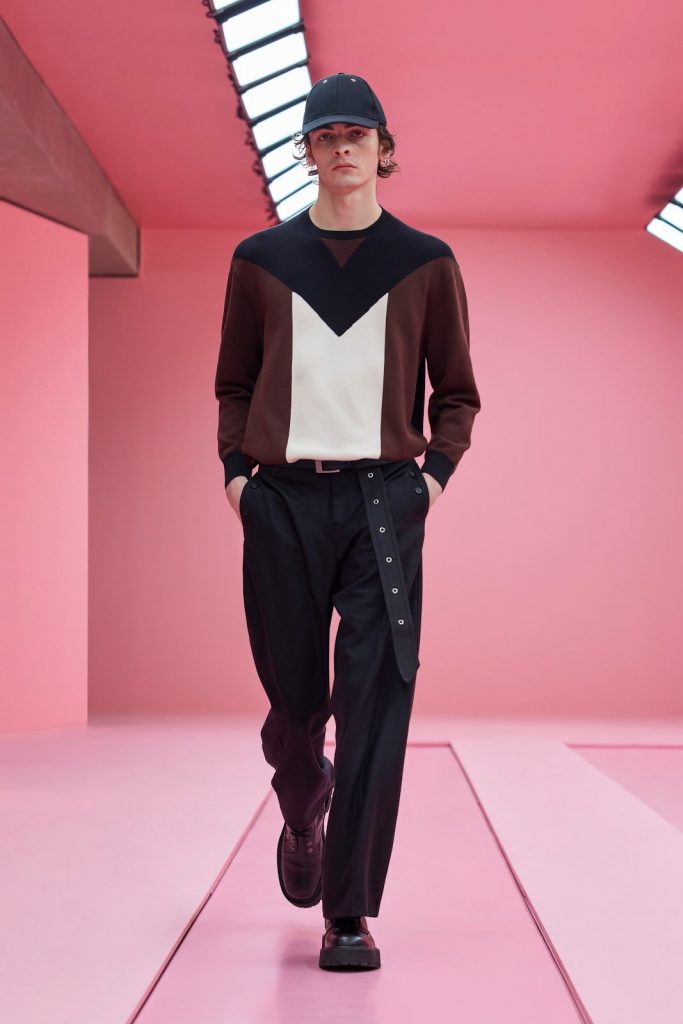 Neil Barrett has an eye for old-English menswear, as obviously showcased in his Fall 2020 collection.
Uniformity, an aesthetic in which he prevalently dips his toes in, can be expressed through sharp lines, distinct silhouettes, and color-blocking.The result? A completely wearable look that can work on and off the runway.
While this look is intended for men, we see no reason why it couldn't serve as an iconic androgynous look. All you need is a color-blocked sweater, a baseball hat, chunky loafers, and a silver-grommet belt. It's undeniably school-boy chic.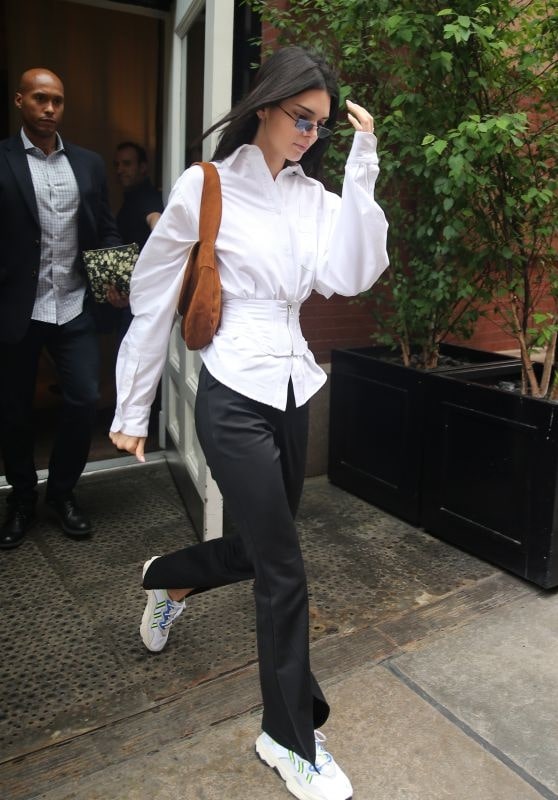 Kendall Jenner loves a controversial pair of pants. From snakeskin prints to sheer black leggings, this girl knows the meaning of avant-garde. 
Here, she plays it relatively safe. Donning a white bustier, collared shirt, and a pair of classic black jeans, Jenner manages to elevate the classic dark fade. Given that she wore this galavanting in New York, we say it's synonymous with classic NYC glam.
Corsets and jeans offer a refreshing juxtaposition of feminine and hardcore-grunge.
To further offset the look, we love that she paired it with a 2000's style brown bag and some dad-approved sneakers. There's a reason why Instagram influencers are taking inspo from Kendall Jenner.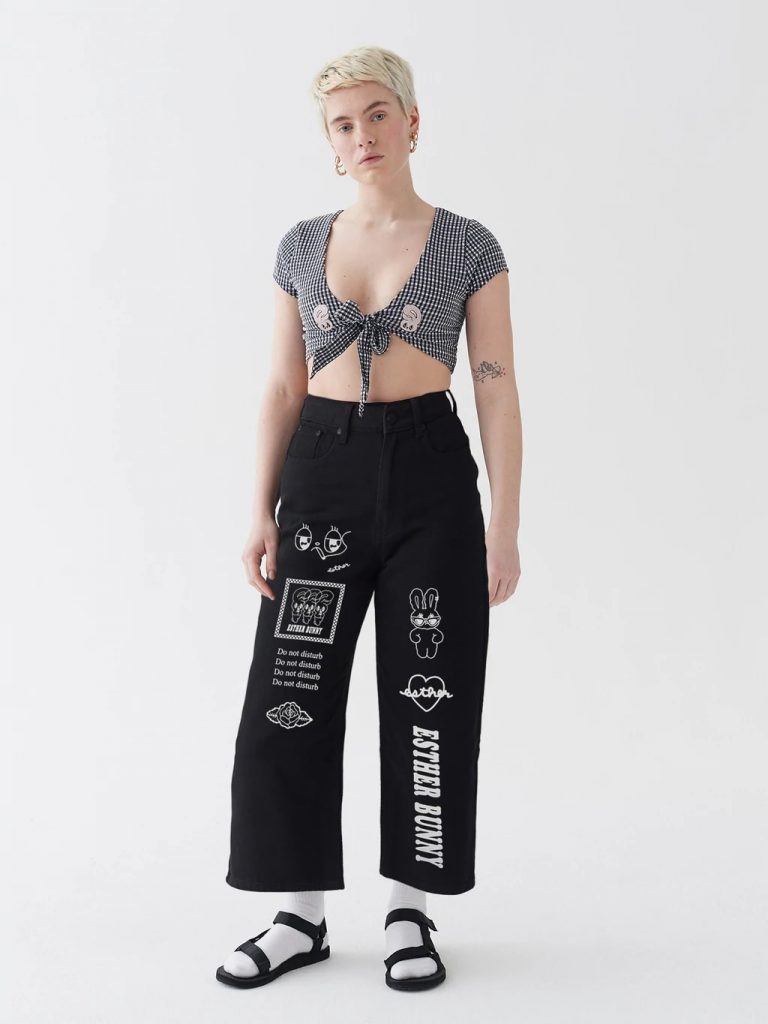 Opting for cute and quirky is the go-to for many Tik-Tokers, given that e-girl core is still all the rage. Lazy Oaf, a streetwear brand located in North London, is at the heart of generation z fashion.
Known for its unconventional prints, relatable quotes, and relaxed silhouettes, this clothing boutique is anything but ordinary.
If you want to jump on the "I'm a pretty boy, I'm stunnin'" aesthetic, we suggest going for Lazy's Oaf's white printed wide-leg jeans with a gingham top. Socks and sandals are always a dodgy choice, but hey, it's at least a look.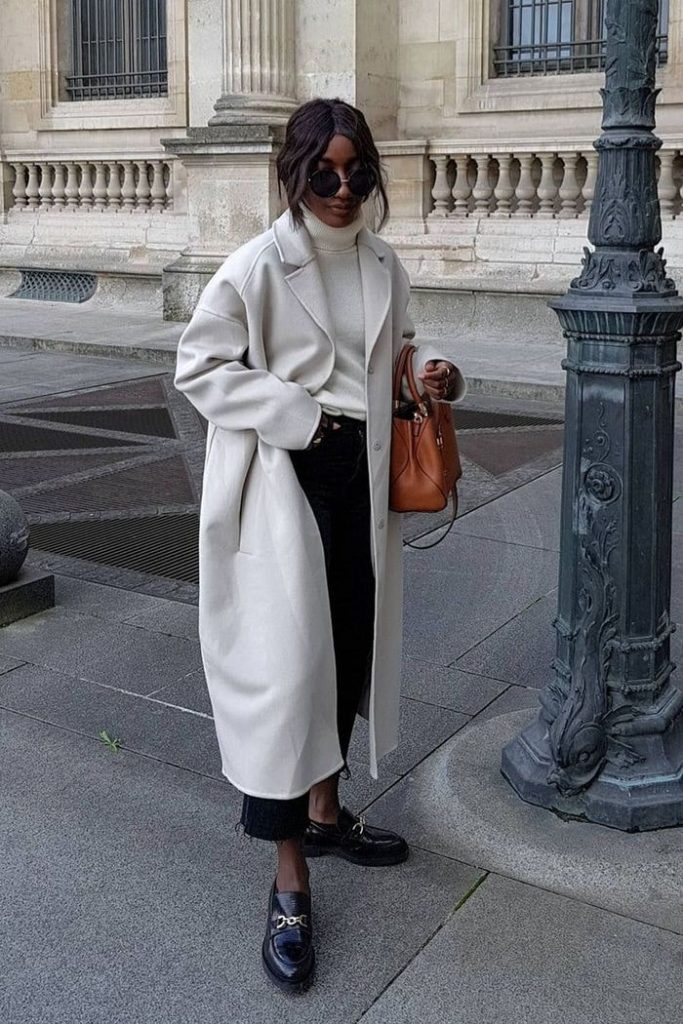 Go on, ask every girl you know; they're bound to own at least one item bought from Aritzia. Best known for their Super Puffs and Babaton knitted tops, this uber-popular clothing brand is a favorite among the Instagram crowd.
It's a great place to buy clothing basics, as they provide simplistic silhouettes and closet staples that are bound to stay forever in your wardrobe.
Speaking of which, this outfit draws some inspiration from Aritzia—as featured in the cream-colored white trench coat and turtleneck. To help slim down your figure, a pair of black cigarette pants are essential to wear.
Topped off with a set of sunnies and some loafers, you're all set for a mid-afternoon coffee run.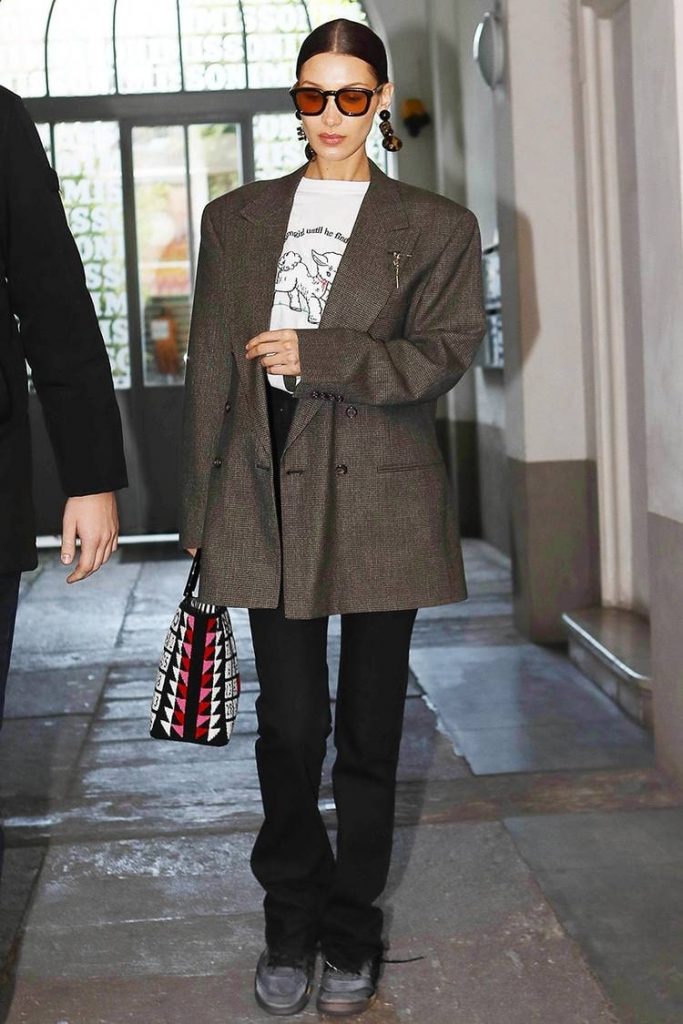 The oversized men's blazer is coming in full force in 2022. Considerably an homage to the shoulder-padded era of 1987, this office-chic aesthetic draws power from the exaggerated silhouette of the coat.
Here, Bella Hadid does the look justice by opting for a more lax look composed of a white graphic tee, dusty shoes, sunnies, and a pair of statement earrings.
Instead of opting for a classic pencil skirt, Hadid wears a pair of dark wash jeans for a more streetwear-appropriate look. They're slightly too long, but it helps break up the monotony of straight lines already provided by the blazer.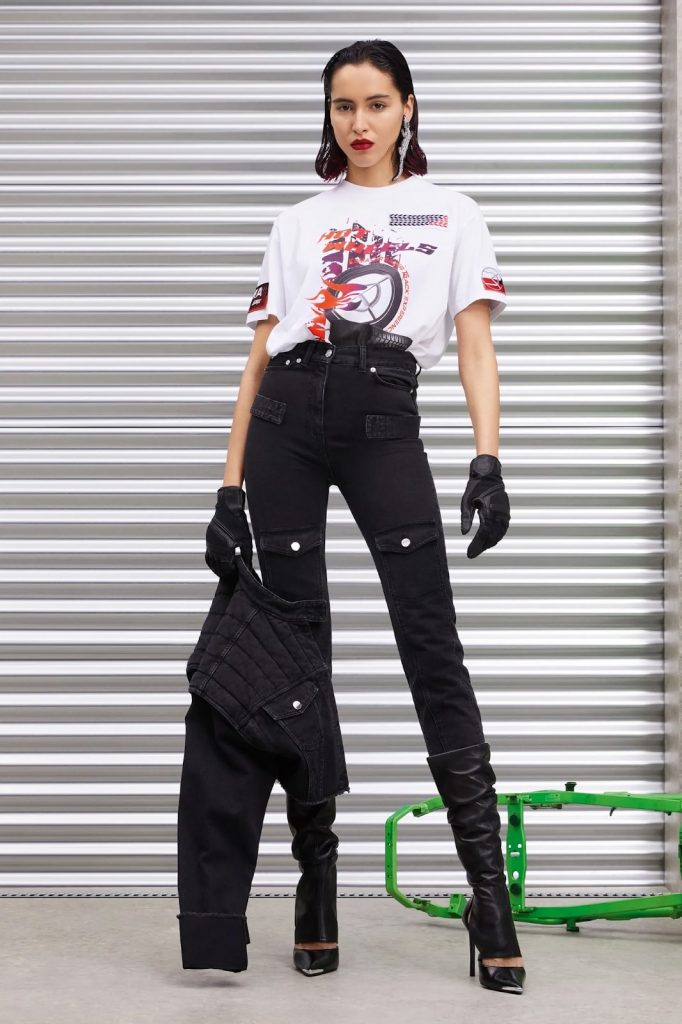 It's Harley Davidson, but make it runway. That's at least the general inspo for David Koma's Pre-Fall 2022 collection, as showcased in bike helmets, leather jackets, and a love for Guy Fieri-style flames.
We'd say that it's a love letter to old-school Americana mixed with 1950s greaser.
In this look, Koma plays it relatively safe by going back to the basics. Paired with a white graphic tee and a cropped denim jacket, the real star of the show is the set of silver-studded black jeans.
Not only does it accentuate the waist, but it also provides a bit of height. Plus, when matched with the stiletto shoes, this look is just *chef's kiss.*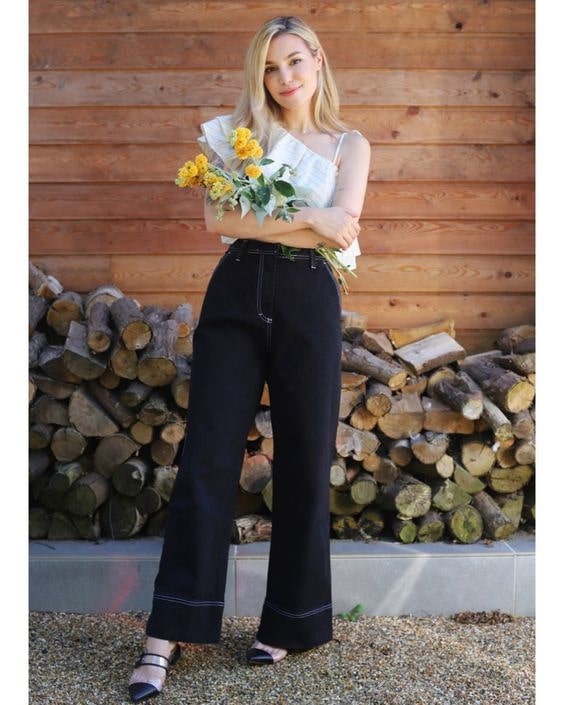 Typing 'things to wear with black jeans' into the search engine will usually result in grunge-inspired outfits. 
While some play it safe with a flannel collared shirt and a graphic tee, some advanced stylers provide a bit of juxtaposition by marrying ultra-feminine with dark and brooding.
Take, for instance, Marzia Kjellberg, an Instagram influencer known for playing around with various colors and silhouettes.
In place of a tee, a striking ruffled blouse acts as a more suitable replacement. The black jeans feature white stitching, which helps blend the whole look together.
You can opt for a pair of regular Converses, but we think a set of ballet flats will do wonders in highlighting the simplicity of this ensemble.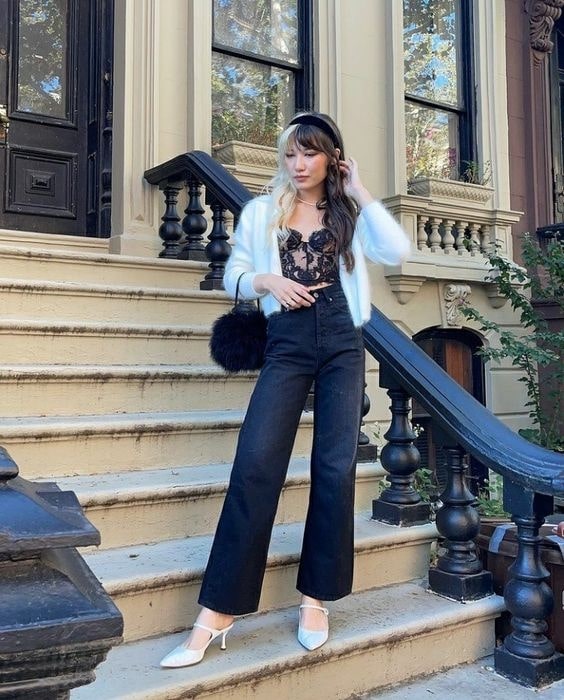 Ashley, an emerging fashion influencer, is commonly known for coining the 'picnic bitch look.' She's also a pro in blending various aesthetics together.
By fusing masculine and feminine silhouettes together, you get a visually striking outfit that's bound to startle the public. It may earn you a couple of likes on Instagram as well.
In answering the 'what to wear with black jeans' question, Ashley responds with a see-through bustier top, a cream cardigan, and a set of white sandals. Her choice of pants is a pair of wide-legged jeans, which do wonders in elongating the legs.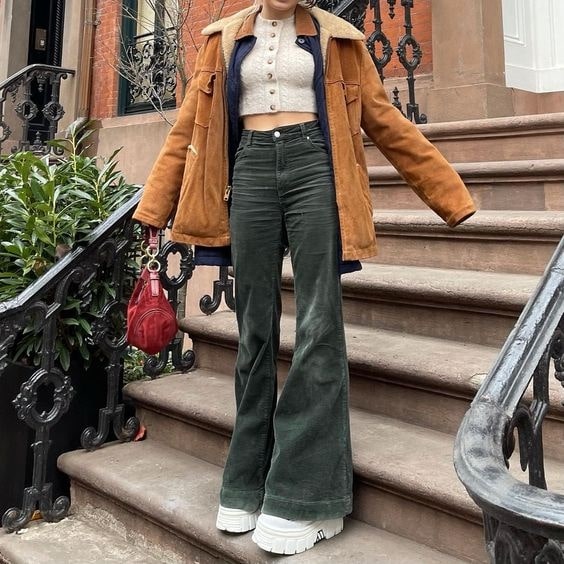 It's giving us major Bella Swan vibes, but minus any teenage angst. Best Dressed makes a second appearance in our 'how to style black jeans' lineup, but honestly—we can't help ourselves.
She's a seasoned pro in fashioning dark washes. In this look, Ashley pays homage to vintage Portland, as shown in her oversized sherpa jacket.
Since the upper half is 'top-heavy,' Ashley decides to opt for a classic pair of wide-legged jeans to avoid losing her silhouette. Matched with a white crop top and platform sneakers, you automatically get legs for days.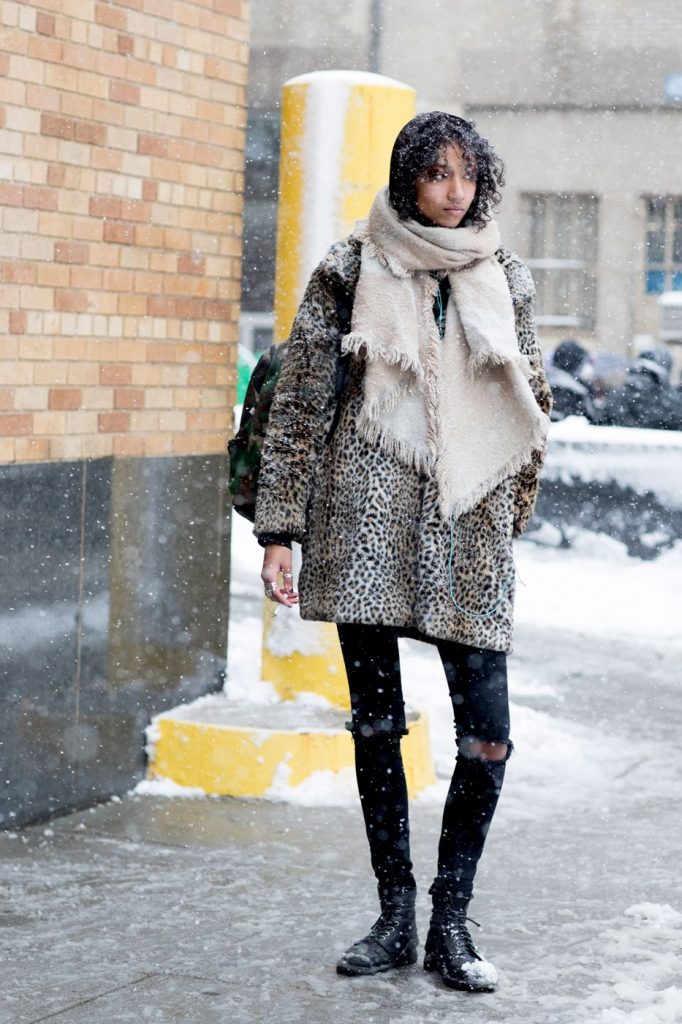 The skinny jeans era is finally coming to a close. As wide-legged pants and bell-bottoms are now embraced with open arms, our fellow emos are left wondering what to do with their skin-tight pair.
We suggest holding onto your 2000s-style denim and opt for something less 'Hot Topic.'
In the sea of oversized silhouettes, black jeans are key in maintaining your body shape. It prevents you from getting lost in the sea of fabric and layering.
Here, a pair of dark wash works intrinsically well with a top-heavy overcoat and a massive blanket scarf. Opting for black is also a great choice if you like a bit of pattern.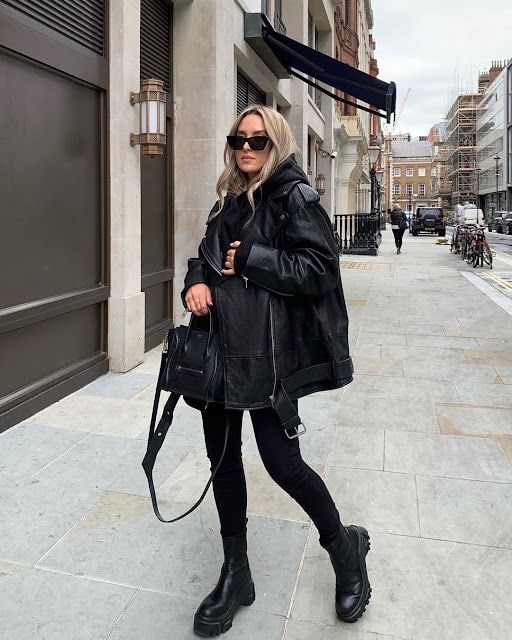 Naturally, black on black is usually a safe bet when it comes to styling. You won't run into any clashing colors here, but there's a risk of looking too bland. The key here is to play around with different textures. 
In an effort to address the pivotal question, 'what goes good with black jeans,' you'll need to be familiar with various cuts and fabrics.
This means opting for leathers, linens, jerseys, furs, and even sequins. Here, a standard pair of dark wash denim works beautifully with a glossy motorcycle jacket and a matte oversized hoodie.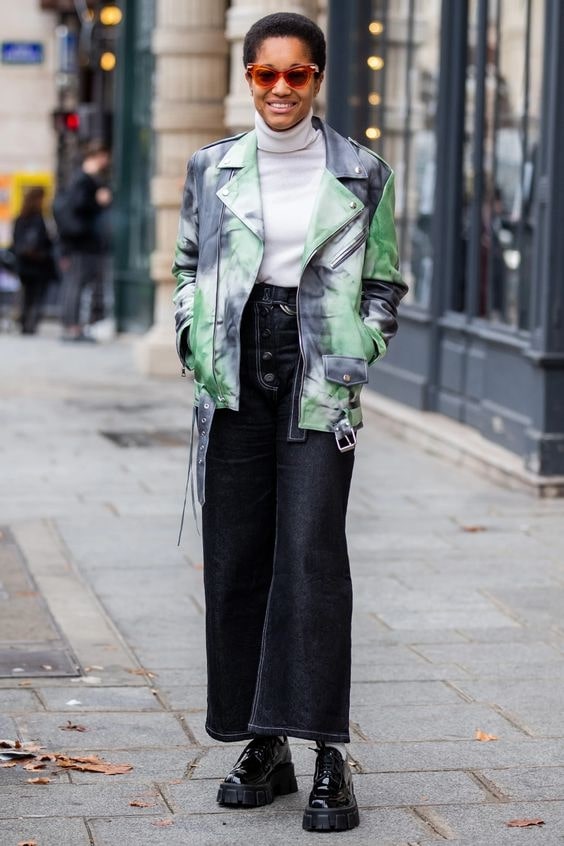 There's an unspoken rule that high-waisted black jeans pair well with turtlenecks. It's an excellent look if you want to look more poised and put together.
The addition of an oversized leather jacket and platform shoes work together in emphasizing the overall silhouette. The sunnies are a nice touch as well.
Black jeans don't automatically equate to full-length pants. They can also apply to shorts and cut-offs.
While some trendsetters scoff at the idea of knee-length bottoms, we suggest you give them a second try. Nili Lotan's Pre-Fall 2022 collection manages to elevate the elementary school capri into an elegant, horseback-riding moment.
Instead of the usual skin-tight capri, we recommend a wide-leg option for a bit of room. This allows you to wear more slim-fitting garments, such as a pair of riding boots and a turtleneck.
The gold-tinted belt is a must-have unless you prefer to blend in with the background.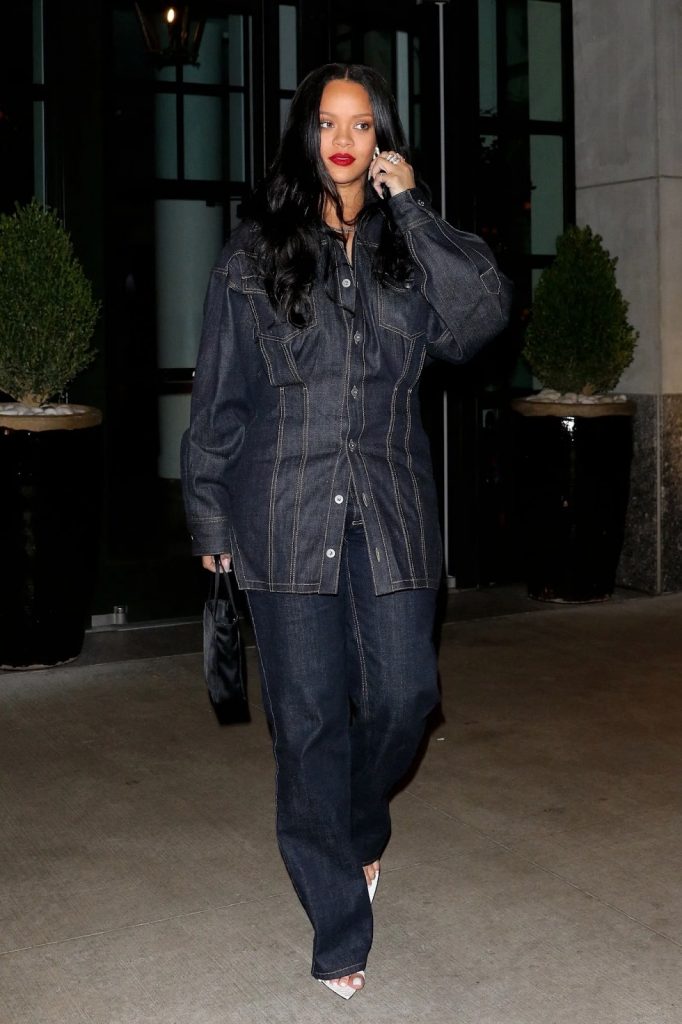 Head-to-toe denim is a hard look to pull off, but Rihanna can definitely do it. Her iconic tuxedo look was fashioned at a New York dinner party.
Ri Ri is not the first to wear all-jean material, as showcased in the 'Four Five Second' music video. But, instead of opting for a slimmer silhouette, Instagram's 'Bad Gal' chooses a more laxer shape for supper.
In order to not lose her figure, there are some intricate stitching details along the front of the shirt. It provides a sort of 'corseted' look to help cinch in her waist. The jeans, while baggy, blend well with Rihanna's oversized top.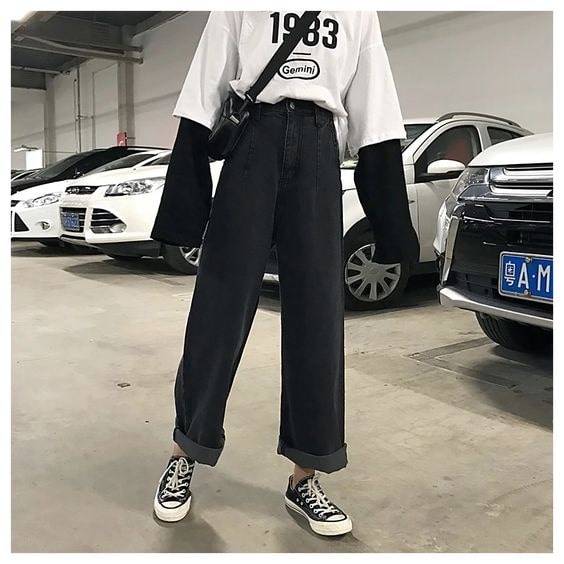 With the onslaught of Kpop peeking through the Western billboards, it shouldn't be surprising that Seoul-based streetwear is becoming a popularized trend. 
If you're looking for BTS-inspired outfits that go with black jeans, we highly recommend wearing a long-sleeve short-sleeve top with a cool graphic. Bonus points are rewarded if you pair them with Converses.
The wide-legged jean is a must if you're wearing a super-long sleeve. Not only does it elongate your figure, but it also provides a more 'demure' look to the outfit.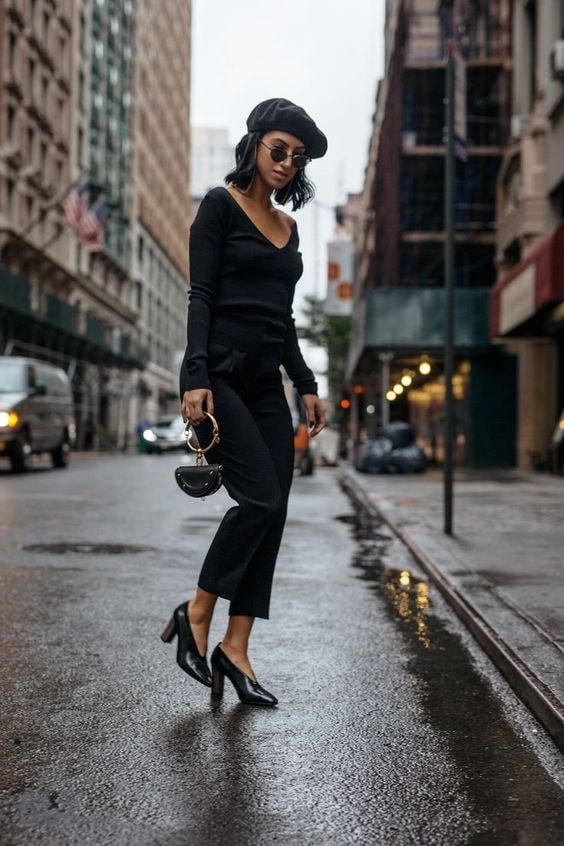 Simplicity will never go out of style. If you're on the hunt for something a little less avant-garde, casual Parisian fashion is definitely the way forward.
We admit that the classic beret is stereotypical to classic French style, but it adds a touch of elegance that no other accessory provides.
Here, Tania Sarin wears a simple v-neck long sleeve matched with a relaxed set of black jeans. For accessories, she dons a petite bag and some sunnies. Since she's opting for a more sophisticated look, a pair of closed-toe heels do well accentuating this entire ensemble.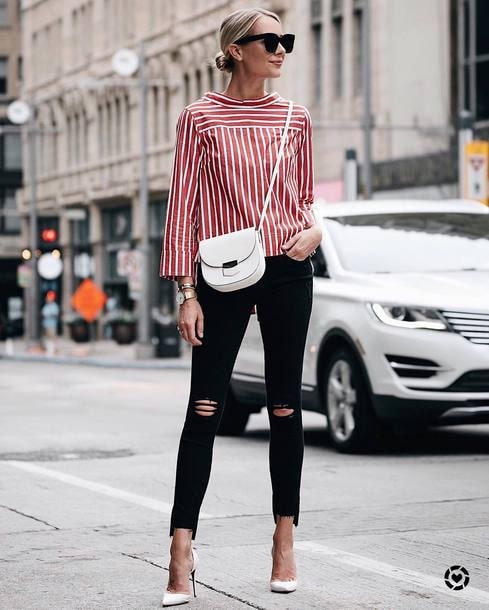 Need some casual outfit ideas with black jeans? Striped button-downs and tees are usually the go-to options for many novice stylers.
This urban-chic fashionista plays it cool by wearing a red and white stripe to counterbalance the black pants. Ultimately, it acts as a pop of color to help you stand out amongst the crowd.
Of course, black and white stripes are also a solid choice. We suggest adding a colorful bag or accessory for a bit of juxtaposition.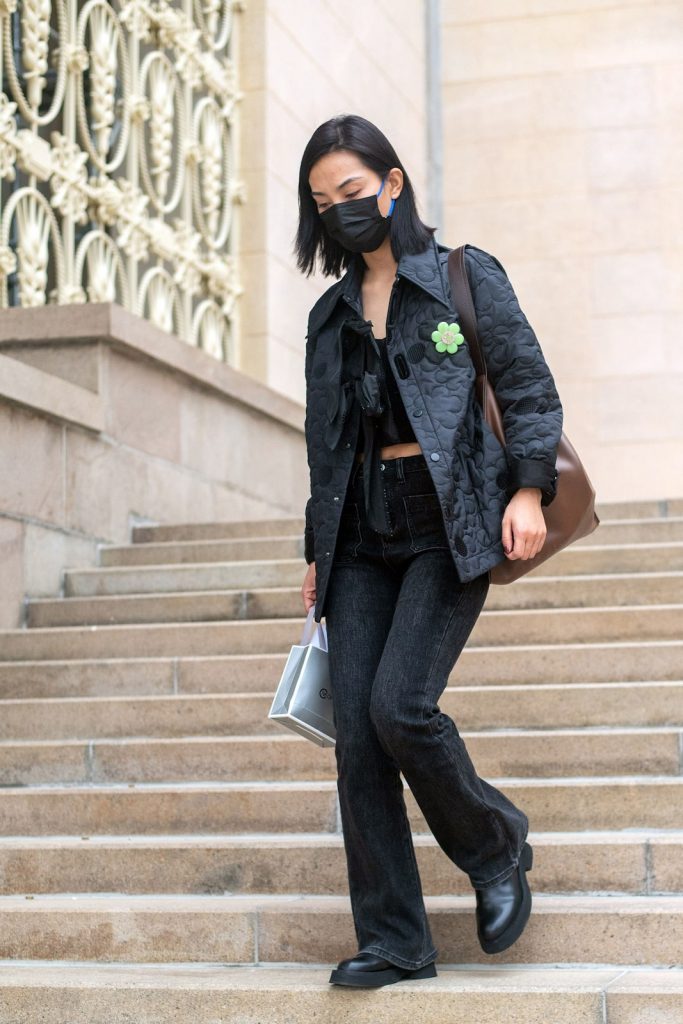 For most, the answer to "what goes well with black jeans' is the coveted crop top. If you're not a fan of tucking things in, it's always a good idea to show a bit of skin.
Photographed at Shanghai Fashion Week 2022, this super-chic model is wearing a pair of wide-legged pants with a quilted jacket. To keep things light and refreshing, a high-cut top is worn underneath.
The black face mask is not only essential in the wake of COVID-19, but it pairs beautifully with the different hues of black shown in the outfit. Plus, the addition of the green flower brooch and white bag is also a nice touch.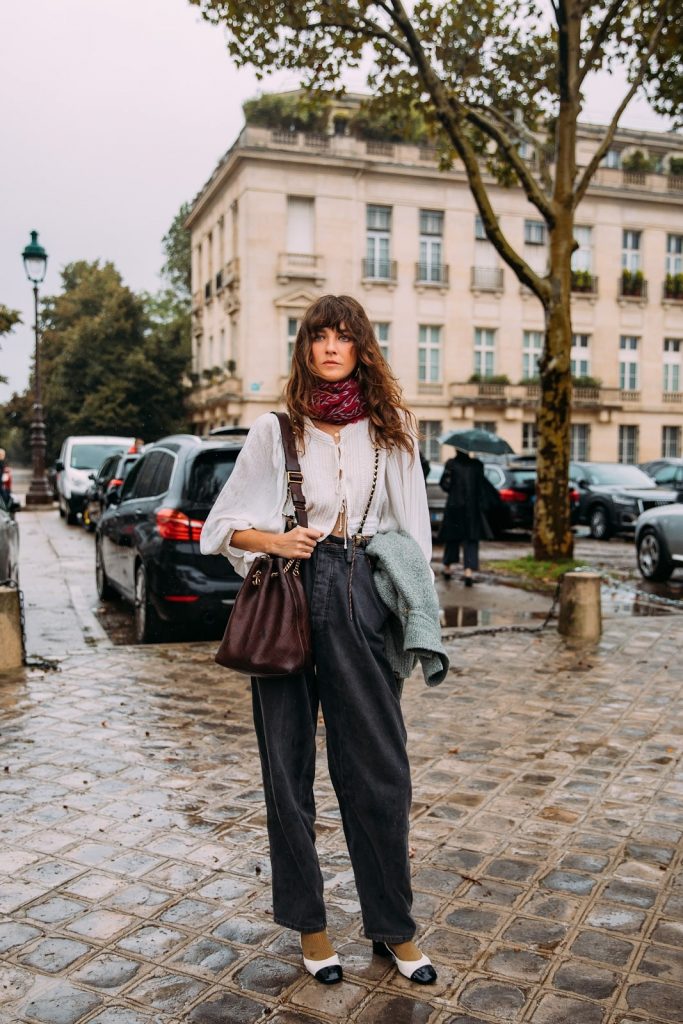 Baggy tops and bottoms go together like a PB and J sandwich. Not only is it super comfortable to wear, but it can look super chic if styled correctly. For this look, we're drawing inspiration from 2022's Paris Fashion Week. 
Opting for old-school boho is never a bad idea, but there are ways to modernize it by implementing a few style choices. For instance, the knitted scarf paired together with a bucket bag helps to elevate the entire look.
The baggy black jeans match well with the breezy white blouse over top. It's a super laid-back look that gives off major 'earth mama vibes.'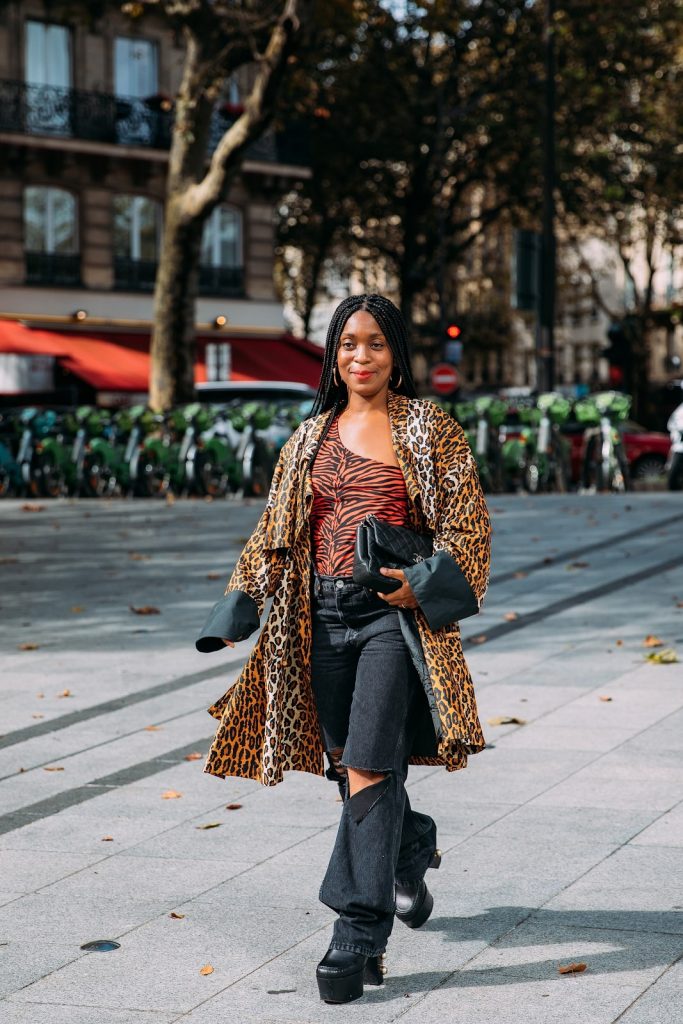 For some, opting for all-black is intrinsic to the 'super serious' look. If you really want to channel your inner Miranda Priestly, we suggest going all out in pattern for the top.
Black jeans go well with bright designs, such as the cheetah and zebra print pictured on the model. The platform heels are a great addition to help match the fit's 'boss babe' attitude.
The distressed jeans are a direct contrast to the intimidating look of the animal print. Instead of opting for fashion editor chic, it's more streetwear appropriate.
How to Style Black Jeans?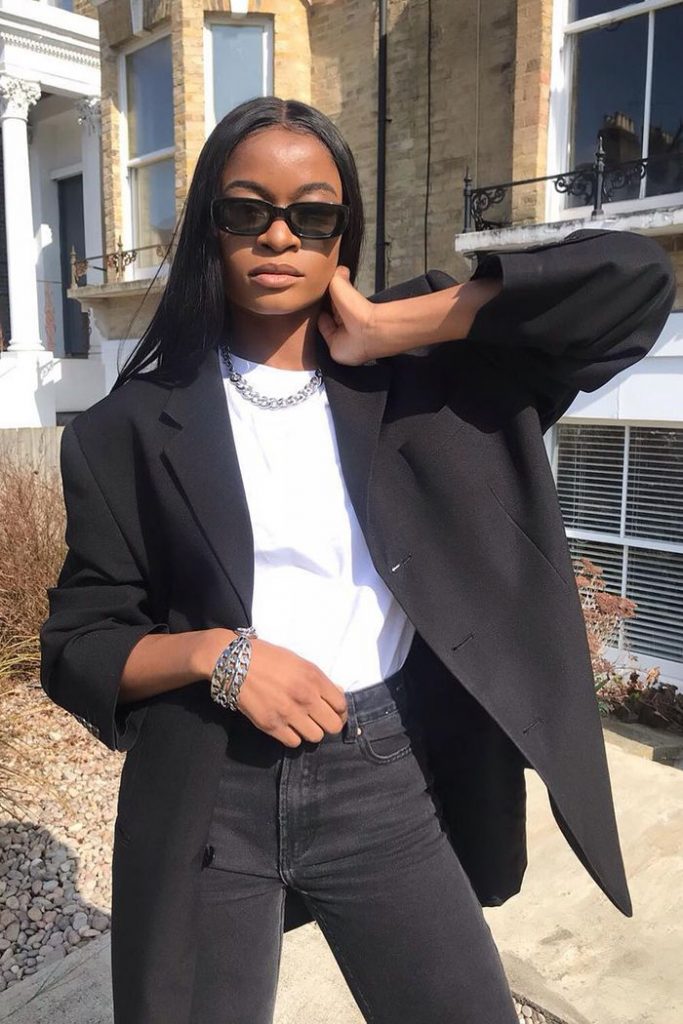 From Vogue-inspired fits to more casual ensembles, social media can act as your personal styler in times of need. 
But, We're sure that some novice trendsetters don't have time to scroll through their Insta or TikTok feed for fashion advice, which is why we'll break down the science of outfit composing to help you answer the question: 'what to wear with black jeans."
From the outfits we featured so far, playing with differing silhouettes is key in creating a cohesive fit. This usually entails oversized blazers, exaggerated tops, longer-than-life sleeves, or crop tops.
Experimenting with various shapes helps in breaking up the monotony of 'straight-legged black.' It can also provide you with a different body shape, whether that be rectangular, hourglass, or pear.
Jeans with intricate details, such as prints and contrast stitching, are relatively easy to style. For instance, white contrast seams on top of all-black denim work well with cream-colored tops.
In addition, unusual patterns, such as Lazy Oaf's iconic sad print, blend together with quirky colors and cheesy-looking tops.
And, as for some basic styling advice, black jeans require a pop of color. This also applies to monochrome outfits, as fashionistas usually pair statement accessories for added contrast.
In conclusion, you don't want to end up in all-black that doesn't play around with any textures or hues. There's a good chance that you'll end up looking plain.
Fashion Tips to Avoid With Black Jeans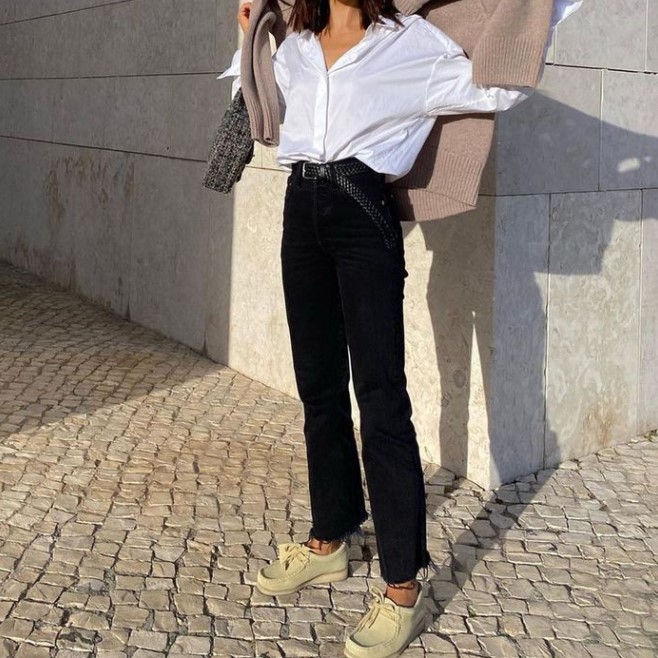 Black jean-based outfits rarely come in contact with the fashion police. Why? Because it's such an easy garment to style!
With that being said, there are some general no-nos that novice stylers to consider. Below, you'll find a summarized list of things to avoid:
Super distressed jeans: this applies to all denim washes. Basically, you don't want to opt for a pair that's bound to fall apart. Not only does it have a shorter lifespan, but it also draws attention away from the rest of your outfit
Poorly fitted jeans: Just to be clear, baggy pants are not considered a no-no within our list. Instead, we're referring to skinny jeans and cigarette-style bottoms that fit poorly around the butt, waist, and thighs
The ankle-cuff roll-up: It was hot in 2010 but not anymore. Rolling up your jeans looks quite bizarre if you opt for something more elegant, i.e., the Parisian-inspired fit we mentioned previously. We suggest tucking it in instead of cuffing your pants
Fake faded jeans: Apparently, it's a lot easier for companies to paint on 'fake wash' rather than resorting to old-school bleach. In our opinion, it looks tacky and unnatural. Bonus points if they add fake wrinkles and creases as well
Flip Flops: socks and sandals are another topic to cover, but here, we're focusing on the classic thong. Marrying the $1 beach sandal with black jeans was never a good look to begin with
So, there you have it: 5 of the worst fashion tips provided for dark denim. Hopefully, by the end of this segment, you're at least closer to deciding what to wear with black jeans.
When To Wear Black Jeans?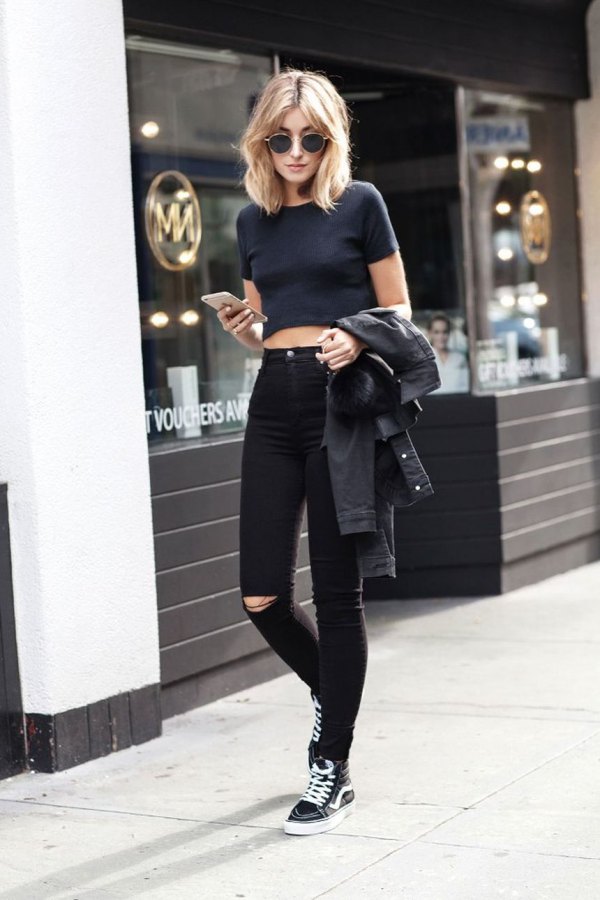 For some, the question isn't so much 'what to wear with black jeans,' but instead, more of 'when to wear black jeans.' Since the coveted dark wash is considered the foundation of basic styling, you can wear them on multiple occasions.
And, considering that most designs are full-length pants, it stands to reason that they're commonly worn during the cold season.
Of course, you're welcome to wear black jeans during the spring and summer too—but dark hues tend to absorb lots of warmth. You don't want to wear a sweaty pair of jeans during 30-degree heat.
In terms of occasions, black jeans can be styled up and down depending on the event. Casual ensembles usually entail a simple graphic tee and a leather jacket. If you're looking for something fancier, a blouse and a pair of heels do wonders in elevating your outfit.
Which Color Combination is Best With Black Jeans?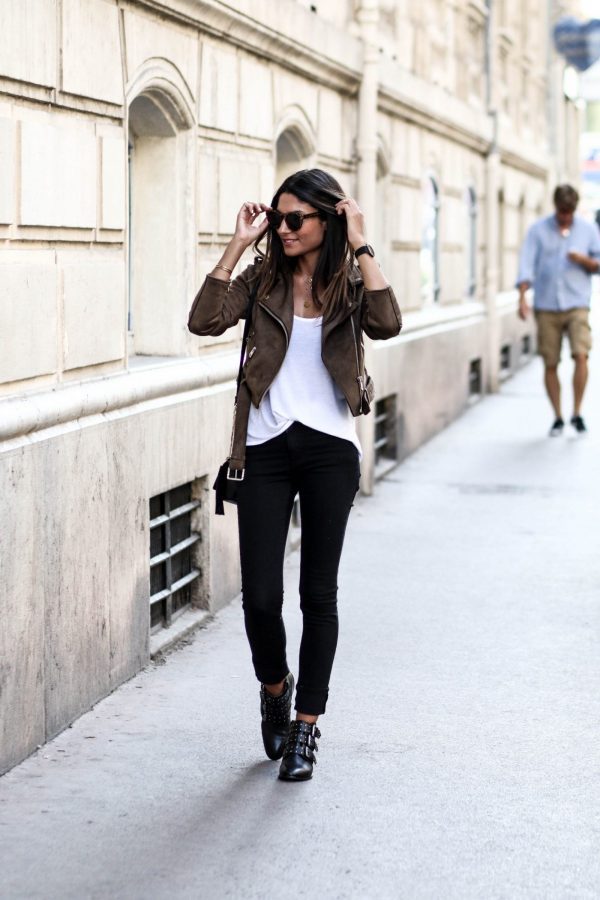 If you're asking what to wear with black jeans, the type of color must be included in the answer. Black is a universal shade, meaning that it will blend well with any hue.
Some swatches that come to mind are creams, reds, espresso browns, and pinks. Silver and gold-toned jewelry can either make an outfit more 'warm' or 'cool' depending on your choice.
Do Black Jeans Go With Blue Shirts?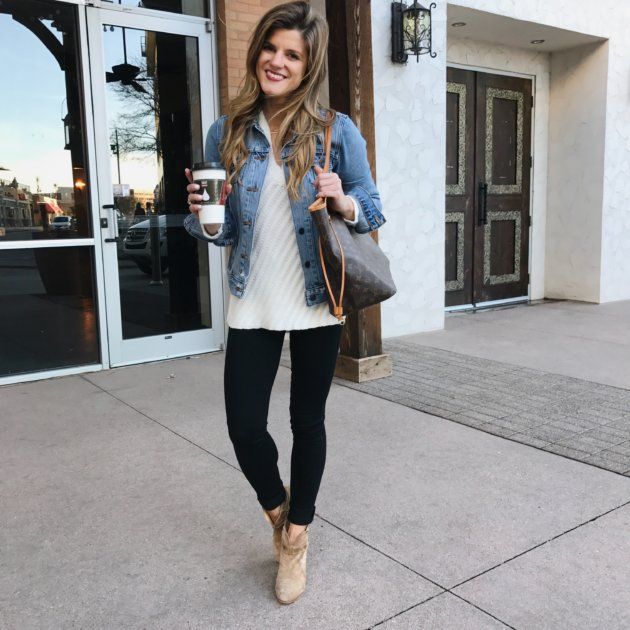 Yes, but not any kind of hue. Jet-black pants marry well with bright NASA blue. We're thinking more of jewel tones rather than pastel washes. For those asking 'what to wear with black jeans that are faded,' we suggest muted blues for a softer look. 
What to Wear With Black Jeans on a Night Out?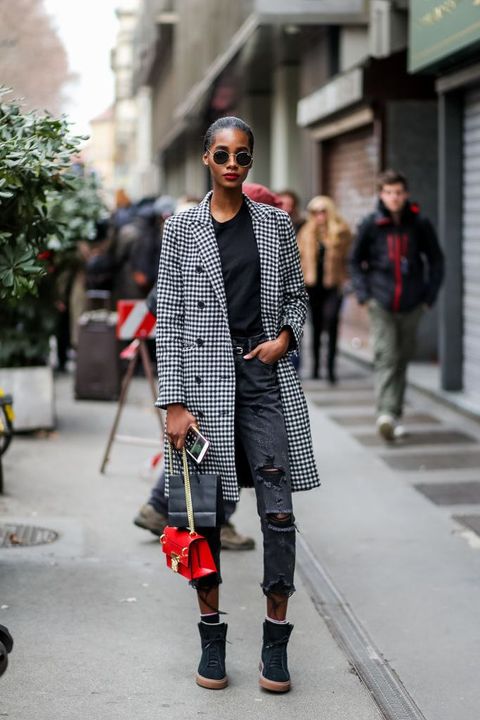 For those adding 'date night' to their 'what to wear with black jeans' search, you'll need to specify the occasion. If you're opting for something sultry and sexy, we're sure that a bustier top with leather accents will help spice up the look.
Casual outfits, such as those worn to brunches or malls, may entail a simple sweater and a pair of streetwear sneakers.
Can You Wear Black Jeans To The Club?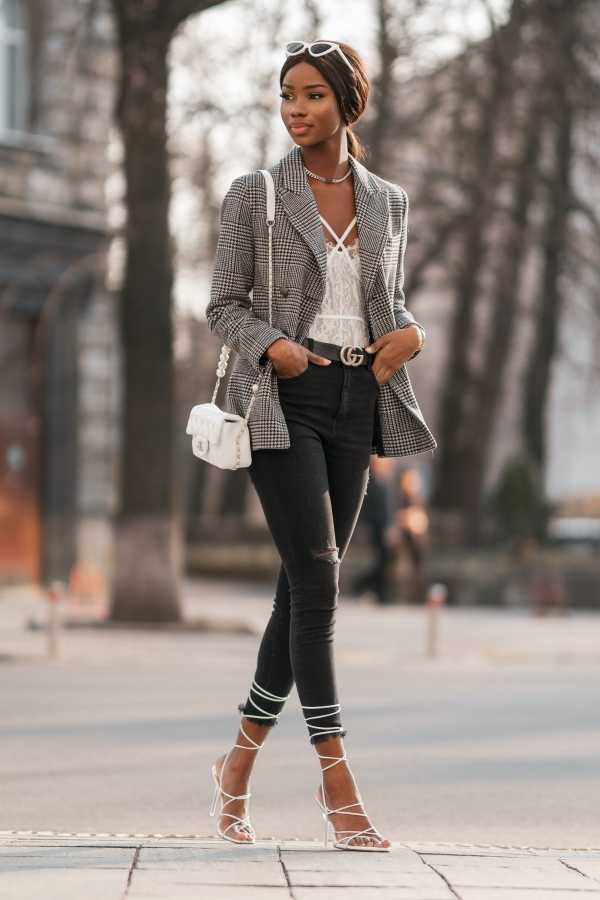 You can definitely wear black jeans to the club. It's a great alternative if you're not keen on showing too much skin. Plus, it's a go-to for trendsetters partying in colder climates.
If you're wondering what to wear with black jeans, we suggest a plunge-style top with some strappy heels. Of course, diamonds are a must if you want to stand out in the darkness.
Final Thoughts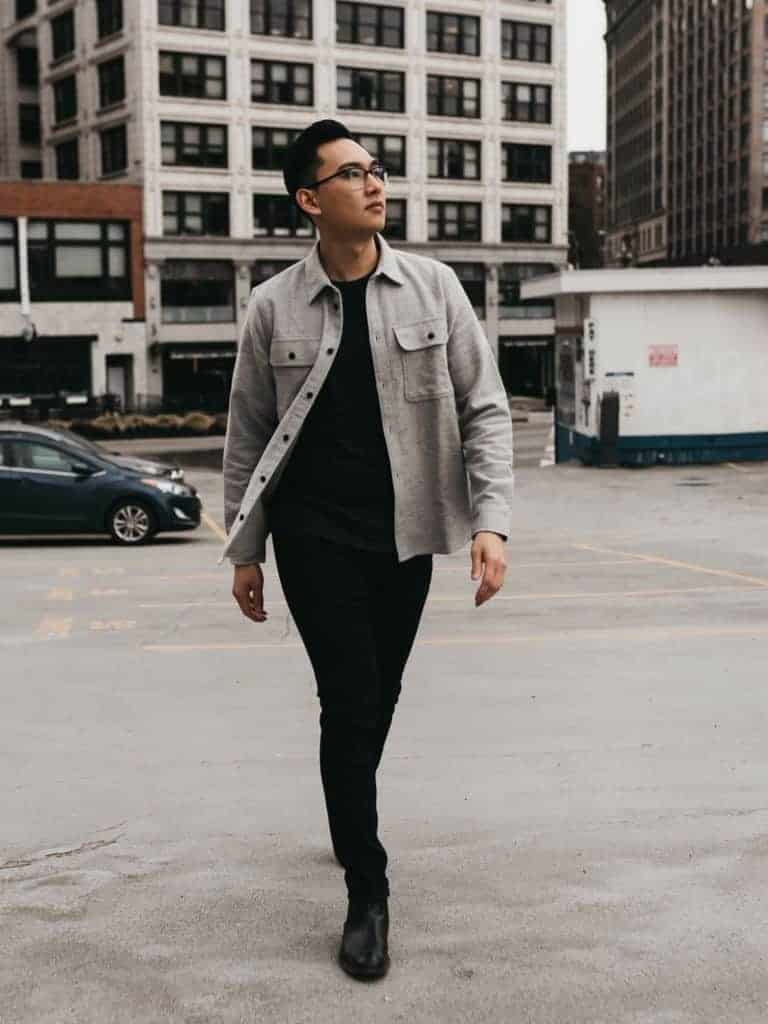 Black jeans should never be difficult to style. They're the bread-and-butter of fashion. No matter your preferred aesthetic, you'll end up an ensemble worth Instagramming. From Bella Hadid-inspired outfits to runway-friendly looks, we're confident that you'll never have to wonder what to wear with black jeans by referencing our top 20 guide. 
---
For more clothing-related do's and don'ts, check some of our other guides:
What to Wear to a Fall Wedding
How to Wear Socks With Loafers
Can You Wear Black Shoes With a Navy Suit and Look Amazing?
Get Access to Exclusive Deals
Subscribe for free to get exclusive deals in your inbox. 100% privacy